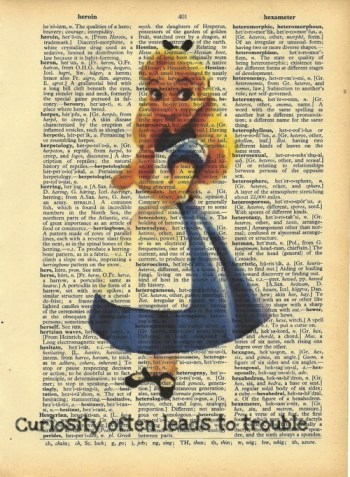 HELLO and welcome to the 97th installment of Things I Read That I Love, wherein I share with you some of the longer-form journalism/essays I've read recently so that you can read them too and we can all know more about Norman Rockwell! This "column" is less feminist/queer focused than the rest of the site because when something is feminist/queer focused, I put it on the rest of the site. Here is where the other things are.
The title of this feature is inspired by the title of Emily Gould's tumblr, Things I Ate That I Love.
Easy Money (September 2013), by Keith Romer for The New Yorker – A guy goes on Who Wants to Be A Millionaire! I was interested in every minute of this situation.
Inside America's Great Romance With Norman Rockwell (October 2013), by Deborah Soloman for Smithsonian Magazine   – I did a report on Norman Rockwell in elementary school, this article was better than my report.
**White Girls (October 2013), by Hilton Als for Guernica –  I'm not sure that I even totally "got" this, but it was still really incredible to read. – "No one seemed to understand what we were talking about most of the time. There was no context for them to understand us, other than their fear and incomprehension in the presence of two colored men who were together and not lovers, not bums, not mad. Sometimes, as a joke, I'd wonder aloud to SL if we sounded like this to them: Ooogga booga. Wittgenstein. Mumbo jumbo oogga booga, too, Freud, Djuna Barnes, a hatchi! Mumbo lachiniki jumbo Ishmael Reed and Audrey Hepburn."
Nightmare in Maryville (October 2013), by Dugan Arnett for The Kansas City Star – You've likely already read this or about this, but you know, this is awful. "Daisy Coleman, new to town and a cheerleader, was 14. Matthew Barnett, a 17-year-old football player and the grandson of a longtime politician, was 17. The evidence pointed overwhelmingly toward rape. There was even a video. Yet the charges were dropped. Then the people of Maryville, Missouri, set about running the Colemans out of town."
I Was A Teenage Porn Model (October 2013), by Lux Alptraum in Medium – As several prominent porn companies change their policies to only allow models over 21, Fleshbot editor and all-around kickass lady, reflects on her own decision to enter porn at that age. Includes references to people you love such as Courtney Trouble and Jiz Lee.
I Wish I Knew How It Felt To Be Free, by Joe Hagan for The Believer – Amazing amazing story about Nina Simone, using information gleaned from her private diaries and an interview with her ex-husband.
Mugged by a Mug Shot Online (October 2013), by David Segal for The New York Times – If you get arrested, it's possible somebody could put your mugshot on the internet for everybody and you'll never be able to get rid of it even if you were innocent of what you were arrested for! Because something!
Fruit of Labor (October 2013), by Tony Rehagen for Atlanta Magazine – About migrant labor picking peaches in Georgia. A lot of interesting stuff about immigration reform and the idea that farm owners can't find American-born citizens to fill the jobs and the various rules/regulations set up around migrant labor.
Cinnabon President Kat Cole: Hustling the Gut Bomb (September 2013), by Duane Stanford for Bloomberg Business – Cinnabons! These are things I used to really enjoy eating at the aiport until I grew up and realized that I might as well just stuff a bunch of cigarettes up my ass, health-wise. But holy shit are these things delicious.