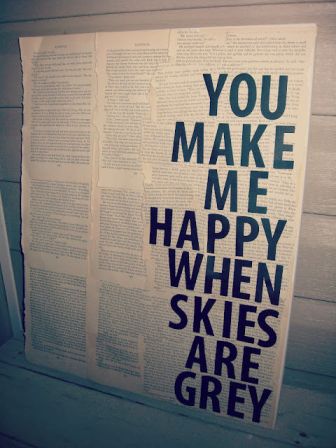 HELLO and welcome to the 77th installment of Things I Read That I Love, wherein I share with you some of the longer-form journalism/essays I've read recently so that you can read them too and we can all know more about Tyra Banks! This "column" is less feminist/queer focused than the rest of the site because when something is feminist/queer focused, I put it on the rest of the site. Here is where the other things are.
Why I Despise The Great Gatsby (May 2013), By Kathryn Schulz for New York Magazine – I agree in a really serious way. I'm totally confused about why this book is a thing. Zero.
The Great Girl Gross-Out (February 2009), by Rebecca Traister for Salon.com – "Oversharing is in. And for a lot of people who are doing the sharing, or experiencing it, it's not so much "too much information" as it is the next, necessary step in personal-is-political, enlightened honesty about the female body."
The Tyra Banks Matriarchy: A Scholar's Take on America's Next Top Model (May 2013), by Ashley Fetters for The Atlantic – In honor of the beloved reality show's 10th birthday, a conversation with Rhonda Loverude, who wrote her doctoral dissertation on hegemonic heterosexuality in ANTM
Revenge, ego and the corruption of Wikipedia (May 2013), by Andrew Leonard for Salon.com – Obviously this sent me into a k-hole, I also read this article which is referenced in the Salon piece, and then also this piece but oh, I don't know. I'll let you navigate all that for yourself.
Freedomland Forever! (March 2013), by Garrett McGrath for narrative.ly –  Ah yes you know how I LOVE articles about failed amusement parks/theme parks, I could read things on this topic all day. This is about a huge park built in The Bronx that was supposed to be East Coast Disneyland and instead closed down in three years. Obvs I had to google the fuck out of it, and then I found another piece about Freedomland in The New York Times.
A Ruckus of Romance (February 2013), by Rachel Howard for narrative.ly – This is about lesbians meeting lesbians and falling in love via the Hot Rabbit party in New York City. Also one of my friend's exes is in this article because lesbians.
The Pink Pyramid Scheme (July 2012), by Virginia Sole-Smith for Harper's – Shit like this was so big when I was growing up. My Mom sold Tupperware. There were other Moms who sold Amway or Mary Kay. I remember once my friends and I did an Amway beauty party thing in middle school because we wanted makeovers. It seems like the new thing now is the sex toy parties.
The Art of Journalism no.1, Hunter S. Thompson interviewed by Douglas Brinkley and Terry McDonnell for The Paris Review – "We talked with Thompson for twelve hours straight. This was nothing out of the ordinary for the host: Owl Farm operates like an eighteenth-century salon, where people from all walks of life congregate in the wee hours for free exchanges about everything from theoretical physics to local water rights, depending on who's there."
The Heartbreaking Saga Of Zhu Ling (May 2013), by Kevin Morris for The Daily Dot – This is a really interesting story about a woman who was poisoned in China and by the time they figured out what was wrong with her, it was too late, but they figured out what was wrong via internet and it was the mid-90's so that's kind of a thing. And now the search for the woman who poisoned her has re-ignited anew.
Why You're Addicted To TV (May 2013), by Andrew Romano for Newsweek – This is fascinating! – "We're not only bingeing on shows like these—an adrenalinized meth saga, a pulpy vampire romp, a paranoid terrorism drama, a seedy political thriller—because we can. There's more to it than that. Talk to the people behind Breaking Bad, Game of Thrones, and so on, and it soon becomes clear that they've designed these shows to be more bingeable—more propulsive and page-turning—than anything the networks ever pushed on us in the past. How We Watch may be changing. But it's changing What We Watch as well."
Viva Print! (May 2009), by the writers of The Morning News – Readers and writers sharing memories and feelings about their favorite print periodicals during the year when print's slow death really started rolling.