Have you ever wanted to get inside Pemberly? Well, friend, I've got good news for you: Ever, Jane, a Jane Austen-themed massively multiplayer online role playing game, is now in open beta. Unlike most other MMOs, where you spend your days chopping heads off orcs, players of Ever, Jane are invited to pal around Regency-era England. Instead of the standard D&D-esque stat block, your stats are instead things like "Status," "Kindness," and "Duty." And they interact with each other. If you have a high sense of duty, for instance, your happiness will be a bit lower. And instead of campaigns or quests or battles, the activities you partake in are more along the lines of balls, dinner parties and shopping for ribbon. Exactly like a Jane Austen novel. You even have a decorate button with different types of wallpaper. You get to wear a top hat. And most importantly, you get to roleplay as if you're chatting with Lizzie Bennet or Emma. People even get sexy about it.
I downloaded Ever, Jane immediately after I discovered it exists. My hopes were so high. Pride and Prejudice is my all-time favorite book. I even brought a copy of it to our engagement photo shoot. Pride and Prejudice might be the reason I like stationery products so much. Y'all, I was so ready. I was even ready to overlook my usual discomfort with MMOs—I barely like talking to people in my real life. Why I'd want to do it in my gaming life is beyond me. But I'll brave it. I'll brave it all for Jane Austen.
I started out by making a male character, because it is an MMO and I was sure female characters would still get harassed, even with a much smaller population and in beta. I named my character John Smith, which I thought for sure was going to be taken, but it wasn't! I could do it! The character creation screen is obviously still in beta—certain things indicate they are clickable, like when something has arrows next to it promising more options. But those options haven't been filled in yet. Which is honestly really exciting because that means it's just gonna get better and more intricate. Beta. It's testing time, ya know? And I tried to see what the light option for the top hat looked like and then I couldn't get it to go back to black, so I just went with no top hat. Which is a damn shame, because top hats. But again, beta, ya know? I want all the top hats.
I selected the option of "I've never played an MMO before" even though I have, because I wanted to see what the tutorial looked like. You start in your bedroom to move back and forth, and to pack a trunk full of clothes from your armoire. There are bugs in the graphics still, like the armoire door being completely divorced from its body. That's mostly the sort of bug I saw—visual things, like the church having no ceiling. Clicking the parlor button puts you basically in the parlor wall. My task list doesn't have any tasks I've added in it, it just says "Task List." That kind of thing.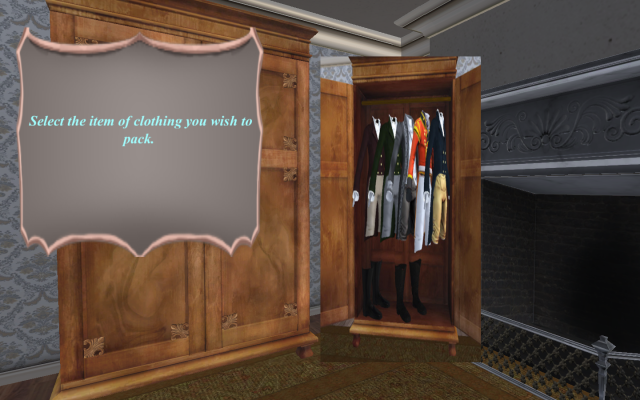 You use your mouse to control the camera, and with a trackpad like many users might have while playing a game that invites a more casual player it's totally unsustainable. I think this might be better with a mouse. Or with a person who's better at games than me? I like them very much, but I am not a very good player and I rage quit easily.  Here's what happened—after the tutorial, I was supposed to attend a funeral at a church—maybe it was part of the tutorial? I think it might have been, because it would be JUST LIKE ME to fail at the tutorial. But I did manage to bump my way over to the church, and then it was empty and I was like WHERE'S THE DEAD GUY? And I tried to interact with every object in the room trying to make the dead guy appear BUT ALAS no dead guy (not a sentence I ever thought I would type). Maybe there wasn't supposed to be a funeral? Maybe it was a piece of social intrigue? I have no idea! It's quite possible that the error lay between the keyboard and the chair.
But just in case it was a beta bug. I thought perhaps a good quit and restart was the way to go. So I quit, watched someone play an older version of the game (in which his character mysteriously floated into the air) on YouTube, and then tried to log in again. I successfully logged in and…didn't get passed the loading screen. As I check the website now, it says the server is down for an update. Which, I mean, fair enough, it's beta. I was really bummed though, but I have since rethought my bummed-out-ness. Launching an MMO is EXTREMELY difficult. Open beta is, excuse the expression, where your ass shows. But more importantly, the fact that they needed an update means people are taking advantage of this beta. People seemed to be getting hyped about it. In fact, in the short time that I could spend in Ever, Jane's world, people seemed to be speaking in character (and running into just as many things as I was, so I didn't feel too inadequate). And I'm hyped at how hyped people are! Listen, I'm a huge lit nerd. So Ever, Jane, had me at Jane Austen. But that it's had so many others at Jane Austen means that the face of MMOs might be slowly changing, especially if this beta goes well and the game's official release. I looked up all the MMOs scheduled to release this year, and I couldn't find a single other MMO without a battle focus. This seems to be the only one. That's really exciting—MMOs have been traditionally hypermasculine, and I'm not talking about the tender kind of masculinity. I'm talking about the stereotypical kind of masculinity, one predicated on demonstrating prowess in PVP environments. The emphasis on social prowess and on classic literature expands the notion of the MMO. And it's good for gaming when something like that happens. More kinds of different games means a healthy, diverse culture of gaming.
A word to the wise, though—I did see another player use a racial slur while I played Ever, Jane. So it's not some sort of magical unicorn MMO. It still is people on the internet. No amount of Jane Austen magic will change that. Go into it prepared for all the things MMOs bring.
Try Ever, Jane once their servers are back up. If you're anything like me, you'll be tickled by it. And maybe, just maybe, you can find the funeral.