There has always been a throughline of queerness in rap music. On the one hand, the men at the forefront of this genre have historically used — and continue to use — rap as a means to defend, establish, and assert the force of their masculinity. Often using queer folks and women as the punching bags and stepping stools to do so. Yet, on the other, queer folks and women have always persisted in the genre and have been killing the game since rap's birth. Shaping the sounds, pushing lyrical boundaries, subverting masculine expectations, embracing sexuality, expressing powerful narratives, and cultivating the genre into all it's grown to become — even when relegated to the background.
Hip-hop would not be what it is today without LGBTQ folks, women, those who identify as both, and all those living in the margins. Queen Latifah, Meshell Ndegeocello, Da Brat, MC Lyte, Missy Elliott, Foxy Brown, Lil' Kim, and so many more. It is absolutely essential to spotlight, highlight, and praise these pioneers for paving the way. Forcibly making room and thus allowing for the amplification of too often overlooked voices on the mainstage today.
And this evolution has not stopped. We have a whole new generation of rap girls transforming the genre into stylings that reflect the sounds and moments of today. These are some of the queer girls of Gen Z who I believe are innovating, reclaiming, and shaking up the rap game; the girls on this list are formidable talents! Unique in their own way, each rapper brings powerful lyrics and novelty sounds that build on the legacies of multiple genres. I love the energy that these girls bring to the table. Their songs carry such immense personality that authentically expresses who they are and how they feel through the music and their words, and it is very exciting to be able to witness the expansion of their careers as artists.
---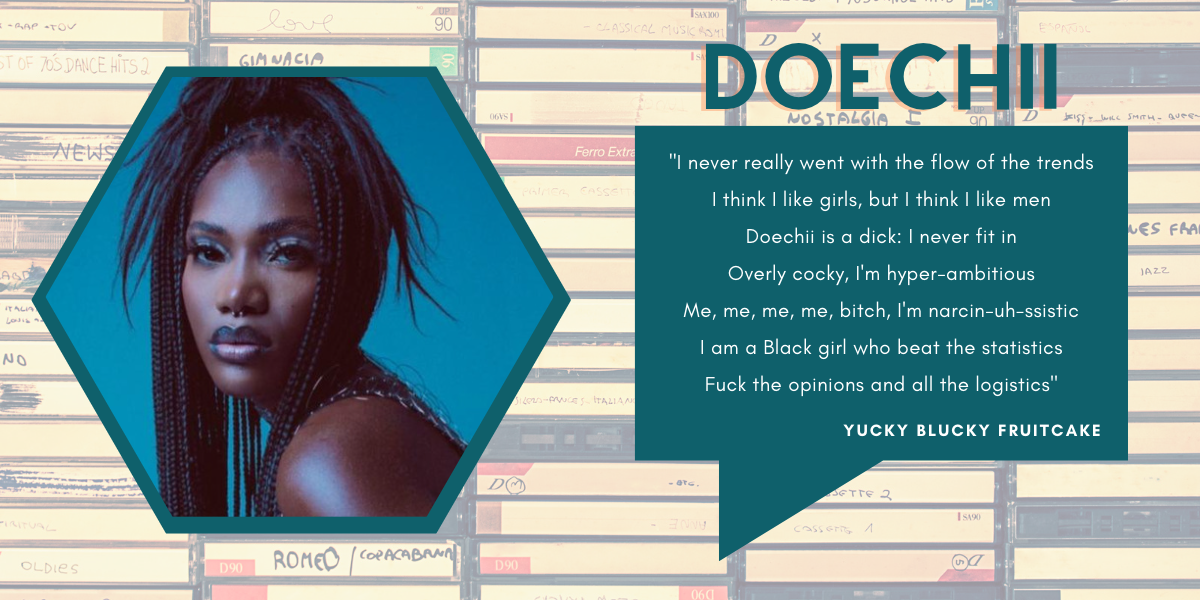 How does it feel to be that bitch? If there's anyone who not only knows but embodies that boss energy, it's Doechii. The Black & bisexual powerhouse rapper hailing from Tampa, Florida oozes true artistry, righteousness, confidence, power, and playful braggadocio from the moment you hit play on her tracks.
Her sounds range from poetic r&b-blends like Mocking Bird and Persuasive, alternative yet theatrical house-like bold beats in songs such as Yucky Blucky Fruitcake and What's Your Name? , raw experimental pop like Weekend and Drop Out, and short yet unforgettable clips that pack a punch like 60 Seconds. Futuristic trap sounds that echo elements of 80s disco rap also have a presence on tracks like Bitch I'm Nice. Doechii's range and versatility are unmatched!
Merely elevated by the versatility of her sound, she raps about being an unapologetic Black bisexual woman in the rap world, empowering listeners as she subverts norms and expectations through impressive talent and skill.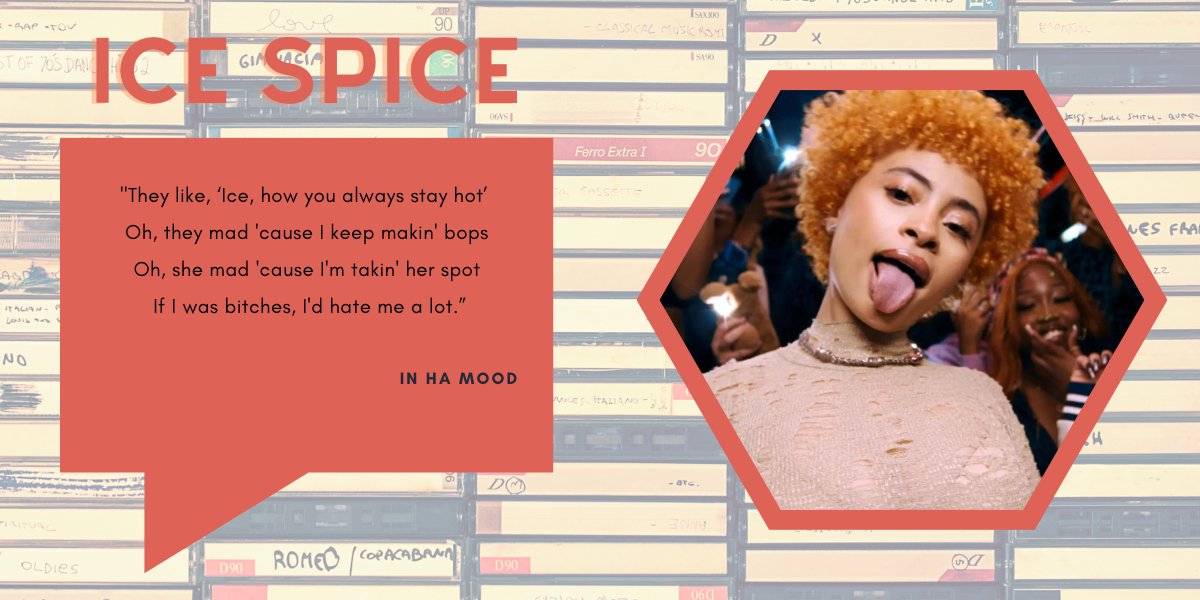 Ice Spice has quickly taken the world by storm, and rightfully so, as she breathes new, femme, fun life into Bronx-style drill. The African American & Dominican pansexual rapper has only been releasing music since 2021, but her inventiveness, wordplay, and talent prove she's here to stay.
Don't let her soft, smooth flow fool you! Her first EP Like..? alone shows how Ice Spice is a force to be reckoned with. Her songs are quippy, sassy, flirty, and exciting, featuring innovative samples and interpolations from songs like I Need a Girl (Pt. 2) by Diddy on Gangsta Boo and instrumentation from Spongebob Squarepants in Bikini Bottom. Her music forces you to get up off the couch, twerk, and embrace the party!
Ice Spice is not just a rapper, she's a whole personality. She's charismatic, charming, and funny, and her music immerses you into her world; you can't help but feel like her baddie friend as you hit her signature move to her beats. And on top of it all, when discussing her hit song on Genius, she let the world know that she's unabashedly queer: "They need to know – we're here and we're queer!wp_postsWhat is there to not love?
Ultimately, Ice Spice knows she's chose, and her career will only continue to grow and flourish from here.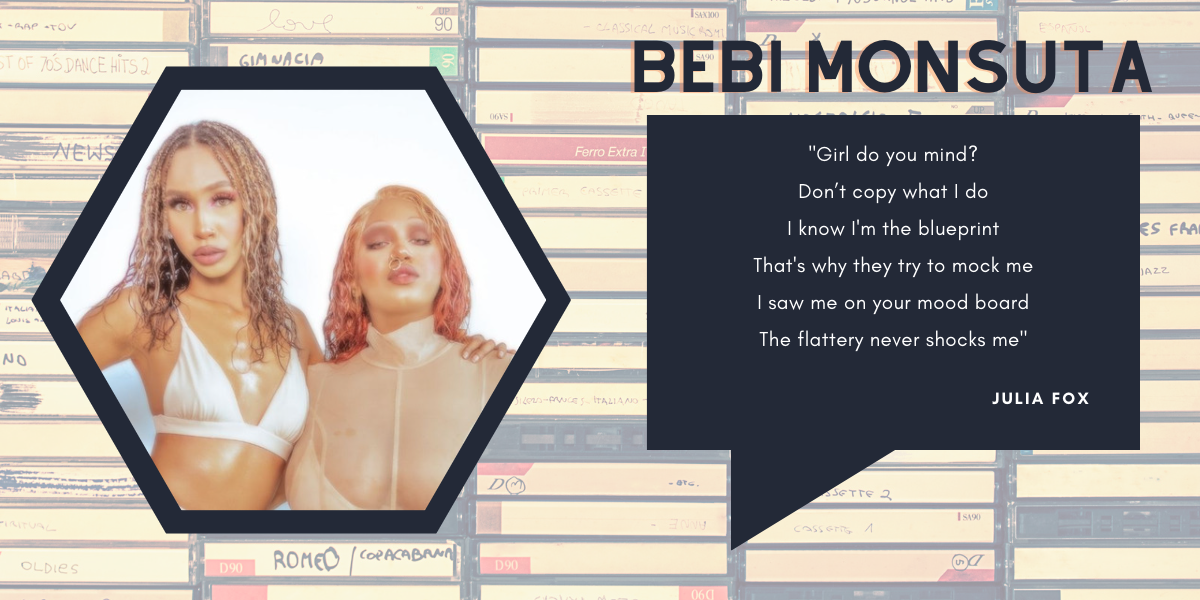 Bebi Monsuta is a rapper-singer trio from New York City that brings defiance, subversion, honesty, and healing to the front of the stage. Featuring members Manami, Akira, and Aphi, this group challenges too often fixed boundaries of music and sound as they express themselves with bold style.
Crossing genres and blending styles, their music centers empowerment, the ups and downs of love, mental health, and beyond while representing their Japanese, Portuguese-Brazilian, Caribbean, and Black cultural roots within their sounds. They are making music authentically, how they want to. While setting boundaries, exploring their sexuality, and deconstructing the male gaze along the way, as member Akira explained: "We want to really make sure we're properly telling our story and not cutting corners or hiding who we are. […] When people want to showcase a bisexual woman, they usually want to show something performative — something more pleasing to cis, straight men, instead of the genuine artist who's representing themselves as a queer person. It feels like it's for the male gaze and it isn't genuine."
You may have come across this group on TikTok after their song Julia Fox went viral, but their multi-faceted discography spans beyond the one hit. Take tracks off of their 2021 EP 11:11 as an example. Deusos Falsos is a curative bop that mixes r&b, trap, and Brazilian funk as Bebi Monsuta reminds listeners that you are talented and worthy. RäkStär is harmonious and smooth but boldly blends alternative, rock, hip-hop, and r&b with lyrics that embrace vulnerability. Their music explores the challenges that accompany self and familial acceptance. 808 is a fun, pop-inspired beat that features elements of kawaii-hop. Their diversity of sound, as well as their core message and principles, are exceptional and inspiring.
If healing, self-love, genre experimentation, community, and acceptance are what you look for in music, then Bebi Monsuta is the dynamic group for you.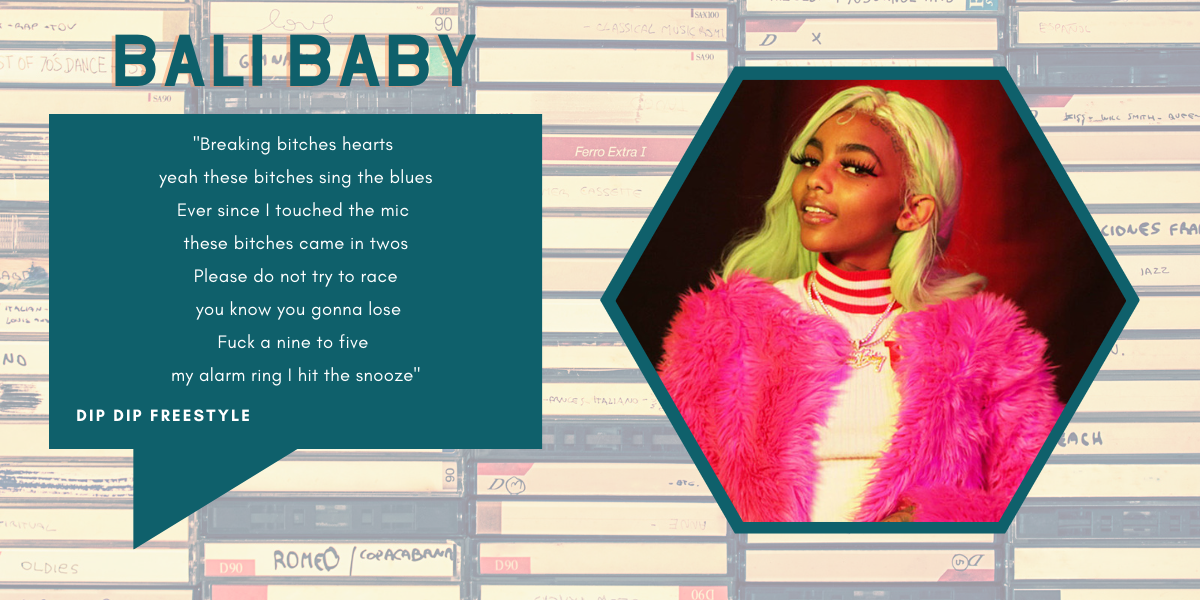 Marking her songs with a playful Muah, Bali Baby kisses and dismisses her haters and competitors as raps her way to the top of the game. Claiming the ATL as her home base, she knows she's bad, she did not come to play around, and she has the discography to show for it.
Bali Baby currently has albums that show the depth of her skill. Her lyrics are witty and hard-hitting, with rhymes and flows that range from playful, brash, emotional, vicious, intimidating, clever, and pure electric. On BALIPRINT, she expresses anger and commands your attention. Tracks like STFU and Cocky display her confidence and power and Fuck it Up and Belaire invites you to loosen up and dance through their energy and bass. On her album Baylor Swift, she subverts the typical pop breakup album, weaving hip hop and hyper-pop seamlessly as she uses her music to cope with her break-up with her ex-girlfriend.
She is unapologetic about her sexuality, centering women in all of her music. And in the face of a straight male-dominated industry, she reminds her audience to stay true to who they are: "I feel like gays and females get bullied […] you don't have to fuck with what everyone is saying. Just be you. Do what you wanna do."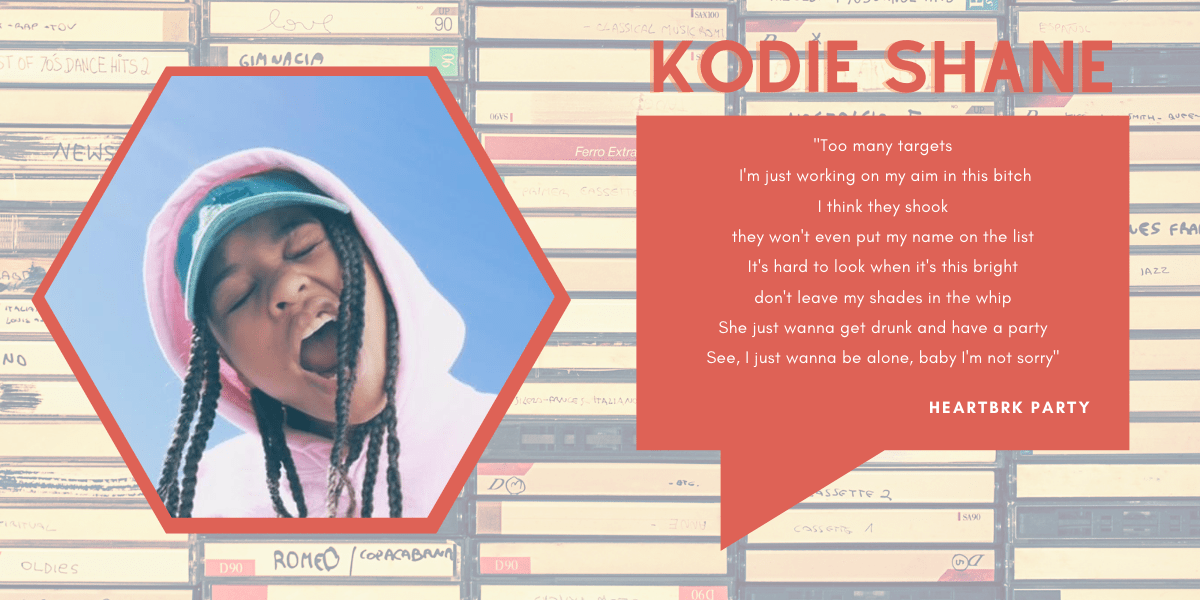 Kodie Shane is a queer rapper from the ATL whose talent, skill, and sound only continue to evolve. Her 2016 breakout single Sad, written when she was only 14 years old, is a testament to her immense musical abilities. Music is in her blood, family members include her aunt, 80's r&b/soul singer Charelle, her sister Brandi Williams from Blaque, and her brother Lil Wop. With sounds spanning from trap, hyper-pop-rap, and alternative r&b, she shines as she melodically and rhythmically raps and sings about queer love, relationships, situationships, mixed signals, and the complications that come with it all.
Debuting as the only female rapper apart of Lil Yacthy's old rap collective who is "queer as fuck and proud of it,wp_postsShane breaks boundaries in a straight male-dominated industry by being herself: "I feel like I'm starting to realize, by reading a lot of what my fans are saying, how much of a role model I really am and how much they look up to me for just being myself. I feel like I'm telling their story for them. Me being myself makes them want to be themselves."
She has released four albums, Back From the Future (2017), Big Trouble Little Jupiter (2018), Young HeartThrob (2018), and her most recent Love Roulette (2022). On each album, she displays the depth of her musicality by crossing genres and including powerful features that only elevate her sound. While she has had an early start to her career, it is clear that she has much more to give and her newest single, Break Me, shows just that.
The rappers of this generation are showstoppers. Doechii, Ice Spice, Bebi Monsuta, Bali Baby, and Kodi Shane are each transforming the boundaries and norms for rap music in their own ways. With each song and each album, they bring their distinct backgrounds, identities, and creativity to the recording booth. Their inventive music is only a small representation of this particular generation's dedication to audaciousness and unapologetic self-expression. These girls are here, they're queer, and their careers are only going up from here.
---