Feature image via Shutterstock
As a 25-year-old who grew up in church and the suburbs, I'm fully prepared to spend the next few springs giving up my weekends for friends' weddings. This is a delightful proposition, as any combination of my friends, alcohol, dancing and over-the-top romance is where I thrive most. However, very soon into my first adult relationship, I discovered the daunting flip side of that: Being a plus one. I had only ever been a plus one for a friend, so there was no pressure and a lot of free whiskey. This was…not that.
I did a pretty bad job of hiding my panic when Wynn asked me to accompany her to her best friends' wedding. The stakes felt high:
It would be the first major event we attended as a couple.
She is best friends with both members of the couple and was a groomsman (meaning a lot of time where she was busy doing important things).
She's close with the bride's parents, which meant impressing adults invested in her life.
My goopy brain instantly convinced me that this event would singularly make or break our relationship and that if it went poorly it would be my fault. But I swallowed my anxiety and said yes. Then I immediately started thinking about my outfit.
Pretty much everything written about weddings is hetero- and cisnormative af, and that includes tips and etiquette written for guests. So, as with most things, we have to write our own rules. And as with everything, these are really a collection of anecdotes framed as suggestions rather than rules. I hope they help, should you ever find yourself falling trulymadlydeeply for another human who has friends of marrying age.
Dress Up
Every time I felt myself getting anxious about the wedding, I would channel it into planning my outfits. I needed two, since I was also attending the rehearsal dinner. I obsessed over details like ties and earrings, and it paid off. I looked and felt great for both events, got lots of compliments, and made my partner look good (not that she needs help, ay ay).
The most important rule is to wear something you feel good in. This means clothing that is relatively comfortable and easy to move in — especially if there is going to be dancing! And, it means something that makes you feel like you. If your brightest sundress makes you feel confident and gorgeous, I hope you wear it. If the idea of wearing a dress makes you panicky, I really hope you pull out your sharpest blazer instead. Also keep in mind that you don't know any of these people — you can pull out something wild that stretches your sartorial boundaries and try on a whole new fashion personality, and no one will be the wiser. That's how I ended up in this $8 second-hand silk jacket: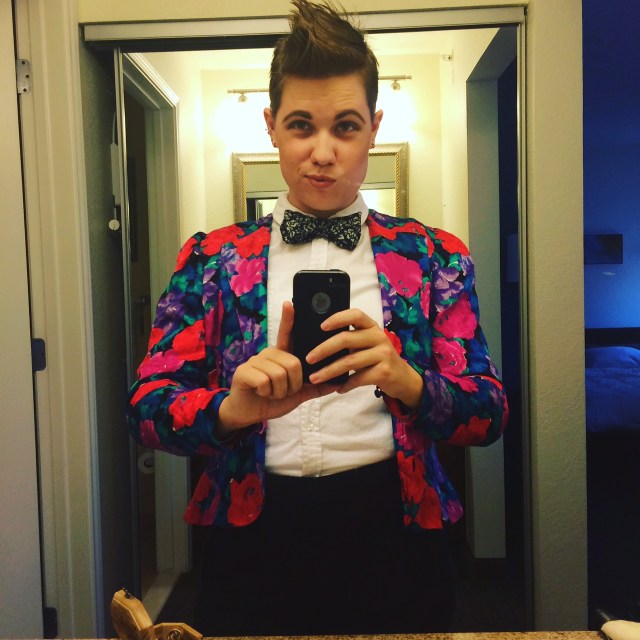 I snap chatted Intern Raquel and Maddie from the dressing room because I wasn't sure if it was magnificent or ridiculous. Their votes were split; Maddie won. The right answer was both, by the way, and I had several people of various genders threaten to steal it from me all night at the wedding.
One more tip: Dress for the event you're at. It's a good goal to not be the most over- or under-dressed person in the room. When your date insists you can "wear jeans, it doesn't matter, everyone will love you!!!" ignore her. Get her to find out about the level of dressiness from someone in the wedding party and aim for the middle. Historical etiquette advises avoiding white or being too matchy with the wedding party, but I think these rules only apply if you feel like it.
Strategize In Advance (About The Whole Gay Thing)
If there are aspects to your relationship that may be confusing to people or otherwise difficult to navigate, decide how to approach it in advance. In our case, I was worried about how to handle pronouns. I use they/them and she/her in different parts of my life, but I use they/them exclusively in our relationship. We agreed that Wynn would always use they/them and give a heads up to the people we would be spending the most time with, but that she also wouldn't correct people that used she/her — for me, it felt more comfortable and safe to just go with the flow (though when one of her college friends asked my pronouns, it made my heart sing). If you need something to feel safe, ask for it and ask your partner to advocate for you.
If your date knows a particular relative or acquaintance is queerphobic, they should give you the heads up not to engage. On the flipside, get your date to identify a couple cool friends for you to hang out with if she needs to circle the room or help finish cutting the programs. There is absolutely no reason to expose yourself to hatefulness in a room full of strangers. It's 2016, and in most rooms of strangers, most people are going to be kind or at least polite.
Which brings me to one more tip: Let yourself assume good intentions. This is a risky thing to do, but you deserve to have a good time and to insist that anyone trying to stop you from that is the problem, not your identity, presentation or relationship. Being in a visibly non-hetero couple in a room full of strangers can be daunting, but very few people are shitty enough to cause a scene on someone else's wedding day. Several people said we were their second favorite couple (after the bride and groom, I guess, though there was also this couple that had been married for FIFTY-FOUR YEARS that was really cute) and we even won over the groom's good ol' boy dad.
And the next morning, an older lesbian told us at breakfast that we just made her so happy. That's what it's really about at the end of the day, right? Making older lesbians tear up with joy.
Help Your Gal Celebrate
Just like the covenant agreement of a church camp small group, the number one rule of weddings is HAVE FUN. As a plus one, it's your role to help your partner have a great time while she celebrates people she loves. Be nice to her friends, don't cause or participate in drama, and eat as much food as you can get away with.
For Wynn and I, the wedding weekend deepened our relationship as I got to know her closest friends, we overcame a couple of hurdles, and we did an impromptu choreographed dance to "Levels" by Nick Jonas. It was an exceptionally good time full of many squishy feelings.
But for you, the plus one, this wedding doesn't have to be anything other than a really elaborate free date. Take it from someone who panicked extensively — you don't need to panic. I hope you have a ball!