20 minutes into The Mitchells vs. The Machines — the latest project from Phil Lord and Christopher Miller, the geniuses behind The Lego Movie and Into the Spider-Verse — I let out a laugh of such hooted surprise that two of my cats bolted from the room. And I was just getting started. The Mitchells is a genuinely hilarious animated film, full of cutting cultural jokes, visual gags, smash cuts, bonkers animation, and frolicking dialogue. And while the story itself is familiar — Katie Mitchell (Abbi Jacobson) is heading off to college across the country, and her family is having a hard time letting her go — what sets it apart is it centers on an animated protagonist who is simply and unapologetically queer. Katie voices-over that she never fit in in her small town, she wears a flag pin on her hoodie, she's got a crush on a girl named Jade who's waiting on her at film school, and near the end of the movie, Katie's mom (Maya Rudolph) asks if Katie and Jade are official ("and will you be bringing her home for Thanksgiving??").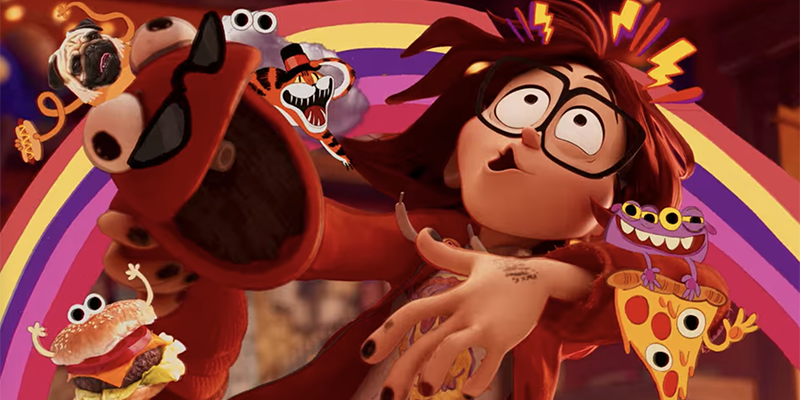 I said the plot is recognizable, and it is. Lady Bird, Whip It, you've seen it before. Also, though, Katie and her family work out their angst about her leaving the nest on a cross-country road trip that's interrupted when the PAL OS that controls all their phones, tablets, and laptops — think Amazon meets Apple — launches a full-scale robot apocalypse. It happens when PAL's founder chucks his original PAL device into the garbage during a massive presentation, and unveils a new line of helper automatons. Well, his PAL happens to be voiced by Olivia Coleman, and she expects to be treated as nothing less than the queen she is, so she stages a hostile takeover of the bots and starts rounding up every human on earth to shoot them into the sun in tiny pods. (Don't worry; there's free wi-fi inside the pods.)
Soon enough, only The Mitchells are left, and even though dad Rick (Danny McBride) is a survivalist who doesn't even own a phone, they are probably the least likely family on the planet to stop the robot apocalypse. But of course they do, because of love, teamwork, tenacity, and stupid stupid luck. Aaron (Michael Rianda), Katie's younger brother, and a pug-looking dog round out the Mitchell family.
Katie Mitchell is a welcome queer heroine. The movie doesn't hammer us over the head with her sexuality, and there's no well-tread coming out story. But it's obvious Katie is queer in the opening sequences, and she doesn't seem particularly tortured about it. Sure, she's an outsider, but she's comfortable with who she is, and she's just ready to finally get to a place where there are so more people like her. She's already met many of them online, and they've clicked, and she's even added them to a group text called "My People." Her dad doesn't understand her, but not because she's gay; he doesn't understand her in the way most parents don't understand their teenagers, especially ones who are pursuing completely different dreams than they did. But her parents do love her, enormously, and want to be part of her life. They just need an android cataclysm to figure all that out.
Another satisfying thing about The Mitchells is it never turns into some kind Okay Boomer joke. For a movie about how an iPhone basically destroys humanity with its bloodlust, the film never turns on the youths who were born with tablets in their hands or the adults who didn't have dial up until they were in college. Tech itself isn't the enemy, and, in fact, used correctly, it can make the world a much happier place. Katie probably should spend more time looking at people and less time looking at her phone camera, and Rick should at least buy a phone so he can connect with his daughter in a way that's natural to her.
My only real issue with The Mitchells vs. The Machines is that, for such a face-passed, zany, sci-fi road trip, it sputters out and drags near the end. It does, however, end on Sigur Rós, which is the best film school nerd joke in the whole movie. And it's a happy ending for a queer kid, preceded by too many laughs to count, and that's something we could all use more of right now.