There are major story spoilers for The Last of Us Part II in this article
I just want something good to happen. I thought to myself as I booted up my PlayStation and settled in to start a video game I'd been waiting to get my hands on for nearly four years. I know how ridiculous it is to want something good to happen in a game like The Last of Us Part II but I hoped for it anyway. Even when a man was getting his brains bashed into the floor of a remote cabin with a golf club or a character I loved pummeled an already dying woman to death in the desolate corridors of an abandoned medical center. I forced myself to hope for something better because everything leading up to the game's release only reinforced that it was something impossible to hope for, and I was too stubborn to accept that.
After the first official trailer was released for The Last of Us Part II, in 2018, giving more of a sense of what to expect from the story, it became clear that the game centered around a revenge plot. For the past two years everyone I talked to about this game would casually mention in some way how Dina was going to be killed and Ellie was going to seek vengeance. They would simply shrug it off and continue talking about other aspects of the game like that fact barely mattered to them. It certainly did not help that the trailers released ahead of the game actively created false scenes with Ellie and Joel and removed Dina from certain shots in order to throw viewers off the plot.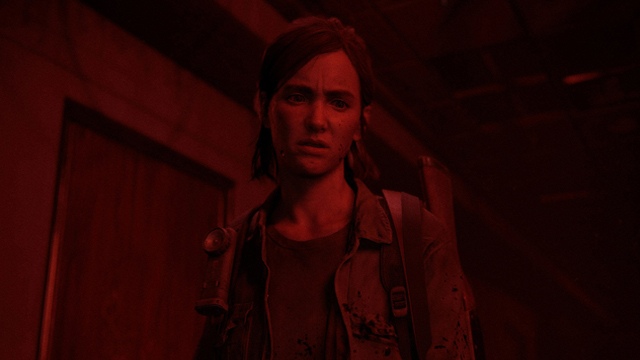 By showing Dina less Naughty Dog made it seem as if it was all based on something happening to her and in retrospect this is clearly meant to mask the true reason for Ellie going on a warpath. I get the need to attempt to disarm fan theorists from dissecting every little detail they see in these trailers but projecting the idea that Ellie's entire revenge plot was centered around something happening to Dina at the start of the game still feels very cruel. It fed into the "bury your gayswp_poststrope without even needing to be released.
For queer fans, like myself, this assumption and acceptance of the fact that Dina would likely die was never something to be celebrated. It was agonizing awaiting the arrival of The Last of Us Part II and casually having people tell me "You know Dina is going to die right?wp_postshonestly hurt and ate away at any enthusiasm I had for the game. I don't fault anyone for participating in that discourse, it's how most of these kinds of revenge plots are structured in all forms of media. By the time I was able to play it I was doing it more so out of a need to take a weight off of my shoulders than out of enjoyment. I didn't want to stumble upon any more spoilers or have someone tell me what happened second hand.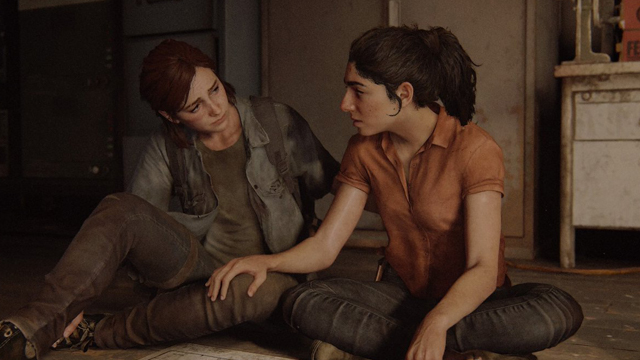 I kept telling myself that as long as Dina and Ellie survived this game it would all be worth it. Turns out, I was wrong about that.
Dina is not the reason for Ellie's vengeance quest after all. Joel's death at the hands of Abby and her group of Washington Liberation Front (WLF) members turns out to be the driving force behind Ellie's motives throughout the game. Technically that meant Dina was safe to start off and I did my best to not let my lurking paranoia get in the way of being happy during certain portions of the game but it was an ever present feeling. Even now, having finished the game, it is still there. The few times I forgot about it I found myself taking comfort in two women deeply in love, in the shit together.
Going into the game, so sure Dina wasn't going to make it past the first few hours, it was jarring to try and set myself at ease and believe what I was playing. I've only ever experienced something like that in Naughty Dog games like Uncharted where the stoic hero, Nathan Drake, gets to go artifact hunting with the women in his life. Here I was casually flirting with Dina as Ellie while investigating the ruins of a bank, singing songs to her in a rundown music shop, and planning their future on a farm somewhere, far away from everyone else. All the time wishing Ellie and Dina existed in another game where that was all they did together.
Eventually Ellie and Dina find themselves taking refuge in an abandoned theatre. Eventually Dina is no longer able to join Ellie because she has discovered she is pregnant, the father being her ex-boyfriend Jesse. From here you end up leaving her behind while you continue to chase down Ellie's remaining targets. She returns to Dina after each encounter, progressively more worn and emotionally battered but no less motivated to continue. After Jesse's unexpected arrival Ellie must also grapple with coming to terms with Dina's pregnancy. Learning how to deal with this situation brings Ellie and Dina closer together and leads into some really moving flashbacks between Joel and Ellie.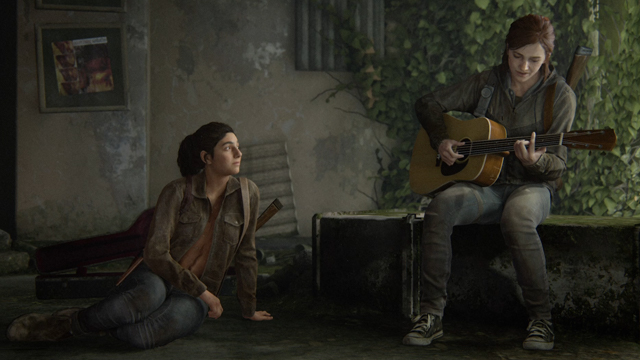 There is a lot of content in the game that explores other characters, particularly Abby. She is the one member of the WLF Ellie has the most trouble hunting down. My one issue with the parts of the game you play from Abby's perspective is that it could have been far more condensed and spread out throughout the story with the same results. At the start of the game there is a good balance, switching between Ellie and Abby, but much of her story is piled on at one moment toward the end, breaking the tension of a very climatic scene.
Through her you explore how she is connected to what happened at the hospital at the end of the first game, revealing that her father was the doctor Joel killed in the operating room. I enjoyed playing through more survival horror sections of the game as Abby, exploring buildings full of clickers and getting to hangout with Lev, a trans boy, and his sister, Yara. It was also cool to see how they explored skyscrapers using a DIY catwalk system throughout the city.
Altogether it takes about six hours or so to get through all of her backstory. I understand the importance of expanding on her character and explaining Abby's motivations for wanting to kill Joel. It was far too much exposition relating to her at a point in the game where the focus should not have been shifted that drastically for that long. The most important part of this sequence to me was her meeting Lev and his sister, who rescued her from nearly being killed by the Seraphites, a religious cult in the game. We also see Abby through her life and witness how she changes after her father's death. I think the attention to detail on her character design told as much of the story as what we saw play out on screen. Her body becomes the canvas for her rage, with her signature biceps being very distinct when you play as her in her adult life.
This entire section is also meant to facilitate switching to Abby's point of view during the theatre confrontation with Ellie. This was difficult to playthrough since you end up having to beat the crap out of Ellie after chasing her backstage. I get that things like this are worked into the game because you are meant to see the story from each woman's point of view, but I hated having to play as Abby and brutalize a character I very much identify with. Dina comes to Ellie's rescue but ends up with Abby holding a knife to her throat. It is at this point that Lev calls out to her and Abby backs down. Abby leaves with a final threat and that is the end of that, or so you are made to think.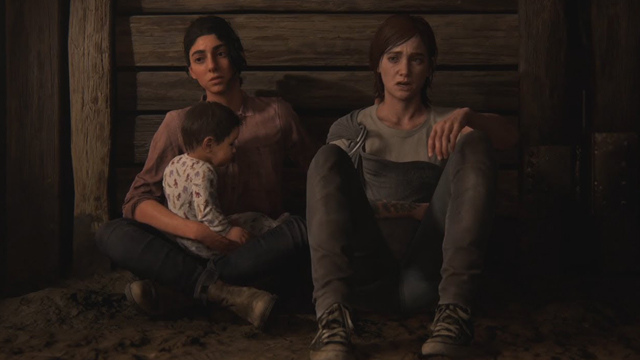 The next time we see Ellie and Dina they are living on a farm, raising sheep just like they talked about in Seattle. Dina has had her baby, JJ and they have a good life together. For a short while you get a taste of it by exploring the farm and forgetting that The Last of Us is built on trauma. Ellie is shown to clearly be dealing with PTSD and this coupled with Tommy revealing he knows that Abby and Lev likely ended up in Southern California lead to Ellie making a decision that felt completely unnecessary.
In the middle of the night, despite Dina begging her not to go, Ellie sets out to chase after Abby one more time. The whole thing is heartbreaking and I realize there is an attempt to make Ellie's PTSD the culprit but as Dina expresses in the scene, she is struggling too. Ellie leaves anyway and with it, the remnants of my own patience. The last few hours of the game you end up in Santa Barbra tracking down Abby and Lev. You're introduced to The Rattlers, a new enemy faction that, unbeknownst to Ellie, has taken Abby and Lev captive on their way to meetup with a newly formed group of Fireflies.
When Ellie finally finds Abby and Lev, they have been left for dead along with other captives of the Rattlers who were punished by being tied to wooden pillars near the beach and left to the elements. Ellie cuts Abby down and watches the now emaciated woman use what energy she has to cut down Lev and carry him toward boats to make an escape. Ellie threatens an unconscious Lev to goad Abby into a fight on the beach. I found myself identifying more with Abby in that moment, but not for the reasons the story wanted me to. In that moment I was the one struggling against Ellie, I was the one drowning on that beach in Santa Barbara. Every ounce of fight in me was gone.
I was going along with whatever the story threw at me just to be done with it even if it killed every last bit of motivation for me to ever pick up a Last of Us game ever again. Luckily Ellie stops short of killing Abby and lets her go with Lev but all you're left with is the fact that this game should have been over long before the events of Santa Barbra. Tacked onto the end of The Last of Us Part II it continues a story that already had the potential to have a perfectly good ending.
Why not just let Ellie and Dina have their happy ending with JJ on the farm? Did Abby and Lev have to be caught by an enemy group and subjected to torture after everything they've been through? Why couldn't they just find the Fireflies and have the final revelation be something that isn't tied to vengeance and hate? I just wish they had taken a chance on something else in the end. Are the new Firefly groups still looking for a cure? Do they all know about what happened with Ellie and Joel? Hell, they could have even thrown in a twist where Riley's alive and immune somehow. I could go on, and I'm sure many others could too.
I find myself at a crossroads of sorts where I cannot fully commit to liking or disliking this game. There are moments that I hold very dear to my heart and many that I still have a hard time wrapping my head around. Many of the things I like about this game outside of story moments are the technical aspects of it, like exploring ruins of a world unfamiliar to the characters exploring them, and the survival horror elements of some of the combat encounters. This is of course, not everyone. Should you play it? I'd say if you have a feeling you shouldn't, then don't.
Right now I don't know if I'm ever going to fully understand how I feel about The Last of Us Part II but I know what aspects of it I love to focus on and I'll likely replay it at some point. For all the things I have faulted this video game for I still want to know more about the characters in this world. I still see what could be if The Last of Us series can push past the trauma and let some light shine onto the stark reality that's been created. I still want that good thing to happen.