Hello and welcome to the sixth recap of the first season of The L Word: Generation Q, brought to you by the same network that brought you The L Word, a thrilling television program about a seemingly mousy bookworm who weasels her way into an assistantship to her favorite author that eventually lands her in the director's chair of said author's first feature film after manipulating and maneuvering the beloved author out of her own film via saucy sex tape, at which point she removes her glasses, revealing herself to be actually a very pretty girl, and then speaks to herself softly in a dark, empty room. Cut, print.
Friends, this recap is later than usual. The reason is that Showtime withheld press screeners this week. We were like, "hmmm, I wonder why they're doing that," and the answer is….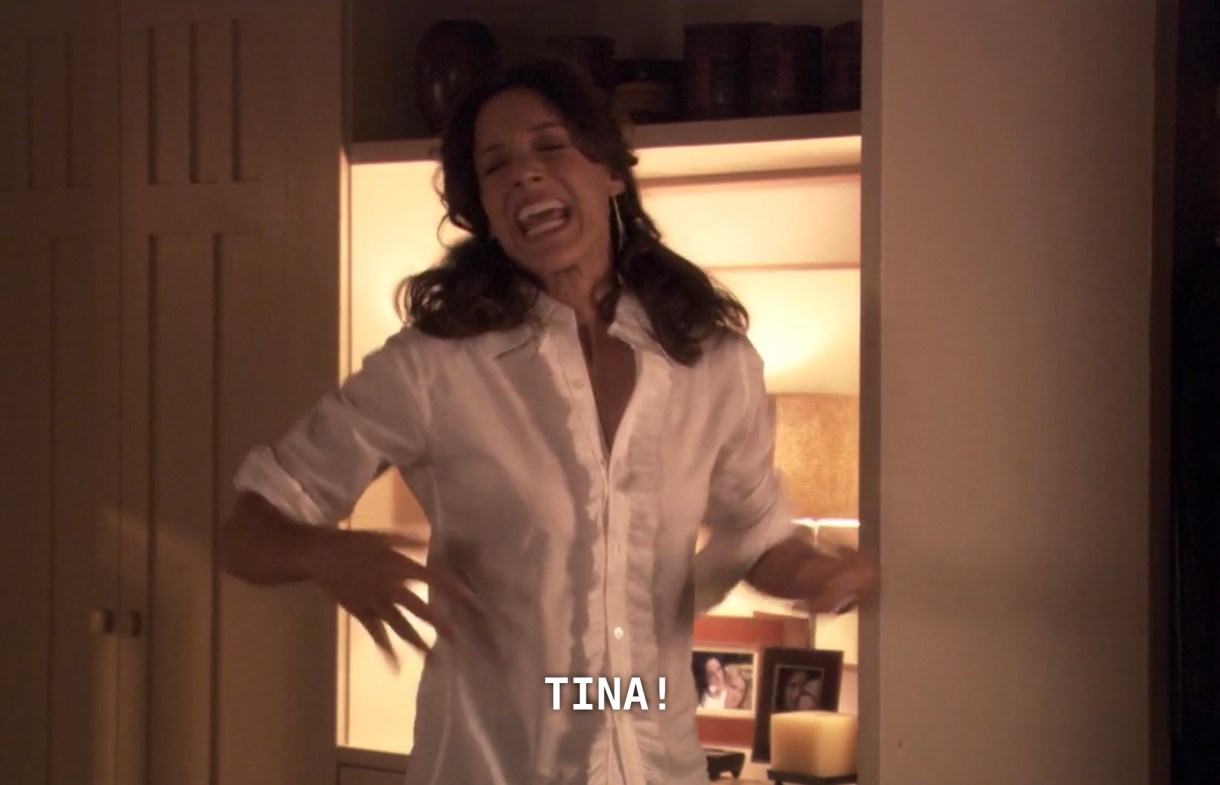 ---
We open on a typically calm, quiet street of sunny Los Angeles, California; which has been OVERTAKEN by ravenous news anchors, eager to take a giant bite out of Bette Porter's latest scandal. Despite denying an ongoing relationship with Felicity American Girl on The National/Regional Morning Coffee Late Night Aloce Show, a recently released iPhone video has revealed an intoxicated, belligerent and abusive white man accusing Bette Porter of still sleeping with his wife directly before physically assaulting her teenage daughter! How will Bette Porter answer to these claims!! Alice and Shane arrive on the scene and fight off the paps to find their distraught friend Bette inside with her team.
The ladies enter Bette's War Room and immediately launch into the episode's first fight!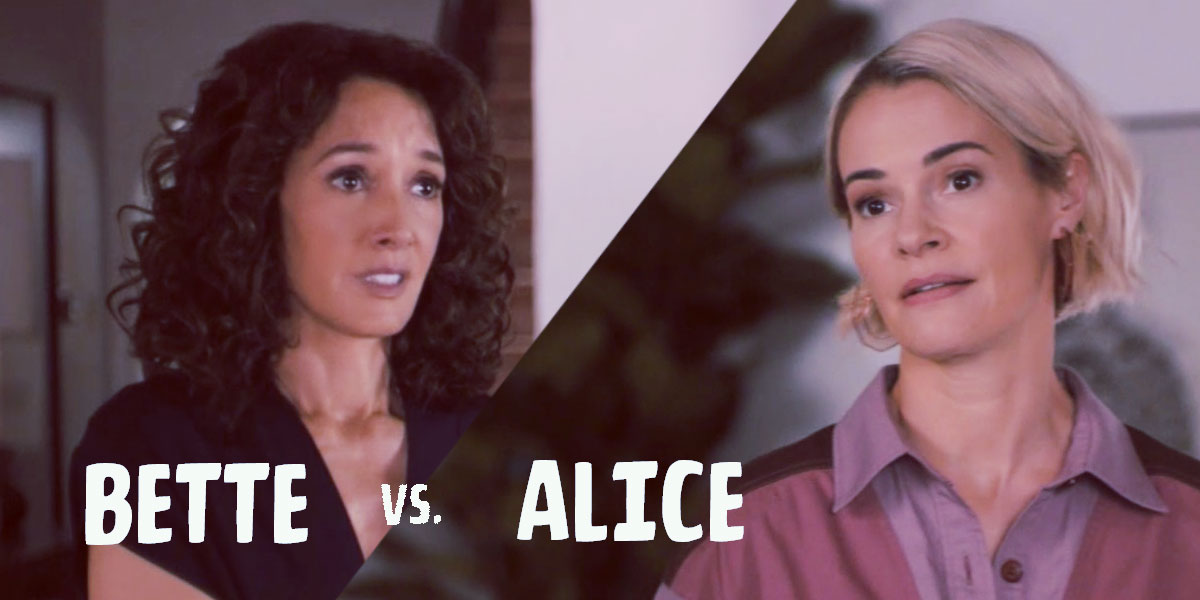 Lesbian Squabble #17: Poppy Mad Lesbian 
In The Ring: Bette vs. Alice
Content: Alice is pissed that she lied about Bette seeing Felciity on her show and ALSO that Bette didn't tell them she was seeing Felicity. However, Alice quickly realizes that Bette DID tell Shane, which should not surprise anybody who saw The L Word: Original Recipe. Shane gets to know everything, Alice! Those are the rules. In addition to being mad, Alice is now also surprised! And so she storms off.
Who Wins? Um, Jeff Milner?
Bette's slowly eroding on the inside — after telling Shane that Angie stayed at Jordi's last night because her recently-assaulted daughter can have an illicit sleepover as a treat, she recalls that today is Angie's drivers test and how the hell is Bette gonna get out of the house into her car and all the way to the DMV?
Uncle Shane and Auntie Quiara will take Angie to the DMV, no problem! Any excuse to go to the DMV, truly. Now that she's got that problem solved, Bette would like to create a new one: dropping out of the race. Dani tries to stop her from going outside to call it off, but you can't stop Bette Porter on a mission. Well, most people can't stop Bette Porter on a mission. Because when Bette Porter opens her front door guess who's there!!!!
[Throwback #20: TINA]
---
Cut to Kit + Denny's Lesbian Bar, where Tess and Finley are waking up half naked after the previous evening's drunken romp. This is a pretty standard morning for our frisky friend Finley, but Tess is obviously shaken.
It looks like my dog, Carol, texted her at 2:17 AM telling her not to take a drink. A little late with that text, Carol!
Shane shows up to find her roommate and her employee clearly reeling from the night before. "I thought you were sober?" she says to Tess. "I was," says Tess. Shane says she could fire her, but won't — Tess just needs to clean up and move on. Finley apologizes, Tess says it's not her fault, and she's gtg to a meeting, stat.
---
Back at Bette's, Tina is wearing leather pants, which I believe is illegal, and talking on the telephone about the cut they're sending to network, thus establishing that Tina's still working in the film or television industry, thus furthering our already fraught suspension of disbelief regarding Tina not living in Los Angeles with her daughter! Mama T and Mama B talk about Angie's play, and how Jordi makes Bette nervous. "Anyone who likes our daughter is gonna make us nervous," Tina says.
Bette asks if Tina thinks Jordi and Angie have had sex. "They haven't even kissed yet," Tina says, and Bette's face almost gets offended that she didn't already know this, but then mercifully for all of us, Bette decides to move on. "That's one thing I did right, I guess," Bette says, full of sorrow.  "You were doing a lot right," Tina reassures her.
Bette recaps last night's scuffle for Tina. I give this recap a demerit. Bette makes it sound like she'd pushed Mr. Felicity 'cause he'd pushed Angie, leaving out the part of the story where he directly attacked Bette after attacking Angie! Attacking Angie would've been cause enough, sure, but also, that's not what happened. I know this because I rewound and watched it 10x out of concern for Bette Porter For Mayor 2020. What is happening. Bette doesn't know what's gonna happen now. Me neither because there's no continuity. Tina gets a call — it's very clearly her girlfriend, who's upset Tina hadn't yet called her, leaving Bette alone at the table with her abandonment issues.
---
Over at DaSoMi's, Sophie's removed all the sandwich ingredients from her refrigerator and spread them out before her, right where she can see 'em. She's got your cheese, she's got your lunchmeat, your lettuce, your tomato, your condiments. It's a regular Jimmy John's up in here.
Sophie's still simmering over Dani's emotional withholding and that she fled the homestead at 4 AM and has not been in touch since.
Finley: "She kinda reminds me of my Mom."
Sophie: "What?"
Finley: "Yeah, she's like a super cold… hot lady."
Sophie: "Who? Dani or your Mom?"
Finley: "Both."
Sophie: "You know what? You're a fucking freak."
Finley: "Ahh, you love it. You'd like my Mom. She's hot. She's a fucking stud!"
Luckily Sophie has Finley, her best bro friend. "At least you talk to me," Sophie says to Finley. Finley's like of course I do! You're the best! Speaking of talking, what happened last night, Fin-Fin? Finley's gotta kill this sando and take a "nip dip" before she can get into the details of her previous evening's romp. She's real proud of herself for coming up with "nip dip." "I'm a real Emily Dickerstein," Finley says of herself, heading out into the morning sunshine.
---
The press remains camped out outside of Bette's house, wondering if Bette and Tina are gonna get back together. Inside, Pierce and Dani are having a rough morning! He's pissed Dani didn't tell him Bette was back in the saddle riding Felicity's pony. Also, Bette was supposed to be "better than that."
Pierce: "I'm a trans man and seeing someone like Bette Porter become mayor means that people like me might lead a better life. She was the one who was supposed to pave the way so that people like me could be in charge one day."
Dani: "I understand that. But she could still win!"
Pierce isn't sold on Bette's electability but Dani remains rabid for her #1 gal Bette Porter.  Bette is special! She's inspiring! Pierce is out here acting like he has not seen Jodi Lerner's epic installation video art piece, "Core," inspired by Bette Porter, which's about core values. Much like she once inspired Jodi, Bette inspires Dani every day! Dani's never felt this way about anybody before! Pierce seems to think there's something else going on regarding Dani's affection for Bette, but he's not sticking around to see it. He's taking the goldfish, bye!
Hey I have an idea!!!! Does anybody remember how Felicity's husband was DRUNK and ABUSIVE and ASSAULTED A TEENAGE GIRL AND HER MOTHER? Idk, there MIGHT BE A WAY TO SPIN THIS. Like, perhaps Felicity is um, leaving her husband because he is TERRIBLE as captured on VIDEO and might have needed Bette's emotional support to do so? I'm firing Dani and hiring myself.
---
Then, we all die together and end up circling the innermost ring of hell, the Los Angeles DMV. Shane's very nervous that these assholes aren't gonna pass Angie on her drivers test, despite her being a "freaking genius." Listen I am also a genius, but also, one time I rolled down the windows of my car and yelled "BYE LOSERS" to my friends who were smoking outside and then drove my car straight into a rock. We establish that Quiara is famous 'cause a fan recognizes her. I seriously cannot believe that anybody walking out of that DMV could have as much enthusiasm for life as this woman.
Good news: Angie passed her drivers test! Let's go for a drive! Anywhere Angie wants to go! I hope they're coming to my house.
---
THRUPLE TIME!!! Alice is trying to complain about Bette, but Nat's finding a way to make Alice's problem about her longstanding problems with Gigi, and before they can steer this conversation into a lane of viable discussion material, the server says that seeing these three ladies together makes her miss her best friends. Gigi's like 'WE'RE NOT FRIENDS."
Alice and Nat are immediately annoyed and … want to wait on the check so they can fight more?
---
Back at Bette's, Tina's pouring tea just like the good old days. Tea for Tea-na! Tina says Bette is a good Mom. Bette says Tina is a good mom. Everybody's a good mom and Angie passed her driver's test! Let's fight!!!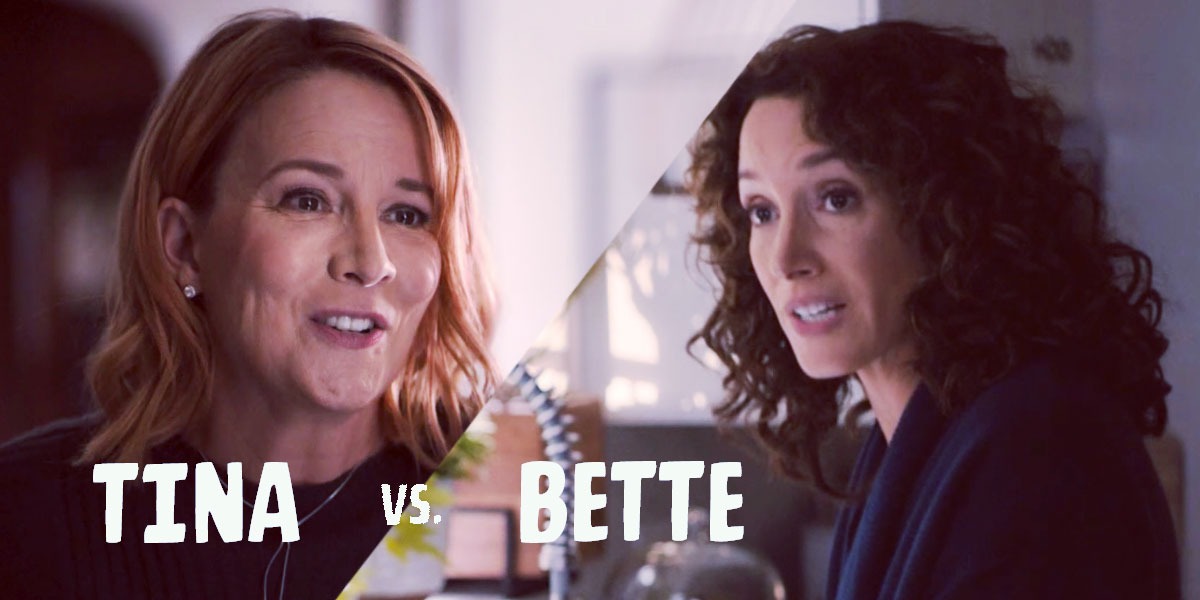 Lesbian Squabble #19: Back in the Saddle Again
In the Ring: Bette vs. Tina
Content: Tina's surprised Bette can make so much space for Angie because she took up ALL the space when she was with Tina and there was NO space left for Tina. I beg to differ, their bed was enormous. Remember?
"You know, for as long as I can remember, I've been able to identify what I want and I've been willing to pursue it. Do you really think I should apologize for that?" asks Bette Porter for Mayor.
Tina's locked and loaded and ready to get right back into The Bettina Wars of 2004-2009! Complaints registered include "everything having to be about Bette's career" and "everything having to be on Bette's timeline." Um, pretty sure Daddyof2 was not on Bette's timeline. Also Bette was "never wrong."
"Look around," Bette says. "I'm wrong all the fucking time."
Bette says Felicity was there for her when Kit died, noting that Tina didn't attend the funeral. This makes… absolutely no sense. Kit was her sister-in-law and her daughter's aunt! Tina had known Kit for TWENTY TWO YEARS. Everybody's exes go to funerals! That's just how it is!
"We needed that space," Tina says, re: not attending the funeral.
"You needed that space," Bette says.
"I needed that space," Tina agrees.
"You should've been there," Bette is correct. "I thought you were my family."
Tina looks like she's about to cry.
Who Wins? Bette.
---
Let's take a little trip down the block to DaSoMi's pool party, party of one: Finley. Is Finley too damaged to be with someone, she wonders? Sophie's being the supportive but somewhat deceptive best friend who's like "No dude, no! You're not damaged!" It's okay to be damaged, Finley! That's what therapy is for.
Finley just MISSES REBECCA and it's fine GOODBYE FOREVER. Sophie's got an idea for what they both need; BRO NIGHT!!!! Finley's so stoked she does a little flip in the pool. It's real cute.
---
Well, Shane told Angie she could drive anywhere she wanted to and she wanted to drive to… Jordi's house! I would've gone to Disneyland. They pull up and Angie asks Shane and Quiara how you know when you love someone, which inspires them to share the story of how they met, which they seemingly have never told before. Once upon a time on a French Vogue shoot, Shane was doing Quiara's hair and then later they spent the WHOLE night walking the city 'til the sun came up. Just like the classic film Before Sunrise! Quiara's a private person but she wanted Shane to know her. Also, have you seen how long Shane's fingers are.
So Angie's gonna go confess her love to Jordi. Uncle Shane's inspirational speech fits into a familiar template of reminding her what her name is but with a swear word in it: "You're Angie Porter fucking Kennard and don't you forget it," says Shane. That's right Portard, you big gaymo!!! Go get it!
Jordi answers in a giant t-shirt and wonders why Angie's there? Did she forget something? No she did not. She just has something to say!
She really likes her friendship and she doesn't wanna fuck it up so if this goes badly it would be great if Jordi forgets she ever said it but um, by the way, Angie likes her? Like… like likes her? And might love her? So IDK Jordi, what do you think? I'll tell you what Jordi thinks!!!
This is SO FUCKING CUTE I LOVE THIS FOR THEM. Shane is so warmed by this expression of young love that she decides she's down to parent Quiara's little baby pickle!!!
---
Well my friends, the thruple is THRIVING.
Gigi's a bad driver and everybody's got something to say about it. Stephanie Allyne's comedy chops in this episode are SHIMMERING. Everybody's on edge because the waitress knows that they went diving for clams as a group.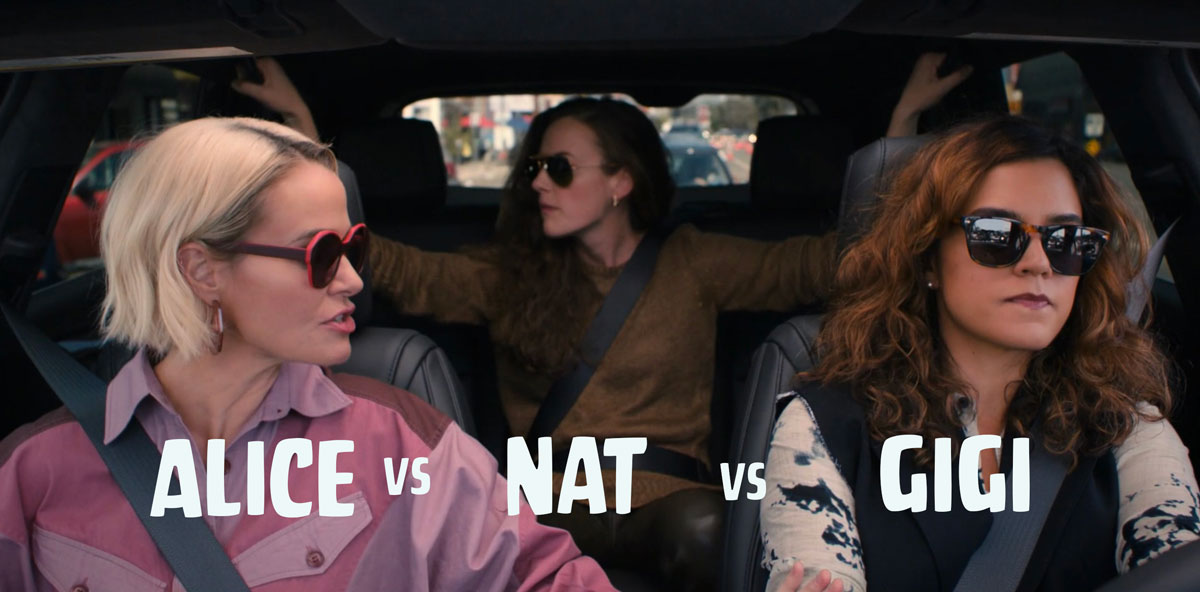 Lesbian Thrupple Squabble #20: You Me Her
In The Ring: Nat vs. Gigi with a side of Alice
Content:
Gigi: Last night when we all held hands, what did that mean?
Nat: It meant that we could hold hands in the dark.
Alice: Okay!
Gigi: No. I'm not interested in going back in the closet, thank you.
Nat: Oh my goddd no one's asking you to do that!!!
Alice: I mean except that technically you are asking her to go back in the closet —
Nat: A big walk-in closet with room for three adults.
Nat says it's absurd to tell strangers when they've yet to tell people they know! Alice suggests breathing, taking steps, and talking about steps. "We're not telling anyone until we tell the kids," Nat assures them. "And by the way, we're not telling the kids."
Who Wins? Me, again! I love them.
---
Over to BRO NIGHT at Kit + Denny's. Honestly, lesbian bars (RIP) should have a night called BRO NIGHT. No couples, just you and your actual gal pals / bros / etc. Sophie and Finley are already 500 miles closer to Drunk-town USA and Sophie's slurring about how Dani never tells her she's pretty anymore and Bette Porter is VERY hot. Finley thinks she's VERY paranoid. But Sophie has eyes and she! Can! Fucking! See!!!!!
Somehow they've managed to get drunk at the bar Tess is working alone, but Finley's yet to speak to Tess? So she's gonna walk around to the side of the bar and go ahead and do that now. She's gonna be REAL weird about it 'cause she's a baby deer learning how to be a person. First step, according to Tess, is to stop being weird.
Tess: Have you ever slept with a friend before?
Finley: Nope. I sleep with strangers and priests.
Tess is like, well, good news we're friends and you just slept with me and it's never gonna happen again! Finley's getting so much new information today out of this! Also, Finley would like Tess to know that she is VERY hot. As a friend! Honestly the whole exchange is so fucking cute and authentic and I love them? And then, for a moment, it happens: I let go, let God, and let myself love this show. I think it's finally found its legs. I really hope it gets renewed! And then Tess walks over to the bar and pours some vodka into her water glass and I remember that this is also a soap opera. A SOAP OPERA I LOVE.
Cut to Sophie and Finley cuddled up drunkstyle in a booth talking about pina coladas. Shane finds Finley and is like, yoooooo my girlfriend's back and she's gonna be moving in, hey ya, hey yah, my girlfriends' back? So you gotta move out in like a week? Finley's like whooaaaa ok sureeeeee yikes! And then Sophie's like, Finley, you can move in with me! It'll be so fun my buddy! Aw, Sophie's lonely because they wrote Micah out of this entire episode. Then "Closer" by Tegan and Sara comes on and IT'S TIME TO DANCE!
This little bit, this little dancing bit, with two drunk sad friends being a little handsy and a little hipsy and a little funny and dancey, this bit — oh, I loved it! It's just so rare to see gay friends together! Let alone gay friends with sexual tension! It's truly insane the amount of sexual tension we all have with our friends and we just LIVE WITH IT, day in and day out!
They teased this in the trailer, Sophie leaning her hips into Finley's hips while she tries to show Finley how to move her little hips and Sophie's face is up by Finley's face and we all wondered will they do this? Will they or won't they do this? And somehow in that moment I wanted them to. But also didn't lol good thing they didn't do it right totallly
---
Back at Bette's House of Divorce, Mama T wants to see Angie's driver's license!
Angie's curious why, if Tina misses her so much, she doesn't live in Los Angeles. And Tina's like listen Angie, I've been painting in Toronto. I love art. I went all the way to Paris, where Lara had her cooking class and mud bath, and showed my paintings! One day Bette Porter will buy my painting and hang it on her wall and it will ALL BE WORTH IT.
Just kidding. Tina says she got lost. She didn't feel like she could find herself unless she left Bette. I feel like I've had the precursor to this conversation with exes before. Listen: I think Bette needs a partner who's already found herself. That wasn't Tina. Every time they broke up she got a little closer into figuring herself out, but maybe that was never far enough. However, none of this checks out w/r/t Tina leaving Bette FOR ANOTHER WOMAN. Tina, find yourself alone bb.
Tina felt like half a person and didn't want Angie to just have half a mom, which's similar to when your pizza only has cheese on half of it because your wife who takes up too much space is vegan. After this deep explanation of why Laurel Holloman didn't wanna be on the reboot, Angie's got something of her own to share: SHE KISSED JORDI TODAY!!!! Tina is SO excited for her. SO ARE WE!
---
Out on the dark mean streets of Los Angeles City of Dreams, Finley and Sophie are drunk biking home and Sophie's telling Finley she's not broken because evreyadkajduybody LOVES her. "No they don't, dude," Finley insists. Sophie's like, yeah the hot bartender loves you, and Father Rebecca loves you… mmm. Not quite!
"You're the best part of my day," Sophie slurs. "I love the shit out of you, man." Finley rides on, Sophie's hands snug around her waist.
---
Over at Natalice's, the Thruple is going REALLY well so far! Everybody's mad at each other, so Gigi's gonna kiss Alice goodbye and go home to her own house. Alice tells Nat she's being a little mean to Gigi and Nat's upset that Alice is taking Gigi's side.
The children did a little art project while their parents were out yelling at each other in traffic! Everybody gets a little card with a tiny compliment. For example, they love making breakfast with Gigi. Also, they love when Nat reads them stories. And you know, they uh…. love when Alice fills up the swear jar.
Time to talk about their relationship again! Ladies: if you spend more time talking about your relationship than having your relationship, maybe it's broken. Nat says she's just overwhelmed — she has all these feelings for Gigi. Good ones, bad ones, old ones, new ones. Leftover ones. Ex-wife feelings, You know how it is. But also: she loves Alice! She's not confused about that. "I've always been an open person, you know that. And I think you and I are in a really good place," says Alice. Nat agrees, even though they are both wrong. Everything's okay now and they can invite Gigi back over.
Also, a moment for the art:
Alice: "Do we look like penises?"
Nat: "Oh yeah, they're all cocks. Always."
---
Back at Bette Porter's House of Pain, Dani is determined to carry this campaign across the finish line into the land of political glory, with or without Pierce. She will not give up on Bette Porter! Probably she saw her grab that guy on the highway and scream HOW DO YOU KNOW I'M NOT ALREADY and knows Bette has it in her to win this!!!!
Tyler's lawyer won't sue if Bette makes a public apology. "He can go fuck himself," Bette suggests. Excuse me but he attacked Bette's child and also Bette? What on G-d's green earth would Bette have to apologize for? WHAT IS HAPPENING. Dani says that Bette's got two options: drop out of the race or "give the speech that only she can give." Dani thinks Bette has the power to change people because she changed Dani. She changed Dani into someone who hasn't texted her girlfriend all day! That's art, man. So Bette gets up and goes outside.
Bette has chosen option three: give a mediocre speech that doesn't make sense or address the issue. She informs THE PRESS that her FAMOUS sister Kit Porter died of a heroin overdose, which somehow none of them already knew. Kit got in a car accident and was prescribed opioids by a doctor who didn't ask if she was an addict. (Sidenote: it seems like she's implying Kit shouldn't have been prescribed opioids at all, but there are extensive established processes for how to responsibly handle pain management with addicts, which can include opioids.) Bette says that the doctor failed her and the intake system failed her and the drug companies failed her and that's when Bette decided she wanted to be a hospital administrator become a doctor expose the for-profit healthcare industry run for mayor! Bette's speech continues — she's talking about chosen family now, and the support systems she has that not everybody has — as we segue gently into a montage of all kinds of queer families!
Bette and Tina in bed with Angie in the future…
Alice and Nat and Gigi in bed with the kiddos…
Shane and Quiara cuddling on Shane's fancy porch…
Dani going home to find her fiancee spooning on the couch with Finley after a bro-tastic bro night…
Bette tells the press that never spoke about Kit before DESPITE HER BEING FAMOUS 'cause she didn't want to exploit her family's pain but this is bigger than her. She's going to fight for everybody's family, including everybody who's ever eaten at the Olive Garden. Bette for Mayor!!!!
---
Don't worry, bluebells, we've still got time for one more fight before this episode tucks itself in for the night. Sophie's awake and ready to communicate!
Lesbian Squabble #21: Lost In Space
In The Ring: Dani vs. Sophie
Content: Dani's fucking exhausted and needs some space, but Sophie says all she does is give Dani fucking space! Enough with the space! Sophie is drunk. It's 3 AM. This is not a great time for a talk! "I just want you to talk," says Sophie, as if I did not just point out it's not a great time to talk. "I don't have anything to say!" screams Dani. Both of you need to go to sleep. Let your bodies be each others comfort tonight, little lambs!
Who Wins? Dani
---
Great speech, says Tina. But Tina's gotta go!
Bette's gonna be a great mayor, gotta go! Gotta go bye! Tina loves Bette but gotta go! Bette loves her too! GTG though! Bye gotta go! "I am your family, you know?" Tina says. Still though, she's gotta go. Let's do a little hug first.
"Please don't go," Bette says, holding her tighter.
Gotta stay?
---
The Round Up:
Sexy Moments: ZERO this episode, 14 total
Squabbles: 4 this episode, 20 total
Throwbacks: 1 this episode, 20 total
Quote of the Week: "I sleep with strangers and priests." -Finley
Pages: 1 2 3See entire article on one page