THRUPLE TIME!!! Alice is trying to complain about Bette, but Nat's finding a way to make Alice's problem about her longstanding problems with Gigi, and before they can steer this conversation into a lane of viable discussion material, the server says that seeing these three ladies together makes her miss her best friends. Gigi's like 'WE'RE NOT FRIENDS."
Alice and Nat are immediately annoyed and … want to wait on the check so they can fight more?
---
Back at Bette's, Tina's pouring tea just like the good old days. Tea for Tea-na! Tina says Bette is a good Mom. Bette says Tina is a good mom. Everybody's a good mom and Angie passed her driver's test! Let's fight!!!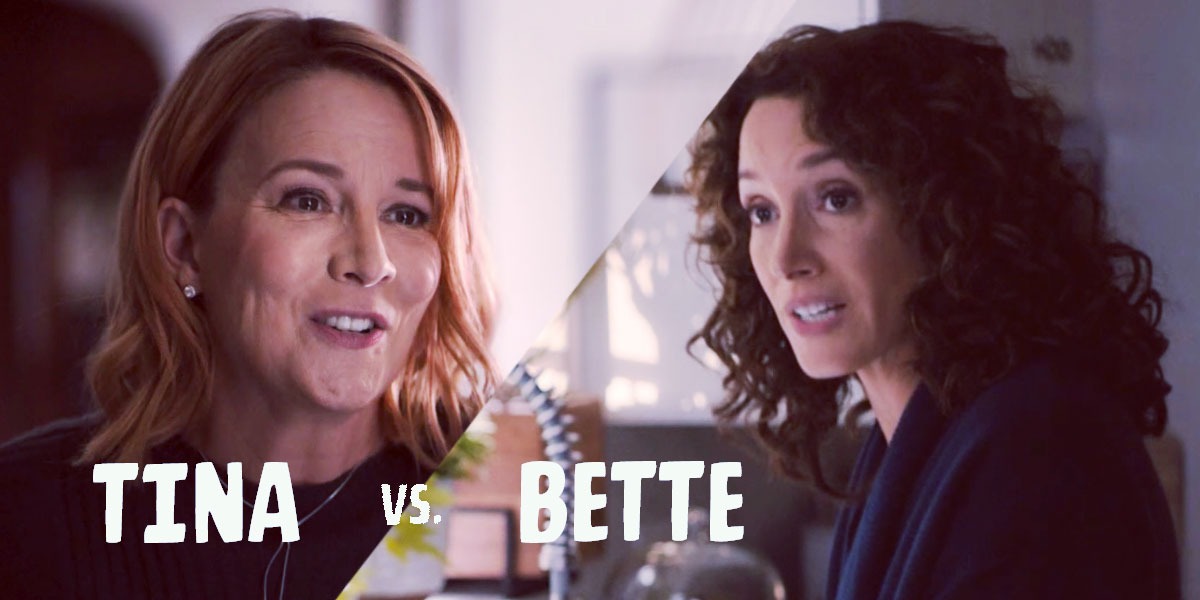 Lesbian Squabble #19: Back in the Saddle Again
In the Ring: Bette vs. Tina
Content: Tina's surprised Bette can make so much space for Angie because she took up ALL the space when she was with Tina and there was NO space left for Tina. I beg to differ, their bed was enormous. Remember?
"You know, for as long as I can remember, I've been able to identify what I want and I've been willing to pursue it. Do you really think I should apologize for that?" asks Bette Porter for Mayor.
Tina's locked and loaded and ready to get right back into The Bettina Wars of 2004-2009! Complaints registered include "everything having to be about Bette's career" and "everything having to be on Bette's timeline." Um, pretty sure Daddyof2 was not on Bette's timeline. Also Bette was "never wrong."
"Look around," Bette says. "I'm wrong all the fucking time."
Bette says Felicity was there for her when Kit died, noting that Tina didn't attend the funeral. This makes… absolutely no sense. Kit was her sister-in-law and her daughter's aunt! Tina had known Kit for TWENTY TWO YEARS. Everybody's exes go to funerals! That's just how it is!
"We needed that space," Tina says, re: not attending the funeral.
"You needed that space," Bette says.
"I needed that space," Tina agrees.
"You should've been there," Bette is correct. "I thought you were my family."
Tina looks like she's about to cry.
Who Wins? Bette.
---
Let's take a little trip down the block to DaSoMi's pool party, party of one: Finley. Is Finley too damaged to be with someone, she wonders? Sophie's being the supportive but somewhat deceptive best friend who's like "No dude, no! You're not damaged!" It's okay to be damaged, Finley! That's what therapy is for.
Finley just MISSES REBECCA and it's fine GOODBYE FOREVER. Sophie's got an idea for what they both need; BRO NIGHT!!!! Finley's so stoked she does a little flip in the pool. It's real cute.
---
Well, Shane told Angie she could drive anywhere she wanted to and she wanted to drive to… Jordi's house! I would've gone to Disneyland. They pull up and Angie asks Shane and Quiara how you know when you love someone, which inspires them to share the story of how they met, which they seemingly have never told before. Once upon a time on a French Vogue shoot, Shane was doing Quiara's hair and then later they spent the WHOLE night walking the city 'til the sun came up. Just like the classic film Before Sunrise! Quiara's a private person but she wanted Shane to know her. Also, have you seen how long Shane's fingers are.
So Angie's gonna go confess her love to Jordi. Uncle Shane's inspirational speech fits into a familiar template of reminding her what her name is but with a swear word in it: "You're Angie Porter fucking Kennard and don't you forget it," says Shane. That's right Portard, you big gaymo!!! Go get it!
Jordi answers in a giant t-shirt and wonders why Angie's there? Did she forget something? No she did not. She just has something to say!
She really likes her friendship and she doesn't wanna fuck it up so if this goes badly it would be great if Jordi forgets she ever said it but um, by the way, Angie likes her? Like… like likes her? And might love her? So IDK Jordi, what do you think? I'll tell you what Jordi thinks!!!
This is SO FUCKING CUTE I LOVE THIS FOR THEM. Shane is so warmed by this expression of young love that she decides she's down to parent Quiara's little baby pickle!!!
---
Well my friends, the thruple is THRIVING.
Gigi's a bad driver and everybody's got something to say about it. Stephanie Allyne's comedy chops in this episode are SHIMMERING. Everybody's on edge because the waitress knows that they went diving for clams as a group.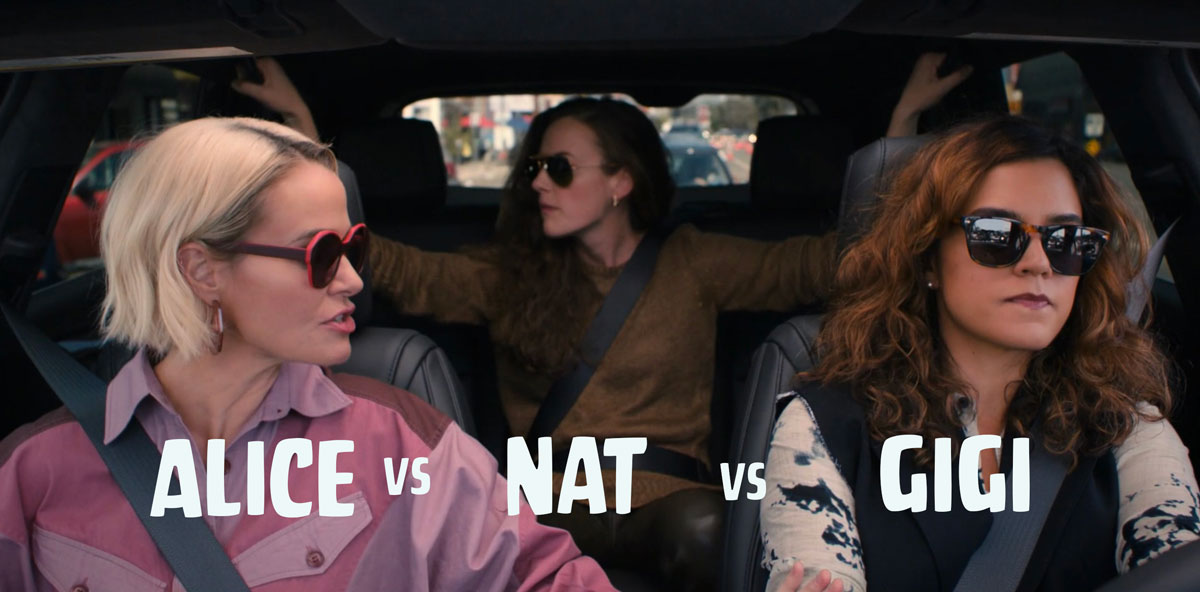 Lesbian Thrupple Squabble #20: You Me Her
In The Ring: Nat vs. Gigi with a side of Alice
Content:
Gigi: Last night when we all held hands, what did that mean?
Nat: It meant that we could hold hands in the dark.
Alice: Okay!
Gigi: No. I'm not interested in going back in the closet, thank you.
Nat: Oh my goddd no one's asking you to do that!!!
Alice: I mean except that technically you are asking her to go back in the closet —
Nat: A big walk-in closet with room for three adults.
Nat says it's absurd to tell strangers when they've yet to tell people they know! Alice suggests breathing, taking steps, and talking about steps. "We're not telling anyone until we tell the kids," Nat assures them. "And by the way, we're not telling the kids."
Who Wins? Me, again! I love them.
---
Over to BRO NIGHT at Kit + Denny's. Honestly, lesbian bars (RIP) should have a night called BRO NIGHT. No couples, just you and your actual gal pals / bros / etc. Sophie and Finley are already 500 miles closer to Drunk-town USA and Sophie's slurring about how Dani never tells her she's pretty anymore and Bette Porter is VERY hot. Finley thinks she's VERY paranoid. But Sophie has eyes and she! Can! Fucking! See!!!!!
Somehow they've managed to get drunk at the bar Tess is working alone, but Finley's yet to speak to Tess? So she's gonna walk around to the side of the bar and go ahead and do that now. She's gonna be REAL weird about it 'cause she's a baby deer learning how to be a person. First step, according to Tess, is to stop being weird.
Tess: Have you ever slept with a friend before?
Finley: Nope. I sleep with strangers and priests.
Tess is like, well, good news we're friends and you just slept with me and it's never gonna happen again! Finley's getting so much new information today out of this! Also, Finley would like Tess to know that she is VERY hot. As a friend! Honestly the whole exchange is so fucking cute and authentic and I love them? And then, for a moment, it happens: I let go, let God, and let myself love this show. I think it's finally found its legs. I really hope it gets renewed! And then Tess walks over to the bar and pours some vodka into her water glass and I remember that this is also a soap opera. A SOAP OPERA I LOVE.
Cut to Sophie and Finley cuddled up drunkstyle in a booth talking about pina coladas. Shane finds Finley and is like, yoooooo my girlfriend's back and she's gonna be moving in, hey ya, hey yah, my girlfriends' back? So you gotta move out in like a week? Finley's like whooaaaa ok sureeeeee yikes! And then Sophie's like, Finley, you can move in with me! It'll be so fun my buddy! Aw, Sophie's lonely because they wrote Micah out of this entire episode. Then "Closer" by Tegan and Sara comes on and IT'S TIME TO DANCE!
This little bit, this little dancing bit, with two drunk sad friends being a little handsy and a little hipsy and a little funny and dancey, this bit — oh, I loved it! It's just so rare to see gay friends together! Let alone gay friends with sexual tension! It's truly insane the amount of sexual tension we all have with our friends and we just LIVE WITH IT, day in and day out!
They teased this in the trailer, Sophie leaning her hips into Finley's hips while she tries to show Finley how to move her little hips and Sophie's face is up by Finley's face and we all wondered will they do this? Will they or won't they do this? And somehow in that moment I wanted them to. But also didn't lol good thing they didn't do it right totallly
---
Pages: 1 2 3See entire article on one page