Last week, EA Games announced that the next edition of the popular FIFA video game series (FIFA '16) will include women's teams for the first time. This announcement spurred Twitter misogynists to take to their keyboards to make collectively unprofound statements expressing their consternation.
FIFA 16 Career Mode: Your star striker has been ruled out for 9 months due to pregnancy.

— Ash_LFC (@zodman100) May 28, 2015
@EASPORTSFIFA You better make them breasts bounce

— 🇯🇲🇩🇲 (@mrtldrip) May 28, 2015
@EASPORTSFIFA the thing is lads is that women are shit at football, but you're going to rate them all high due to fears of sexism

— Jack (@jackwf_) May 28, 2015
@EASPORTSFIFA introducing topless celebrations as well?

— cam (@campark_) May 28, 2015
The video game is scheduled to be released in September.
The Twitter reaction to EA's new game is just one variant in the globally sexist world associated with Fédération Internationale de Football Association. FIFA's entire culture is fundamentally sexist, from its chauvinist president (who announced on June 2 that he was resigning) to its executive committee officials (none of whom are women), all the way down to the dudes who play their video games.
Recently, nine FIFA officials and five associates were arrested in Zurich on racketeering conspiracy and corruption charges. Immediately after what many are calling FIFA'S worst indignity ever, Head Nutjob-in-Charge/FIFA President Sepp Blatter was re-elected.
The first words out of his mouth: "I am the president now, the president of everybody."
Thankfully, due to a fuming outcry of international proportions, Blatter has agreed to step back down. This is wonderful news, as he is someone that doesn't try to hide his misogyny very well, if at all.
The BBC recently reminded folks of Blatter's terrible remarks on women's football in 2004: "[The women footballers] could, for example, have tighter shorts. Female players are pretty, if you excuse me for saying so, and they already have some different rules to men — such as playing with a lighter ball. That decision was taken to create a more female aesthetic, so why not do it in fashion?"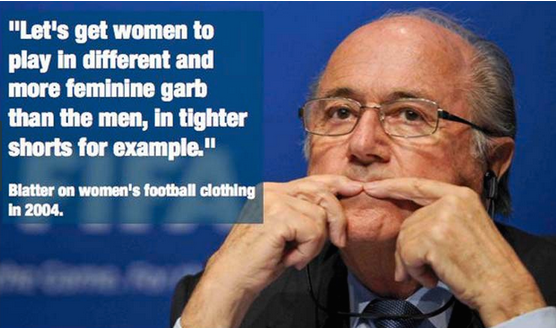 While this statement caused a mighty backlash from global football fans and footballers worldwide, it wasn't enough of a misstep to remove Blatter from his position. It's taken a conspiracy scandal of global proportions to render him powerless (in the soon-ish future; no replacement has been announced as of yet).
Blatter has disrespected several women players in the recent past. In September, 2014, U.S. forward Abby Wambach told Sports Illustrated about the time she and her wife, fellow player and midfielder Sarah Huffman, attended the World Player of the Year awards in Zurich, Switzerland:
"'[FIFA president] Sepp Blatter came into our little area, and he walked straight up to Sarah and thought she was [Brazilian star] Marta,' says Wambach.
'Marta!' Blatter said, hugging a bewildered Huffman, who doesn't look much like Marta. 'You are the best! The very best!'
'He had no idea who Marta was, and she's won the award five times,' says Wambach. 'For me, that's just a slap in the face because it shows he doesn't really care about the women's game.'"
Just recently, Blatter made the same mistake with U.S. star forward Alex Morgan — who, alongside many of her teammates on the No. 2 globally-ranked U.S. women's soccer team, is a fairly recognizable celebrity. Morgan told Time Magazine:
"I have experienced sexism multiple times, and I'm sure I will a lot more. I feel like I'm fighting for female athletes. At the FIFA World Player of the Year event, FIFA executives and FIFA president Sepp Blatter didn't know who I was. And I was being honored as top three in the world. That was pretty shocking."
That is pretty shocking. As was Blatter's reinstatement amid all the corruption charges.
And speaking of corruption charges: Alexandra Wrage, the president of TRACE International, an anti-bribery non-profit, told MSN.com about an exchange she had with two senior FIFA executives as she was having lunch at the dining hall of the Budapest Congress:
"One said: Can you stop putting forward female candidates for these governance positions?" Wrage recalls. "He named them: the adjudicatory and investigative [committees]. He said you need to stop putting forward female candidates, because a female candidate will never be acceptable in one of these slots. I'm paraphrasing, but I'm very close. I was looking down at my meal and across at the people sitting next to me. I actually looked up to him and said: 'Did you really just say that to me?'
Wrage called the blatant sexism "breathtaking" in her interview with MSN. And she's holding Blatter rightfully accountable:
"The fundamental premise of good governance is that the leadership sets a tone," says Wrage. "And when the leadership is making the kinds of comments that Mr. Blatter does, it's a bit of a trainwreck for gender issues in an organization. Because everyone takes their cues from him. He could change the culture with respect to gender issues at FIFA very quickly if he took a strong and committed position. It's true of any leader at any organization. But he is so much a part of the problem that it isn't going to happen on his watch."
---
Before you go!
It takes funding to keep this publication by and for queer women and trans people of all genders running every day. We will never put our site behind a paywall because we know how important it is to keep Autostraddle free. But that means we rely on the support of our A+ Members.
Still, 99.9% of our readers are not members.
A+ membership starts at just $4/month.
If you're able to, will you join A+ and keep Autostraddle here and working for everyone?
Join A+