Vada, the lead of The Fallout, played by budding star Jenna Ortega, is just a normal high schooler. She listens to music way too loud in the car with her best friend, Nick, and they stop for Starbucks when they're already running late for school. She has a little sister who adores her and talks like Kitty Covey. She jokes about poops. It's all a normal day in a normal life, until it's not.
When the sound of gunfire rips through the hallway of Vada's high school, she gets trapped in the bathroom with Mia (played by Maddie Ziegler of Dance Moms and bad Sia movie fame), an Instagram-famous dancer. Before the shots rang out, Vada was texting her best friend, making fun of Mia. But that was two minutes ago, back when things were normal. Now, the girls wait out the attack in one toilet stall together, potentially the last person the other will ever see.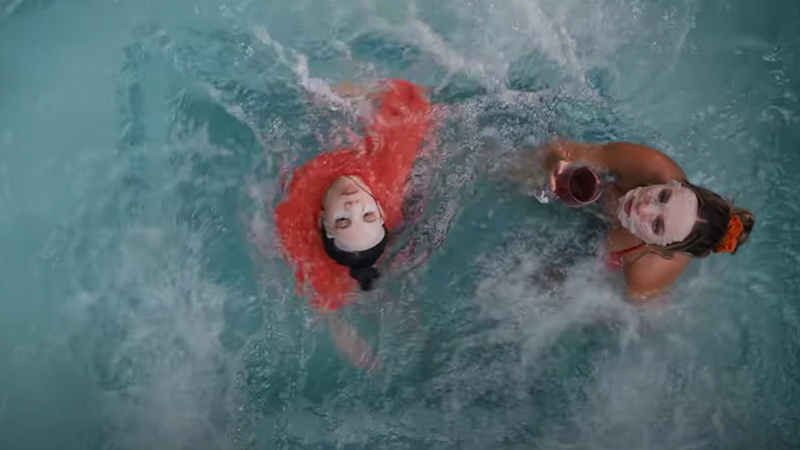 It's to the film's credit that we never see any of the shooting, can only sit in terror just like the girls — waiting as they are to find out what will be decided about their fate. It's a horribly effective choice, one that made me jump out of my skin when the door to the bathroom slams open and the two girls are joined by a boy, Quinton, covered in blood — he says it was his brother's, and Mia pukes directly into the toilet bowl, onto the fancy shoes she dumped in there to hide better.
The rest of the film, as the title suggests, is about what happens after. Vada withdraws from her family, from Nick (whose reaction to the shooting is to campaign for more gun reform, including appearances on major news networks), and from school. The choice to shoot a lot of the film in close-up is also horribly effective: Vada's whole world is in pieces. Her only solace is in texting Mia, who reached out after the attack and seems just as numbed out as Vada.
The two girls have nothing in common, except for literally the most important thing to ever happen to them, and they cling to each other for that reason. With Mia, Vada can just be — no one is asking her to be okay, no one is telling her how strong she is or what a terrible thing happened to her. Mia knows. Mia was there. With Mia, in her fancy huge house with no parental supervision, Vada can drink and smoke weed and even crack some truly hilarious jokes.
That's the thing about trauma, about dealing with the fallout, it's not just never-ending bleakness. There are moments of levity, times for a morbid joke and times for being so silly you forget (for a bit) that anything bad ever happened to you. Jenna Ortega handles those two tones incredibly deftly for such a young actor. In one moment, she's dead behind the eyes as she promises her mom that she feels better, and then she's hanging out with Mia again and delivering a hilarious monologue, talking a mile a minute and admitting that she thinks the weed they smoked is making her annoying.
The script smartly allows for both kinds of moments, sometimes right after another. I teared up 6 times, according to the notes app on my phone, and I lost count of how many laughs I barked out, sometimes through tears.
Mia and Vada continue to lean on each other, and Quinton, while they adjust to their new realities as funeral-going kids who can't return to school. When Vada finally tries to go back, it's with disastrous results (though the day that she decides to do ecstasy is a standout sequence in the movie, Jenna Ortega has the range!). All around Vada are kids going about their normal days again, seemingly fine, and then there's her, who can't use the bathroom at school.
I do wish the film had given more insight into the general mood at Vada's school. I rarely felt that I understood whether Vada was reacting like the majority of the kids, or if her politically emboldened friend Nick was. I didn't know how much time had passed, how many kids took time off school, how much time they took. Is Vada struggling more, or just differently, than the other kids? In PTSD healing, other people's timelines really, truly don't matter. In movies, though, they might!
Eventually, there are breakthroughs. Vada and Mia hook up. Vada tells her mom what's been going on with her, finally talks to her sister, shouts off the side of a mountain with her dad. Vada opens up to her therapist (played, inexplicably by Shailene Woodley, which gave me a genuine jump-scare). After avoiding Mia post-hookup, Vada sees her again and Mia tells her she's going to go back to dance classes, having avoided them since the shooting. They joke and decide not to ruin their friendship, then go right back to cuddling.
In a different movie, it might have bothered me that there's no big revelation about what it means for Vada and Mia to have hooked up. In this movie, though, it felt like just another thing happening in Vada's world, and I only wanted her to do what made her feel best. Then again, I was calling her "my angel," "my literal birth child" and "my sweet babe" in my notes by the end of the movie, so I could be biased.
The Fallout is not a hopeful movie, exactly. It doesn't end right after Vada's breakthroughs, on a close up of her grinning at her new future. That's not really how healing happens. It ends on a reminder that these traumatic events continue to happen, hurting new people and potentially retraumatizing anyone who has already been through something horrible. But the movie does leave you with the hope that someday, Vada will be okay. The hope that someday, they all will be.