The Dyke Kitchen is a bi-weekly series about how queerness, identity, culture and love are expressed through food and cooking.
---
Over the past few weeks, with a much less rigid time structure and a hazy concept of future, I find myself far more open to suggestion than normal. I'm easily moved toward attending to an immediate need or interest, like changing into warmer socks after the sun sets, or dropping everything to make rice, or listening to my friend Angela tell me about a spiritual message she just received from an owl. I think a lot of us are experiencing this. Maybe it's why everyone I know is sending around photos of their take on Alison Roman's lemon turmeric tea cake, which then leads to — dare I say — viral rounds of more cakes and photos? Recently, I was on a video chat with Sarah, when she pulled out a really enticing chocolate chip cookie and started eating it, and immediately, I wanted one too. But I had no cookies. I didn't even have chocolate. "Do it anyway, make cookies!" she encouraged me.
So I did. My kitchen process is a lot like collaging. I like to ask myself, "If I were at a party in my fridge, who would I want to pull into an unexpected and fascinating conversation together?" In the end, what I decided on was a cookie convo flavored with browned miso butter, bacon fat, cinnamon and cocoa, studded with walnuts and bacon bits. So, readers beware: THIS IS A MEAT COOKIE. You can definitely make it vegetarian, by adding 3 more tablespoons of butter and finding some other exciting thing in your pantry for texture!
I was mildly obsessed with this cookie, and truly, I did not plan to be. It's sort of like a turbo-charged snicker doodle, which, in the scheme of things is pretty tame. It does have a lot of savory depth, it's not a flatly sweet cookie, and I wanted it to mimic some of my favorite qualities of my mom's chocolate chip cookies — she knows they're the best, she dislikes eating anyone else's. The miso touch is light, just adds a little more nuttiness to the browned butter, as the cocoa touch. The cookie's texture is tender, not crispy, it's a little dense at room temperature, has a lot of texture variation, and tastes flavorful even in the bites without mix-ins. The bacon creates these moments where you get a more salty, smoky bite and I found that exciting!
How To Make Browned Miso Butter Bacon Walnut Cookies
Ingredients for 12 cookies
1 stick or ½ cup of butter
1 heaping teaspoon of miso paste (I made my miso two years ago, so if yours is lighter, you could add a little more, you could also just not add it if you don't have any)
3 strips of bacon, cook them crispy and then reserve the fat, I got about ¼ cup from mine
1 large egg
¾ cup sugar, and a little extra for sprinkling on top
1 teaspoon vanilla
1 cup flour
2 teaspoons cinnamon
1 tablespoon cocoa powder
½ teaspoon baking soda
¼ teaspoon salt
½ cup of coarsely chopped walnuts, lightly toasted in the toaster oven
Directions
Heat your oven to 375 degrees F, and line a baking sheet with parchment paper or slap on a Silpat if you're fancy like that.
You can cook the bacon on the stove, or put in on a quarter sheet tray lined with parchment or foil, and when the oven is heated, stick the tray in and give it about 10-15 minutes to cook. It's important you get pretty shatteringly crisp bacon so it doesn't get too soft and bendy in your cookie.
While that's going on, put the butter in a small saucepan and brown it. You'll want to let it melt, and then stir it constantly, because the dairy bits are going to start cooking and they burn really easily. I threw in my miso at the point where the butter was getting frothy, and stirred them up together, mashing up the miso clumps.
You'll notice the butter start to change into a golden hue, and if you love risk, you can keep pushing it, just keep stirring quickly. If you're cautious, turn off the stove when it goes golden, or remove the pot from heat, and you'll see the color will continue to deepen (keep stirring!), and then it's done! Browner is better for a lot of things, including butter, the flavor stretches across like 3 octaves as you go darker.
Remove your bacon from its fat bath and let it chill on a paper towel.
Meanwhile, collect the bacon fat, about a ¼ cup, into a liquid measuring cup.
Then add the browned butter into the same measuring cup. To be honest, my butter looked funky after it was done, the miso had cooked and little bits were floating around the surface, but that was totally okay. The fats need to cool down so they don't cook the egg, so let them hang out while you mix the dry ingredients.
In a medium bowl, mix flour, baking soda, salt, cinnamon and cocoa all together.
Once your fats are warm, but not hot, like you can comfortably stir them with your finger, pour them into a large mixing bowl or the base of a stand mixer. Add sugar, and using a mixing device of your choosing, blend these babies together until they're creamed into one combined paste.
Then add the egg and the vanilla and continue mixing until they're fully combined and you have a lighter, fluffier version of the creamed paste. Doesn't this sound appetizing?
At this point you will add your dry ingredients. I like to do this in two batches, and you can also use a mixer, you just don't want the flour to get too worked or you'll get tougher cookies. You can also use a spatula if you like a more hands-on experience.
When your dough is nice and smooth, and the bacon fat really gives it a nice shine, you can fold in your mix-ins. Add your walnuts, and chop or snap your bacon into pieces and mix them up in the dough. I like larger chunks so I kept them bigger, but you can do yours the way you want. Also, I'd have added another 1/2 cup of chocolate chunks if I had them.
Then, I chilled my dough by popping it into the freezer, while I cleaned up the dishes in my sink, probably around 15 min. This dough is pretty loose, so I think it's a good idea to let it stiffen a little, before putting it in the oven.
Spoon or scoop about 1 tablespoon+ sized lumps of dough onto the lined baking sheet and space them out as far as you can (mine needed a tiny bit more space between). I gave each dough lump a little pat on top with two fingers, before sprinkling the top with sugar. It's a fairly savory cookie, so I wanted to finish it off with a definitively sweet and crunchy note.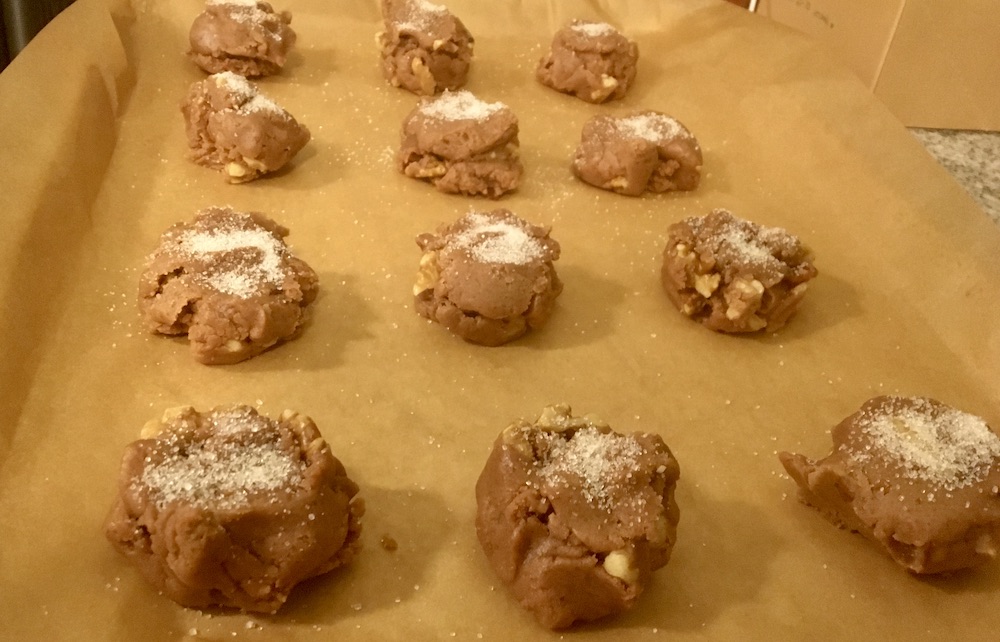 Let them bake for 15-20 min or until you see a crispy edge, then, begin the excruciating process of letting them cool off for 10 minutes.
Eat them! On FaceTime and make your friends jealous! These were so excellent with coffee, if you're into that.