The Dyke Kitchen is a bi-weekly series about how queerness, identity, culture and love are expressed through food and cooking.
---
I really like grilling, and as long as I'm wearing a shirt that I don't mind getting smoky, I'm always looking for an excuse to do it. It's a great reason to invite my friends over, and to stand outside with a drink and wear an apron. I can't help that I have Silver Lake dad tendencies!
People in my life say I'm good at grilling — and I will admit that I'm very skilled at this one flank steak that I marinate in soy sauce overnight, which even vegans have enjoyed — but I'm here to declare that I'm actually only okay at grilling. And I really like doing it, so I persist! As I've mentioned in my ode to stir frying, I enjoy dramatic cooking methods, and making a fire in the small alley beside my house, listening to foods sizzle on my grate and watching them char is great drama for me.
So it made sense to me on the evening when I was inviting my latest love interest to meet my last girlfriend, who is also one of my very best friends and regularly lends her hands to this series (I have promised to write a full explainer on why I don't like the term "ex" at a later date), that I would grill for the fiery women involved in this queer occasion.
"Write about what you make for dinner when your current and former lovers are meeting," Phoebe was making fun of me this week. And so I am. The menu was a weird little mix with something for everyone. It included lamb, which I know Phoebe loves, shrimp for me, and a grilled corn salad that I knew Sarah would like. Our experience of the meal was all heavily influenced by the custom cocktail that Phoebe had designed, in order to loosen us up and prepare us for the inevitable audio recording session that was also slated for later that night.
As a side note: I grill with charcoal in a Weber because I like the smoke. And, even with the best of intentions, I always end up grilling after the sun goes down, which I don't recommend because it makes it hard to see when things are done, but that's just how it goes!
Grill Menu For The Meating Of My Loves
Shrimp marinated in mandarin orange juice and spices
Ground lamb patties with fried onions, herbs and spices
Grilled corn salad with peaches, mint, cilantro, queso fresco and lime
Rice steamed with coconut oil, sesame seeds and salt (which I just add into my rice cooker and press "cook")
Mezcal cocktail with fresh pineapple juice, lime, jalapeño, cilantro and lemon verbena syrup
In addition to the food being tasty, it was a lively outdoor dinner, where we all got to share favorite stories of less-than-advisable baby gay choices.
How To Make Phoebe's Cocktail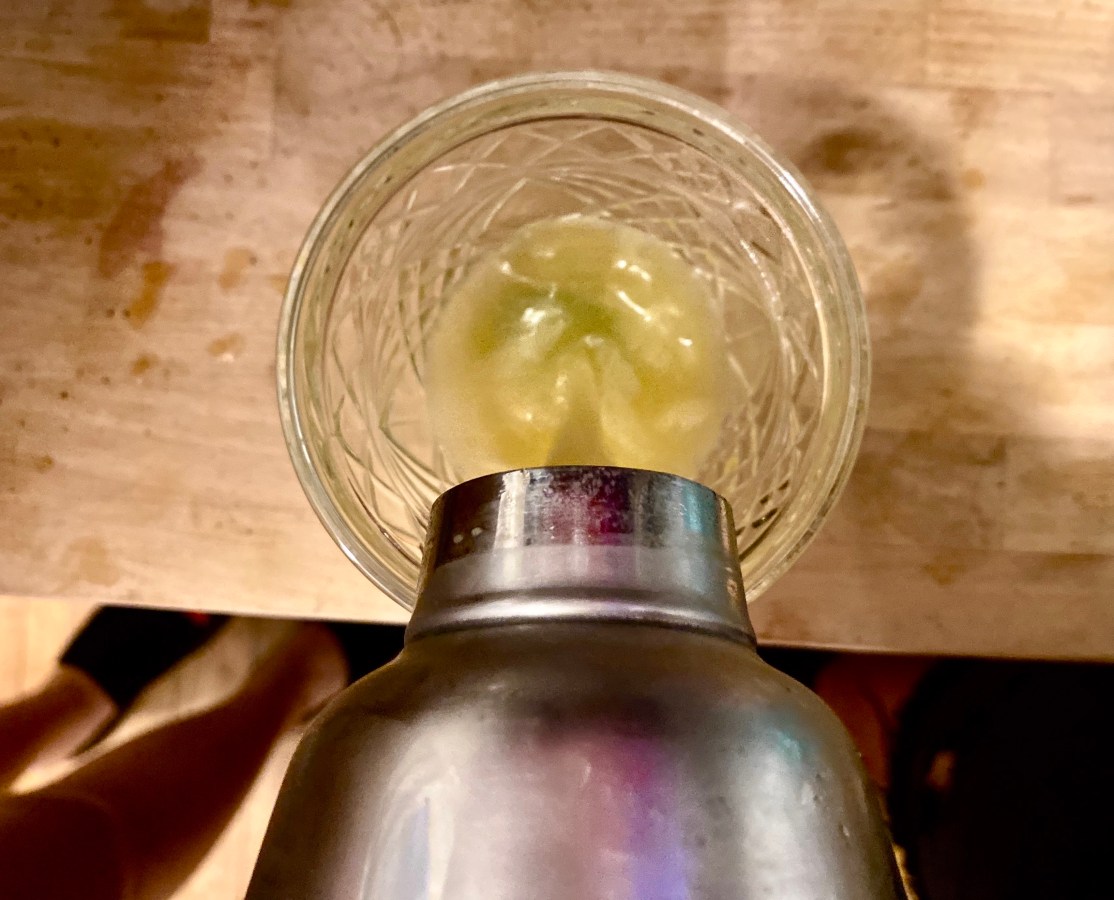 Phoebe: Okay, so this is a take on a cocktail from a restaurant with "elevated Mexican fare" where I once worked as a bar back because I badgered my friend, who was the manager, to hire me. I was told early on that I would never make it as a real bartender, so I wrote down all the recipes so I could make them for my friends. This drink was called "La Piña" and the version I made for this very special evening was a "Lemon Verbena Piña" because I made lemon verbena simple syrup using leaves from the garden of my two Capricorn roommates.
I chose a mezcal cocktail because I was told that this was one of my former girlfriend's new love's favorite liquors, and I wanted the cocktail to function as: a token of my appreciation for getting to meet her, and something to help calm any nerves anyone had about the gathering. The drinks are supposed to be mixed individually, but as the night goes on, I start making them in larger and larger batches. The recipe below is for one serving, so you can multiply it as needed.
Ingredients
2 slices serrano or jalapeño
2 sprigs cilantro
1 ½ oz Mezcal
1 oz fresh pineapple juice
½ oz lime juice
½ oz lemon verbena simple syrup
½ cup water
½ cup sugar
½ cup leaves of a lemon verbena plant
Directions
Make the simple syrup first, ideally more than a couple hours before you'll serve the drinks. Bring water sugar and lemon verbena leaves to boil, and then shut off the heat and let them steep, covered, for 20 minutes or maybe way longer because you forget, like I did. But that's okay.
I've been really into herb simple syrups this summer. Recently, I made one with thyme & sage & rosemary & lemon juice that was quite delicious. And my favorite one was with a bunch of fresh basil. Anyway, strain the syrup into a container and let it chill in the fridge.
To make the actual drink, you'll want a shaker. And if you don't have that just use a container that can close and you can shake around. Put the pepper and cilantro in the bottom and crush them with a muddler or any long blunt object. Then add all the ingredients, shake it with some ice, and strain into a cute glass. Voila!
How To Make The Shrimp
The texture of shrimp is so satisfying to me! I like to go to this butcher shop in Los Feliz in LA called McCall's, where they make a point of sourcing sustainable meat and seafood, and collect my shrimp and also my lamb from there.
Ingredients
1 pound of shrimp
Juice from 1 orange or 2 mandarins
2 pinches of salt
2 teaspoons of my Oaktown Spice Shop Moroccan Fish Tagine blend (you can a similar blend if you follow the link and read the ingredients)
½ teaspoon of annatto powder
1 glug of olive oil
Wooden skewers
Directions
I'm a lazy shrimp eater and I was cooking in the dark, so I didn't want shells to obscure the shrimp themselves, so I peeled all the shrimp before cooking them.
Then I mixed up the orange juice, salt, spice blend, annatto powder and olive in a bowl, and let the peeled shrimp soak in the marinade while I made my lamb patties below.
After they'd gotten a nice bath, I put two skewers through either end of the shrimp and put about six shrimp on each pair of skewers.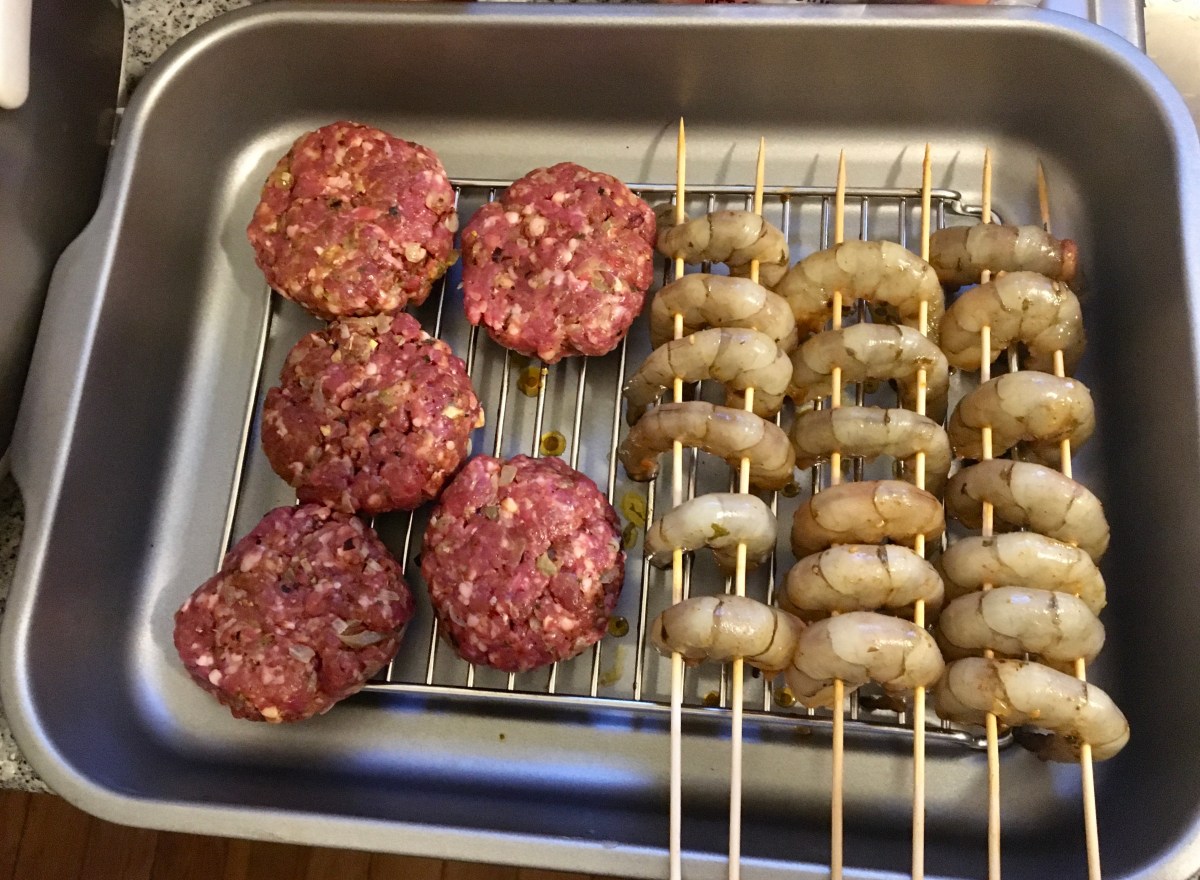 I grilled the shrimp skewers in this flat grilling cage on the cooler side of the grill until they started to become opaque. Then I moved them over to the really hot side to to give the little edges a crisp. I thought I'd over cooked them, but actually they turned out very well! And I turned the leftovers into a salad with avocado and sesame seeds the following day.
How To Make the Lamb Patties
I like to make meatballs with lamb, but that seemed scary to do on the grill without them falling in. I wanted a larger piece of meat to work with so there was less chance of it getting too dry, but still wanted to get in all the spice that happens in a meatball. I had intended to make an easy garlic & yogurt sauce with the giant 4-pound tub that Phoebe brought over from Smart & Final, but alas, I was too lazy — so adventures in yogurt eating are forthcoming.
Ingredients
1 pound of ground lamb
Half a small white onion
3 big pinches of salt
1 teaspoon of Aleppo pepper
2 tablespoons of my Oaktown Spice Shop Persian Lime Curry rub (you can a similar blend if you follow the link and read the ingredients)
Directions
Dice up half of an onion, and put it in a frying pan over medium heat, with a good dollop of oil in there. I let them sit in the pan for a while before I stirred them to get an immediate browning.
While they cooked, I mixed the spices and salt into the meat.
When the onions had cooked down and were very brown, I let them cool, and then added them to my meat mixture.
I took small handfuls of the meat and pressed them into patties about an inch thick, there were five in total.
On the grill, I started them over the hottest, still-flaming part of the grate, flipped them so both sides got a little char, and then moved them back in a little circle around the hot spot.
They didn't need long to cook, it was 10-12 minutes, and maybe if I weren't so engrossed in Phoebe's story about being called Princess Diana by an older dyke with a motorcycle who was in love with her, it could have been less!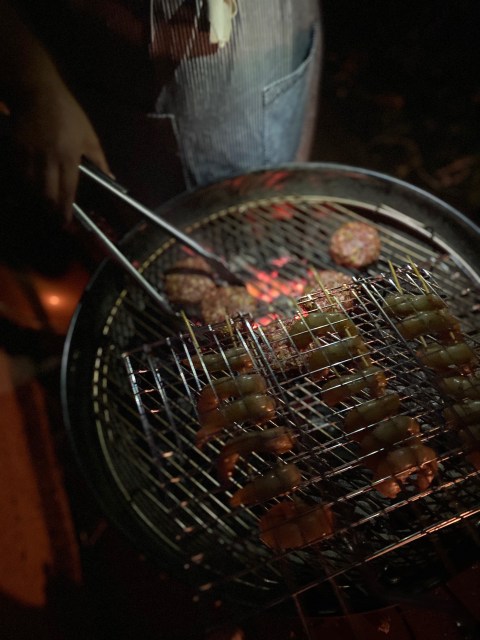 How To Make the Grilled Corn & Peach Salad
This is a salad that is heavily inspired by esquites, but with a little twist of adding peaches. You can grill both the corn and the peaches, but I wanted to do thinner slices of peaches which are better then they're firm, so I decided not to grill them this time around. I've also made this with basil in the past, because it can bring out a nice sweetness in peaches and nectarines.
Ingredients
Half a bunch of cilantro
A bunch of mint
4 ears of sweet corn, unhusked for maximum kernel char
4 small peaches
White grapefruit vinegar, or any vinegar that is more sweet than sour — you could also mix honey in with a sharper vinegar
Queso fresco, I used half a round, but choose your own amount
2 limes
Salt
Red pepper flakes, you can also add a tajin seasoning or chili powder, but I went for simple
Directions
Slice the peaches into segments and place in a large bowl.
Chop up your herbs finely and scatter on top of the peaches.
Grill the corn on the medium-hot part of the grill, because corn takes a while, and it's not a big deal if it gets pretty charred. You don't want it to catch on fire, but it can take the heat. If you don't like the smokiness, you can grill it in the husk and remove it afterward, but it gets more of a steam than a grill if you do that.
Bring your corn in inside and cut it off of the cob with a good, sharp knife. Make sure you get close to the cob to get the little sweet parts in there! Then add these to the bowl of peaches and herbs.
Crumble or chop up as much of the queso fresco as you like and add it to the bowl.
Add the salt, vinegar, red pepper flakes, and squeeze the limes over the top of your salad and then toss everything together.
I served all of these things at once, because that's how I live, but you can certainly do what makes sense to you. We also ended up grilling a few tomatoes that were falling off of my plant, and they were a great accidental addition to this meal.