It's no secret amongst my friend group that I have an obsessive personality. I get fixated on a particular subject, and I have to know all about it. In my curiosity's history, this has included tree house construction and theory, urban gardening, the Donner Party, literacy rates during the Great War, prostitution rings in pioneer United States, Virginia Woolf's letters, urban foraging, tapping trees for maple syrup, and on and on. When I lived (for a very short time) in Utah a few years ago, I was determined to 'figure out local culture,' which seemed to me at the time to include canning, picking apples, and figuring out how to garden with seasons (as frost times and snow aren't really a thing where I grew up in California). Essentially, my move to salt Lake City launched me into the biggest homesteading obsession known to man. I tortured my girlfriend at the time by devouring books and books on developing cold cellars, making a composting toilet, sewing our own everything, pickling everything known to man — I could barely hold a conversation with someone that didn't involve testing soil pH, or figuring out how to make your own sourdough starter.
The biggest obsession of all proved to be one of the more expensive hobbies: making my own cheese. I spent months reading cheese books and websites before taking the plunge to purchase equipment, because I wanted to make certain that it would be an interest that stuck. And so far, three years later, it has! And though there are varying levels and requirements for making different types of cheese, I'm happy to report that there are also really simple, inexpensive ways to make your own cheese that maximize beneficial bacteria and probiotics — you win hosting awards for having homemade cheese, and your gut wins health awards by being full of healthy flora. You're welcome.
The recipe below is one of the first cheeses I ever made, and remains one of my favorite. The second part of the recipe can be varied using whatever herb-palette. I use a lot of rosemary in my cooking because there's a shitload in California, growing all up in my backyard. Same with lemons. But use whatever herbs you feel comfortable with—and feel free to branch out and let me know how it goes in the comments!
Simple Herbed Yogurt Cheese
You will need:
4 cups plain yogurt (I use Strauss)
Cheese cloth
Strainer
Large bowl
Olive oil
Herbs of choice
1 tsp salt
2 tbsp fresh rosemary
1 tbsp whole peppercorns
1 tbsp lemon zest
1) To begin, set the strainer on top of the large bowl. Cover the strainer with one layer of cheesecloth, making sure you have enough to double back over your cheese.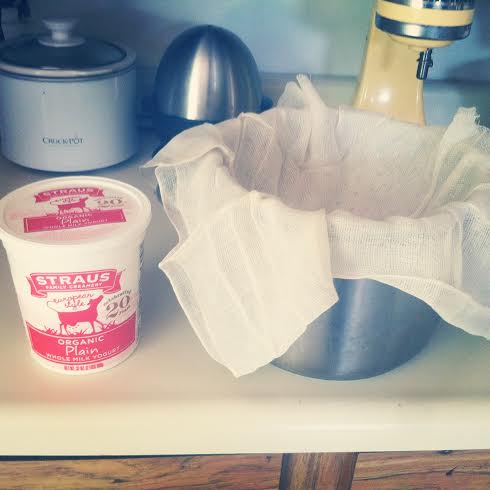 2) Pour yogurt directly onto the cheesecloth, making sure all the whey from the yogurt can drain into the large bowl.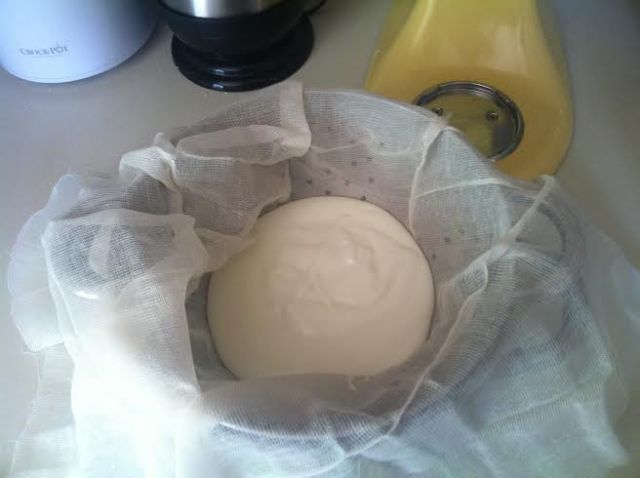 3) Cover yogurt with cheesecloth and allow to sit at room temperature for 24-48 hours, depending on how tart you would like your cheese to be. Allowing it to set at room temperature allows the good bacteria and probiotics in the yogurt to multiply, as well as helps to thicken it.
4) After 24-48 hours passes, check on the cheese, which will have thickened to a mozzarella-consistency. Carefully drop the cheese into a mixing bowl, combining with the salt, and whip until creamy.
5) Scooping the cheese out of the bowl, make small balls of it with your palms and put them in a jar or Tupperware. Cover with zest, rosemary, and peppercorns (or your herbs of choice.
6) Pour in enough olive oil to submerge the cheese and herbs. Cover with a lid and allow to sit in the fridge for 24 hours before serving. Fresh cheese can be kept for up to five days in the fridge, and is delicious with biscuits, bagels (makes an excellent cream cheese substitute), with fruit, or in savory dishes. Enjoy!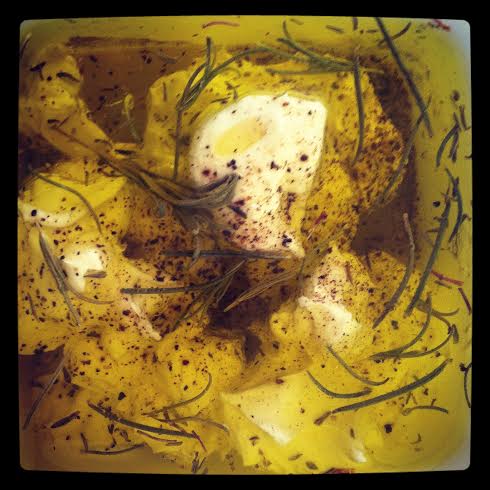 * BONUS: when your cheese is done, you can use the herbed olive oil to make garlic bread, marinate meat, or dress salads!