The last break I took from drinking came at the start of 2020. I told my friends that I was doing Dry January, though by then I suspected that my frequent Googling of "how many drinks per week makes you an alcoholicwp_postsand "am I an alcoholicwp_postswas pointing me toward something more permanent. Not unlike searching for "Am I Gaywp_postsBuzzFeed quizzes, Google should figure out a way to instantly display a pop-up: If you're asking us, you probably are!
My life had been marked by periods of not drinking for years at that point. When I went to college, when I cheated on someone I loved, when I moved to a new city, when I scared my friends by disappearing for a night, when I embarrassed myself, when I embarrassed myself again. I'd slowly start again, beer only at first then hard alcohol but only a little, snowballing into one intense night, then two, then too many, and back to another break, shorter each time. It's not that I wasn't ready to consider a future without alcohol; quitting for good had simply never occurred to me. I would always drink, in the same way as I always had.
Without hangovers, days were long and I had no clue how to fill them. I started by reaching for books that had been sitting on my shelf for years. I was irritable and edgy, but at least I could be productive.
I started reading The Recovering by Leslie Jamison six days into the year. I didn't reach for it because of its subject matter; I just wanted to keep myself busy, to distract myself from an internal monologue that was increasingly counting down the days to February 1st, louder every time. I'd bought the book way back in 2018, though I wasn't sure why. It had received a lot of great press, I remembered, but so had many books that year, and I hadn't bought any of those.
I'd tried to read The Recovering more than once, but lost interest when the focus turned from Jamison's recounting of her own drinking. I had wanted messy confessions, but the book weaves memoir, biography, and non-fiction into one. Jamison jumps from her own drinking story to the stories of other alcoholic writers (and the work they wrote about drunks, while drinking, or after quitting) and ties through it a history of the criminalization of addiction in America. It's a hard book to describe, so when people asked me what I was reading, I said "a book about drinking,wp_poststhough I feared that what I meant was "a book about me.wp_postsI finished it in a week.
A year ago, I would have stopped here and said something to reassure you (though really, to reassure myself) that while I had quit drinking, it wasn't because my drinking was that bad. I'd never crashed a car while drunk, never been in jail or fired from a job. Never mind that any of those events could have happened: calling myself an alcoholic seemed like telling everyone, immediately, that I had done something huge, something really bad. I had left a trail of destruction behind me, certainly, but it was mostly what Jamison called "fairly unremarkable dysfunctionwp_posts- I was a fun time, the friend who would always be up for anything, and I also happened to hurt many of the people I loved.
Jamison reiterates a few times that she wrote The Recovering hoping it might work like a 12-step meeting, a chorus of voices of alcoholics, famous and not, that could combine to show the value of a recovery story, not just an addiction story. A common refrain in 12-step meetings is "look for the similarities,wp_postsencouraging people to listen for the parts of someone's story that resonate with them, even if the details aren't exactly the same. I didn't know that yet, but honestly, I didn't have to look very hard.
Reading The Recovering was like reading a diary full of thoughts I would never have been brave enough to write down. I felt something I'd only ever felt once before, when I kissed a girl for the first time and a million tiny moments from my life suddenly snapped into place. I felt a corner of my brain relax, like it'd been trying to work out a code and had just been given the key. Oh, this is what I am. That explains it.
My copy of The Recovering is underlined on nearly every page. At first, I tried to moderate how much I wrote in it, leaving small dots around lines that struck me, chapters apart. I was worried someone else might look at it and see how much I related to, pages of proof that I had a problem. Worse, I worried they'd think you can't possibly relate to this much of it, it's her story, not yours.
But it felt like mine. It was the first time I'd ever heard anyone talk about restricting her eating before drinking so she could get drunk more efficiently, or getting frustrated when a complete stranger took two hours to nurse a beer or when a friend took too long to make her a cocktail. It was the first time I'd heard someone else say that falling in love and getting drunk were the only highs that matched each other. Every thought I'd ever had about drinking, ones I hadn't even realized I was having, was splayed out in front of me. In that way, the book did serve as a meeting for me; my first ever. And I started to think of Leslie Jamison as just Leslie, like I knew her as well as she somehow knew me.
There are a few times in the book where the writing, normally tight and structured, begins to run on — a thought pattern I recognized with a start, like a horror movie jump scare with my own face popping up behind me in a mirror: "Nights out turned into endless calculations: How many glasses of wine has each person at this table had? What's the most of anyone? How much can I take, of what's left, without taking too much? How many people can I pour for, and how much can I pour for them, and still have enough left to pour for myself? How long until the waiter comes back and how likely is it someone else will ask him for another bottle?wp_postsI remembered nights of leaning conspiratorially across tables, trying to entice someone, a series of someones, anyone into splitting another bottle with me. I remembered offering to accompany any friend whose drink was getting low to the bar for another round, able to hide my third, fourth, fifth rounds by going with each of them for their second. I remembered dinners out, wondering if I'd eaten enough to stave off a black out and knowing I'd consider the night a waste if I had. Endless calculations.
But that wasn't what I thought it was like while I was drinking. That was where my story differed from Leslie's. She was ashamed of her drinking while in the throes of it; I had only felt shame in the aftermath: if I'd hurt someone or called my ex for a hook up that I didn't remember, or, desperate and sad, thrown myself at a man I didn't want, in hopes of feeling wanted back. In her early recovery, Leslie attends a sober gathering and says she "could remember sweating straight rum onto my sheets, kissing a man at dawn with coke crackling through my veins, getting woozy on a lawn full of fireflies. That was living, I'd been so sure of it.wp_postsI'd climbed the roof of my college's theater just to have sex with someone. I'd kissed three strangers in one night at a queer dance party. I'd danced on bars and sang karaoke in front of celebrities. I was sure I'd been alive, even if I couldn't remember all of it, and I was terrified I'd never feel that way again.
Two weeks after I finished reading the book, I crashed my car on the way to work. I'd spent weeks telling everyone that I had a feeling I was going to get into a car crash, though now I think I just wanted something to happen that would make everyone feel sorry for me the way I felt sorry for myself. Jamison crashed her car on the first day of one of her attempts at sobriety, "jumpy and nervous, jitterywp_postsin her hangover. After her crash she was indignant. I was too, but our stories differed again at the why. Leslie's indignation was because she felt that sobriety should turn her into a totally new version of herself, one that wouldn't accidentally slam a car straight into a concrete wall. I knew I was right to stop drinking when I realized my own indignation was because I'd never crashed my car drunk, and for one moment I wished I had been, a thought I could only admit to myself after reading all of the thoughts Leslie had so freely shared with me.
I reread the book recently, on my way back from a wedding where I danced til 1am and flirted with people I didn't know. Now nine months into full sobriety (after I quit drinking, I turned to weed, until I eventually made myself miserable with that too), I added even more underlines, in new parts of the text. I imagine I'll return to it many times, eventually scribbling in the margins when I run out of sentences to underline. Because the book isn't about drinking; it's about recovery, something I just wasn't yet ready for when I first read it. All I knew then was mess and chaos and want, and all I wanted was to stay that course. I never imagined anyone could understand that part of me. And here, too, Leslie has something to say: "Your story is probably pretty ordinary. This doesn't mean it can't be useful."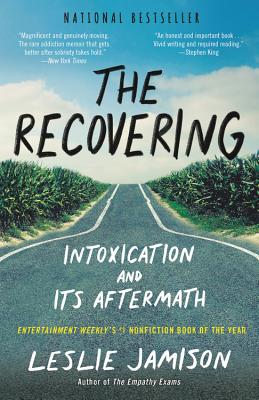 the recovering is available now through autostraddle's bookshop storefront