Feature image via Molly Adams.
Sometimes you need to get outside and remember who you are and who you want to be, and while you do that, you probably want to bring some sex toys.
Below are some of the best sex toys to bring camping — toys with long-lasting, disposable, or no batteries, as well as accessories to keep your camping sex going smoothly.
---
Vibrators
At four inches long, two inches wide, and 64 grams, the Siri 2 is surprisingly rumbly and powerful for its size. It has four buttons that are easy to find in the dark, eight settings with a range of power, and what Lelo describes as its "strongest vibrations ever for a handheld massager." Use the flat side for more dispersed sensation, or the very tip for more targeted sensation. Plus it can vibrate in response to music or ambient noise, if you're into that. The battery lasts about two hours on the highest setting.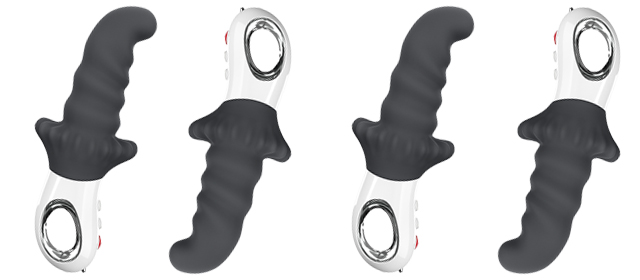 Fun Factory's Moody is a compact penetrative vibrator that works in either vaginas or butts (or against genitalia externally). It has interesting ridges, a flexible shape, a loop handle that's easy to grip even with lube-covered fingers and a flared base. It has six intensities and six patterns; its buttons light up; it weighs 210 grams and it's super rumbly until the battery is about to die (the buttons also flash a warning, so if you can come super quickly you'll still have the chance). The battery lasts about two and a half hours, and longer on lower settings.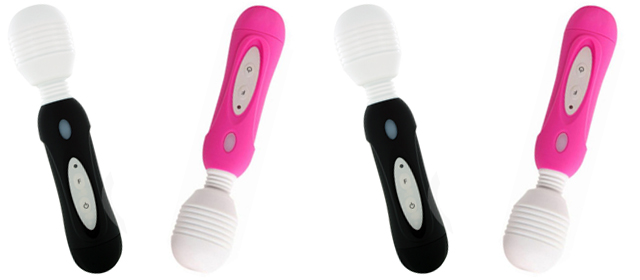 This wand-style vibrator by Vibratex evokes the Magic Wand with none of the eventual outlet dependency and little of the size and weight. It's made of ABS plastic and silicone, 8.5 inches long, has a cushy head and a handle that doesn't vibrate along with it, and takes four AA batteries (so bring spares). Skeptical of something that takes AAs? It's not going to match a Magic Wand, but at Oh Joy Sex Toy, Erika Moen calls it "the strongest battery-powered vibrator I've ever found." (On the other hand, the Magic Wand Rechargeable runs for 3.5 to 4.5 hours, so if size and weight isn't an issue it might be all you need.)
---
Battery-Free Toys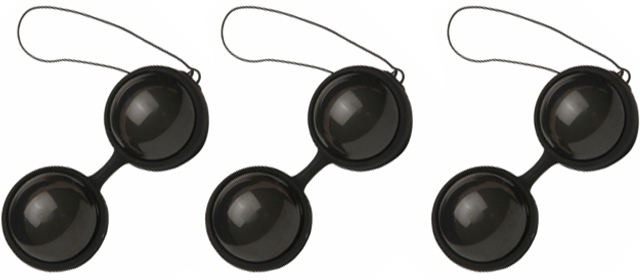 Don't want to carry your sex toys? Put them in a vagina instead! Kegel balls can be worn during all sorts of activities, and while "the pelvic floor is not supposed to be a muscle you train," kegel balls are fun as a mild hands-free erotic experience you could have while building a bonfire. Luna Beads Noir are 37 grams each, have internal weighted balls that move whenever you do, and are an aesthetic upgrade to the original Luna Beads. (The nylon string on both sets can't be sterilized, so use them without for a safer experience.)
Fun Factory's Bootie butt plug is a long-standing Autostraddle favorite — small but not too small, flexible with an interesting curve, silicone for easy clean up and just kinda cute looking. It also has a long, narrow flange, so it might be comfortable to wear under your clothes as you move around if kegel balls aren't your style, but at 41 grams it won't be a pain to pack either.
If you only bring one strap-on-friendly dildo, make it this one. The Mustang Royale is soft enough to pack with (depending on the outfit), hard enough to stay where it's supposed to during enthusiastic sex, has a sculpted base for the wearer, and is made out of VixSkin, the single best dildo material there is. It weighs 292 grams according to a kitchen scale. Don't forget a harness.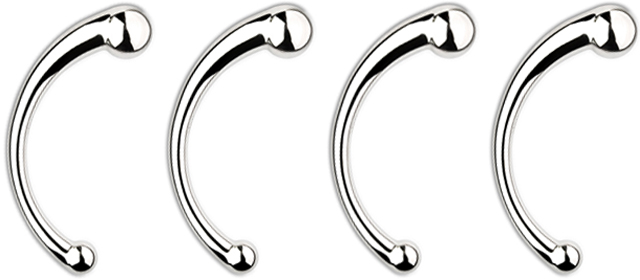 Unbreakable, waterproof, fireproof (probably), and practically perfect in every way, the stainless steel Njoy Pure Wand is a little heavy for carrying around in a backpack but every one of its 680 grams (just over a pound and a half) will be worth it. Use it for g-spot orgasms. Use it for butt stuff. Use it as a counterweight when stringing up your food in a tree. (Or just go car camping and bring six. It's that good a toy.)
---
Bonus Points
Safer Sex Supplies
Gloves, condoms and dental dams can be purchased in bulk and repackaged in smaller quantities. For instance, black nitrile gloves (good for latex allergies) come in a variety of sizes — buy a box of 100 and then bring only what you need in a resealable bag. You can also turn gloves (and condoms) into dental dams or put them over toys to keep things tidy.
Sample-Sized Lube
If you're planning a long outing or an orgy, you'll probably need your regular bottle of lube (or several). For something shorter, for travelling light, or for keeping in your bag or back pocket in your regular life, sample-sized lube is the way to go. Check out Sliquid Naturals lube cube sampler, Babeland's seven-lube sampler, and your favourite local sex-positive sex shop, which probably sells these individually. Remember not to use silicone lube with silicone toys, and that oil-based lube isn't compatible with safer-sex barriers.
Burts Bees Baby Wipes
Organic baby wipes are great if you tend to get lube, spit, and/or come everywhere but don't have access to a shower. Read the ingredients to make sure they're safe for your body.
A USB Battery Pack
To keep your vibrator charged when you can't get to an outlet, check out the EasyAcc 6000mAh Ultra Slim Power Bank, a portable charger that can probably charge your phone twice or (in my casual unscientific experimentation) a vibrator one to four times, depending on the vibrator. If you're staying away for longer, Wirecutter has a great round-up of USB battery packs, including solar options, for a variety of needs.
AZO
AZO is great if you end up with a UTI, though remember that symptom relief is a temporary fix. Drink tons of water and remain calm when your pee turns neon orange.