2011 was a great year for music, so any kind of awards or accolades we could attempt to give would be barely scratching the surface of the surface. So, once again, we present the Autostraddle Music Awards (the Real AMAs), a ragtag bunch of highly subjective, highly contestable honors given to the good, the bad and the Gaga in this crazy musical year.
Person We Want to See More New Things From in 2012: Merrill Garbus
I would launch into a diatribe about how amazing W H O K I L L is and how Merrill Garbus' voice makes us melt into warm, velvety masses of bliss and how the 'Bizness' video is adorable and how all the music should be more like this, but bcw already did it, and did it better. So go read that.
Album We Pretty Much Are Under Contractual Obligation to Mention: Bon Iver, Bon Iver
It was one of the best albums of the year, said the Internet.
Favorite Non-Guilty Pleasure: Nicki Minaj, 'Super Bass'
Gaga who? While Ms. Germanotta was busy hatching from eggs and writing well-meaning-but-problematic gay disco anthems, there were plenty of awesome solo female pop singers ruling the charts… and our hearts. Adele, Florence Welch, Beyonce, RiRi, and of course, Nicki Minaj, who would have already won the Jam of the Year award from me for 'Super Bass,' but then this video happened, and the combination of Ellen DeGeneres, adorable wee British girls and Nicki will cause death by adorable.
Favorite Guilty Pleasure: LMFAO's 'Party Rock Anthem'
Next time you listen to it, just imagine it being sung by members of the B-52s. Now you will understand. Trendy Genre Whose Inception Can Actually Be Pinpointed: Moombahton
For an explanation, go here. #shamelesselfpromotion
Favorite Music Tumblr: Amy Rebecca Klein
The former member of Titus Andronicus and current member of hilly eye is not just a talented musician, but a brilliant writer. Her Tumblr houses rich touring stories, insights on scenes and musicians you may not have known existed and some very interesting writings on rock 'n' roll and gender (you'll have to page back a while to get to the best ones, but it's worth it).
Second-Favorite Music Tumblr: Unbest
 Unbest is the work of a former editor for the music magazine I used to work at and still sometimes write for. Its mission is to be something of an antidote to the yearly glut of 'best-of' lists, and instead of picking 'the best' music of the year, people write in about the music that meant the most to them in 2011 and why. Oh hey, and you can submit to the blog until the end of January, so you should do that if you're so inclined.
Third-Favorite Music Tumblr: Childish Childish Gambino
This was a big year for '90s nostalgia. All That came back. Ricky Martin was in the headlines again. Thought Catalog struck gold with the whole nostalgia thing. And whether you loved or hated Community star Don Glover's non-sequitur-obsessed rapping alter ego, it's kinda hard not to dig these juxtapositions of his lyrics with images from Recess and Muppet Babies.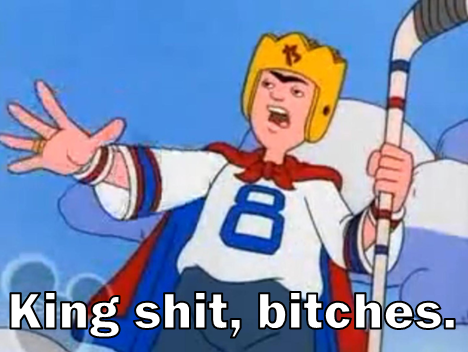 Best European Club Jam: Zdob si Zdub, 'So Lucky'
Did you watch Eurovision this year? I hope you did, because then you would have seen this most excellent group from Moldova, Zdob si Zdub (who have also performed with the likes of Rage Against the Machine, Gorky Park and the Red Hot Chili Peppers). 'So Lucky' is the party jam LMFAO wish they could have written. Moldova seriously got robbed. Sorry I'm not sorry, Azerbaijan / Jedward fans. Are there any Jedward fans on Autostraddle?
Best Comeback: Gillian Welch – The Harrow and the Harvest
I guess this doesn't totally qualify as a comeback because Gillian Welch never really left, but it is her first solo album since 2003. And it was most certainly worth the wait.
Best Car Commercial Anthem: M83, 'Midnight City' 
Every year, there's always that one boss indie jam that just sounds like it was tailor-made for Hyundai ads or whatever. Circa 2007, it was Justice's 'Genesis.' In 2008, it was MGMT's 'Time to Pretend.' This year, it's M83.
Only difference is 'Midnight City' was actually used in a Victoria's Secret advert, not one for cars.

Best Concept Album: Fucked Up, David Comes To Life
I had the privilege of seeing Fucked Up perform bits from the album at a Sound City show in Liverpool, and it was manic and sweaty and exhilarating and I woke up with bruises in places I don't remember falling on. This album is like getting a big half-naked drunk hug from Damian Abraham, and the album's tales of thwarted revolution in Thatcherite Britain felt strangely fitting in a summer marked by riots and occupations. There have been rumors of a musical based on this album, which would just be too much. Top that, Book of Mormon.
Best Concept Album, Honorable Mention: The Roots, Undun
Only The Roots could get away with ending their album with a four-part suite based on a deep cut from Sufjan Stevens' first album, deconstructed into a drums-and-avant-garde-piano explosion in the third movement. And in the grand scheme of their character study of Redford Stephens, a young man in the wrong place at the wrong time, it all works.
Best Intercontinental Collab: Kiran Ahluwalia & Tinariwen, 'Mustt Mustt' / Tinariwen & TV On the Radio, 'Tenere Taqqim Tossam'
Tinariwen were everywhere this year (or rather, everywhere for people who listen to NPR a lot). The awesome Tuareg folk-rock-psych-pop ensemble thing released another great album this fall, Tassili, which included a magical guest spot from Tunde Adebimpe and Kyp Malone of TVOTR. The live performance of the track on The Colbert Report was underwhelming, but don't let that deter you. Everything else is just so good. So good. Elsewhere, Tinariwen appeared on Indo-Canadian chanteuse Kiran Ahluwalia's album, revitalizing Nusrat Fateh Ali Khan's 'Mustt Mustt.'
Best Intercontinental Collab, Honorable Mention: The Very Best, Super Mom
I'm probably a bit biased here because I really, really liked the first Very Best (Malawian singer Esau Mwamwaya and British producers Radioclit) mixtape, which dropped back in like 2008 or something, so I was going to probably like this no matter what. But Mwamwaya's voice soaring in Chichewa over the hook of LCD Soundsystem's 'I Can Change' or Tom Petty's 'Don't Come Around Here No More' makes for a free tape full of aural treats.
Worst Karaoke Song: Adele, 'Someone Like You'
Yeah, it's a great song. A really, really great song. But you know what you shouldn't sing in front of inebriated lonely people who were previously having a great night? Adele. Especially if you can't sing. Way to be, Captain Bringdown. Why don't you just do 'Tears In Heaven' while you're at it? (Nota bene: The guy in the clip can actually sing quite well.)
Palate cleanse:
Worst Unlikely Collab: Metallica and Lou Reed, Lulu
 Two greats in their respective genres got together, and what could have been weird-great just ended up being the biggest pop music punchline since 'Hey, Soul Sister.'
Best More Likelier Collab: Jamie xx/Gil-Scott Heron(/Drake/Rihanna), 'I'll Take Care Of U'/'Take Care'
The Jamie xx/Gil-Scott version is probably my favorite track this entire year, which seems kind of silly, in a year of such amazeballs music, that my favorite track would be an understated, under-the-covers jam between half of one of the biggest buzz bands of 2010 and a revolutionary most people from my demographic only know from Kanye West samples. But, man, oh man. It's sexy. It's honest. It's the kind of song you want to play for the people who mean the most to you. It shimmers in places, smolders in others, and Drake and Rihanna ran with it and made it burn even brighter. Oh, and here's Florence Welch covering 'Take Care':
Best Lady Gaga Moment: The Clarence Clemons Sax Solo on 'The Edge of Glory'
That solo > everything Lady Gaga did in 2011. FACT. The song itself isn't bad, but the solo is like finding a freshly-made grilled cheese after being served a platter of turd sandwiches. There just isn't enough well-placed sax in pop music anymore, and there will be even less with the loss of the great Mr. Clarence Clemons. RIP, Big Man.
Most Enjoyable Mashup: DJ D.veloped's 'Bacon Cookies'
Eminem, meet Third Eye Blind. Your adolescence smiling back at you, and for some reason you don't want to punch it in the face.
Most Enjoyable Mashup, Honorable Mention: The Glee Adele 'Rumour Has It'/ 'Someone Like You' Medley
Yes, it's Glee, which should automatically invalidate it from any music awards, but legit, it's one of the few moments of Glee this entire season that has been remotely watchable. Also, Naya Rivera can sing like a boss.
Best Out-of-Genre Cover: Trent Reznor and Karen O, 'Immigrant Song'
VALHALLA, I AM COMIIIIIIIIIIIIIIING. That is all. Carry on.
Most Unnecessary Seasonal Attempt: Scott Weiland's Christmas Album
Scott Weiland made a Christmas album, you guys. Somewhere, Santa is weeping.
Best Amy Winehouse Track Worth Revisiting: 'Tears Dry On Their Own'
'Valerie' too:

Feel free to post your favorite albums, tracks, artists, etc. from this year! Or your least favorites. Or whatever you want. No one's stopping you.