Tegan and Sara's new teenage memoir, High School, is a mirror. Literally, actually. If you hold up the cover right in front of your face, it will reflect you back at you. Or a distorted version of you. Or multiple versions of you. You if you were looking at your twin. But also, of course, it's a mirror metaphorically. Because that's Tegan and Sara's whole thing: Their music keenly observes the depths of their own heartbreaks and internalized homophobia, deftly surfs the euphoria of their own crushes and earnest hopes for lasting love, grits its teeth and thrashes back against misogynist critiques that defined their earliest years and albums. But they're writing about you, too. Your specific break-up and your specific canyon of despair. Your specific frenzy and the exhilaration at simply the thought of that one girl.
What's stunning about High School — which they've released in tandem with their ninth album, Hey, I'm Just Like You, a re-recording and re-imaging of some of the demos they wrote and performed as teens — is that it's not coy or ambiguous about their high school lives; yet, their experiences still feel universally queer. In High School, Tegan and Sara alternate writing chapters as they navigate their way back through conservative Calgary, Canada in the '90s. The narrative builds and then brilliantly cuts out right before their careers take off, but their trajectory is anything but smooth. They teach themselves to make music when they find their mom's boyfriend's guitar in a closet under the stairs. They learn to write songs; they learn to harmonize; and, as they're doing it, they're pushing against and tearing at each other and slamming their bedroom doors so often the boyfriend takes them off their hinges.
But their music is just the backdrop. They both struggle to accept their sexuality, to parse out their internalized homophobia, to come out. Tegan picks fights with relatives when they say homophobic things, without really knowing why it upsets her in such a visceral way. Sara says, "There could be nothing worse than being called a lesbian." They drink so much they pass out sometimes. They skip school. They experiment with drugs. They argue with their mom, with their teachers, with their friends, and over and over and over with each other. Despite their rising fame, they're both consumed with loneliness. "In those first few months of high school, I learned to avert my eyes, to show them submission, to be a ghost," Sara writes. She listens to Mellon Collie And The Infinite Sadness alone in her bedroom and cries.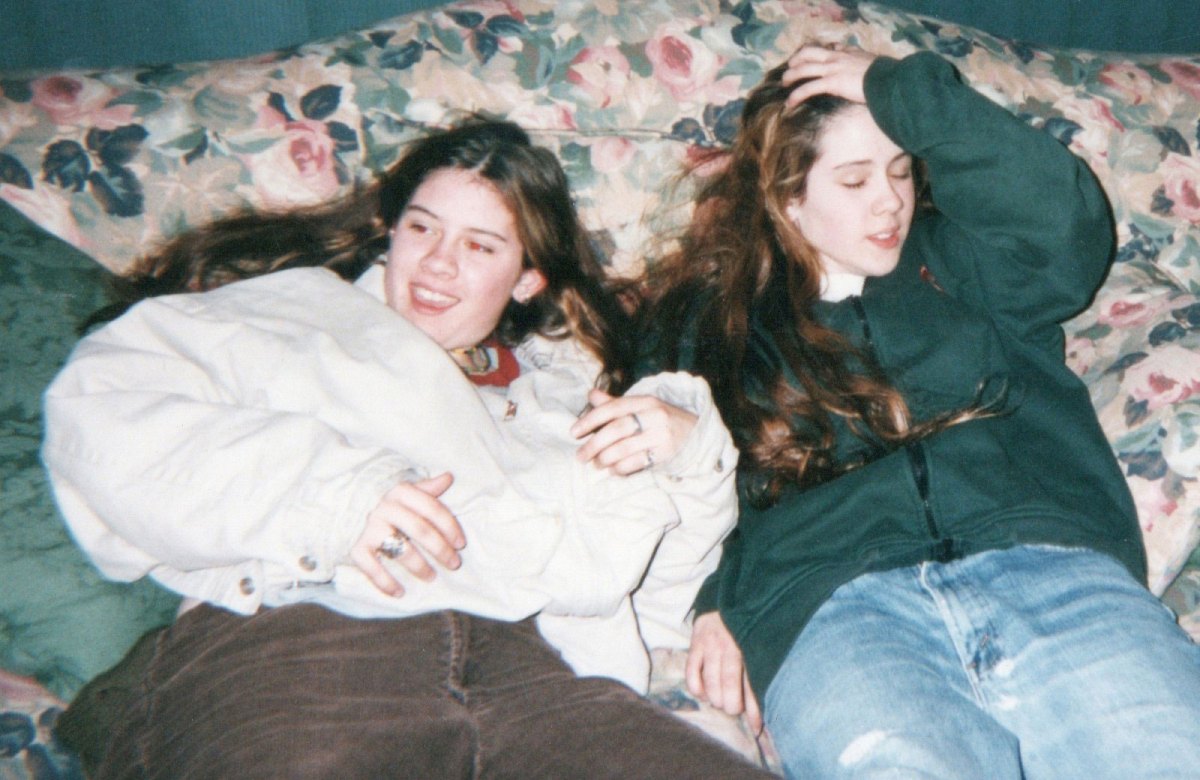 It would sound melodramatic to anyone who hasn't, you know, been a teenager — but we all have, so it sounds just right.
There's hope in High School, too. Not just because you and I know a record deal and massive fame and LGBT icon status and world-changing activism is on the way, but because, despite the angst and the arguments and the self-loathing, they both do find their way out of the closet. They both do find their way into the terrifyingly tender embrace of first love. The way they reach back to engage with their younger selves is full of gentleness and affection. Sara told The Guardian that writing the memoir made her realize how much of her shame around desire, and her discomfort with her own body is rooted in her experiences as a teenager. She said she expected to be embarrassed by revisiting her old self, but instead, she ended up loving her.
There's something extra special about the High School audiobook, and not just because it features the rough cassette recordings of the songs that make up their new album, or because they read their own chapters with their own voices, or because they interview each other for maybe the first time ever. There's a tenderness in the inflection of their voices when they speak in the present as the people they were in the past. It's not sentimental. It doesn't even feel purposeful. It just feels real and ever so soft.
Queer people come of age in perpetuity. We come of age like all humans come of age, with our bodies and brains going berserk in puberty, learning to navigate the world with less and less shelter from the adults in our life. We come of age again when we come out. And again when we start experiencing the kinds of romantic and sexual things our peers experienced in middle school and high school; often as adults. And again when we revisit the traumas we endured as oppressed and marginalized minorities in our youth. Oh, it never ends. There's a reason queer people well into adulthood flock to TV shows with queer teenage characters; why fandoms for shows like Steven Universe, with its myriad expressions of queerness and gender, are populated by people who aren't kids; why Tegan and Sara retelling their teenage lives in such a raw and compassionate way feels like Tegan and Sara applying a balm to the retelling of our own stories.
It's different but exactly the same as the way they were with you when that girl shredded your heart, and that other girl made your body spark to life in a brand new way, and when you were training for that 5K, and when you were driving home for the holidays, and when you were sitting around playing board games with your best friends, and when you were fighting with a girl who was worth the hard work, and when you learned a hard thing about yourself and then learned to forgive yourself too.
"There's great comfort that comes from traveling through life with a witness," Tegan writes about Sara in High School. It's something any of us could have written about either of them.
---
You can (and should!) buy High School right this minute!