feature image via shutterstock
Black People Favor LGBT Equality
+ New research by Public Religion Research Institute dispels the myth that African Americans are more likely to be homophobic and suggests that Black people are actually the most in favor of supporting LGBT equality. After California passed Prop 8, a ban on same-sex marriage, media picked up on exit polls that seemed to show that Black voters largely supported Barack Obama but also supported Prop. 8. Those numbers on Prop. 8 were later debunked but the myth that Black people are more likely to be homophobic stayed.
PRRI's survey asked three questions about support for marriage equality, support for LGBT nondiscrimination protections, and support for "religious refusalwp_postsexemptions. This is what they found:
Support for marriage equality was low among Black Protestants but support for LGBT nondiscrimination protections and against "religious refusal" exemptions were high.
Black Protestants who oppose same-same marriage still support LGBT non-discrimination protections and overwhelmingly opposed "religious refusal" exemptions, more so than whites.
It didn't matter if the survey takers were Black Protestants or not. Black Protestants supported the protections at almost identical rates as those who don't identify as Protestant. And it also didn't matter if the Black survey takers were Protestant when it came to "religious refusal" exemptions, the majority of the survey takers opposed them.
Also, geography didn't influence their decision either. Think Progress reports: "Alabama and Mississippi were two states PRRI identified as having some of the lowest support nationwide, but black Protestants in those states still supported LGBT protections and opposed religious refusals at fairly similar rates to the rest of the country."
Isaiah Wilson, external affairs manager of the National Black Justice Coalition, told Think Progress he wasn't surprised with the results. "Black communities are broad, diverse and share a deep understanding of inequality gained from a common history and experience. We collectively know how it feels to be systemically oppressed and rejected by the state and that is not morally right for any group,wp_postshe said.
Discrimination Disco
+ Texas superintendents overwhelmingly voted to make birth certificates the only way to determine which team student-athletes can play on, making it impossible for transgender athletes to play on the team that corresponds to their gender. The University Interscholastic League, the state's governing body for high school sports, passed on the opportunity to vote on the policy to superintendents, who approved the policy. The state's then-education commissioner Michael Williams approved the measure in November so the decision is final and will be implemented on August 1. The Texas Tribune reports:
The UIL's "Non-Discrimination Policy" already bans member schools from denying students a chance to play on sports teams because of their disability, race, color, gender, religion or national origin.
The new addition to that policy says: "Gender shall be determined based on a student's birth certificate. In cases where a student's birth certificate is unavailable, other similar government documents used for the purpose of identification may be submitted."
+ Students at an Indio, California high school wore anti-gay symbols (a red "no" sign over the rainbow flag) on their school ID badges. Members of the school's Gay-Straight Alliance complained about it to administration, which responded by saying the students were within their rights to exercise free speech and wear the symbols as long as they weren't harassing anyone. On Monday Superintendent Gary Rutherford sent a letter to staff saying that the students wearing the anti-gay symbol should remove them "for now" pending further investigation and discussion.
+ Kentucky's Senate committee advanced a bill that would allow businesses and individuals to discriminate against LGBT people without being penalized by local anti-discrimination laws.
+ After more than 90 people showed up to a school board meeting in Brevard County, Florida to testify against an LGBT inclusive non-discrimination policy, the board decided to not move forward with the policy.
"Policy opponents said they feared the LGBT policy would mean that those who voice religious objections to gay marriage in local schools would be branded as bigots and disciplined for discrimination,wp_postsFlorida Today notes. "Some opponents said they wanted to preach scripture in schools, and many said they were concerned about transgender individuals using public school bathrooms. They argued that the LGBT policy threatened morality."
+ The Republican National Committee approved a resolution that endorses anti-trans bathroom bills. 
2016 Presidential Election
It's Super Tuesday! Read all about it and talk about your feelings here. If someone you love voted for Trump, you can read about how to deal here. 
+ Hillary Clinton totally eviscerated Bernie Sanders in the South Carolina primary, winning with 74 percentage points. A record turnout among Black voters led Hillary to victory. In total, Black voters accounted for 61 percent of the democratic vote, with 86 percent of Black voters going for Hillary.
+ Just like Republican debates before it, this last Republican debate held in Houston was just a bunch of candidates mud-slinging back and forth on issues like immigration, health care and security. Marco Rubio just kept pouncing on Trump, and Cruz made Trump his punching bag. Surprisingly, John Kasich, who is still running if you can believe it, was basically like eh, the gays aren't a big deal, just say a prayer for them when you do business with them. Here's a short video of what happened and here's the transcript if you really want to torture yourself. 
+ A group of 30 Black students were removed from a Trump rally in Valdosta, Georgia Monday night. The group were standing silently at the top of the bleachers and then were asked to leave before Trump made his appearance to speak.
+ Chris Christie endorses Trump. Trump was also endorsed by David Duke, a former grand wizard of the KKK, which Trump didn't disavow when asked about it during a CNN interview.
This Police State
+ Near Dallas, Rowlett's police chief said a middle school presentation on the Black Lives Matter movement was a direct attack on police.
+ Salt Lake City police officers shot a black teenager because he didn't drop a broomstick fast enough. Police say they saw two men, including 17-year-old Abdi Mohamed, attacking a man with metal objects outside a homeless shelter. Officers say Mohamed refused to drop his weapon and so they began to shoot at him. But Mohamed's friend tells a different story:
"We were trying to break it up before the police even came, but the police ran in on foot and pulled their guns out already," Selam Mohammed told CNN affiliate KSTU. "They already had them, like, as soon as he was running he was already grabbing for his gun, not even trying to Tase him or anything."
Mohamed was shot in the chest and stomach and has since woken up from a coma.
A Shit Ton of Violence, Like So Much Violence
+ A father in North Dakota pointed a loaded gun at his teenage daughter and threatened to kill her when she came out to him, relatives of the two told police. Karim Bakir said he was upset about finding out his daughter was a lesbian because of his Islamic beliefs. He pointed the gun at his daughter and other family members who were in the backseat of a car while at a gas station. Family members called police and he was arrested.
+ Three people were stabbed and 12 were arrested after violence broke out between counter protestors and KKK members gathered for a White Lives Matter rally in Anaheim. It's not certain how the violence broke out but three counter protestors were stabbed by KKK members and two KKK members were stomped on the ground by counter protestors.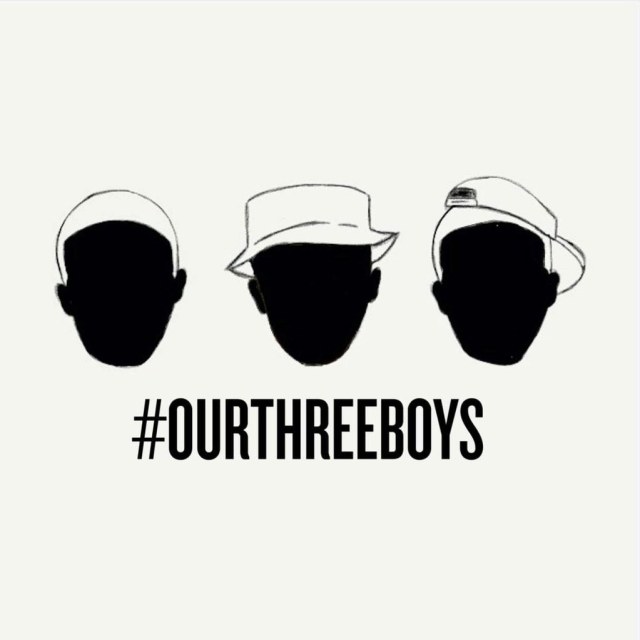 + Three young African Muslim men were shot execution style in Fort Wayne, Indiana last Wednesday but reports of it in the media weren't circulated until well into the end of the week. Mohamed Taha Omar, 23, Adam K. Mekki, 20, and Muhannad A. Tairab, 17 were found dead in a home that was known as a hang-out spot. Police say the crime wasn't racially motivated or Islamophobic but have no other motives at this point of their investigation. Muslims are using #OurThreeBoys on social media to remember them and to raise awareness about their murders. Just one year ago, three young Muslims were also shot and killed execution style in Chapel Hill, North Carolina.
+ On top of all this, but there were at least THREE mass shootings at the end of the week. On Thursday, 38-year-old Excel Industries employee Cedric Ford started shooting as he drove to his workplace in Hesston, Kansas. He killed 3 people and injured 14. Police ended up fatally shooting Ford. A motive for the shooting hasn't been released by police. Also on Thursday, a man in Washington state gunned down four people, who were most likely his wife and children, in his home. He committed suicide after talking to hostage negotiators for several hours. These mass shootings brings the toll to more than 50 mass shootings so far in 2016.
+ A Virginia police officer was shot and killed on her first shift on the job. Prince William County Officer Ashley Guindon, 29, died from gunshot wounds after she and other officers responded to a domestic incident. Ronald Hamilton, an army staff sergeant, is the suspected shooter. When police arrived on the scene, there was a dead woman and a living child in the house.
Grab Bag
+ Monica Jones, trans activist, was picked up and dropped off at a location by a Lyft driver who then outed her and gave her location to a Facebook group, putting her in danger. She was reimbursed $15 by Lyft and the driver was later fired and permanently blocked from using the app.
@lyft are you really going to charge me for this ride @ABC @CNN @CabouJ @azfamily @azcentral pic.twitter.com/NRtALJQT5r

— monica jones (@tslove602) February 27, 2016
+ A Dallas man who vandalized landmarks in the city's gayborhood in June 2014 will plead "no contest," meaning he won't spend any time in jail. Richard Sheridan accepted a plea deal and will instead "receive deferred community supervision for two years in each case, to be served concurrently, and will have to pay $2,000 in fines, only if he violates the terms of his probation," reports the Dallas Morning News.