Welcome to the fifth edition of Sunday Top Ten, a list of completely random and undoubtedly self-indulgent things that may or may not be published on a Sunday or number "ten.wp_postsThis feature is a continuation of the Sunday Top Tens I used to write for my earth-shattering personal blog Autowin, where I talked about myself pretty much constantly from 2006-2008. 
---
Recently when we were back in the heartland visiting family, my Aunt took my girlfriend Abby's hands in her hands and said, "We're so glad Marie has met a nice girl from the Midwest." Probably what she meant by that was, "We're so glad you've found another human being who knows what Frisch's sauce is." You know?
To be real, you can really only eat at these places like twice a month before your intestines revolt and strangle you in your sleep, but like, it's nice to have the option.
Top 11 Restaurant Chains That Exist (Or Used To Exist) In The Midwest But Not In California
Most of my restaurant chain consumption has occurred in Michigan and Ohio, so these are all places that are in one or both of those places but not in California, where I presently live. 
11. Chi-Chi's
Founded in 1975 in Richfield, Minnesota. Headquarters were in Louisville, Kentucky when the chain closed down its US operations in 2004.
This particular restaurant doesn't exist anywhere in the United States or Canada anymore, because it went bankrupt in 2004. This is a tragedy because of Fried Ice Cream. Apparently you can still get Chi-Chi's products at the grocery store, or visit a Chi-Chi's outlet in China, Belgium, Luxembourg, the United Arab Emirates, Kuwait or Indonesia. Another fun fact: The U.S. Trademark Trial and Appeal Board denied the restaurant's 2001 application to trademark the word "salsafication."
10. Shoney's
Alex Schoenbaum's Parkette Drive-In, founded in 1947 in Charleston, West Virginia, became a Big Boy Franchise named "Shoney's" in 1954. Current headquarters in Nashville, TN.
My cousin waited tables at the Shoney's out by the outlet mall off Route 71, we'd always give her really big tips UNLIKE SOME PEOPLE WHO ONLY TIPPED A DOLLAR. She'd always tell us about the bad tips.I loved visiting my cousin at Shoney's, it was like we were in with the band. What do they serve at Shoney's? Food. All the different kinds of food. Side salads with iceberg lettuce and ranch dressing. Reliably standard cheeseburgers. Wholesome American dining, no surprises, just the way I liked it.
9. Golden Corral
Founded in 1973 in Fayetteville, North Carolina. Headquarters in Raleigh, NC.
Update: Apparently there are like three Golden Corrals in California, I've just never seen them.
I've actually never been to Golden Corral, I've just seen it everywhere. Luckily, Abby has been, and wrote this paragraph for you: "the golden corral. a place where french charcuterie and tex-mex meet. a place where family gather over sweet rolls with sweeter butter, diet cokes, and trays, yes trays, of food. a place where i learned to put nacho cheese on macaroni and cheese. a place where anything is possible."
8. Steak 'N Shake
Founded in 1934 in Normal, Illinois. Headquarters in Indianapolis, IN.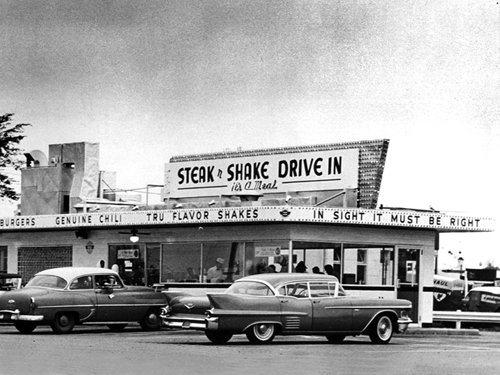 There's nothing particularly special about the actual cheeseburgers or milkshakes themselves at this restaurant, its brilliance lies in the fact that its name commands you to eat both of those items together. But if you go in there thinking, "nope, no milkshake for me today," you're gonna change your mind as soon as you open the behemoth milkshake menu and see that every flavor you've ever dreamed of is in it and ten more you never knew you'd always wanted.
7. Bob Evans
Began in 1946 as a single truck stop diner near the Bob Evans Farm in Rio Grande, Ohio. Headquarters in Columbus, OH.
This one time in Traverse City, Krista and I went to Bob Evans and couldn't decide what to have for breakfast so we literally ordered just about everything on the menu and then basically killed ourselves. I feel #blessed that on my last trip to Indiana, we ate at Bob Evans not once BUT TWO TIMES.
6. Waffle House
Opened in Avondale Estates, Georgia in 1955. Headquarters in Norcross, GA.
What does Waffle House do best? Waffle House consistently excels at being open. It's open at 2AM, it's open on Christmas! I've also enjoyed a lot of Waffle Houses while visiting friends in Georgia over the years (I don't know why I always make friends from Georgia but I do!). Did you know that there's a Waffle House museum in Georgia? Well you can add that stop to your next road trip.
5. Donato's Pizza
Opened by an Ohio State sophomore in Columbus, Ohio in 1963. Headquarters in Columbus, OH.
We'd always get this when we visited Ohio and I just loved the hell out of that thin crust with a bunch of peppers and shit on it.
4. Max & Ermas
In 1972, two businessmen brought Max & Erma's tavern in Columbus, Ohio from a couple named Max and Erma, and turned it into a theme restaurant. Headquarters in Columbus, Ohio.
The bathtub sundae bar is a stunning display of excellence, and its location in Ann Arbor adjacent to Briarwood Mall beneath The Olive Garden with outdoor seating overlooking a man-made pond was to die for. Here's a thing about Max & Erma's, though: it is fucking FREEZING in there. I swear it's an igloo in the summer time, you should bring a hoodie.
3. Ponderosa
Founded in Kokomo, Indiana in 1965. Headquarters remain in Kokomo, Indiana.
My parents NEVER wanted to take us here, they said it was always really dirty and the food was awful. Maybe that's true, but we were children who knew Mom always let us have chocolate milk at Ponderosa so we wanted to go go go. Plus we could get that awful pale macaroni and cheese IN SPADES. ON TRAYS!!!! Pretty sure most of these no longer exist.
2. Bill Knapp's
I just need one human soul to tell me that they remember this restaurant existing so that I feel less alone in this cold dark Bill Knappsless world. This was hands down our favorite place to eat as kids in Ann Arbor, especially for birthdays 'cause you got this entire chocolate mini-cake. There was always a wait but that was okay, I was willing to wait. I practically had their kids menu memorized (each meal was ascribed its own animal, as I recall), but I went as a teenager too and I even remember my Mom taking me there in college. Then one day they just closed. All of a sudden: the end. I was working at The Macaroni Grill at the time and we got a handful of new servers from Bill Knapp's, one of them said they'd shown up for work to find a sign on the door indicating that it was closed. Harsh.
1. Frisch's & Elias Bros Big Boy
The original Frisch's Cafe opened in 1905 in Cincinnati, and after numerous moves and shut-downs, it became a Big Boy in 1946. The Elias Brothers' restaurant in Michigan became a Big Boy franchisee in 1952.
In college my writing teacher pointed out that I'd somehow managed to include Big Boy in every story I'd turned in that year. I mean, let's be real: art reflects life, you know? I even filmed some of my faux rockumentary in a Big Boy. One time we walked into a Big Boy and asked for a booth and you know what the thing is about Big Boy? IT WAS ALL BOOTHS. For this reason and many others, Elias Bros (in Michigan) and Frisch's (in Ohio) was my #1 go-to spot for the following situations: after a basketball game, after a soccer game, after 9pm when everything else is closed besides Denny's, after going to King's Island. Etc. There's Bob's Big Boy out here in California but I feel like eating at one would be cheating on Mr. Frisch.