Hello, readers! I spent my entire Saturday in bed eating veggie lo mein, and I have no regrets, but I did still make sure to comb through the news for this weekend and show you how great things are in the big ol' world. So happy Sunday Funday!
#SFBatKid Restored Folks' Faith in Humanity
Miles is a five-year-old who's been battling cancer for years. But this week, the entire city of San Francisco came together to give him his biggest wish: to be Bat Kid saving the folks of Gotham from the bad guys.
And now a bank robbery? Good thing #BatKid is here. pic.twitter.com/LMMBOFKbVL

— Kyle Bonagura (@KyleBonagura) November 15, 2013
His wish went national, too, and even warranted a "thank you" from the President, who was in too many meetings to stop crime in Gotham that particular day.
A Kitten Living Your Dream Life
Animals just get me.

One Small Step for Trans* Youth, One Giant Leap for This School's Credibility
Jeydon Loredo, a trans* boy in Texas, was initially told his photo wasn't going to be in the yearbook because he wore a tux, and not one of those lame Lady Drapes they use to ruin your day in high school. But following a national outcry, the school has reversed their decision.
MSNBC's Not About to Fuck Around with Homophobia
Alec Baldwin said some dumbass sh*t about gay people this week – so MSNBC suspended his show for two weeks.
Earlier, a press-battered Baldwin apologized again for hurling the slur during a shouting match with a photographer Thursday outside his Manhattan apartment, reiterating on MSNBC.com some of what he'd already posted to his Twitter account:
"I would like to address the comments I made this past week.

"I did not intend to hurt or offend anyone with my choice of words, but clearly I have — and for that I am deeply sorry. Words are important. I understand that, and will choose mine with great care going forward. What I said and did this week, as I was trying to protect my family, was offensive and unacceptable. Behavior like this undermines hard-fought rights that I vigorously support. I understand Up Late will be taken off the schedule for tonight and next week.

"I want to apologize to my loyal fans and to my colleagues at MSNBC — both for my actions and for distracting from their good work. Again, please accept my apology."

On Friday night, MSNBC aired a prison documentary in lieu of Baldwin's fledgling (and flailing) talk show.
Tip: Don't Be An Asshole
When Dayna Morales, former Marine and lesbian waitress, was scammed by a total douchebag family who cited "problems with her lifestyle" and refused to tip her, donations poured in from around the world to compensate.
Morales was so upset about the incident, she vented on Facebook, and the group "Have a Gay Day" posted her story on their Facebook page. The response was overwhelming.

"People have sent me tips from all over the world just to show support. I have had people from Germany to South Africa, Australia to the UK, San Diego, everywhere."

Morales says that between the people who have called in to the restaurant to give credit card numbers, those who have mailed tips, or donated to a special PayPal account the restaurant set up, she estimates that she has received more than $2,000 so far.

She plans to donate the funds to the Wounded Warrior Project, and the restaurant plans to match the donations and give it to a local LGBT organization.
Gay Marriage Marches On
+ Pennsylvania's ban on gay marriage is being taken to court, and there's nothin' anybody can do to stop it.
+ Hawaii and the LGBT community are finally in a committed "thing," seeing as this week Governor Neil Abercrombie signed their marriage equality legislation into law. But that's not all! We're all formally invited to honeymoon there, too.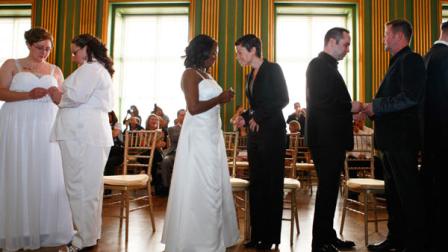 Hawaii: where the leis are truly one-of-a-kind.
Wasting no time within days of signing a marriage equality bill into law, Hawaii Governor Neil Abercrombie made a bid on Friday for gay and lesbian couples across the U.S. mainland to travel to the Aloha State to tie the knot, keenly aware of the boon same-sex marriage could be for his state's tourism industry.

"For those listening in, Hawaii welcomes you!" Abercrombie exclaimed in an interview with me on SiriusXM Progress, speaking directly to gay and lesbian listeners. "There are several states where you can get married. But I think I can say without fear of contradiction, 'Paradise awaits.' We'll be happy to welcome you. And if you do get married in another state, think about honeymooning in Hawaii. "
+ Gay marriage is just the beginning. Just ask the LGBT activists in Massachusetts.
"With more same-sex marriages, you saw more people changing their minds," said Mary Bonauto, civil rights project director at Boston-based Gay & Lesbian Advocates & Defenders and the lead attorney on the lawsuit that resulted in the gay marriage ruling in Massachusetts.

"Seeing gay people with their extended families, seeing the commitment, that's what has turned this around."

Opponents have shifted tactics as more and more states have legalized gay marriage. Initially, opposition focused on the predicted erosion of traditional marriage, but in recent years have pushed concerns about school curriculums and religious objections.
Porcupine Eating, Squealing, Existing
Because it's still punkin pie season.