Happy first Sunday of 2019!!! We made it bitches! I'm so happy to be here, in the future with you. How has your first week been? I hope it was good, I hope you didn't have to work too, too hard. I hope you got to take care of yourself. Also, today is the last day I'm legally allowed to say Merry Christmas, so if that's your thing, Merry Christmas! Okay, let's get some good news in our bellies this morning.
---
+ Kyrsten Sinema was sworn in as "the nation's first openly bisexual senator and only the second out LGBTQ senator."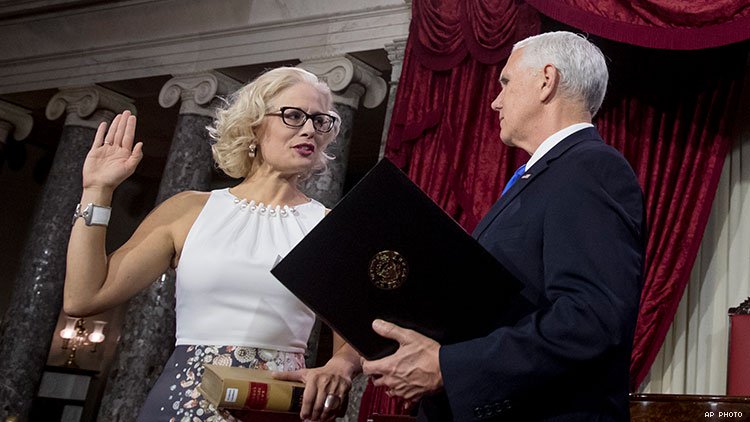 + We stan for a lesbian ex-nun!!!
"I have decided to leave the convent. I'm pretty sure I'm gay," I announced to my mother over lunch at a quaint Victorian restaurant in Cape May, New Jersey. The year was 1990, and I had made this pilgrimage to deliver what I knew would be jarring news.
+ Sarah Cunningham, who started the "Free Mom Hugs" movement, is a mom who will come to your wedding if your mom won't! Jamie Lee Curtis is making a movie about her!!!
+ Dorothy Beam is a 94-year-old LGBT activist and archivist. She's spurred to action by the death of her son Joseph Beam, the editor of In the Life, "the first anthology of black gay men's writing."
+ Marriage equality isn't legal in Japan yet, but Misato Kawasaki and Mayu Otaki are getting married anyway — in every country where it's legal.
Kawasaki, who studies alongside Otaki at Utsunomiya University's Faculty of International Studies, said she wanted "to show through our wedding photos that being lesbian, gay, bisexual and transgender (LGBT) is normal so that those who are troubled by their sexual status can harbour hope."
+ Shout out to Virginia, shout out to Jennifer Wexton. The VA representative hung the trans flag outside of her office recently.
People have noticed the flag outside my office.

This is personal for me. We're talking about my family and friends.

I want everyone in the trans community to know that they are welcome and loved even in the face of this administration's attacks. https://t.co/M9voVlzi55

— Rep. Jennifer Wexton (@RepWexton) January 4, 2019
+ Here are six queer artists to watch out for this year.
+ An update to our "where can I get a gender-neutral ID?" database: you can now have a non-binary or intersex marker on your ID, or birth certificate in NYC, California, and Germany (in addition to Oregon!).
+ Sophie Rebecca is a trans ballerina from the UK, currently performing in Rocky Mountain Ballet Theatre's Ballet Beyond Borders event.
+ Friends, I know we feel lots of ways about it, but that lesbian "Batwoman" with Ruby Rose is a go. More lesbians on TV is always good, right? Let's say yeah.
+ Have you watched the new Lizzo video? Let's all watch it together.
---
Thank you for coming with me on this first good news roundup of the year! I hope your heart is full and you feel ready to take over the world with kindness and love. Speaking of love, I love you so, so, much!! Happy Sunday, pals. See you soon.