Happy Sunday! Today is the first day of the rest of your life, and thank Lesbian Jesus, it's a gosh darn amazing day. Seriously.
This Grandma Is Adorable
I would never lie to you. And your grandma loves you, JSYK.
The Gays and God
+ Jane Lynch loves separating church and state so much that there's a song about it:
+ Reverend Dr. R. Guy Erwin is a gay man who was elected Friday for a six-year term as bishop of the Southwest California Synod of the Evangelical Lutheran Church.
+ The Catholic Church is losing its grip on everyone's brains.
"Gay marriage is part of a larger refusal on the part of the church to listen to, and to understand, the people in the pews," said Townsend, who regularly attends church and wrote the book, "Failing America's Faithful: How Today's Churches Are Mixing God With Politics and Losing Their Way."

Church officials in Washington, Boston and Providence declined to be interviewed for this report.

The church for decades has employed aggressive lobbying efforts on a range of political issues, and Catholic leaders have used the power of the pulpit and substantial financial resources to maintain clout. At times they've gone so far as to tell leading Catholic lawmakers they were not welcome to receive Communion if they opposed church teachings on matter such as abortion and gay marriage.

These days, the church remains active in political battles over abortion, President Barack Obama's health care law, poverty and immigration. But the church had little success influencing the gay marriage debate here and elsewhere.
Brittney Griner is Amazing
I would never lie to you. Just ask ESPN.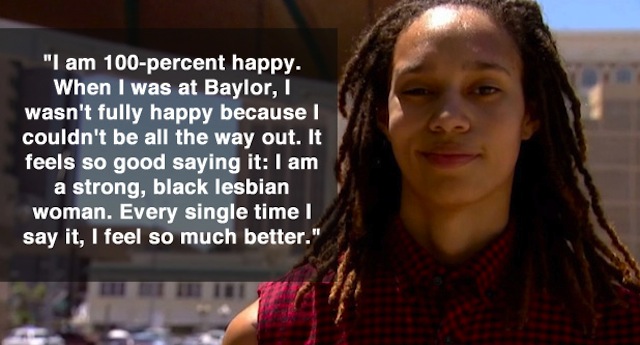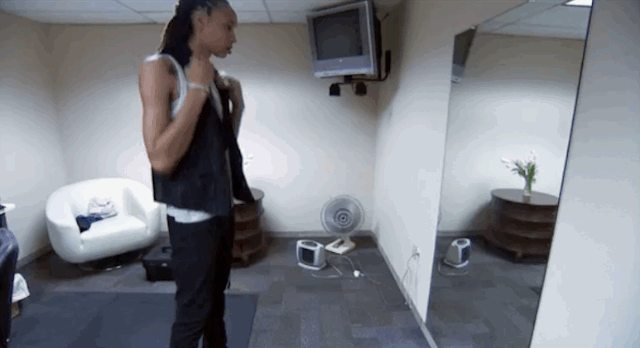 Gay Marriage Roundup, Version Infinity and Beyond
+ The largest counties in Minnesota are opening their gay marriage gates to the gays. And by that I mean filing cabinets.
+ Whilst some French people took to the streets to protest love, this good-looking couple was out getting their chapel on. Brush your shoulders off.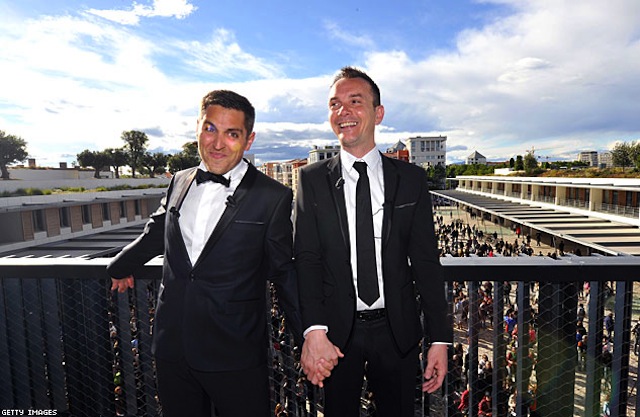 Fuck Yeah, Seattle / These Specific United States
Seattle City Hall is getting its pride on.
"Our nation was founded on the principle of equal rights for all people, but the fulfillment of this promise has been long in coming for many Americans. Some of the most inspiring moments in our history have arisen from the various civil rights movements that have brought one group after another from the margins to the mainstream of American society. […]

This month, we anticipate the decisions of the United States Supreme Court in Hollingsworth v. Perry and United States v. Windsor, two important cases concerning the marriage rights of same-sex couples. The high court's consideration of these matters represents both the progress our society has made in extending the full rights of citizenship to LGBT people and the barriers that still remain to achieving full equality. As we await the outcomes, we should contemplate the importance of treating all people fairly and equally, so that all may live with dignity and pride.

NOW THEREFORE I, EDMUND G. BROWN JR., Governor of the State of California, do hereby proclaim June 2012 as "Lesbian, Gay, Bisexual and Transgender Pride Month."
And Gerry Brown, I'mma let you finish, but Obama had the best LGBT pride month proclamation of all time:
From generation to generation, ordinary Americans have led a proud and inexorable march toward freedom, fairness, and full equality under the law not just for some, but for all. Ours is a heritage forged by those who organized, agitated, and advocated for change; who wielded love stronger than hate and hope more powerful than insult or injury; who fought to build for themselves and their families a Nation where no one is a second-class citizen, no one is denied basic rights, and all of us are free to live and love as we see fit.

The lesbian, gay, bisexual, and transgender (LGBT) community has written a proud chapter in this fundamentally American story. From brave men and women who came out and spoke out, to union and faith leaders who rallied for equality, to activists and advocates who challenged unjust laws and marched on Washington, LGBT Americans and allies have achieved what once seemed inconceivable. This month, we reflect on their enduring legacy, celebrate the movement that has made progress possible, and recommit to securing the fullest blessings of freedom for all Americans. […]

NOW, THEREFORE, I, BARACK OBAMA, President of the United States of America, by virtue of the authority vested in me by the Constitution and the laws of the United States, do hereby proclaim June 2012 as Lesbian, Gay, Bisexual, and Transgender Pride Month. I call upon the people of the United States to eliminate prejudice everywhere it exists, and to celebrate the great diversity of the American people."
YSG: Get Fed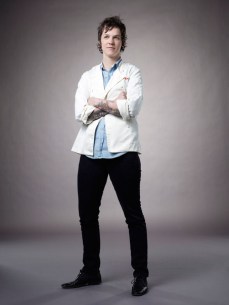 ATTENTION NY: "One Table" is COMING UP!
WHO: Betsy Devine and Deanna Maher
WHEN: Monday, June 3, 2013
WHERE: Lunetta Restaurant, Brooklyn NY
TIME: Cocktails at 8:00pm. Dinner to follow.
The cost is $85 per ticket, which buys pre-dinner bites, pre-dinner cocktails, WINE, and of course family style dinner (post-dinner cocktails, and service).
Look forward to an rustic Corsican menu, we will be sitting outside this time. ALSO – ASHLEY MERRIMAN will be joining us in the kitchen!! she is putting together a tower of seafood and looking damn good while doing it…
This Pomeranian Means Everything
I wouldn't lie to you. Ever.