I've had a really good week, y'all. Like, not to brag or anything. And you can, too! I've got a batch of queer news here that will make all those morning alarms and homework assignments and pesky girlfriend troubles from the past seven days melt away. Just because I care.
Religious People Are (More) Down With Queers Now Than Ever Before
Almost half of the leaders of religious congregations said they welcome same-sex couples into their communities, and over a quarter said they would welcome out queermos into volunteer positions, according to a recent study. Those numbers are a jump from the numbers collected by the same survey in 2006, which just proves how much we're taking over.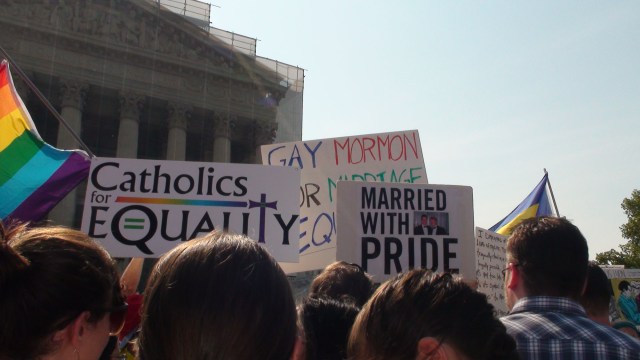 "The increasing acceptance of gays and lesbians is a well-known trend in America," said study director Mark Chaves, a professor of sociology at Duke, in a press release. "Churches are no exception."
Duke University Wins At Diversity
Duke University wants people with "unique perspectives" (AKA queer and trans applicants) to elaborate on them in the admissions process. In other words, Duke is f*cking recruiting. TAKE THAT.
"Real people are reading your application, and we want to do our best to understand and appreciate the real people applying to Duke," reads a new voluntary question added to the prestigious university's admissions application, reports GLAAD.

The question asks aspiring attendees to share, if they wish, "a perspective you bring or experiences you've had to help us understand you better — perhaps related to a community you belong to, your sexual orientation or gender identity, or your family or cultural background."
We Won A Thing! Mini-Victories Edition
+ A U.S. district judge arranged an agreement between two women, one of whom is terminally ill, and the state of Indiana that will allow the two to be legally wed in the state.
+ A federal judge in Arizona has ordered that a man be given access to survivor benefits after the death of his longtime partner, despite the fact that their same-sex marriage was not recognized there.
+ A state judge in Wisconsin granted adoption rights and demanded legal marriage recognition by the state to two women, making herstory happen for LGBT folks in the dairy state.
+ A federal appeals court upheld New Jersey's ban on "ex-gay therapy" for minors.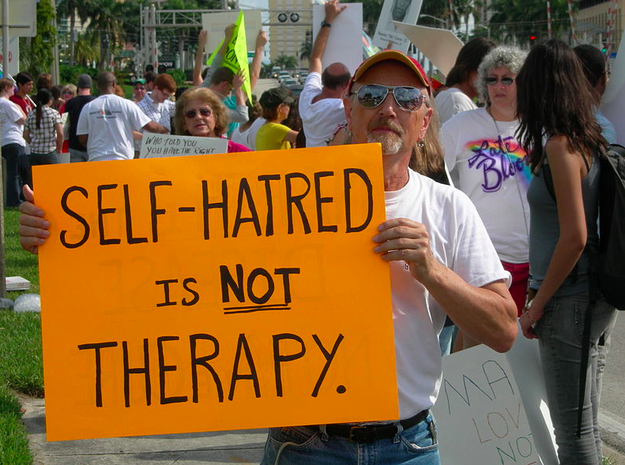 + A Los Angeles high school – with, presumably, no time for this bullshit – will no longer sell Chick-Fil-A on campus because of the chain's anti-gay stance.
Ventura High School president Val Wyatt told the Venture County Star that the chain's anti-gay marriage views could offend some students. Wyatt prohibited the school's football booster club from selling the Chik-fil-A's famous sandwiches at a back-to-school event because of their political activism against gay marriage.

"With their political stance on gay rights and because the students of Ventura High School and their parents would be at the event, I didn't want them on campus," he said.

The county school district superintendent, Trudy Tuttle Arriagia, was more pointed, adding that "We value inclusivity and diversity on our campus and all of our events and activities are going to adhere to our mission."
+ According to a press release, staff members from Planned Parenthood of the Southern Finger Lakes will be honored with Achievement Awards from the Gay and Lesbian Medical Association this week for their work to establish a Transgender Health Services Clinic in the region.
Another Reason to Love Betsey F*cking Johnson
Prolifically weird and wonderful designer Betsey Johnson won New York Fashion Week with a gay-marriage themed show.
It's A Beautiful Day In The Sesame Street Neighborhood Because Janelle Monae
This week I found out my girlfriend thinks the Muppets are weird, but found solace in the fact that Janelle Monae doesn't.
This Baby Rhino Has Something Important To Tell You