Happy Sunday Funday! I wrote this from Nashville, Tennessee, where every bar has live music. But in case you're not being serenaded today, here's some good gay news to make this week bright and beautiful!
Paging Kim Davis
I consider this the ultimate mic drop. Bless your hearts, Planting Peace.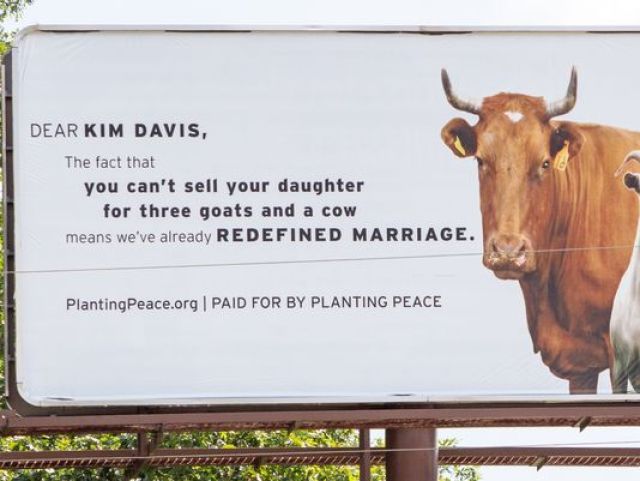 Rick Perry Isn't Gonna Be President
Rick Perry is out of the race! THIS CALLS FOR A MILLION PRAISE HANDS EMOJI.
Out of the Closets, Into the Bathroom
Every single-occupant bathroom in Philadelphia may soon be legally required to be gender-neutral.
Philadelphia's bill is an effort to make good on promises set down in the LGBT equal rights law that Mayor Michael Nutter signed two years ago to fulfill his stated goal "for Philadelphia to be one of, if not the most, LGBT-friendly cities in the world and a leader on equality issues," according to a report in The Advocate. The newly introduced legislation does not apply to multiple-occupancy public bathrooms in the city.

Council member Anthony Squilla introduced the bill on behalf of the Nutter administration, the Daily News reports. "It's making it comfortable for everyone, whether you're a transgender person, whether you're a straight person or a gay person," Squilla said.
This Is Video Footage of Ellen Crashing the GOP Debate
It's Time for Pride Again in Peoria
It's been five years since the last pride celebration in Peoria. This year, the party returned.
There was no shortage of smiling faces at the Peoria gay pride expo Saturday afternoon.

"It's given us a happy, care-free mood,wp_postsAshley Carney said. Carney, a member of the Gay-Straight Alliance at Richwoods High School, self-identifies as pansexual. "We don't have to worry about people judging us. We're just here to have fun with each other."
Hold Me Closer, Tiny Dragon