You know it's fall when there are leaves on the ground and pumpkin spiced things all around… I've even seen Santa Claus already. For me, the beginning of Autumn means a bit of a closet assessment. I take it as a chance to visit old friends — hi, fuzzy granddad cardigans — and also figure out what no longer works/what I'll ideally be wearing all season. Perhaps it's a bit of a progress report of the wardrobe overhaul that tends to happen in the spring.
Two things I am very into currently: duster coats and pants. Pants/jeans have existed for quite some time and will continue to do so. However, they are a newly minted member of my wardrobe as of this spring. So bear with me as I continue to realize that pants are awesome and everyone should have a pair.
Duster coats/sweaters, for lack of a better description, are essentially robes made of material other than polar fleece or terry cloth. I'm not typically drawn to unstructured or flowing garments, but hot damn I'm loving me some dusters. Maybe I'm just giddy 'cause it's the first time I've felt comfortable in something long, which is rare as someone who's 5′ 2½".
An aside: I'm very lucky since I work in a consignment store! I have access to an expansive selection of clothing that would otherwise be out of my financial reach. As a person who has shopped second hand clothing for the duration of her life, I'm pro-thrift store/clothing swap/consignment for updating or changing your wardrobe. Second hand or gently worn clothing is inexpensive and kinder to the planet (both things I adore!)

---
First up: a sneak peek at the vintage coat I'll probably spend all winter in. One of my favourite things about cold weather is an excuse to wear woolen thrifted/vintage outerwear. It doesn't get super chilly here in Vancouver, but it does get windy and wet. I've learned to stockpile warmer coats out of season so when the time comes, I'm ready. I'll be styling this swing coat over everything: it's satisfying over a little frock, but equally charming over pants and a button down.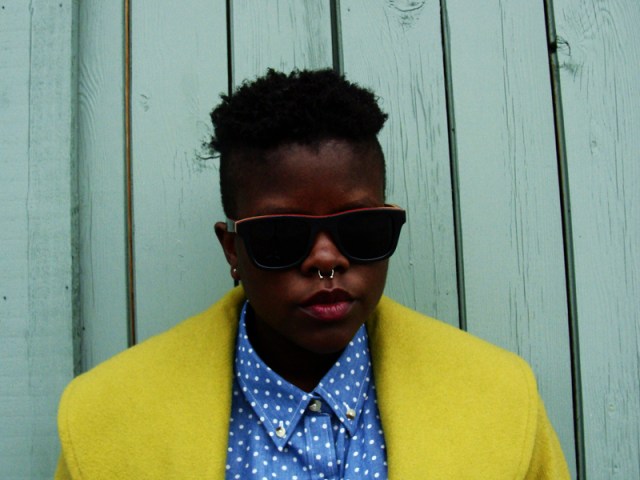 I'm wearing: a thrifted coat, Peau De Loup button down, Gap pants, Dieppa Restrepo loafers and Woodzee's Pride Skateboard shades in "Alpine".
---
Although I didn't play many sports — always a choir kid, although I was fearsome on the rugby field — there are certain articles of sporty apparel that I'm continually drawn to. For me, the varsity/baseball jacket never loses its luster. With infinite iterations as far as color, style and fit, I'm quite taken with them. (cue "Never Gonna Give You Up") A favourite in current rotation: This New York Yankees baseball jacket. It's lovely with jeans and a tee, but it ain't too shabby with a skirt and sweater combo. Sweetly athletic with a bit of tomboy in the mix.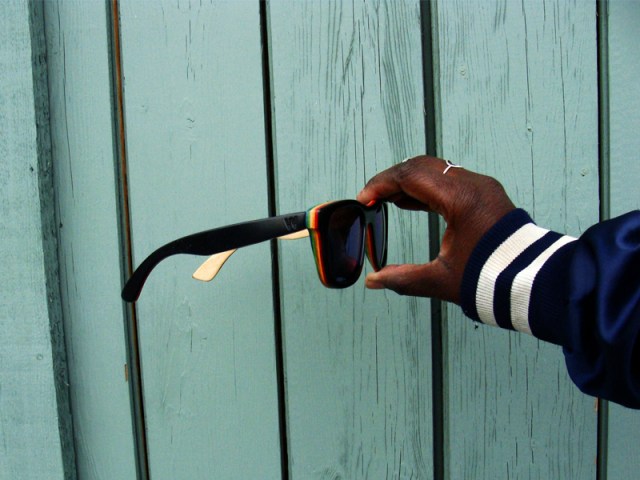 I'm wearing: Vintage New York Yankees jacket, vintage mohair crewneck sweater, eShakti green gingham dress (as a skirt), sheer tights, Deena and Ozzy hat, Topshop boots and Woodzee's Pride Skateboard shades in "Daphne."
---
The last look is my favourite one: duster + neckerchief + stripes! I am obsessed with utilizing my little scarves as wee neckerchiefs this fall. It makes a jean and tee combination feel just a little fancier. Not to mention it's an easy way to incorporate colors/patterns that might feel intimidating in a non-threatening way. As for the silk duster coat, it makes leaving the house seem like you're still lounging about. Essentially, this look is about making a rather laid back combination still look fancy pants.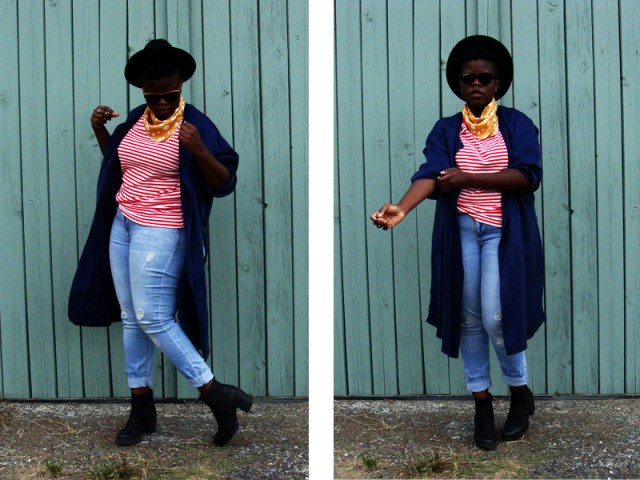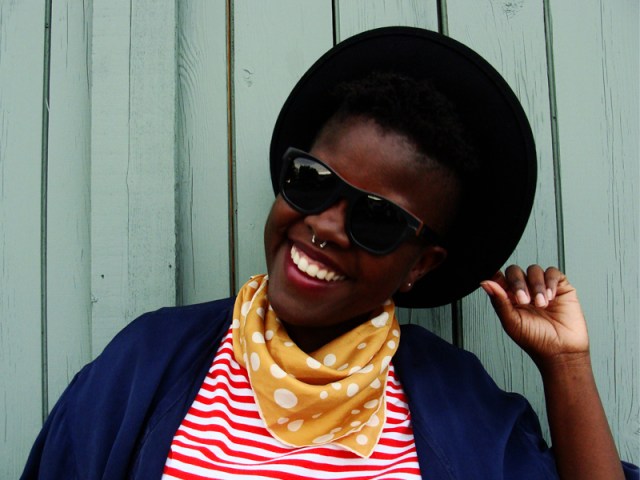 I'm wearing: vintage silk duster coat, Old Navy tee, vintage silk polka dot scarf, Old Navy jeans, Vagabond boots, Wilfred hat and Woodzee's Pride Skateboard shades in "Daphne."
---
Fall is a perennial favourite as far as clothing is concerned; I get excited to layer as the temperatures drop. How about you, what are your autumnal picks?
If you have any fashion/style related questions, feel free to drop me a line! Send me an email at lydia[at]autostraddle[dot]com, I'd be happy to answer your queries!