I have a confession to make, of the sartorial variety. Until very recently, I hadn't worn jeans in about three years. Jean shopping has always been a bit of a nightmare for me; a small waist but plentiful hips and thighs means that most pairs were loose in the waist and far too tight in the hips. Super uncomfortable, and quite often tears would fall in the change room. So, over time, I conveniently eradicated them from my wardrobe. Essentially, I learned to live without denim so that I wouldn't have to go through the headache (and heartache) of trying on 10+ pairs of jeans only to find that none of them worked. Ain't nobody got time for that!
Fast forward to a month ago at Old Navy: I found a pair of jeans that I actually liked! I was skeptical and reluctant to try them on, but for the sake of wanting to change up my style, I gave them a shot. As I slipped on the first jeans I'd even attempted since at least 2011, I found myself in an unfamiliar place. Gazing at my reflection, I was dumbfounded. Could it be? Could I really be wearing JEANS? I've been thrown into a tailspin wardrobe-wise ever since, finding myself even threatening to burn all of my dresses. Luckily, I had my girlfriend Emily J. to calmly talk me out of that one. "I mean, you do you, but maybe don't burn them just yet…"
In celebration of this very momentous event, I decided to do a little show and tell. Since one of the perks of denim is versatility, I took a spin in my new jeans and styled each for a different semi-imaginary occasion. Enjoy the results below!
---
Sunday Brunch
Weekends (or days off, for those of us lucky enough to have them) would ideally consist of sleeping in, mimosas and extended brunches. In a perfect world, I would definitely bring a riding cap, a boyish vintage sweater and Chelsea boots. Playful enough to giggle over a pitcher of tasty beverages but still holdin' it down in the style department.
I'm wearing: a vintage sweater, sunglasses, boots and trench, a Topshop felt hat and Old Navy jeans.
---
Solange Concert
A night out on the town would be certainly be an adventure if the destination were to see Ms. Knowles live in concert. Yes, of course, Ms. Carter is extraordinary, but there is something to be said of her sister Solange's knack for individual, instinctive coolness, not to mention her wealth of talent. Seriously Tina, WHAT DID YOU FEED YOUR CHILDREN? WHERE CAN WE MORTALS GET SOME? Fangirling aside, my dream outfit for basking in Solange's glory includes off-kilter color combos (baby blue and pumpkin) and a patterned head wrap. Maybe she'd notice me in the crowd. We'll fast become BFFs and I can be Brooklyn Carter's godmother (Brooklyn is Blue Ivy's future baby bro, obvs).
I'm wearing: a thrifted blazer and collared shirt, an H&M scarf, Aldo cateye sunglasses, Cooperative heeled Mary Janes and Old Navy jeans.
---
Grocery Shoppin'
Sometimes you've run out of everything, even that last can of chicken noodle. You are really tired, feeling lazy, but your stomach says it's time for a grocery run. Unfortunately, there is a high probability of running into cute queers/terrible exes/cool people at your neighbourhood grocery store. You have to get dressed, but you really don't feel like it. This is essentially my default for any time I have to leave the house in a rush but don't want to look like I left the house in a rush.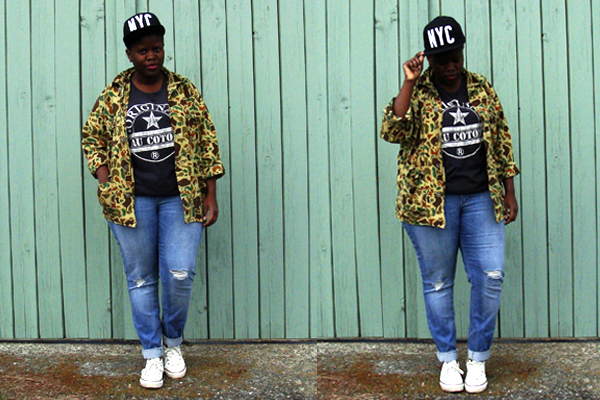 I'm wearing: a vintage camo shirt and t-shirt, low-top Converse Chuck Taylors, Old Navy jeans and a hat I borrowed from my lovely lady (I think it's H&M).
---
A Walk In The Park
The intent of this outfit is fairly obvious: a sunny stroll at the local park. You want to look cute, but not overdressed. Ease and comfort are key, but it's a nice excuse to wear a print or two. Who could argue with a kitten and tropical florals on an adventure in the park?
I'm wearing: a thrifted blazer, H&M tank (gift) and sunglasses, Gap panama style hat, Old Navy jeans and random pink socks.
---
Putting together these looks made me a little less intimidated by wearing jeans, but I'd love to hear the ways you reboot the denim in your wardrobe! Since I'm long out of practice, perhaps you can help a girl out?