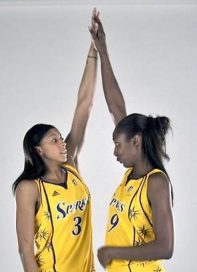 BASKETBALL:
So this March Madness thing is happening? What a great time to talk about being gay in the sports world! 'Cause that's what we do here: talk about gay sh*t that's topical. So anyway, this guy over at Dime mag has a really thoughtful look — albeit from an outsider's perspective — at what being gay in basketball is like.
I've heard (unconfirmed) that reportedly one in every 15 American men identifies as gay, so you do the math: Your favorite player, maybe the All-Star you voted for, maybe the certified superstar whose sneakers you're wearing, maybe the designated "tough guy" on the bench … he could be living in the closet, where fear of getting injured or fear of missing the game-winning shot is nothing compared to his fear of being exposed.
Now ask yourself a question and give an honest answer: Would finding out that aforementioned player was gay change how you feel about him?
He also links to this great blog by an international basketball player who gives a first-hand account of being in the closet and the locker room and mentions that, "While the WNBA is undeniably gay-friendly — I've been to a few Seattle Storm games and the place is full of obviously lesbian couples — it's like the league still doesn't want to openly admit and advertise it."
LESBIAN SOFTBALL:
It's springtime! Time for lesbians to play softball! Home Base: "I live in the Castro, have a girlfriend and work as an editor at a lesbian magazine, so it seemed obvious that when it came time to join a spring sport, I'd go for softball… I should mention that our league – the San Francisco Gay Softball League — is technically a no drinking or heckling league, and you can get kicked out for such actions. But the pros (the girls with dirty cleats and supple mitts) tell me there are plenty of ways around that."(@thebolditalic)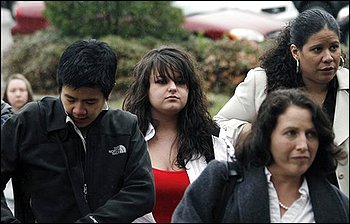 PROM:
Constance McMillen had her day in court yesterday and school officials claimed that they'd been thinking of canceling the prom for, like, a million non-lesbian reasons. You can read how it all went down in court at The Washington Post.
But Constance has made an impact! On Top Mag reports that officials at a Cochran, Georgia, high school have agreed to allow a male student bring his gay date to prom.
SUITS:
With more and more gays getting the option to marry, they actually have to figure out the logistics of a wedding. One of the hardest parts? What to wear, of course. This is the sartorial plight of … the women who know how to buy work pants, play shirts, clubbing shoes and everything else, but who do not know how to buy formal wear (really, who does?) and are now navigating the experience for their now legalized weddings. It applies to prom, too! The article has a few tips on finding the best ways to get a good suit or tux. (@washingtonpost)
THE NOT-SO-NEW GAY:
A rather retrograde thing happens to gaydom: Choire at The Awl would like to support new media startups whenever possible, but he finds a few "warning signs" happening at new gay site, fabulis; like that they are "listing and rating gay dudes."
We here at Autostraddle have one question: WHY CAN DUDES GET STARTUP FUNDS (FROM THE ALLEGEDLY DEATH-OF-PRINT-AFFECTED WASHINGTON POST OF ALL MOTHERFRACKING PLACES) FOR WHATEVER DUMB SHIT THEY WANT TO DO AND GIRLS CANNOT GET START-UP FUNDS FOR SOMETHING AS CLEARLY AMAZING AS OUR REVOLUTION from anyone but ourselves? Is it because this website is not amazing or because investors do not want to invest in women/lesbians? Seriously, the rage, I have to step away from my computer right now, my blood is actually boiling. Seriously. I'm shaking. I can't type. Anyhow, go read the article on The Awl. I love the fucking Awl. BRB.
Ok hi! Moving on…
DADT: Queerty found this video with interviews from real gay service members affected by Don't Ask Don't Tell, and it's super good. Watch it! The amazing Dan Choi is in it, and it has some moving portraits of other soldiers.
THE VIEW:
The ladies of the View took up the health care bill yesterday. Shockingly, it ended in screaming. I'm confused how Elisabeth Hasselbeck manages to stay on that show. My brain would've exploded from so much yelling and fighting AGES ago. Anyway, she totally misses Whoopi's point, which is that she wants to talk about the unacceptable behavior of some lawmakers (those shouting f*g and spitting on people) before discussing the bill itself. And also, I think Elisabeth doesn't understand the difference between opt-in and opt-out. (@ew)
DESIGNING WOMEN:
The winners are in for GOOD Magazine's contest where they asked readers "to design a public-awareness campaign poster to draw attention to three key issues affecting women all over the world: Human trafficking, childhood marriage, and childhood obesity."
PROM:
If you're of the femmier type, Target may have something to meet your prom fashion needs. Continuing the store's designer clothing series, Zac Posen's additions were apparently inspired by lesbian proms! He said: "Lesbian proms have been such a big thing in the news lately. Rather than create a fake subculture, I wanted to address things that are actually happening." Maybe after prom season, we could add some photos with his designs to our girl-on-girl prom gallery! (@stuff)
---
Before you go!
It takes funding to keep this publication by and for queer women and trans people of all genders running every day. We will never put our site behind a paywall because we know how important it is to keep Autostraddle free. But that means we rely on the support of our A+ Members.
Still, 99.9% of our readers are not members.
A+ membership starts at just $4/month.
If you're able to, will you join A+ and keep Autostraddle here and working for everyone?
Join A+