I don't want to play into stereotypes here, but a lot of us have cats. And some of us are allergic to cats. And some of us still have cats anyway (ahem).
I was one of those sickly kids who had really bad allergies and asthma. I was also one of those kids who REALLY LOVED ANIMALS. I had a nebulizer asthma machine which I had to use for 20 minutes twice a day, and an allergist who I was on first name basis with. I had a "scratch test" done on my back when I was about 8, and every single needle prick raised up, meaning I was allergic to everything. My allergist thought maybe I was overly sensitive so he gave me another test, and, nope, I was actually allergic to everything. He suggested I move to Mars, but that I may be allergic to that too. Thankfully my allergies have gotten a lot better as I've gotten older, but unfortunately the cat allergy remains pretty bad.
So you're allergic, and you want a cat, or you're dating someone who has a cat and you want to continue dating this person. Or everyone you know and/or want to date or hang out with has cats, because we all do, right? What do you do? Here are some things I've learned over the years to allow me to have cats in my life.
First of all, you're not allergic to the hair like most people think, but instead a protein (Fel d 1) which comes from the oil on the skin and the saliva, so long-haired cats aren't inherently worse than short-haired cats. This protein is sticky — it sticks to the dander, the fur, you, your clothes, and your living space. Some cat breeds, in theory, have less of this protein. I've heard Siberians and Maine Coons are better than the typical Domestic Shorthair, but I'm not sure if this has ever been scientifically proven.
Another thing a lot of people don't realize is long-term exposure to a specific cat will allow you to build up a tolerance to that cat, so your allergies will be reduced if you live with this cat. It takes several months, and it doesn't ever go away completely, but it will reduce significantly.
---
Medication
I'm not a doctor, anything I talk about in terms of treating allergies or asthma is just about my own experiences with my own allergies and asthma, not a health recommendation for others. You should talk to your actual doctor about your own allergies or asthma.
If your allergies are bad, you will probably need to be on an antihistamine. There's a wide variety of them to try, so if one doesn't work for you, or if you have side effects, give another one a try.
First Generation Antihistamines
Benadryl (Diphenhydramine) was the first option for allergy sufferers, appearing in 1946. While very effective, unfortunately drowsiness is a huge side effect for most people. I never take it for allergies, but sometimes I take it to sleep, but it does make me groggy and slow the next day. It's so good at making people sleepy that it's the active ingredient in Tylenol PM.
Second Generation Antihistamines
Claritin (Loratadine), Zyrtec (Cetirizine), and Allegra (Fexofenadine) are popular over-the-counter second-generation antihistamines. These drugs do not cause drowsiness in most people. If you try one, and you feel out of it and exhausted, try another one. I found Zyrtec to be the most effective for me, but also the one which makes most people I know sleepy. If you find one that does not make you sleepy, take it for a week to really judge its effectiveness. This stuff needs time in your body to work. If you plan to go somewhere where you'll be exposed, take the pills for at least a few days before hand.
What's with the "D"? (Claritin-D, Zyrtec-D, Etc.)
The "D" at the end stands for decongestant, and it's usually Sudafed (pseudoephedrine or phenylephrine) which they've added along with the antihistamine. Sudafed is excellent for clearing stuffy/runny noses. It's also a stimulant (it's an amphetamine!) so it's best to not take daily or before bed. I do not take any of these combo versions of antihistamines, but instead have separate Phenylephrine pills in my medicine cabinet for when my allergies are really bad or when I have a cold. I almost never use them.
Nose Sprays
For when the antihistamines just don't cut it, and I'm still a sniffly mess, I'll also use either Flonase or Nasacort. You may want to watch a YouTube video to see how to use a nose spray properly if you've never done it before.
Eye Drops
If you get really itchy eyes you can try antihistamine eye drops.
Generic! Is! Cheaper! Online!
You guys, generic is a million times cheaper on Amazon than the pharmacy. You can get a year's supply of antihistamines for like $15 online, and it works just as well.
Hippy Stuff
Some friends of mine swear by Rainbow Light Allergy Rescue. I haven't tried it myself though.
But What If I Also Have Asthma?
I have allergy and exercise-induced asthma, and all I can say is steroid inhalers are your friends. Popular ones are Alvesco (ciclesonide), Asmanex (mometasone), Azmacort (triamcinolone), Flovent (fluticasone), Pulmicort (budesonide), and Q-Var (beclomethasone), and they all require prescriptions. If you're hitting that rescue inhaler daily, you probably should be on a steroid – it's worth talking to your doctor about. Steroids don't stop an asthma attack, but instead prevent them from happening. They also open my lungs enough to be able to exercise or be around allergy triggers without wheezing. They only work if you remember to take them every day. I put mine in my bathroom next to my toothbrush to remind myself. Wash your mouth out after using, and using a spacer really helps.
---
Remove The Allergen From Your Body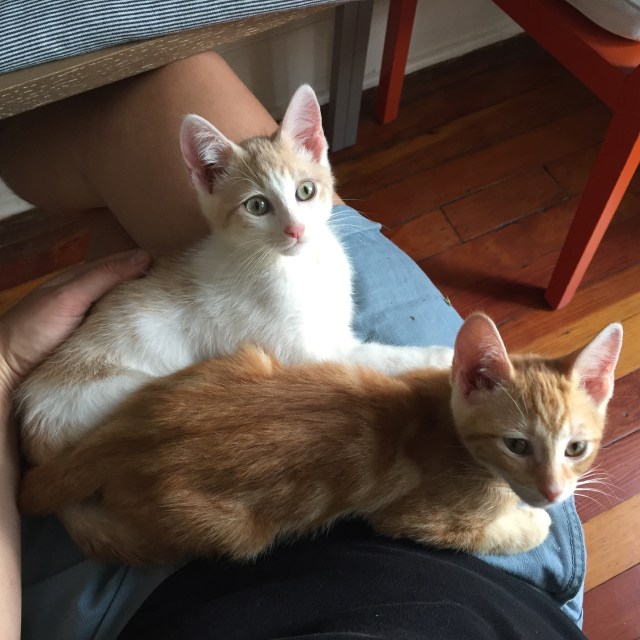 Shower!
Dander and pollen and most allergens are sticky. They'll stick to your clothing, your face, the inside of your nose, etc. Showering helps remove them. I recommend showering before bed to rinse off the allergens, and not bring them into your bed with you.
Flush Your Eyes
My eyes don't bother me enough to use eye drops, I just flush them with plain water if they get itchy. I have this vintage eye wash cup which looks like a little goblet which I fill with plain water and blink into a few times. That works for me.
Wash Your Hands!
After you pet the cat, wash your hands. This may sound obvious but I often forget and then rub my eyes. Oops.
Nose Irrigation
Some folks swear by a neti pot or saline spray. I have a neti pot, and I find it doesn't work for long, but they really help during an allergy attack.
---
Your Living Space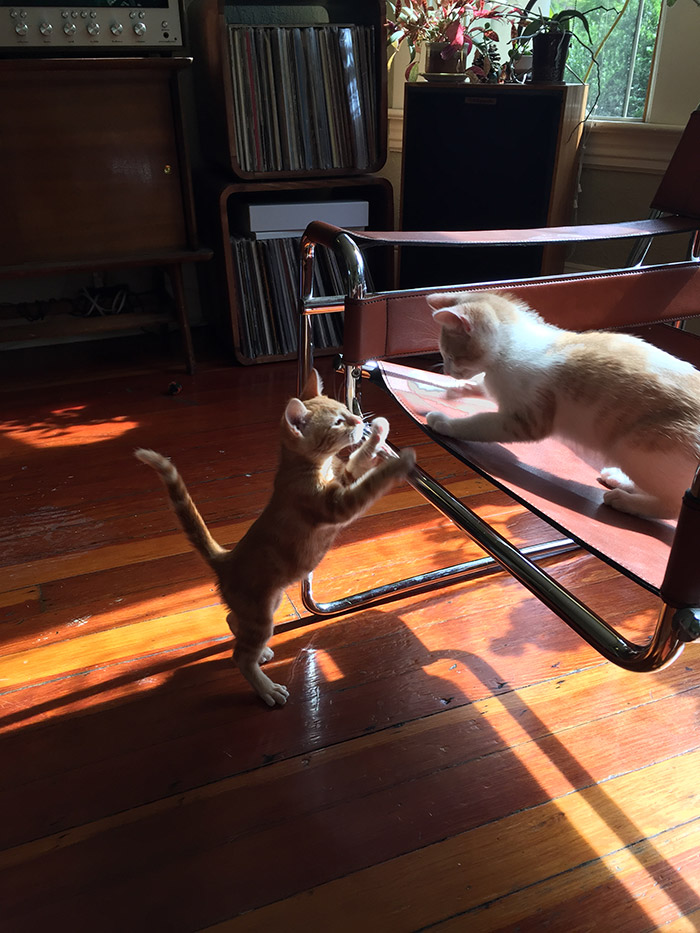 Wash your clothing often. Keep fabrics to a bare minimum (drapes, upholstered furniture, etc). Place a blanket over your sofa and any other not hard surface and wash it frequently. CARPET IS THE WORST; stay away from it if possible. Dust with a damp washcloth to pick up the allergens, and not a feather duster to kick them up. Use a vacuum with a HEPA filter on it or gently sweep and mop so you don't kick up the allergens. Wash the cat bed weekly if you have one (recommended, so you can wash it). Don't leave clean clothes on the floor where your cat can sleep on them. The cleaner you keep your house, the less your allergies will bug you.
Bedroom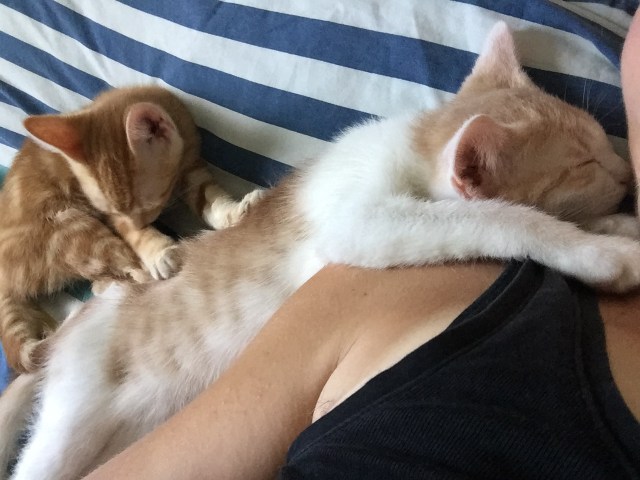 It's best if you don't let the cat sleep with you in your bed — but I ignore this advice myself. Maybe try to train the cat to not sleep on your face? Get some pillow protectors and a waterproof mattress pad (good for other reasons too). Wash your sheets a lot (like 1-2x a week), and on the hot water setting. Change your pillowcases often. Wash your comforter and pillows every few months, get a comforter cover and wash that every week. I do not recommend any fancy blankets which you can't wash often. If you don't let your cat into your bedroom you can ignore all of this.
A/C
Clean the filter on the window A/C unit every week or two — just run it under hot water. (Yes there's a filter, and yes you can take it out.)
Air Purifiers
You can buy a fancy air purifier or make one yourself for a lot less by attaching a HEPA filter to a box fan as shown in the video below. This also works really well for folks who want to have a fan in their windows but are allergic to pollen too.
House Furnace Heat
If you live somewhere where your heat is forced air, coming out of an oil or gas furnace, get a HEPA filter for your furnace instead of a regular one. It will clean the air as it passes through the furnace, and will blow out cleaned air into your house, acting like a giant air purifier. Make sure you replace the filter every few months. Talk to your landlord about doing this for you if you rent. Also, cleaning your air ducts out will help a lot if they haven't been cleaned in awhile.
Anti-Allergy House Spray
I haven't used these yet, but I just ordered one on Amazon to try it out. I suspect spraying your sofa and cat bed or anywhere else your cat hangs out and the litter box will be helpful.
---
The Cat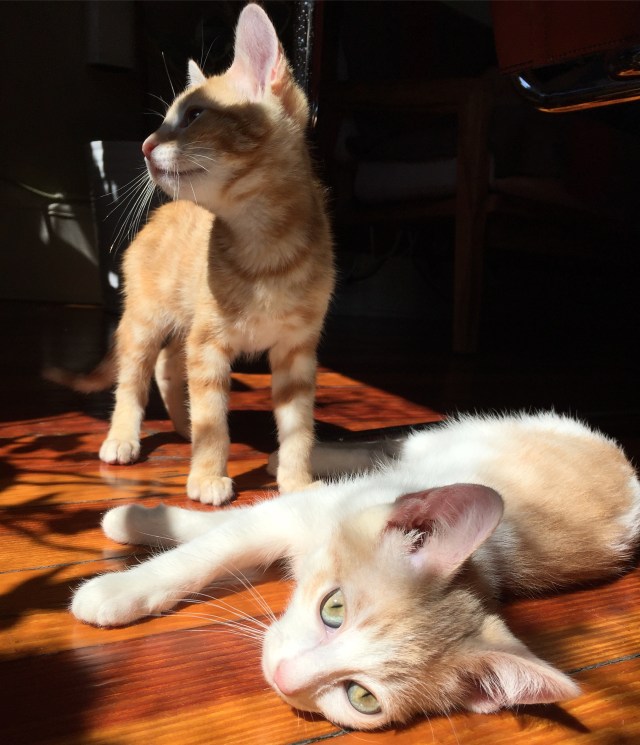 Bathe Your Cat
They usually don't mind as much as you'd think, especially if you start doing it as kittens (at least my cats never really objected). Use shampoo specifically for cats, not people shampoo. Often shampoo is marketed as hypoallergenic — they mean for the cat or dog's skin, not for you. There are some anti-allergy cat and dog shampoos, but I haven't tried them yet. Bathing a cat will reduce allergens only for a few days.
Cat Wipes or Facecloth Baths
There are some products available which are like wet wipes for cats, with no harmful ingredients. These are great for reducing allergens if used daily. Even a daily wet facecloth wipe down works great, especially if you use some of an anti-allergy product on it, and it's a lot less stressful and time consuming than a full bath.
Cat Box
Clean the cat box often! I'm allergic to the box, so I dump the litter often. You could try one of those anti-allergy sprays in your box too.
---
Why Even Bother?
I realize this all sounds like a hell of a lot of work, and pretty ridiculous. But for me, the emotional and mental health benefits outweigh the work and physical health detriments. I deeply love and connect with animals, and have for my whole life, and I think my life is a lot more fulfilling with pets.
Do you have allergies and also have cats? What do you do to help minimize your allergies? I'd love to hear your tricks too!