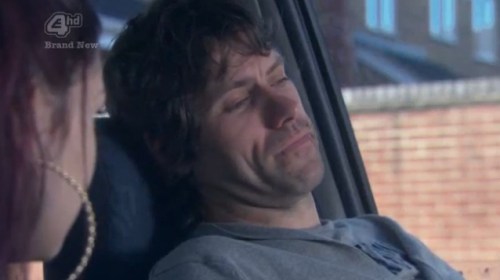 I Just Wanna Be Like Jewel
Katie, dressed like a hooker, finds her Dad sleeping in the car. What a pair of rascals! He tells Katie he really messed up. She tries to comfort him and says things might be okay 'cause of that whole "for richer or poorer" thing.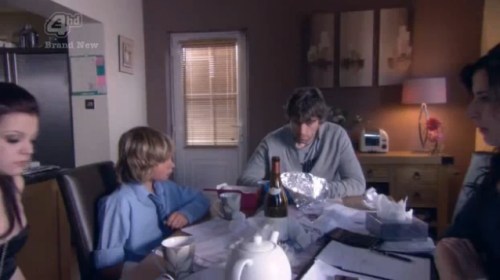 Who Wants to Say Grace? Anybody? Anybody?
Back inside, Mrs. Fitch announces that the house is being repossessed TODAY, and it's their father's fault. So they're all gonna have tea. Where's the duffel bags.
Please Please God Make Me a Bird So I Can Fly Fah Fah Away Away From Heah
Katie and James get sent away from the table so that the adults can argue like children. Actually it's not really even an argument, it's Mrs. Fitch berating Mr. Fitch and calling him stupid and worthless over and over again.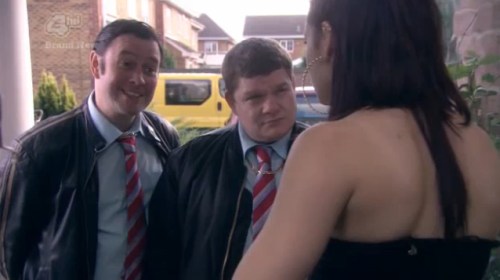 Queer Eye for the Repossessed Home
The Repo Men, tweedledum and tweedledee, have arrived! The Fitches scurry to pack and escape while the dudes read out the court order. It takes me longer to pack for a sleepover at my girlfriend's, I hope someone got Emily's strap-on & Naomi Love Mementos. Little James kicks the repo men through the door when they try to peek through the cat flap. Aww. Remember the cat flap? It would have hurt more if he was wearing his stilettos.
---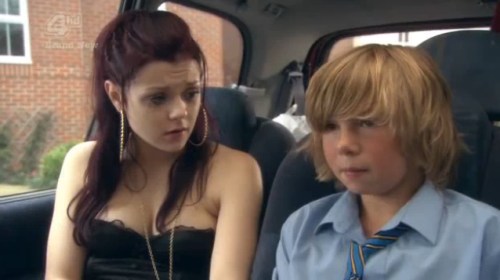 We Can Trade Outfits Later, The Lesbians Will Love It
Mr. and Mrs. Fitch have pulled off into a parking lot to continue their argument outside the car. Mrs Fitch points out that some of the repo notices were apparently 6-7 months old. She's a bitch, but now she's a bitch with a point, which equals danger. James is scared, he scoots across the backseat to hold Katie's hand and talk about his fears.
James: I hate KFC.
Katie: Wot?
James: Eli Evan's parents got divorced and his dad spent every night in KFC. Then he met this woman and she had this huge problem and so he tried to help her, and her friend got really angry and then he ended up with only one knee cap. And now, his mum's going pornos and his dad's a junkie and he never sees them, except on the internet and then he has to pay for it. I mean, how unfair is that?
Is he talking about Kentucky Fried Chicken, or does KFC stand for something else in the UK? King Fergie Charles, or something.
Have You Heard of the New Show "The Marriage Ref"?
Katie goes to tell them to chill out. Mrs. Fitch wants Mr. Fitch to drop them off at the airport so that her and the kids can live with her mother. Katie explains that being bankrupt means no money which means no airfare. It leads to a valid question about where they're going to sleep that night.
Katie: There is someone we can stay with…
---
HALLELUJAH HALLELUJAH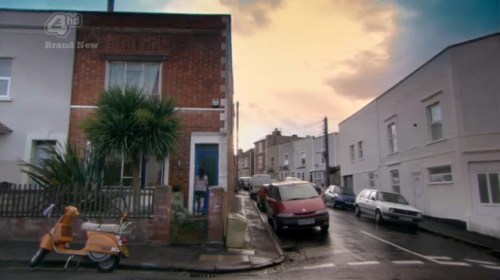 You Must Live Close, I've Seen You Drive By
Katie knows of a rather large house that doesn't ever seem to have more than two girls living in it… nicely played, Skins. The Fitches moving in with Naomily? Perfect! It's like The Brady Bunch, except not at all.
Naomi looks like she hasn't slept or eaten in days/devastatingly tore-up and gorgeous. This indicates either her & Emily's relationship is totally hot or totally horrible.
Like us, Naomi thinks this idea of cohabitation is hilarious.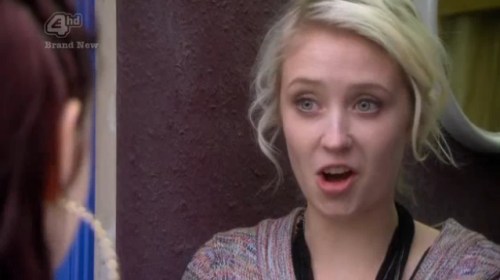 Katie: Good morning Naomi. You're looking sexy. Have you heard of a shower?
Naomi: What do you want?
Katie: This is difficult, okay. We've lost our house.
Naomi: Oh that was careless. So what? [HAR!]
Katie: We need somewhere to stay. Your house is pretty empty at the moment.
Naomi: You're having a fucking laugh..
Katie: Yes Naomi. I'm kidding that my parents have no money, no house and are about to split up.
Naomi: I'm sorry but.. not my problem.
Katie: Oh but it is. Because it's Emily's problem. She's your girlfriend, that makes it your problem.
Naomi: No lesbian digs?
Katie: That I can't promise.
Mr. Fitch busts this pop stand to go and find a more permanent solution to the homeless problem (or deal drugs, which I think would be his best bet at this point for quick cash). That leaves Katie and James tasked with convincing Mrs. Fitch to move in to her daughter's sinful harem.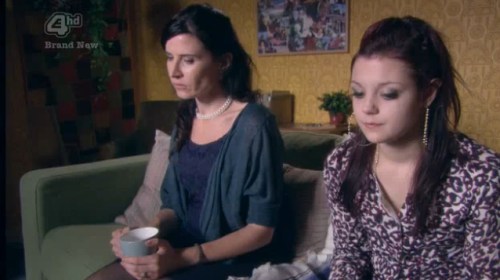 My Sick Lack of Guilt is So Unwelcome

Katie and her Mum are sitting awkwardly on Naomi's couch like queer is contageous. See, if it was, then Mr. Fitch wouldn't have even been legally entitled to Katie's Mum's Money HAHAHAHAH! Straight people have so many problems!! Hahaha! Naomi offers Katie & Mrs. Bitch some Depressing Wafers of Death.
Mrs. Fitch: Look at her swanning about as if she's done nothing wrong.
Katie: She hasn't.
Mrs. Fitch: I want the best for Emily and she isn't.
Katie: How do you know?
Mrs. Fitch: Mums know these things. You'll realise that one day.
Um, Mrs. Fitch? You're homeless and Naomi just gave you crackers. It's time to shut the fuck up and admit you actually have no idea what you're doing and therefore can't judge others.

Katie: Are you really going to leave Dad?
Mrs. Fitch: When your Dad and I got married, we had nothing. We spent years working and saving so that you kids could have the best of everything. And for what? It's all gone. I never thought we'd split up, but then I never thought I'd be evicted from my home. That my daughter would be a… so rebellious. People always let you down princess, they fuck things up. Not you though.
Katie starts to tell her mother that she can't conceive, but Mrs. Fitch has fallen asleep, I guess all of that arguing and twatiness and self-pity is tiring.
Weren't We Miserable Enough Just the Two of Us?
So um, Naomi should've checked with Emily, 'cause Emily's not happy. Really there's no explanation for how Emily didn't know anything about her family's drama 'til this moment. She probs just wants another excuse to yell at Naomi and bang things around in a cute tank top.
Naomi: Stop it, Em.
Emily: After all the shit she's put us through, you just let her march into our home.
Naomi: She's your mum.
Emily: She's a selfish cow, that's what she is.
Mrs. Fitch and Katie get woken up by their fighting and walk in, but Emily just keeps going. Katie owns a lot of leopard print right? That's not the same shirt from earlier. I would totally be having a panic attack about all my stuff btw that might be taken away by the repo man.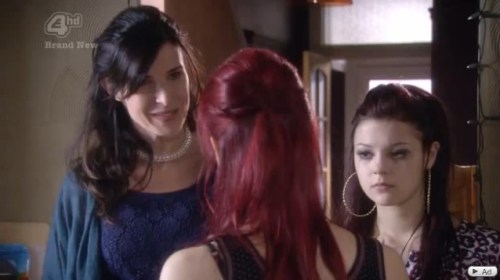 All in the Family
Katie: Emily!
Emily: Whatever. Stay here. Don't expect me to care because I don't.
Mrs. Fitch: It's just for a couple of days while we get ourselves out of this pickle.
Emily: Stay out of my way. This is my house. I live here with my girlfriend. And we're having a BBQ. Alright?
Mrs. Fitch: Whatever you say, love.
Oh good they are still together OMG WILL IT BE A GAY BARBECUE? Emily strides up to Naomi and sucks her face off right in front of her mother, that is until Naomi pushes her away.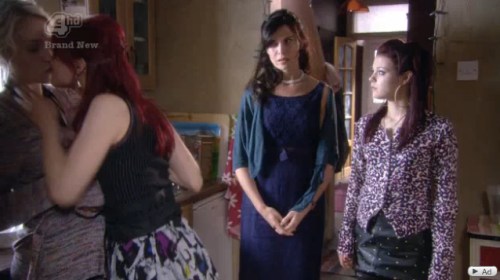 No You Haven't Missed a Thing
It makes me feel like this's the only action Naomi has seen since the whole revelation that Naomi fucked the dead girl. Why is Emily being such a twat? This scene really makes me wonder if Emily has stayed with Naomi because she wants to make things work, or because she wants to piss off her mother.
[Sidenote: Riese thinks that they are still in love and it has nothing to do with Mom]
Naomi looks defeated in every sense. Katie shakes her head at her like it was Naomi's fault and Naomi sighs and storms off outside to the party, which is now in full swing!
---
It is not a lesbian barbecue after all, sigh. Well, I guess we're not sure how James is going to identify yet. James wearing a stunning one-piece floral bathing suit and frolicking around the inflatable pool with JJ. He's so cute and happy in his onesie. It's the simple things, everyone, the simple things. Also; that's what he remembered to pack. BTW.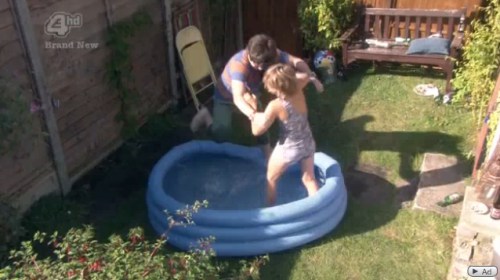 The Kids are Alright
The whole gang minus Cook the Convict is at the BBQ. Thomas & Freddie are playing alpha male, making food for the ladies, and Emily huddles off to the side, doing shots with a bunch of extras.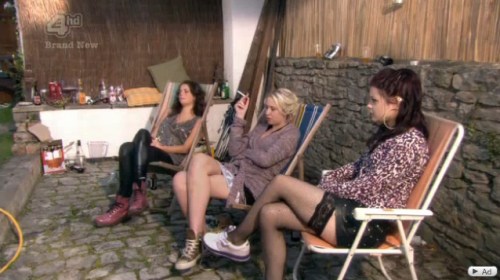 Is This Where the Sad People Sit Looking Sullen and Making Wry Observations?
Katie is looking out of place, so she joins Naomi and Effy in the Depressives Section who as per ush are showing no enthusiasm for life whatsoever. Now that Katie's barren & bankrupt she fits right in to the dark side. Also, nice stockings.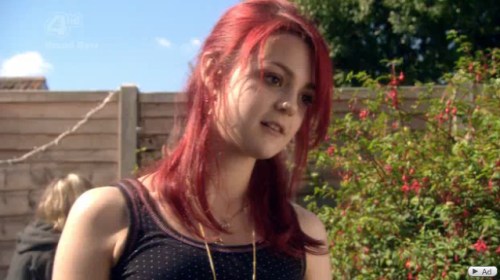 This is What a Drug Addict Looks Like. Not Bad Really.
Emily stumbles on over, swaying drunkenly and smoking a ciggie and looking equally as sleep deprived and dishevelled as her girlfriend. She's on the warpath –
Emily: Who's got any more pills? Effy?
Katie: Don't you think you've had enough?
Emily: Don't think. It makes life much easier. Naomi darling? Got anymore of your special powder? No?
Naomi: Don't, Em.
Emily: Where's Cook when you need him, eh?
Um, good point Emily… maybe he's being PUNISHED for being such a bad boy!  Emily staggers off to continue her hunt for pills. Naomi sighs and says, "another fun day at Mrs. and Mrs. Campbells," which is one of the best things she's ever said, but no-one's really listening, these kids never listen!
Clearly Emily has been punishing her the whole time, because what use is a Pity Party without drugs?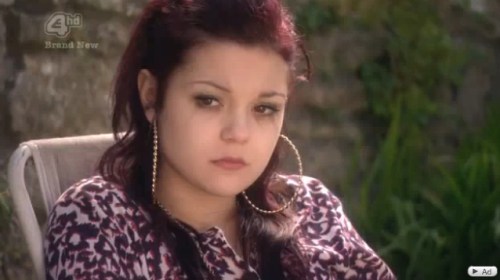 You Work That Smudged Eyeliner Girl YOU WORK IT
Katie is looking miserable. Thomas notices, he asks her if she wants to get outta there. Maybe they'll get together. I dunno, if someone made out I might feel slightly better. Maybe.
Katie: What's the point? It's all fucked up anyway.
Emily is still staggering around, she's complaining that the party is boring and so she turns the music up and starts dancing up close and personal with a random blonde girl.
Luckiest Extra Ever
I think we all see the tragedy that's gonna occur next, right? Effy can, she's started numbing herself in preparation for the fireworks. SO SHE DOES HAVE PILLS AND SHE IS WITHHOLDING. I don't know if that's mean or not. This is anarchy.
Double-Fisting
Even Mrs. Fitch can see it coming, which is unusual. Though possibly she's the only one who's been sober for even an hour since like 2005.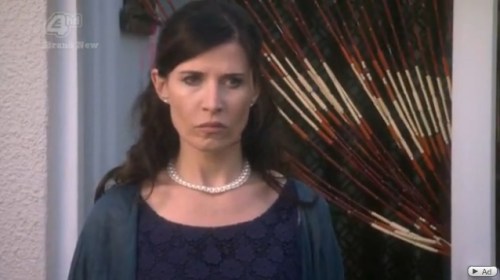 BAM.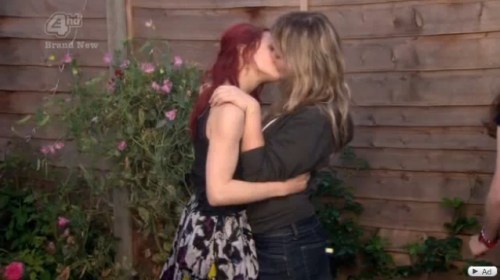 Kiss of the Spiderwoman
Who does that? Right in front of their mother and their girlfriend? Oh I guess someone who is on a lot of drugs.
Katie yells for Emily to stop that shit right now. Someone's gotta keep that relationship together. Naomi doesn't look like she's got anything left inside of her. Although the level of anarchy and overall life tragedy happening in this scene is off the charts, it doesn't feel soap-opera-ish or anything. It feels real.
It feels real in the worst way possible: stunned, mid-afternoon, washed-out, tired, love-drenched sadness.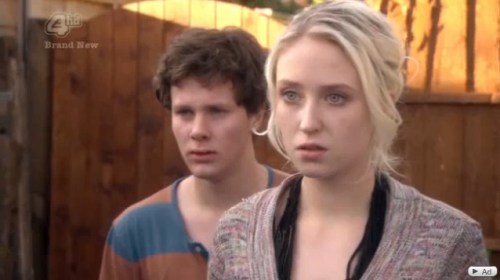 This Thing That Breaks My Heart And
Emily is so far gone that she charges Naomi and they both land in the swimming pool. Emily thinks it's really funny and Naomi is defo not laughing.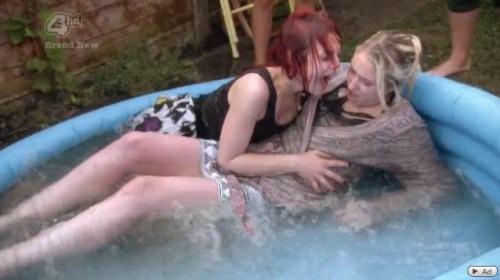 Like Girls Gone Wild, but Depressing
Emily: Naomi darling, am I making you nice and wet?
Naomi: Fuck you! This is a fucking pantomime.
They get out of the pool and Emily shoves her –
Emily: Fuck you right back.
Katie: Ems, stop it.
Emily: Stay out of this.
Naomi: What? You want to fuck her, is that it?
Emily: Maybe I do. So what.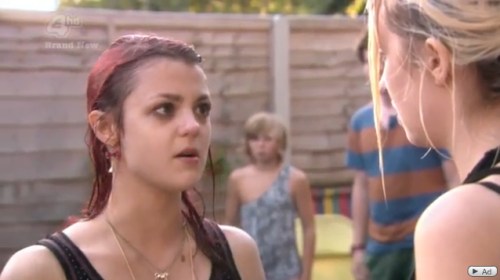 You Break My Heart Each Time You
She's acting all tough but not fooling anyone, she doesn't want to fuck any other girl and neither does Naomi. Maybe neither DID Naomi. But now, we'll never know…
Mrs. Fitch is looking on horrified, she wants to know why her daughter is suddenly slutting it up with another girl 'cause srsly, they're broke now and so she doesn't have the money to pay off that many girls. Emily says it's none of her business, but Naomi just wants to come clean –
Naomi: I fucked the dead girl. I fucked Sophia and I gave her the drugs and now she's punishing me for it.
Well, so there that is. Maybe that's better — get it out there, and then "Want me to tell everyone what you did?" is no longer a pawn on the table when the wars are waged.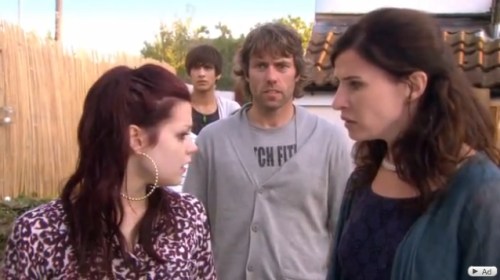 It's a Wagon Train! We're Going to Oregon!
Worst timing ever goes to Mr. Fitch who walks in and says "good news everyone, I found us a caravan," which I think is probably something no wife and daughter ever wants to hear at any moment let alone this one. But I guess it beats living in domestic hell with two teenagers with a lot of lesbian feelings — but also, I believe Thomas still has a well-cooked hamburger! Who wants it?
Emily: Why don't you all just fuck off. All of you. Pretending to be happy families, pretending to love each other.
Mrs. Fitch: Don't you dare speak to me like that.
Emily: Get off your high horse.
Mrs. Fitch is in tears, she says she needs to get away from there and then runs off. That just leaves Katie and Emily.
Emily: Bit melodramatic. Remind you of anyone?
Ooooo, nice one Dr. Phil.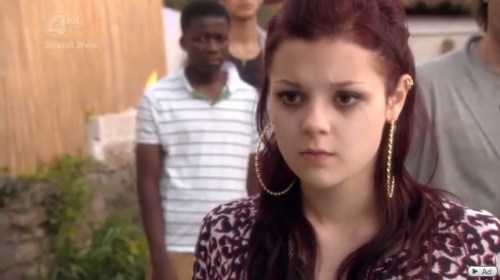 I Will Strangle You With One of These Hoop Earrings Seriously Don't Push Me
Right now there's only one person being a melodramatic twat, and it isn't the twin in the purple animal print. Katie doesn't say anything, she just does what some of us have been willing her to do for the last ten minutes and slaps Emily.
I wonder if this happens every day, or if maybe Emily is lying (yes) and she does care — not just about Naomi, but about her family, and maybe even her health. Because see; now literally every single part of her life sucks. At least she's not in jail like Cook?
I think every episode someone's life falls to pieces, yeah? I hope there's a musical number in the season finale. Also; I hope Emily's getting good grades. That would be something.
I don't think I've ever seen anyone in the Fitch family acting happy. Except when Naomi & Emily were falling madly in love!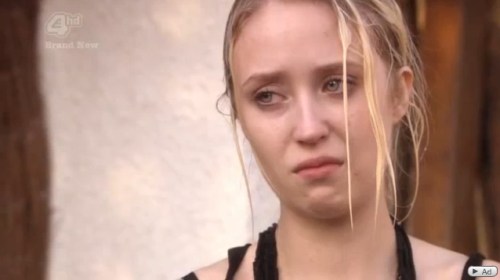 The Mirror is Cloudy, I Loved You the Most
Naomi hasn't gone anywhere, she's still standing by her hot mess of a woman. She's all heart-broken and devastated and reaches out to Emily and says "Em," but Emily doesn't respond.
---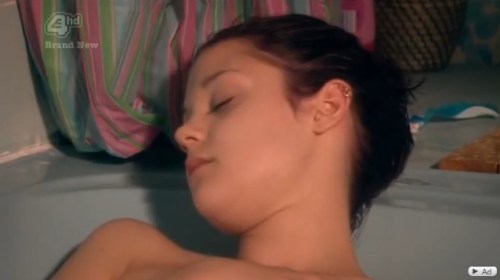 I Said Draw Me a Bath
Katie has decided to chill out with a bath, which first involves a sexually explicit undressing, in which you can imagine it's really Emily undressing for Naomi, I dunno is that weird.
Thomas pulls a Can't Hardly Wait when he dashes into the bathroom to pee, sees Katie, tries to dash out, and breaks the lock on the door. Now he's stuck, and probs still needs to break the seal.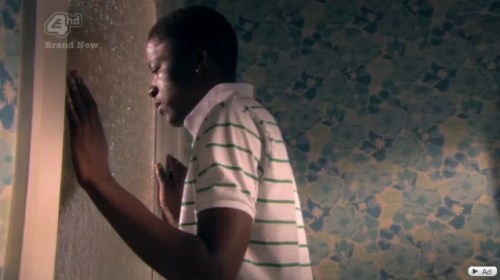 Where is Your Fragrance of Love Scented Candle
There's no one left in the house and so they're stuck for the moment, Katie tells Thomas to take a seat and get comfortable.
Katie: Do you think I'm a bitch, Thomas?
Thomas: I think you're Katie. [translation: you're a bitch] You should always be you. You're strong and…
Katie: I'm too aggressive, just like my fucking mum. I know it, I am a bitch.
This is very real. You know; when your parents fuck up, and you start to see all the parts of yourself that maybe learned how to fuck up from your parents, and why and how, and then you know you need a bath.
Thomas: Everyone relies on you to tell the truth Katie, they need you.
Katie: That thing you do, is it real?
Thomas: What thing?
Katie: The lovely, honourable thing.
Thomas: I'm not. I screw up so often… Panda, college, everything. Right now I am Monsieur Screw.
Speaking of screwing, Katie pulls him into the bath tub and more or less mounts him. That's nice, someone should at least fuck, that's the best self-destructive behavior of all.
Thomas gets a lot of action on this show, I guess it's that sunny disposition and happy-go-lucky attitude that makes him a winner with the ladies.  DOESN'T HE STILL HAVE TO PEE THOUGH?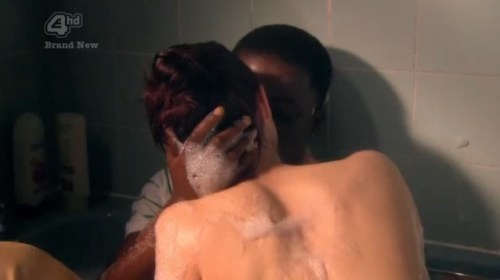 Seriously All I Can Think About Is How He Probs Still Has to Pee
Katie pauses the make out sesh to confirm that Thomas does actually fancy her before she continues jumping him. He says yes either b/c he does or b/c he wants to get laid. And also to talk about her feelings.
Katie: I can't have kids. They say I can't have kids. Ever.
Thomas: And you're sad. You think maybe no man will ever want you. Well I'm a man, and I think you are a beautiful and magnificent woman.
Katie: Pandora was an idiot not to forgive you.
Thomas: I was the idiot. I wasn't honourable.
Katie gives him a hug and they agree to be friends, and Thomas walks away soaking wet, probaby his penis is just really overall not very happy right now.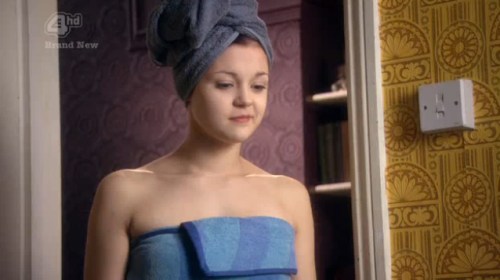 Nice towels. Yeah the one on your face AND the one on your body. Katie Fucking Fitch mmhmm.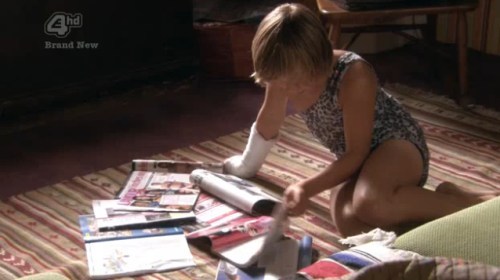 Affection for Leopard Print Apparently Runs In the Family Too
On her way back from the bath, Katie sees Jamie flipping through fashion magazines and she walks away smiling, probably because it's cute but also maybe thinking about the grief he's going to give Mrs. Fitch when he gets older and how their Mom is probs a lez too 'cause of the gay gene.
Then she walks by the hallway and sees how cute they all are.
Then Katie finds her sister lying on the mattress; crying.

Katie lies down next to her and holds Emily's hand and gives her a hug while she cries, it's very sweet. Really, it is. My eyes watered a bit.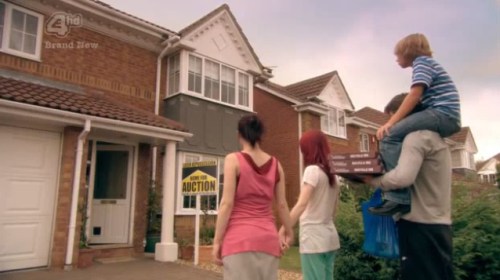 My Life As A House
The entire Fitch family visit their house to say a final goodbye because it's going up for auction.  Inside, Katie finally approaches her mother to let her know she will never also birth children and f*ck them up like she did.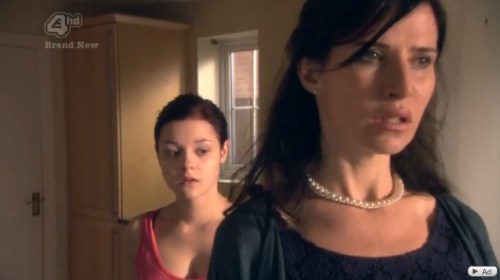 So Anyways About Me
Katie: Mum, I can't have children. I went to the doctors yesterday, and they said there's nothing they could do. I wanted to tell you but you were too busy shouting. It's all about you. I didn't want to let you down, but you let me down. I really needed you and you weren't there.
To Mrs. Fitch's credit, she shuts up and lets Katie say everything she needs to say. She then sweeps her up for a hug.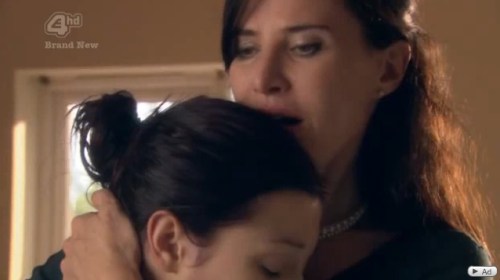 Katie: It doesn't matter Mum. The house and the money, I don't want it. I'm not going to be you. I just want a Mum who loves me, no matter what.
Mrs. Fitch: I do love you, no matter what. I'm so sorry.
Katie: We love you Mum. You don't appreciate us, stop trying to push us away.
Maybe If I Cry
Why is this show giving me so many feelings this season about things that I wasn't prepared to have feelings about and why does it feel totally justified and heavy and real?
And then Mr. Fitch comes in with a pizza! And love! WTF! Let's all hug it out! I want pizza too, and I just ate, I want to cry too, and I just cried!
Mr. Fitch: I love you.
Mrs. Fitch: You stupid bastard.
Mr. Fitch: Sorry.
Oh boy, this is how the destructive relationship works. Let's all go have makeup sex with our on-again/off-again partners. Children, avert your eyes!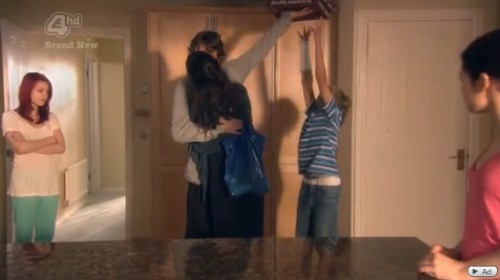 Pretty Limber With That Cast, Kid
Remarkably they still have an appetitie although I imagine this is a really nice scene for them, the family back together again. They all sit on the floor and eat pizza and its lovely.
Pizza Parties Fix Everything FACT
SIDENOTE: In the "scenes that didn't make the final cut" section on the e4 website, we HAVE THIS WTF HAPPENED THAT SOMEHOW DIDN'T MAKE THE FINAL CUT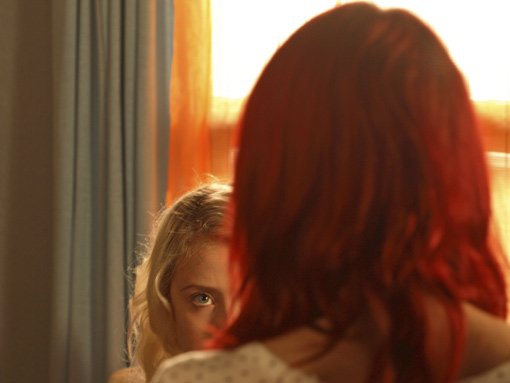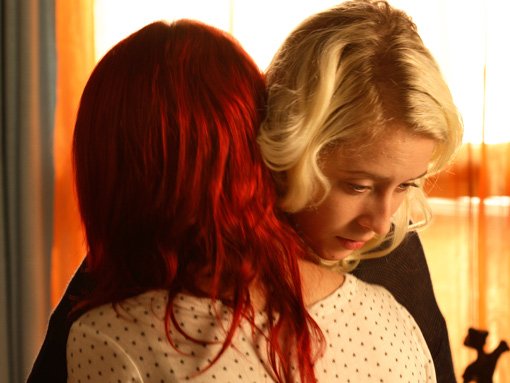 UM
UM
????? Someone wanna fill in the fanfic for us? Okay, basically, Naomi & Emily are in love hahah Emily says, omg my family, they are so crazy, let's make love, make out make out, okay now go say gooddbye to the house.
NEXT WEEK: Freddie & Effy are going to do a lot of drugs, go to some kind of carnival, people will make out, Naomi & Emily are nowhere to be seen!
Pages: 1 2See entire article on one page