Teevee is back! Teevee is back! Teevee has come home to our loving arms once more, to gift us with post-apocalyptic women kissing each other (and I mean really kissing each other), and resurrected time traveling queer superheroes learning their way, and real live queer chef repping women in Broville, and my beloved Jane the Virgin introducing a scissoring painting into the mix. Boob(s On Your) Tube is returning today, so you can catch up with all your gay ladies on the telly on Tuesdays and Fridays. Let's do that right now.
---
Jane the Virgin
Mondays on The CW at 8:00 p.m.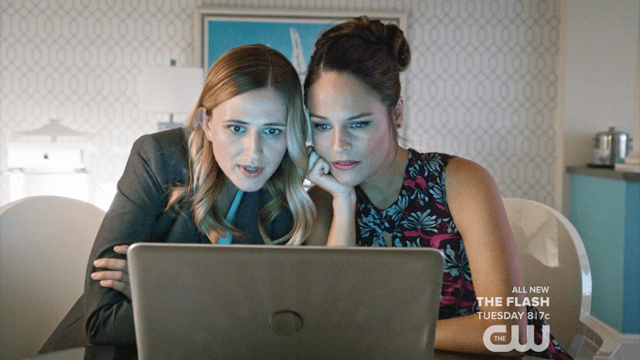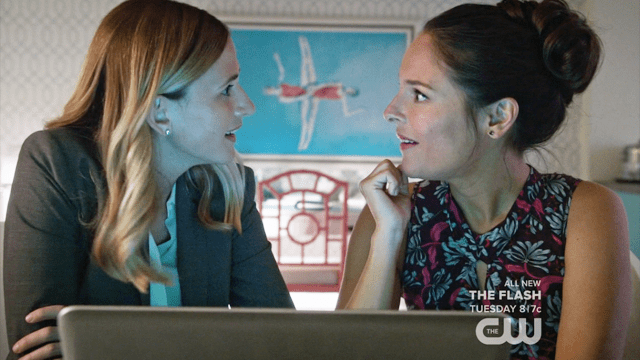 I always get a little worried about Jane the Virgin when its on one of its hiatuses because the formula that makes this show work is so weird and specific and I feel scared that the writers or network will mess with one of the components and throw the whole thing off — but nope! Every time it comes back, it just gets better. Last night's winter premiere was all about parent/child relationships. Jane's inability to let Mateo cry himself to sleep. Petra and her mom each trying to convince the cops the other one stabbed a hitman to death in their hotel suite. ("The murder weapon was my mother's hook!" "Well, no one knows where that is." "Because she had that one removed last month!") Rogelio finding out his dad's gay (and that his parents have been keeping it a secret from him for 40 years).
The gay dad storyline had the potential to invoke all sorts of gay panic tropes, especially because Rogelio is such a manly guy with a manly reputation, but no one in the family was upset to learn about it. Alba's sympathy was with his dad because he had to stay closeted for so long, and she's just glad he's getting to live an authentic life now. ("I have a gay friend at church and he explained everything to me.") Rogelio assumes, of course, that his mother won't tell him his dad's gay because she doesn't want to upset him, so he stages a Big Gay Dinner with gay guests and the promise that Ricky Martin will stop by for dessert and a prayer thanking God for the food and also for love in all it's various forms: men who love women, for example; and men who love men; and women who love women. It turns out, though, that his mom didn't want Rogelio to know because she didn't want it to really be true.
Luisa pulled all the themes of the episode together, for once! Susanna loses a coin toss with Michael, so she's forced to go talk to Luisa about her mom and suss out more information about whether or not she's the infamous Miami crime lord, Mutter. Michael calls Susanna Luisa's girlfriend and she rolls her eyes, but then! When Susanna sits down to talk to Luisa, she holds her hand and opens up to her about her own sad childhood. Luisa knows Susanna's trying to use her crush as leverage for evidence, and for some reason, calling it out actually has the effect of roping Susanna into the crush too! They sit real close on the couch and do some research about Luisa's mom, and when they pull apart, there's a literal painting of two women scissoring in the background. Seeing that picture made me laugh harder than I have in I don't even know how long.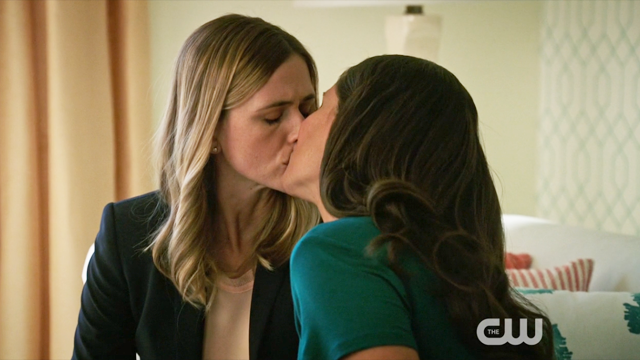 Later on, Luisa and Susanna smooch a little smooch with their smoochers, but Susanna pulls away and says, "I can't."
It feels good. You know how lots of queer storylines are just paint-by-numbers to meet that Diversity checkmark? This doesn't feel like that. It feels good in my heart and makes my insides squirmy. It feels authentic and earned and sweet and doomed. I can't wait for more!
(Oh, P.S. It's Rafael's mom who is actually Mutter; Luisa's mom died in her sleep after living a quiet, peaceful life near a magical lake with glowing fish.)
---
Younger
Wednesdays on TV Land at 10:00 p.m.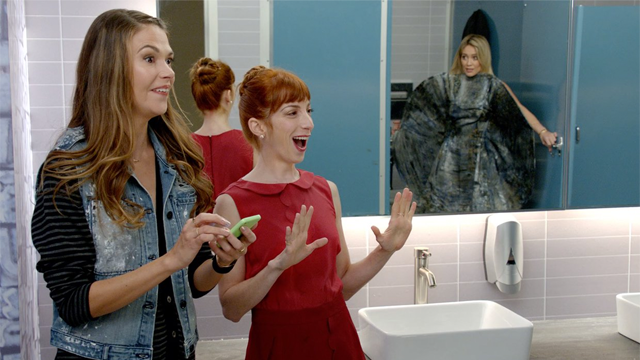 Younger returned for its second season doing more of all the things that make it good (women being women with other women, talking about their careers and goals and hopes and dreams) and more of all the things that make it annoying (ha ha ha, 40-year-olds can't use technology and 20-year-olds can't use punctuation). Liza's daughter returns from her trip abroad for a hot second, but gets super grossed out that her mom is dating a tattoo artist 14 years younger than her, so she bounces to New Jersey to live with her dad. Josh forgives Liza for lying about her age, but he doesn't want to be involved in her scamming their friends, so he stops hanging out with them. And Kelsey works her way up to having her own imprint at Empirical. It's aimed at 20-somethings and she handpicks Liza to join her in her, so they can take over the publishing industry before they turn 30.
So this season's big dilemma is: When will Kelsey find out? I'm glad she's the new Josh.
Maggie and Lauren are hooking up this season, right away! Liza finds Maggie and Lauren together in the kitchen after a night together in which Maggie "ripped open Lauren's robe like a phone book." We'll be seeing a lot more of Lauren this season; she was upgraded to a series regular after last year, so fingers crossed for Darren Star getting bisexual representation much righter than he did on Sex and the City.
---
Top Chef
Thursdays on Top Chef at 10:00 p.m.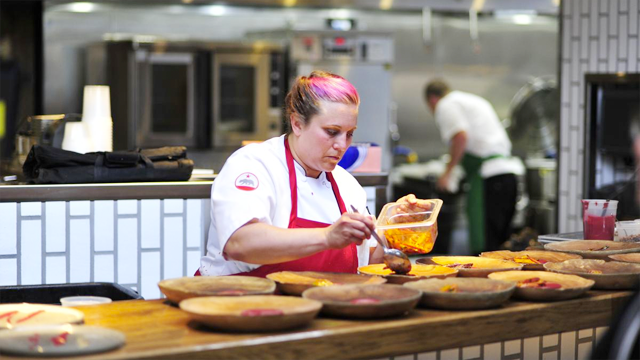 Whoo boy, this is one bro-heavy season of Top Chef. In fact, Karen and Marjorie are the only two women left in the kitchen (and riding in mini vans up and down the PCH in this California-themed season). Luckily, they are holding their own! Marjorie won last week's Elimination Challenge by making seared halibut with grilled and roasted vegetables and green curry sauce as a rumination on how she was a very green chef ten years ago. Whole Foods was all out of lemongrass, so she grilled actual lemons and made her own lemongrass flavors (which she would not have done ten years ago, she says, but instead would have just cried). Karen won the Elimination Challenge the week before that by making duck breast with cocoa nib, beet purée, and ras el hanou to pair with a golden ale Pada concocted using ginger and tamarind and jalapeño. (Or, well, that Padma teamed up with Ballast Point to concoct. I'm sure Padma would be the best home brewer in history, but she doesn't have time for that.)
---
The 100
Thursdays on The CW at 9:00 p.m.
Written by Karly
It has been three months since the events of the finale. Surprisingly, the Sky People have organized. Their home is now called Arkadia. By the way, "Arcadia" is the name of a harmonious utopia from Greek antiquity, and in the universe of The 100 can only foretell disaster (thanks for the info, Matie!). The "kids" are regular guard now. They spar, go on patrols, and hang out in the mess where they drink, barter, and play piano(?). It so reminds me of Battlestar Galactica season one. Bellamy has a very cute girlfriend, like so cute. Lincoln has been training with the Sky People and has a uniform and everything. Everything seems kind of calm.
It's because the Grounders and the Sky People have a tense truce. They can protect their home and look for more fallen stations, but they cannot kill any Grounders. They're also looking for Clarke. Abby is feeling worn down by being the only medical doctor in a camp of a lot more people, including more children than I remember in season two. Octavia and Lincoln are going through a rough patch. As Lincoln acclimates to his life in Arkadia with the Sky People, Octavia's heart is full Grounder now, and she can't reconcile the two. It's amazing how they can catch us up on all this in ten minutes.
Bellamy rounds up Raven, Monty, Miller, and Jasper to go on patrol. Jasper has gone down the deep-end because of Maya; he's cut off his hair and he drinks himself stupid. He's even more annoying than before. They get in the giant armored SUV and head out to Sector Seven (the Ground is in sectors now). Octavia rides alongside them on horseback.
Jasper is brooding and he plays The Violent Femmes on the stereo. Everybody starts singing and smiling and I am immediately nervous. They are indeed stopped by their sensors going off: a beacon from a fallen ship is close.
They find the beacon in another sector. It is not with Sky People but is attached to Ice Nation grounders. It's tense so Jasper does the best thing ever: he walks up and rips the beacon off a grounder's belt. The Grounder grabs Jasper, holds a knife to his throat and demands to know where Wanheda is. Jasper just smiles as everyone aims their guns. Bellamy feels he has no choice so they open fire. All the Ice Nation grounders are dead, Jasper is dumb, and the truce is threatened.
They start panicking but Kane calls them over the radio to meet him in Sector Four. Bellamy sends Raven, Octavia, and Jasper back to camp while he and Monty head to meet Kane.
Then we finally see Clarke! Her hair is red and she's hunting a panther. We knew she was tough, but surviving three months in the wilderness alone is next level. She takes her kill to a trading post and the owner's daughter, Niylah, definitely has the hots for her. She keeps asking her to sit, have a drink, stay for a while, and bang her on these panther rugs. Clarke is suspicious, especially when she sees that Niylah's wearing an ark bracelet. Where are these Grounders getting all this Sky People tech?
Clarke relaxes a bit when Niylah gets rid of some Grounders looking for her. Niylah offers Clarke a drink again, but we know who the thirsty one is. Then Niylah offers to clean Clarke's cuts from her panther hunt and asks her about Mount Weather. This woman is devilish in her tact! But it works: Clarke doesn't want to talk. She kisses Niylah and they have awesome Grounder sex on panther pelts. I don't know what to tell you, you guys. It was the hottest sex scene I've seen on network TV. Clarke is definitely an amazing kisser.
Back in Arkadia, Jasper, Raven and Octavia return. Jasper goes to medical to fix his neck and Raven stays on her horse and dismisses Octavia. She sits there awkwardly and finally Abby realizes Raven can't get off the horse herself because of her hip. Raven accepts Abby's help to dismount but refuses to answer any questions. They meet later at the bar. Abby wants to be Raven's (girl)friend and talk about the pain Raven's in, but Raven just wants to drink. Fine. Another slowburn ship. I'll take it.
While they are drinking, Shawn Mendes sings and plays piano in an egregious display of promotion. I'm so sorry that you're still a CW show, The 100. I'm glad Jasper freaks out and beats the shit out of him (…now, he might need some stitches). (I'm sorry, I had to).
In Sector Four, Bellamy and the boys meet Kane and Indra! Hi, Indra! Indra wanted to warn them that the 12 clans are hunting Clarke, aka (of course) Wanheda. They believe if they kill her, they will absorb her power. The most dangerous is the queen of the Ice Nation. Ruh roh. So they have to find Clarke first. Of course this is timely, because as Clarke is sneaking out of Niylah's house, the Grounder from earlier was waiting for her, and he snatches her.
Okay, very briefly: across the dead zone, Jaha has been spending the last 3 months in the mansion with Ali, the AI who was responsible for the nuclear war and has gone insane. He apparently ascends to the City of Light in his head? Also, Murphy is still around for some reason. This obviously is going to become a big deal by the end of the season, but right now it's the boring part.
---
I'll be back on Friday with more queer teevee, including some new shows with queer characters, like Legends of Tomorrow; and some old shows that have added queer characters, like Galavant!