Jamie's Team Pick:
Scenarios USA is a non-profit prompting under-served youth to speak about issues shaping their lives in an annual script-writing contest. And get this:
The winning writers are partnered with some of Hollywood's finest filmmakers to transform their stories into award-winning short films. 15 million people a year watch the Scenarios USA films at film festivals, on television and in high schools nationwide. Scenarios USA believes that by valuing youth and listening to their opinions we can have an impact on promoting healthy relationships and empowering a generation of engaged citizens.
The last prompt was "What's the REAL DEAL about Masculinity?" and the 2011-2012 prompt is "What's the REAL DEAL about gender, power and relationships?"
Watch the Scenarios USA films online, including Who Am I?, a film about two young women confronting their sexuality at the crossroads of race and class and addressing stereotypes, racism, and homophobia, written by 17 year old Whitney Peters.
The films are screened all over the country, and the film MANchild  even aired on Showtime. MANchild was written by Earlana Kemp who explains that by creating the character "Tommy" who does both things traditionally masculine and things not traditionally thought of as masculine she wanted to make viewers ask, "Does that make him less of a man?"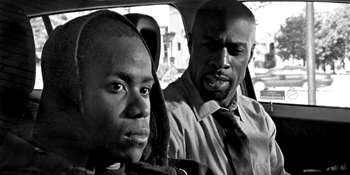 In addition to the films, Scenarios USA provides curriculum and resources for educators.
Providing the official seal of approval, Barack Obama even wrote this in a letter to a Scenarios USA writer, "… Through Scenarios USA, your film will not only impact countless individuals, but it also shows great determination and compassion… As you continue to grow and face new challenges, never underestimate your power to make a difference. You are the future."  How neat!
Scenarios USA is currently seeking hundreds of volunteer readers to serve on the REAL DEAL Selection Committee to help in selecting two winning scripts from the thousands of applicants to the 2011-2012 contest. You should do it! The deadline to sign up is December 31st.