THE MILITARY: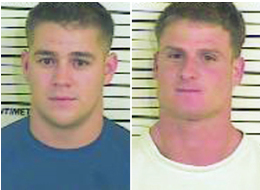 Probably you have already heard about the gay man, Keiran Daly, who was beaten up and given mild brain damage in Savannah outside a gay bar. Daly had two seizures and his friends had to perform CPR before police arrived. We have not yet written about this because of our FUN FUN FUN server issues this weekend, so we're talking about it right now! Two Marines have been charged in the beating.
Keil Joseph Cronauer and Charles Stanzel told police they were trying to get away from a gay man who was harassing them. Daly told police one of the Marines hit him because he thought he was winking at him.
First of all, Daly says he was just squinting. But even if he was winking, this is ridiculous. Sidenote, if everyone got beat up every time they sexually harrassed anyone by winking, think of all the bosses in corporate America who would have serious black eyes. Anyway, the two Marines were handed over to military police, and the FBI is investigating to see if federal hate crime laws might come into play. The state of Georgia has no hate crime laws. Also yesterday, I found out that a good friend of mine was at the very intersection where Daly was found just two hours before the beating happened. Talk about scary. This could happen to anyone, even to your friends.
This whole situation is just screaming for a DADT-based analysis, isn't it? Yep. Before we do that, read this letter to President Obama from Former Army Sgt. Tracey L. Cooper-Harris, discharged under DADT. It's definitely the most heartbreaking thing I've read this week; maybe the most heartbreaking thing I've read on this subject ever. Which is saying a lot.
It's unfair to say that the two Marines in Savannah represent the whole of the US armed forces, but I do think it's fair to say that the "sexually predatory gay manwp_postsargument for DADT is pretty fucking insanely backwards. Moreover, it's not just that the military is a little slow getting over this one outdated policy on the gays. It's clear from instances like this beating that DADT is just one facet of the military's pervasive homophobia, the one that is most visible from the outside. It's clear from these stories that the military is a deeply homophobic institution.
For those of us with no military ties — and especially for those in liberal circles for whom the military is an institution you vaguely disapprove of, like Walmart — the fight to repeal DADT can sometimes seem almost symbolic. It's about getting one more piece of paper signed, one more bill in our favor, one more box to check off on the pathway to equality. I think it's hard sometimes for us to realize how real this is, how big the obstacles are even beyond just repealing the policy.
The military is one of the last institutions in the country that is given a free pass to openly discriminate. They have declared their space to be aggressively heterosexual and specifically unwelcoming to queers. The only thing that can rival it are religious institutions. To chip away at that kind of privilege, at the sense of entitlement that has hurt Cooper-Harris and Daly so badly, is an incredible thing.
On an individual level, forcing the military to adopt a less heterosexist doctrine could literally save lives. And on a larger structural level, making the military give up the kind of power that allowed her comrades to abuse Cooper-Harris so badly would be a huge step. It's a concession that they never thought they would have to make, privilege they never thought they would have to give up. So while this doesn't have to change any of your views on the repeal or how best to achieve it, try to remember what it means, and what a world without it could look like.
BLOOD:
The ban on blood donations from gay men in the US — a relic left over from a time when it was difficult to test for HIV — will be around for a while longer. The Federal Advisory Committee on Blood Safety and Availability voted 9 to 6 against lifting the ban Friday. This committee makes recommendations to the U.S. Food and Drug Administration. A lot of activist groups were unhappy with the decision, and so was the Red Cross. (@cnn)
CULTURE WARS:
Indiana's Republican governor Mitch Daniels has made a polite suggestion to the rest of his party that they might think about going easy on the "culture warswp_poststhat have been one of its major focuses since the Reagan administration; he says that focusing on things like the economy and international relations might be a better use of time and energy. Mike Huckabee, however, is quick to explain that "…the issue of life and traditional marriage are not bargaining chips nor are they political issues. They are moral issues. I didn't get involved in politics just to lower taxes and cut spending though I believe in both and have done it as a Governor.wp_postsSo, to recap: we need to keep rehashing abortion and gay marriage because they are moral and not political issues. Good to know! (@goodasyou)
SAILOR:
Confusingly, the missing sixteen-year-old sailor we mentioned on Friday has already been rescued. Abby Sunderland was found in her disabled sailboat in the southern Indian Ocean and is now safe and sound. (@salon)
SEXUAL HARASSMENT:
Lesbian ex-cop Arlene Ramery is suing the NYPD for sexual harassment. She claims that during her time with the force (as the only female detective) she was surrounded by pornographic material objectifying women, was constantly abused by her fellow policemen and told she was "worthless,wp_postsand essentially denied any more cases after she was hurt on the job. In contrast, the NYPD is claiming that, as a lesbian, Ramery consistently harassed female inmates and "undressed them with her eyeswp_postsin a way that "made the males uncomfortable.wp_posts(@nydailynews)