On Sunday morning, I awoke to a brand new world — a world that had one less hour in it than I'd hoped but also a world in which a video from a party bus, chock full of my favorite lesbian and lesbian-adjacent human beings, were singing my favorite song, the Indigo Girls' "Closer to Fine." Every new gay face that appeared in this short clip on Stephanie Allynne's instagram was like a revelation, a vision from G-d herself. Tig Notaro?! Holland Taylor! Abby Wambach?!! Glennon Doyle?? Lee Rose??? And then also Allison Janney! Sherri Saum! Amanda Kloots! Carla Gallo! What in the name of Emily Saliers was going on here?
But the joy did not stop with that one video. Additional videos have since surfaced, such as this one of all of my best friends singing "Girls Just Wanna Have Fun" on the same party bus and then another featuring Lizzo's "Juice." And another to Lady Gaga's "Bad Romance"!
This has led the Lesbian Community to wonder: how did this happen? How did this group of souls unite in such a triumphant manner? And why were we all not personally as individuals invited to partake?
Where Is the Lesbian Party Bus Going?
Our friends were taking a party bus to Tig Notaro's March 11th comedy show in Long Beach. 
Whomst and Whyst Are These People on the Same Bus?
The passengers of the Lesbian Party Bus were as follows:
Allison Janney
Sherri Saum
Lee Rose
Phelan Dante Fitzpatrick
Amanda Kloots
Carla Gallo
Bradley Bredeweg
Get out your whiteboard and your thumbtacks and your yarn, it's time to connect the dots!
Actress Sarah Paulson, a legend in these waters, is on the bus with her girlfriend, noted actress and similarly revered lesbian Holland Taylor. Sarah is friends with comic and Army of the Dead star Tig Notaro, as indicated by their delightful and comfortable rapport on this clip from Tig's podcast and this 2017 appearance on Jimmy Fallon, in which Tig would like Sarah to affirm that they enjoy partying together.
Tig Notaro and her wife Stephanie Allynne (another writer/actor/comic we all know and love around here) also both appeared recently on Abby Wambach and Glennon Doyle's podcast, We Can Do Hard Things. When Glennon Doyle appeared on Tig Notaro's podcast in 2020 it seems they'd recently connected for the first time, after Stephanie turned Tig onto Glennon's book Untamed and her entire cannon of content.
Sarah Paulson, meanwhile, is slated to star as Glennon Doyle in the TV adaptation of Untamed. Doyle and Paulson met as participants in the Share the Mic movement in 2020.
Queen Allison Janney is a lead character on this party bus. Like Sarah Paulson and Holland Taylor, she has been of the Hollywood universe as well as the Broadway universe. Her friendship with Sarah Paulson appears to go back well over a decade — they absolutely were already friends by the time these pics were taken in 2012, but possibly also in this picture from 2005 at the Tony Awards, at which Sarah Paulson's then-girlfriend Cherry Jones won a Tony for Doubt and Janney was a "participating artist." Allison also guest-starred on an episode of Sarah Paulson's show Studio 60 on the Sunset Strip in 2007. Meanwhile, Holland Taylor and Allison Janney were photographed together at a (lesbian non-profit) Power Up event for Melissa Etheridge in 2002. Holland and Allison were also both in the 2019 film Bombshell.
In fact, Sarah Paulson, Holland Taylor and Allison Janney appear to all be close friends — they had dinner together last month with legendary character actress Margo Martindale and Lee Rose, another Party Bus passenger and a lesbian director/producer/writer, who identified this February 2023 dinner as the result of "years of friendship":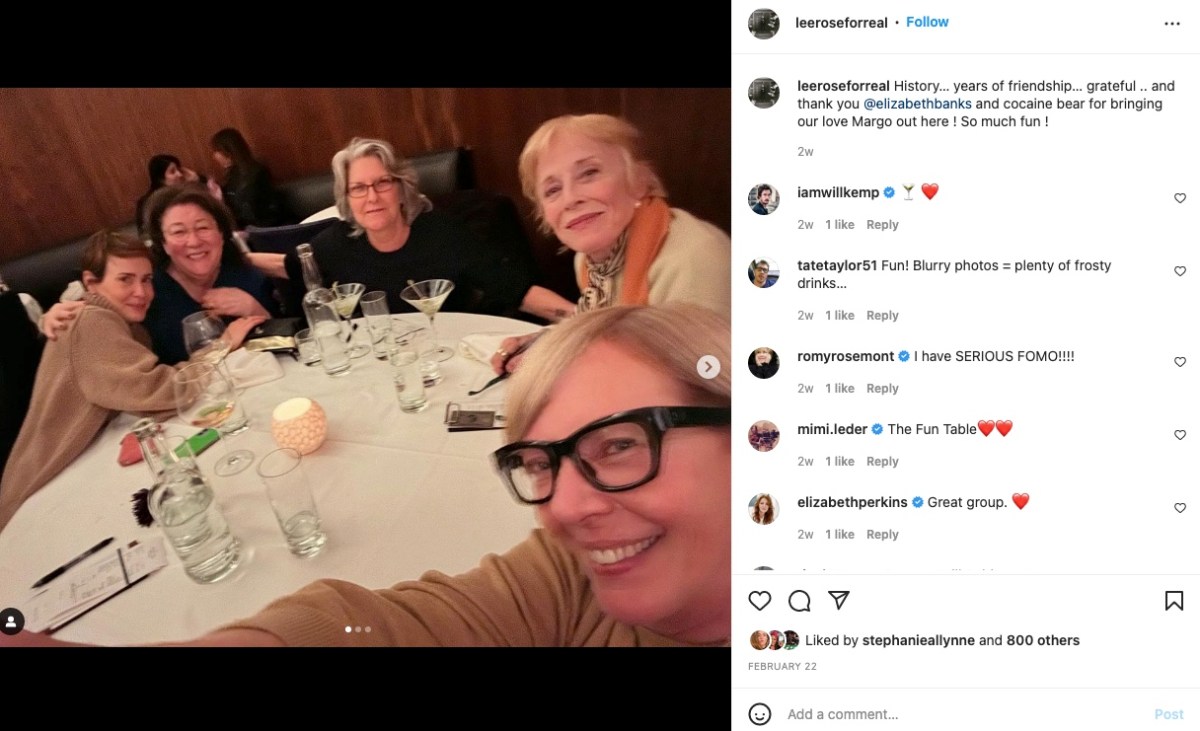 Lee Rose also began in the theater universe, like Sarah and Holland. She recently directed five episodes of Star Trek: Discovery, which featured Tig Notaro. She also worked on The Fosters, which of course starred the one and only Sherri Saum. It appears that Lee's dinners with Allison Janey, Sarah Paulson and Holland Taylor occur at regular intervals, and that she is close pals with Allison Janney. She worked with Janney on A Girl Thing in 2001.
Lee Rose is also best friends with Party Bus Passenger Bradley Bredeweg, creator/EP of The Fosters and Good Trouble (which also features Sherri Saum). Bradley also spent the holidays with Tig Notaro, Stephanie Allynne, Lee Rose, Sherri Saum, Teri Polo and Allison Janney.
Before we move on from Sherri Saum, there is also a photograph of Sherri, Holland Taylor and Sarah Paulson having a microphoned conversation in nice outfits, dating back to July 17, 2016. After extensive detective work, we have concluded that this photograph was taken at a Hillary Clinton fundraiser in Sherman Oaks.
Now, onto the passengers of the lesbian party bus that might not have been immediately recognizable to the lesbian community. We will begin with another woman from the Broadway universe: Amanda Kloots. 
Currently, Amanda Kloots identifies as a co-host of The Talk, a fitness person, a dancer and The New York Times bestselling author of Live Your Life. Previously she was part of the ensemble of several Broadway musicals, including Bullets Over Broadway. I don't know how to share this next bit of truly devastating information in a post of this nature but: her husband was also a Broadway actor and he tragically passed away in 2020 at the age of 41 from complications related to COVID-19.
As for Kloots' direct connection to other Party Bus Passengers, it does seem she and her late husband have a personal connection with Sarah Paulson, although the exact nature of that relationship is unclear. Furthermore, Kloots' book was climbing the bestseller lists for Non-Fiction around the same time as Glennon Doyle's Untamed, and both books are in a similar space of self-help/memoir, so it's possible their paths crossed at some point due to that collision of thematic enterprises. For example, Amanda and Glennon were both part of a group of panels for International Women's Day sponsored by Little Market.
Kloots was also amongst many celebrities who appeared on the red carpet at the opening night celebration for Netflix's Your Place or Mine, a movie which featured Tig Notaro as a lesbian Mom who drinks a lot of coffee — and this, we now know (as revealed in the comments on this very article) is in fact where Amanda Kloots and Phelan Dante Fitzpatrick (who we will discuss momentarily) met Tig Notaro, who invited them to the show in Long Beach!
Kloots recently starred in Fit For Christmas, which she co-wrote with queer TV writer Anna S. White after they were connected to each other via a queer mutual friend, Jacklyn Collier, which I am only mentioning because it suggests that Kloots simply knows a lot of lesbians in Hollywood! She is followed on instagram by Sarah Paulson, Stephanie Allynne and Holland Taylor as well as numerous other queers-about-town (e.g., Rosie O'Donnell, Phoebe Dahl, Dot-Marie Jones, Nicolette Mason and Ariana DeBose).
Kloots is best friends with Phelan Dante Fitzpatrick, another Party Bus passenger. He identifies as a proud gay Dad and a former candidate for New York City City Council District 3. He is followed by Stephanie Allyne on instagram. He has served as a red carpet date for Kloots on several occasions. He also posted one (1) video from the party bus on his own instagram of him and Kloots having a very nice time.
Then we have actress Carla Gallo.
Gallo is the veteran of so many TV shows and movies and is perhaps best recognized for her turn on Bones. She's also credited as an "Angry Homeowner Lady" in the lesbian Christmas film Happiest Season. She was in one episode of Key & Peele with Stephanie Allynne in 2012.
But Gallo's primary connection to this crew is through Sarah Paulson — she has been friends with Sarah Paulson SINCE CHILDHOOD, and there are numerous red carpet photographs of Paulson and Gallo throughout the years, starting in 2005 and stretching into the 2010s. Gallo is also friends with Paulson's friend Amanda Peet.
that roanoke one 😭💀 pic.twitter.com/0yqTqzUeWl

— sarah's pr (@sarahpaulsbean) June 24, 2021
This, my friends, concludes today's episode of Sherlock Homo, aka Dyketective. I would like to thank my research assistants at the Autostraddle.com Office Slack channel as well as all of you for tuning in. If you have any tips, feel free to share, and stay safe out there!!!