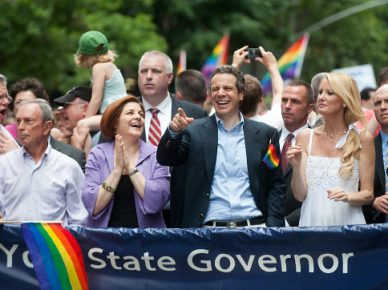 With same-sex marriage in the national spotlight after New York's legalization, the stories just keep rolling in.
For starters, the kicking and screaming!
Let's begin in upstate Volney, New York, where Barbara MacEwen, a 75-year old Republican and the town clerk responsible for signing marriage licenses, says she will not sign any marriage documents for gay or lesbian couples because she is morally opposed to equal rights, apparently.
She doesn't anticipate this being a major problem because: "I don't know of anybody like that in my town. I'm sure that there might be, but I haven't heard about anybody."
A little bit more extreme than Barbara and her Town of No Gays is what's happening with the Catholic community in Brooklyn, where Nicholas DiMarzio, bishop of Brooklyn, who's already shared some strong words about the bill this week, is calling on his members "not to bestow or accept honors, nor to extend a platform of any kind to any state elected officials, in all our parishes and churches for the foreseeable future."
The Washington Post has four views on this issue and only half of them are completely crazy. You should read them all. Highlights include this quote from Susan Brooks Thislethwaite:
In effect, according to this bishop, "any state officialwp_postshas to play by the rules of the Catholic Church. That's not just crossing the line that should separate church and state, it's drawing a line in the sand that elected officials are not supposed to cross.
And one from Herb Silverman:
"Thank you, Bishop DiMarzio, for inadvertently reminding the apathetic public why separating religion from government is so critically important. In trying to become more politically relevant, I hope the latest pronouncement of the Catholic Church will make that church even less relevant. As far as I can tell, the Catholic Church is on the wrong side of all issues pertaining to sex."
Meanwhile in New Jersey, Garden State Equality and seven same-sex couples and their children filed a suit today arguing that same-sex marriages should be recognized by the state:
Their main argument is that the state Supreme Court ruled in 2006 that same sex couples should be guaranteed the same rights as heterosexual married couples, but in a 4-3 vote left it up to the Legislature how to achieve that. The minority in that decision said the state needed to allow marriage for same-sex couples.
The Legislature chose civil unions instead, which come with the exact same legal rights.
However plaintiffs claim that the legal rights are there in theory but not in practice (an issue that came up when same-sex marriage was voted on in 2009). However New Jersey Governor Chris Christie says there's no way he's signing a same-sex marriage bill, so.
Rhode Island is up for a vote on its civil unions bill with the Senate Judiciary Committee approving the measure this afternoon. It will go next to the Democrat-controlled Senate floor where everyone is pretty sure it will pass.
However the provisions in the bill have drawn some criticism from gay rights activists. For starters they wish it was a same-sex MARRIAGE bill, but are willing to let that slide for the time being. But there are serious problems with a controversial house amendment that permits religious groups to refuse some of civil unionized couple's legal rights. For example a religiously affiliated hospital could refuse a partner permission to participate in their spouse's emergency medical care decisions.
UPDATE: From The Advocate:
With broad exemptions for religious organizations included, the Rhode Island Senate passed a civil unions bill Wednesday and sent it to the governor's desk.
The legislation passed 21-16; the state House passed a companion bill in May, and it's widely believed Rhode Island's independent governor, Lincoln Chafee, will soon sign civil unions into law.
And finally — President Obama had a big day of talking to people. He had a private reception with LGBTs which probably involved tiny sandwiches and cocktails. From Bloomberg:
Obama listed accomplishments that included expanded hospital visitation rights for same-sex couples, an end to the ban on travel to the U.S. by foreign nationals infected with the virus that causes AIDS and a repeal of the policy prohibiting openly gay people from serving in the armed forces.
"I think it's important for us to note the progress that's been made just in the past two and a half years,wp_postsObama said. "The bottom line is I've met my commitments."
"That doesn't mean our work is done,wp_postshe added. "I will continue to fight alongside you."
Also, Barack Obama had a press conference today! It sounds like it was super fun and filled with lots of important information. For starters, he said:
"We've said that DOMA, the Defense of Marriage Act, is unconstitutional. We cannot defend the federal government poking its nose into what states are doing and putting the thumb on the scale against same-sex couples."
And, re: New York and the rights of same-sex couples –
"They've got to be treated like every other American, and I think that principle will win out. … The president … can't dictate precisely how this process moves. But I think we're moving in a direction of greater equality, and I think that's a good thing."
However, when he was asked if he personally supports same-sex marriages, Obama answered, "I'm not going to make news on that today."
When asked again by Wall Street Journal reporter Laura Meckler about supporting gay marriages, Obama answered:
"Laura, I think this has been asked and answered. I'll keep on giving you the same answer until I give you a different one. And that won't be today."