HOT TUBS: "I'm a Celebrity Get Me Out of Here" contestant Samantha Fox was voted off the show (which apparently places E-list celebrities in the jungle, makes them eat bugs and swim with sharks, and then vote each other off the show? Or something?) couldn't wait to get out of the jungle and into a hot tub with her Lover Cindy Myra Stratton.
And although this "headline" is all over the international papers ("lesbian" is such a fantastic keyword! It gets abused! Every day!), it's possible that you dear reader, unless you're from the UK (which 7% of you are, according to our stats program) have no idea who Samantha Fox is, as we learned when we included Samantha in our "Lesbians and Bisexuals" photo gallery and y'all were like who is that? So, because we're short on happy news this fine Sunday Funday (Autostraddle Rule: We only report Happy News on Sundays), we're going to tell you! Because don't we all like to hear about smokin' hot lesbians that are out there in the world being hot? YEAH WE DO. Herstory, babies. Really we just want an opportunity to share with your some fabulous late 80s/early 90s pinup photography. So many fashion moments of terrible/AWESOME and so little time.
Named one of Britan's 'most photographed women' (the other two are Margaret Thatcher and Princess Diana), Samantha Fox was the Spank Bank go-to girl for a whole generation of British boys growing up in the 80s.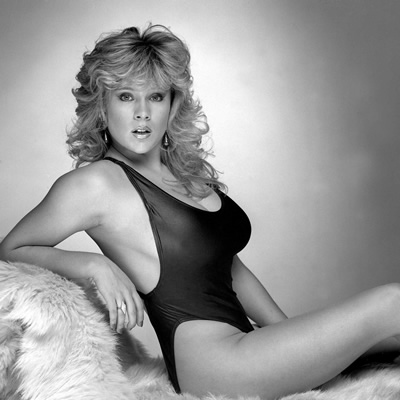 In early 1983, her MOTHER submitted lingerie-clad photos of 16-year-old Samantha to The Sunday People "Face and Shape of 1983" amateur modeling contest and although she only placed as a runner-up, it jump-started her career. At 16, her parents gave consent for Samantha to pose topless for The Sun's Page 3. A blonde with 36D breasts and a Cockney background, Fox won The Sun's Page Three Girl of the Year award for three consecutive years between 1984 and 1986. She also famously insured her breasts for a quarter of a million pounds sterling.
By the age of 20 she had become Britan's premiere sex symbol. She went on to have a very successful music career (mostly in Europe and Asia) and also did some acting and MTV VJ'ing.
Samantha posed in Playboy at age 30. She also sued her father (who'd made himself her manager) for stealing all her money and got like one-third of it back.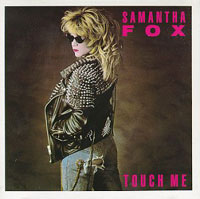 When rumors began in the late 90's about her sexuality (because she judged a "lesbian beauty pageant" in 1999? These things exist?!), she skirted around them while saying things like, "For years, I've been dictated to by two male-dominated worlds, modeling and music. No man in business — or in pleasure — will ever tell me what to wear or do again. I've become a woman in my own right, not some polished product produced by men."
In 2003, Samantha admitted: "I was one of England's biggest sex symbols. When they asked men who they would most like to sleep with, my name always came up. I couldn't say I was sleeping with women … Everyone knows I'm in love with Myra [Stratton] and want to spend the rest of my life with her." In August '09 Sam & Myra announced their plans to get married.
BUT! All ye "gender theory of pop culture" fans will enjoy knowing that Myra and Samantha appeared on the UK Series Celebrity Wife Swap (there's now a US version as well) in 2008, swapping partners with comedian Freddie Star and his wife Donna, and actually (damn you, youtube!) the episode is kinda fascinating.
Whereas Myra & Samantha had built a harmonious home life and believed in "sharing everything," 70-year-old Freddie had a more traditional perspective on male/female household roles. In Freddie's house Samantha enjoyed taking care of the children — she saw Wife Swap as an opportunity to see if she was ready to have children — but was shocked that Donna was required to do 100% of the housework while Freddie sat on his fat ass. Meanwhile Donna was having a ball with Myra!
In the "manual" the wives write for each other Samantha was told by Donna, "Freddie gets up when he wants, and I always cook him breakfast while he watches the news in the morning. He will shout if he needs more teas and coffees." There's a longer interview here, but here's a snippet:
Howevs, we have never seen this show I'm a Celebrity Get Me Out of Here and it sounds really f*cking weird! This show made headlines a few weeks ago b/c bisexual Katie Price was due to join the cast, and we asked y'all to tell us who Katie Price is, and we were told by "ciderlover": "Katie Price aka Jordan used to get her tits out in the newspapers here in the UK. She was married to Peter Andre (remember him? No? You are lucky), she's one of those people who is famous but no one really knows why. Basically media herpes." At that time, Janice Dickinson told the Star that she had a lesbian affair with Price on the flight over, but we think she was kidding.
Anyhoo, it's not like Sam Fox is a prime minister or a Grammy winner or even starred in Mean Girls, but she seems like a decent human & is a hot lesbian, and that is our job, to inform you about the hot lesbians of the world.
LADY GAGA: President Gaga chatted with the Guardian this weekend and told them: My relationship with the gay community has been the most incredible thing. I love them so much. My fans have a soul – they're a subculture of music lovers, pop music lovers, misfits, an incredible group of young people who all have something in common and come to my shows to be freed. She's totally talking about Autostraddle, you guys! Seriously. (@guardian)
VIVA FOREVER: The Spice Girls musical "Viva Forever" is now in the works and set to open on Nov. 5, 2010, in London. (@iol)
ZOMBIES: Did you go Black Friday shopping? Did you get infected with the rage virus? Jezebel noticed that the photos from the shopping holiday looked a lot like a zombie apocalypse, so they created a nice photo gallery. (@jezebel)
PALE IS IN: Since that new vampire movie New Moon came out, pale skin is now the "in" thing. Sales of pale make-up rose 200 per cent over the past month, according to online beauty shop FeelUnique.com. Their best-selling product was a fine, pale pink illuminating powder by Bare Escentuals called Mineral Veil. I've used that makeup for years 'cause I'm ahead of the times, but it doesn't really make you look pale. It's just a finishing powder? I wonder if the reporter has considered that, in the last month, it has also become winter… Whatever, Twilight fever, y'all!