Dearest MSN,
How's it going old buddy? It's been a while. I'm sorry I haven't been keeping in touch and that I'm only checking in on you now when you aren't in the best of health. I want you to have hope, but we both know the prognosis is grim. I should have been better to you, but shoulds and shouldn'ts won't get us anywhere. Cheer up! We had some good times right?
It only seems like eons ago that you rolled into town, asking me to sign up from my Hotmail account. I remember excitedly typing in those characters and waiting for you to let me into your interface and into your heart. I was with ICQ at the time, but our relationship was strained since we only had three friends in common. Let's face it, I was ready for someone new. All of my other friends started to tell me about the coolest download, so I decided to believe them and turn my back on the red and green flower. What can I say? Twelve year olds are fickle.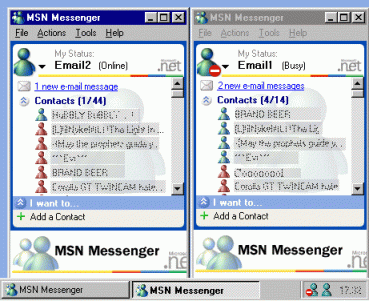 White, silver and teal with just a hint maroon! You were so stylish, no wonder you were popular! Not only were you easy on the eyes, but you were just plain easy. I would tell you my thoughts and my friend down the street would instantly know all of my inner emotions. You managed to connect me in a way a shy kid scared of the telephone would otherwise never know. Was Steve crushing on Sarah? Was that homework assignment super hard? Did Nicolb manage to unlock the new Neopets badge? Let's face it, preteens have nothing interesting to say.
I'd come home after school and you'd be sitting at my desk, waiting for me. You've got mail? No babe, we've got mail. Of course back then, it would hardly be called "mail." More like, chain letters warning about the ensuing dangers if I failed to forward them to sixteen of my closest friends. Or spam mailing lists and forgotten password requests for online forums. Oh, and those personal quizzes where you revealed your deepest darkest secrets! What was your favourite colour? Favourite song? Favourite beverage? Back then I couldn't stomach the taste of alcohol so I'd pretend I loved Mike's Hard Lemonade even though I never tried it. Thanks for not blowing my cover MSN.
But hey, you showed me how to embrace my wild side! I could talk in boring black text or I could let loose and colour it up! Was it a magenta day, a cyan day or were we just feeling a little bit blue? Or maybe we were typing in all white to be mysterious! You helped me speak up in bold, italics or even strikethrough! We were so fucking artistic! And mischievous! ; ) Remember when I learned about the block button? I'd be talking to my friends and then PSYCH! I'd disappear! Did I want someone to think I was mad at them? Blocked! Or better yet, I'd change my status to Appear Offline and keep talking to people anyways. We were such tricksters!
Of course, sometimes the trick was on me. That's when I discovered that you could be in a three-way conversation with a blocked contact and they could see everything you were typing. It had the same result as a three-way calling attack with zero of the grace. Haw haw! Joan loves Abe! It's so obvious! Damnit, that was an awkward week. Thanks for making sure everyone knew that thirteen year old Kristen was a bitch, MSN! But don't worry, I forgave you.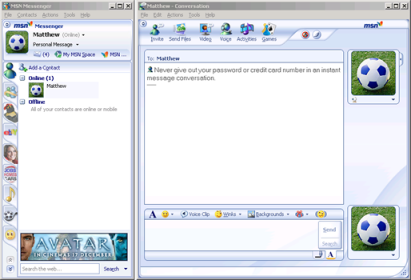 After a while I finally learned that Puberty Was A Thing and you started to mature too. Suddenly you had curves, gradients and a beautiful smile. What a looker! You started hanging out with those cool kids Napster and Limewire and let me tag along. They opened my eyes to the rest of the world, introducing me to songs where the lyrics spoke directly to my soul! You're gonna have to see through my perspective. I need to make mistakes just to learn who I am. And I don't wanna be so damn protected. Finally someone understood how hard it was to be a teenager living in the suburbs! We'd spend our evenings listening to these completely personal Top 40 songs and serenade each other through display names. Can you help me I'm bent. I'm so scared that I'll never. Get put back together. I was going to survive school thanks to their songs and we were going to do it together! It just takes some time. Little girl, you're in the middle of the ride. Everything, everything will be just fine.
But our time together wasn't without its trials and tribulations. Remember when I dIsCoVeReD i CoUlD tYpE lIkE tHiS? 0r Iyk3 th15? Then I learned about Wingdings, ASCII art, unicode character shortcuts and character maps until all of my writing became so fucking ¸.·´ .·´.·*gLitTeRy 'N sPaRkLy*`·.`·.`·.¸. I'm surprised you kept speaking to me. (Or could understand me for that matter!) It was a rough few years, but I managed to overcome that addiction. †håñk§ £ör ßêïñg §ö þå†ïêñ†.
You made sure I stayed on track when we went to university together. You accompanied me to Biology 104 and kept me awake during class. Sure, I didn't actually pay attention, but it's the thought that counts. You were also the perfect roomie, maintaining a line of communication between all of the roommates when we were too lazy to walk down the hallway. I became a different person in uni and sometimes worried I'd lose contact with my hometown friends. But that's why you made sure they'd message me whenever I was four assignments behind or had exams to prep for. I knew you'd always have my back MSN.
But I remember when we started to fight. It started off slowly, but day after day, unwisely clicked link after unwisely clicked link, you stopped responding. I'd click your icon and you'd just languish there, your little green head spinning incessantly, refusing to actually do anything. It's like you didn't care! Jeez, I just wanted to talk to my friends! Why'd you have to cut me off like that? I'd yell at you, clicking repeatedly until I was taking out my frustrations on the keyboard. Ctrl Alt Del. Ctrl Alt Del. Ctrl Alt Del. Now would you talk to me? Nope! So you just sat there, spinning.
Even worse, when you did actually get off your ass, you'd hit me with a barrage of contact requests from people I had never met before. CoolNew__Kid78? Sweet_n_Single1884? Who were these people? Were you cheating on me? Was there something I should have known? Who was this sexy 19-21 girl in my area that was alone and aching for company? Jeez! You became such a scumbag. Fine, if you were going to spend your time talking to a Nigerian prince that wanted to share his wealth with you, I'd look for a new messenger.
I should have noticed that something was up since the old you wouldn't act like this, but it was already too late. I had started to see someone else by the time I realized that you were bogged down with viruses and not just a self-absorbed jerk. I outgrew my Hotmail account years ago and foolishly had a fling with Yahoo before I discovered that better platform. A veritable G that had more to offer me! I still had a soft spot for you, but GChat offered the same features with none of the baggage.
I'm sorry, MSN.
As I hear it now, most of my friends, peers, coworkers and family members started new relationships when you had your breakdown. We all left you in your time of need, but sadly there's no going back. I heard the last of your loyal followers will be introduced to a new guy before the end of the month. But don't worry, we both know that Skype will never truly replace you.
You'll always have a (figurative) space on my hard drive and in my heart,
Peaches_and_Cream87