Rihanna's Savage X Fenty show is so blatantly inclusive and body positive from the jump — it caught me by surprise. Following a brief opening montage featuring glimpses of the fierceness to come, we are graced with queen RiRi herself sharing that she made a point to look for "unique characteristics in people that aren't usually highlighted in the world of fashion" while creating the show. That's echoed by Fenty's senior VP Jennifer Rosales, who explains that uniquely there's no target audience for the Savage X Fenty show, but rather "It's for everyone. [Rihanna] wants everyone to feel beautiful, everyone to feel empowered, everyone to feel and have that strength within them to become the best version of themselves."
I made it exactly seventeen minutes and twenty-seven seconds into watching the Savage X Fenty show before bursting into tears of black, fat, queer girl joy. Even the intro already had me choked up.
We slide right into behind the scenes photos and interviews with models of all shades, shapes and sizes in Savage X Fenty lingerie sharing what sexy means to them. Just a few minutes in and there's already been more diversity and inclusion in this production than any mainstream fashion show I've ever seen or heard of. I should've known that I needed to have tissues on deck by this point, but was far too invested to dare hit pause or look away. The energy's so high, all the cast members are smiling and laughing, understandably equal parts excited and nervous. Then suddenly Raisa Flowers is on camera mentioning that that she'll be the first model to walk in the show. I repeat, a black queer plus-size woman was chosen to open the Savage X Fenty show.
I know that Rihanna has not, does not, and will not ever come to play, but still in all my wildest dreams I never imagined this. The formal opening credits roll and the show opens with the camera focused on one of the most statuesque black women I've ever seen, frozen in a pose that balanced grace and power flawlessly. Then it pans out to Rihanna surrounded by majority POC dancers in matching but varied black mesh bodysuits that looked equally stunning on every hue curve and roll (and there were MULTIPLE dancers with rolls on that stage y'all) — my mouth dropped open and my hand suddenly found its way to my rapidly tightening chest.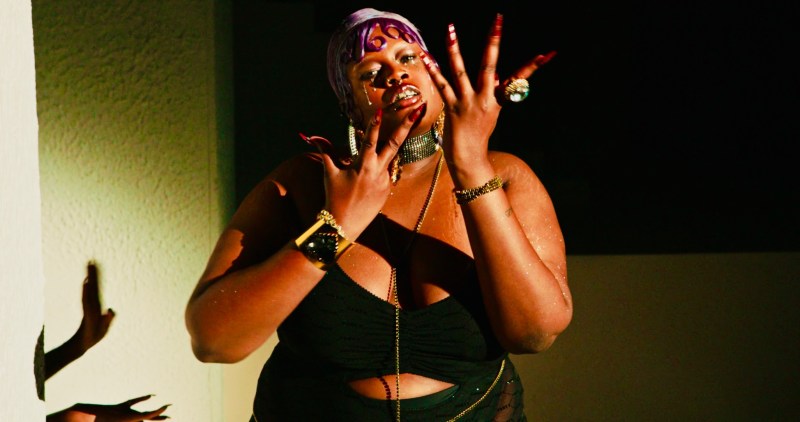 Before I could catch my breath, it happened. Raisa Flowers strutted onto that stage glittering to the heavens adorned in jewels wearing a new cutout variation of that same mesh bodysuit. There was nothing I could (or would) do to stop the tears. I've been looking for myself in mainstream fashion shows for 30 years, and the very first thing Rihanna did in her moment was say, "I got you sis."
It's no secret that the world of fashion has long prided itself on being exclusionary. For a very long time — and lets be real, still to this day in far too many shows, collections, and eyes of designers — if you were not white, thin, and rich, fashion was not for you. I've received a very thorough education throughout my life in all the ways fashion excludes bodies like mine and those that belong to people I love. Black and brown bodies. Bodies with disabilities, scars, and stretch marks. Bodies that enjoy the love of same and/or many genders, that are soft and expansive or petite and muscular. That carry the shapes and histories of our ancestors. We had the doors closed in our faces in space after space, with a smug smile and a reminder that "we don't have anything here for you honey."  Rihanna said no more, all are welcome, and then literally let us walk the walk.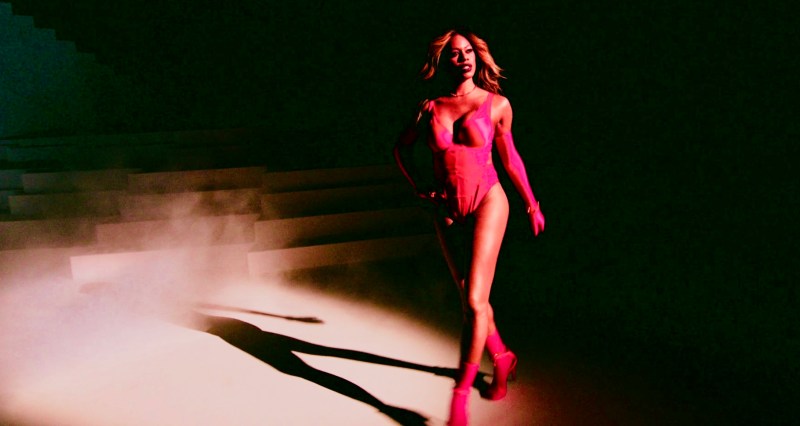 Not only do these incredible, historically marginalized and oppressed models and dancers walk the walk in the Savage X Fenty show, they do it front and center, and far from alone. There are no tokens in this show — absolutely no identity stands alone. Whereas some designers consider embracing inclusivity to mean including one model for diversity points, usually at the end of the show or on the sidelines, in the Savage X Fenty show they are centered again and again with at least one person —and in most cases many other people — with shared intersections of identity. This allows for an energy of solidarity that's beautiful and untouchable. I shed even more tears when Laverne Cox did what she does best and danced across the stage like she owned it. At Normani's appearance my tears were joined with screaming and raising my hands in thanks to the universe for the gift that is her dancing (especially in that tantalizing beige bra and panty set, covered in lip prints paired and with high waisted sheer stockings). Bella Hadid came out glowing like royalty in a sunshine yellow longline bra and high-rise thong set with a headpiece/cape combo fluttering behind her followed by multiple other models donning head covers matching their lingerie sets. I cried again when the choreography to Tweet's "Oops, Oh My" ended with FIVE fat dancers together on stage Tearing. It. Up. I fell all the way apart. This show! I was simply not ready, but also I've waited my whole life for it.
I was also blown away by the level of inclusion within the pieces of lingerie showcased in the collection. Rihanna ensured that there would be sets that work for those who feel sexy and confident in evocative revealing lingerie, those who find their glow in modesty, and everyone in between. There were looks for folks with gender neutral and masculine style tastes. I'm excited to note — in yet another break from a common fashion industry mistake — it wasn't just the plus-size bodies that modeled the looks with fuller coverage.
A range of style options are shown on every body type, and  the genius of having dancers and models moving on stage together allows you to actually see how the lingerie functions in motion. These are pieces bodies can really move in! They look stunning not only while standing still or walking upright, but when you're dropping it low and doing splits. Wanna know if you can twerk in those garters or throw a leg up on your partner's shoulder without fear of something snapping off and flying straight into bae's face? Savage X Fenty's got you, boo. Curious about whether that bodysuit, bra, or bralette will work for your chest? Watch the line of 10, sometimes 20 or more, people with chests of every size body-rolling in unison to get your answer!. Or just watch it 'cause it's hot. Either way, my recommendation is to watch it.
You should also get prepared for the refreshing experience of seeing a lingerie fashion show that has nothing to do with male gaze. This is not about catering to men by objectifying women in played out ways; it's about women feeling sexy and empowered for and by their own damn selves. When the male performers come on stage, they never interact with any of the models or dancers who, if they haven't all left the stage completely, sit in silence unbothered. In contrast, when Halsey comes out for her performance in the black lace robe of my dreams accented with strappy black garters with silver hearts in the middle, the script is flipped in ways I will be grateful for for years to come.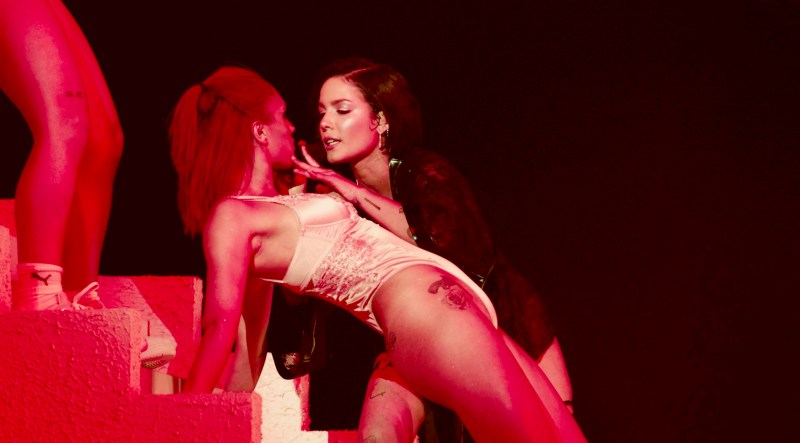 She nuzzles and caresses the women on stage with her. They return those same tender touches, and more. As Halsey sings and makes her way down a staircase, she runs her fingers down the torso of a dancer wearing a light pink satin bodysuit that looks irresistibly soft to the touch and my body let out a visceral groan! This is a bisexual celebrity engaging in sensual, seductive touch, but it's completely respectful, beautiful, artistic and on a mainstream fashion platform! Halsey continues down those stairs to be further caressed and grind slowly with another dancer in a sizzling neon green lace lingerie set (with GLOVES!) — things eventually get so sexy between them I started fanning myself and rewound it a few (more than a few) times. It's all staged and choreographed with a woman's gaze at the center, and never once feels degrading or demoralizing. Just powerful.
There is so much power in having artists like Fabolous, A$AP Ferg, Big Sean, DJ Khaled and Fat Joe rap about bad bitches without ever using any as pawns. The show takes time to uplift Tierra Whack for her bars. Khaled and Fat Joe perform their songs in front of a giant wall filled with cutout archways lit up in rainbow colors, an obvious show of LGBTQ+ allyship which brought me more joy (and of course more tears). These artists operate in an industry and culture that's often drenched in misogyny and homophobia, but they stood on the Savage X Fenty stage and instead sent a different message.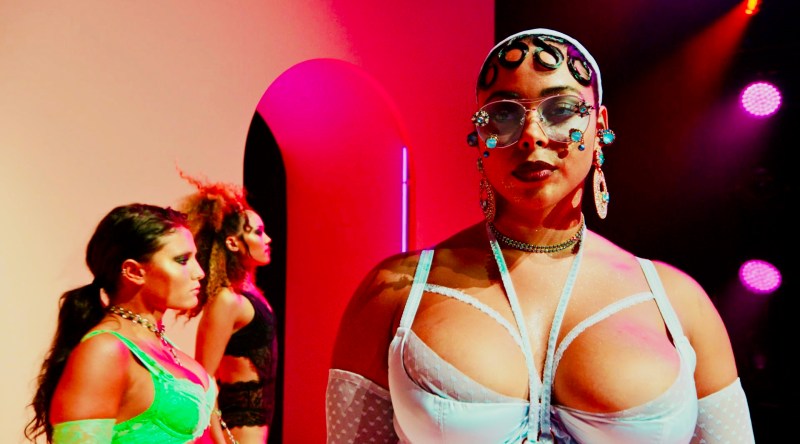 There were SO many celebrities with staggering followings on that stage. I did some quick math and the count of JUST the Instagram followers collectively among all the big names — many of which I've failed to list here, there were just so many! — is well over 300 million. Think about that reach. The resounding impact of their message that diversity and inclusion are the rule, not the exception. That black, brown, trans, disabled, fat, queer, lives matter. That the people and cultures the fashion industry has long stolen and appropriated from — all while barring us from entering — don't just deserve a seat at the table. No, our ancestors made the damn table off the sweat of their backs. We own it. And we own everything else, too.
There really aren't words for what Rihanna has done here.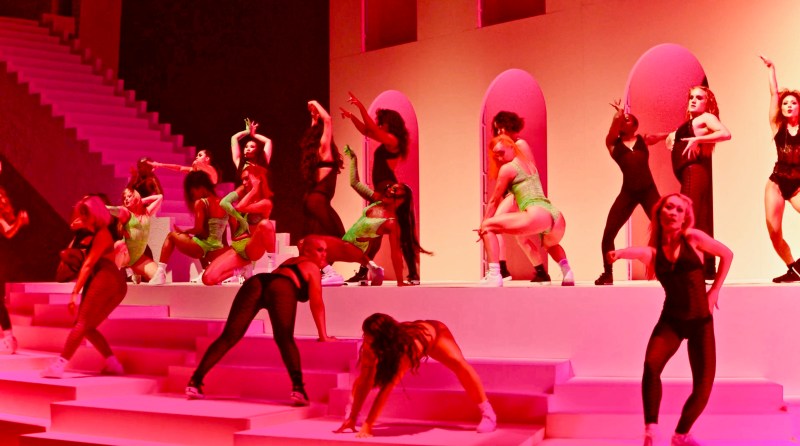 You can stream the Savage X Fenty show on Amazon Prime.