Today, Judge Robert Simpson ruled on the controversial voter ID laws in the state of Pennsylvania, ordering the state to delay implementation of the law until after the election season. Voter ID laws have been igniting debate in Pennsylvania as well as 11 other states, like Tennessee and Kansas. These laws purport to protect against voter fraud by requiring government-issued photo ID to be presented at the polling station before one can vote, which in and of itself isn't a particularly controversial idea. But the fact that some states, like Pennsylvania, have rushed to put this legislation in place so soon before the election (especially since the turnaround on issuing photo IDs can often be long) is at best problematic and at worst suspicious.
Which is why although Judge Simpson originally upheld the law back in August, he was instructed by the state Supreme Court to investigate more closely, and determine whether "the state was doing enough to provide voters who lack the required photo IDs with alternative forms of identification." When Simpson had this newest round of hearings, he ruled that "authorities had not done enough to ensure that potential voters had access to the new documents."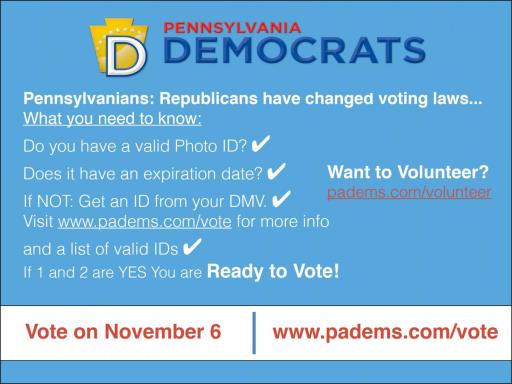 To understand why voter ID laws are controversial, it helps to look at what they require of voters and who among the voting public is equipped to meet those requirements. According to the state's literature on the law, photo ID must have an expiration date in the future, include a photo of its owner, and have a name that conforms to the voting register at your polling place. Forms that fit into this category are a US passport, a Pennsylvania driver's license, a state municipal employee badge, or Pennsylvania college student ID.
Many citizens have these forms of ID already. But as much as 11% of the voting public doesn't, and statistically, the people within that 11% are likely to be elderly, poor, or of color. If an elderly person no longer drives and their license has expired, they may not have a support system or access to transportation to get them to the DMV. If someone can't afford a car, and doesn't have the money for international travel, they don't always have a reason to have a driver's license, or a way to easily obtain one – the bus route doesn't necessarily stop at the DMV, nor can they take a day off of work to go there. Puerto Rican voters, whose birth certificates may have been recently ruled invalid by the Puerto Rican government, may have a lot of difficulty obtaining a new photo ID. And while this seems to be a less-discussed angle, trans* people whose names on their ID don't necessarily match the voter registry are unfairly disenfranchised by laws that require name and photo ID to access basic civil rights.
Again, as the Pennsylvania Supreme Court has said, there isn't anything inherently unconstitutional about voter ID laws – but the fact that so many of them were introduced so close to the election, with heavy Republican support and virtually no involvement from Democrats (along with the fact that fraud by individual voters is reportedly "irrational and extremely rare"), raises questions about voter disenfranchisement. And specifically voter disenfranchisement of the underprivileged; who are, coincidentally, the least likely to vote for hyperprivileged Romney. Unfortunately, Pennsylvania's ruling doesn't do anything to delay the implementation of similar laws in other states.
It also doesn't provide a solution for non-legislative but still very real ways in which underprivileged and poor voters can easily become disenfranchised. For instance, some of the top swing states in the nation, like Michigan, also have the highest rates of home foreclosure. Aside from uprooting the lives of those foreclosed upon, foreclosure can also inhibit their right to vote, because voter registration systems are based on address of residence. And again, this issue tends to affect the poor, the unemployed, and people of color – groups that were unlikely to vote for Romney. In 2008, Republicans in Michigan were accused of a calculated "lose your home, lose your vote" plan aimed at making sure those who were foreclosed upon couldn't vote.  Making the problem worse, some states, like Florida, have instituted rules that require one to re-register to vote if one changes counties. Registering to vote becomes more difficult and complicated as election day nears.
There are a variety of ways in which America doesn't live up to its reputation of equal opportunity — equal access to education, to jobs, to healthcare, to respect; the list goes on. But perhaps one of the most frustrating things is that even in 2012, long after issues of suffrage and voting rights were supposedly settled, there's still significant impediments to participating in the democracy that forms the foundation of our country — especially for those who have already lost or been denied a great deal. It's important to make sure you're voting yourself if you're eligible, but also to think about how you might be able to help others access their right to the ballot — whether it's a ride to the polling station or helping someone figure out who to call to update their address on the voter registration, it's our responsibility as citizens not only to vote, but to make sure that the rest of our community can, too.