Young girls who grew up in the '90s had a slew of women to model their lives after. A Spice Girl for every personality you could strive to mold, teenage witches, vampire slayers, Britney, Christina and their many imitators. For me, that woman role model shot fireworks out of a C-2000 bazooka and lit up an entire arena. That woman had muscles on muscles and backed down to no man. That woman was WWE superstar, Chyna.
My chest would tighten every time her theme song boomed through my television speakers. An anthem that ordered, "don't treat me like a woman, don't treat me like a man, don't treat me like you know me, treat me for just who I am." Without even watching her fight, the viewer is issued a challenge: to examine what we attribute to being either a woman or man, and to disregard all of it. Once the tune ended, the bell rang, this entity lifted her opponents over her head, landed blows that sent them flying, lounging on them for an effortless three-count pin. Whatever Chyna was, I wanted to be it. I was hooked.
Being a ten-year-old fan of the 9th Wonder of the World (as she was often dubbed in wrestling culture) was delicate. The audience to whom you boldly confessed wanting to look like her could encourage or stunt you in this impressionable stage. While some would tell me I could "be whatever I wanted to be," more often my desires were countered. "She looks like a man," they'd insist. "You don't want to look like that." Had I not seen her opponents ridicule her for this very reason and witnessed them powerbombed for their ignorance, perhaps it would have stuck.
Wrestling fans were adamant about questioning her womanhood. Rumors that she was trans could not be thwarted, and while of course it isn't embarrassing to be trans, nor would it have made Chyna less of a woman to be trans, the rumors were intended to embarrass and to call her womanhood into question. Signs about her then-lover that read, "Triple H is part queer" popped up in the audience. Wrestling was a lot more "adult" then, and the public's tongue was even less progressive than it is now. While the "divas" (women wrestlers), who earned centerfolds in magazines and the privilege to be valets to their male co-stars, had matches in which the objective was to strip your opponent down to her bra and panties, Chyna was tossing men over the top rope, disqualifying them in the Royal Rumble. While girls in my high school gym would lazily walk on treadmills until the bell rang, I quietly did bicep curls in the corner of the weight room. Chyna planted a seed in my head that I couldn't shake.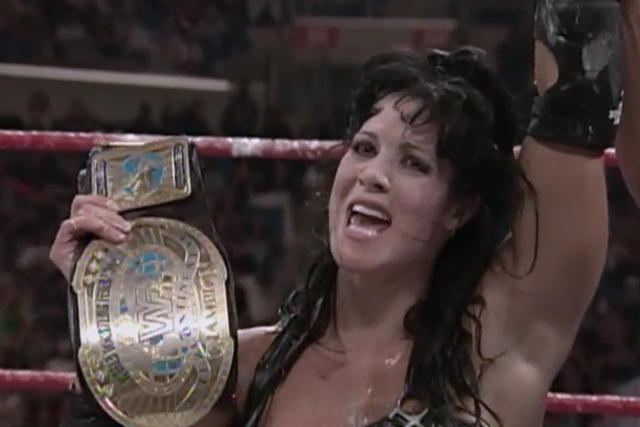 But Chyna's accomplishments in wrestling have been enumerated countless times by those who know her legacy isn't being recognized. Words like "trailblazer," "pioneer," "legend," are exhausted. She remains, 17 years later, the only woman to hold the intercontinental championship, and has done so twice. She was the first woman to enter the Royal Rumble (that wouldn't happen again for ten years), the only to participate in the King of the Ring tournament, was once the number one contender for the World Heavyweight Title, and parted with the company the only undefeated Women's Champion.
So while her physical prowess is undeniable, Chyna was also a warrior in less conventional ways. Ways that the media likes to wield against her, painting her as a trainwreck. Ways in which, analyzed under the wrong lens, could reduce her to another campy, real life John Waters character; a spectacle and not a person.
In 1999, Chyna's then off-screen lover, Triple H, had an affair with the WWE chairman's daughter and the company's chief brand officer, Stephanie McMahon. Faced with the difficult decision to continue to work for McMahon and bring in the large revenue she was generating at the time, Laurer stayed the course. When the affair came to light, the public found Triple H without fault, as if mustering up sexual attraction to such a brawny woman was the act of a good samaritan; that she was lucky to have ever bagged a man at all. She proved them wrong when she made the decision to grace the cover of Playboy in 2000 (much less her porn career, which she spoke of positively in one of her last interviews). It remains one of the magazine's best-selling issues, and she earned herself a second cover in 2002. This decision stands out as an autonomous one, given its timing at the height of her wrestling career, and a bold one. Many women who were said to be as "good as the men" may have shied away from controversial sexual endeavors, worrying they would lower her credibility in the public eye; Chyna did what she wanted to do, as she always had.
WWE was happy to spin a wildly entertaining story line from her Playboy issues in which both her on-screen lover, the late Eddie Guerrero, and a trio called Right to Censor wanted to keep the issue from hitting the shelves. But when the new authority, made up of Triple H and Stephanie McMahon, grew increasingly uncomfortable with having "the ex" around, they gave her the pink slip and her Women's Champion belt was awkwardly vacated. Despite her numerous accomplishments within the company, the WWE has yet to induct Chyna into the Hall of Fame. In an interview with Stone Cold Steve Austin, Triple H explains: "I got an eight year old kid. My kid sees the HOF and my kid goes on the internet to look up, 'oh, Chyna, I've never heard of her.' He punches in her name and what comes up?"
Chyna's unwavering persistence after her severance from the company began with her name. Unable to continue to go by the name she worked so hard to build up, she legally changed her name from Joanie Laurer to Chyna. Watching your unfaithful ex-partner rise to authority by association with "the other woman" is humiliating. For many, it'd be enough to turn them away from the environment that spawned the situation, but Chyna knew that she deserved to be lionized by the company she did so much for. Her attempts to bury the hatchet are archived on YouTube; the hashtag "#ChynaHOF" is heavy with pleas from both her and her fans to the company. WWE stars, including Mick Foley and Jake the Snake, got on board to rally for the cause. When Chyna's manager, Anthony Anzaldo, attempted to contact the WWE regarding unclaimed royalties, the operator discloses that she was instructed by Vince McMahon "not to take any calls related to her." Until the day she died, she continued to fight tooth and nail for her rightful induction.
The treatment of her death, too, is tragic. Not only was her memory forgotten within hours, especially after news broke that music royalty, Prince, had also passed away, but those who did report her death often focused only on her "final days," in which she wrestles with her demons on vlogs she made. Chyna was not selective with what parts of herself she put on display. She knew she was polarizing, she allowed anyone willing to contribute $195 to her documentary's funding to say whatever they felt about her, good or bad, and she would include it in the film. Her raw vulnerability was uncomfortable for most to witness, and many used it to paint her as a person the WWE had no choice but to avoid. I, personally, see it as another part of what made her so badass. Chyna was never about being an easy person to respect. Everything she did, whether it was pinning a man to the mat or having sex on camera, made people uncomfortable. She was about agency, and that's what the public fails to report about her.
And as for that ten-year-old girl, glued to the television set, whose parents laughed while I leaned in closer, waiting for the referee to slam his hand on the canvas the third time? She's competing in national powerlifting competitions and teaching self defense. I have Chyna to thank for that.