FYI, Autostraddle may collect a small share of sales from some of the links on this page.
Usually, I can't get into superheroes. I just have never been into the "good" guys enforcing weirdly strict morals while leaving a river of destruction in their wake. There have only been two exceptions to this rule, movie-wise. One happened in 2008 and I only love it because Heath Ledger is an acting genius and I actually think The Joker is the protagonist in that movie anyhow (here is a good argument for it FIGHT ME). The other happened this month. And that is Wonder Woman. Of course.
Other than this being a movie about a lady superhero directed by a woman with a feminist screenplay (though I certainly hear your concerns about Gal Gadot's personal politics), the gaze of horror was never averted during this superhero movie. And I think that's why I can get behind it in a way I rarely can with the superhero genre. We were never asked to desensitize to the violence; we were allowed to be horrified by it the entire time. Encouraged, in fact. And that's how I think violence should be, ya know? Even in the epic fight scenes. Plus I got to see a woman punch war. Just, like, all of it. All of war. Punched. That's pretty fucking rad. Not even my persistent concern that some angry straight cis dude would shoot up my theatre could wreck it. I wish I'd gotten to go to a woman-only screening for that reason. Then it would have been total bliss.
For a more in-depth discussion of the movie, you should read Heather Hogan. For a totally fluffy Wonder Woman shopping guide, look no further.
---
Books, Books, Books!
Sensation Comics Featuring Wonder Woman, vol 1. (Gail Simone and Ethan Van Sciver), $9.61. Wonder Woman: The Lies (Rebirth), vol. 1 (Greg Rucka and Liam Sharp—side note, I wasn't going to put anything in here that didn't involve at least one woman, but Greg Rucka's the author who said WW was queer, so), $11.68. The Secret History of Wonder Woman (Jill Lepore), $9.95. Wonder Woman Coloring Book, $10.35.
---
Boldly Announce Your Wonder Woman Devotion…
Wonder Woman Teeshirt/Tank, starts at $17.99. Daughter of Themyscira tank, starts at $23. Wonder Woman Resist mug, starts at $12.99. Wonder Woman Brooch, $11.76.
---
…Or Do So With a Bit More Subtlety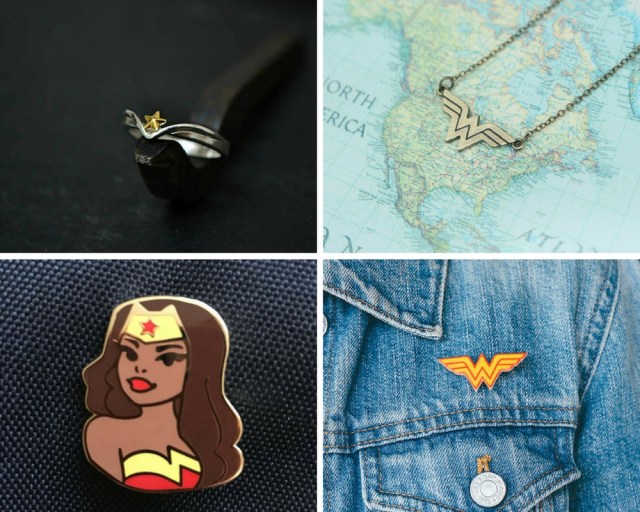 Wonder Woman Tiara Ring, starts at $55. Wonder Woman logo necklace, $9.50. Wonder Woman enamel pin, $10. Wonder Woman logo pin, $5.99.