Did you know that the Museum of Modern Art, where I first saw Andy Warhol's work in real life, once rejected a set of his sketches?
They did: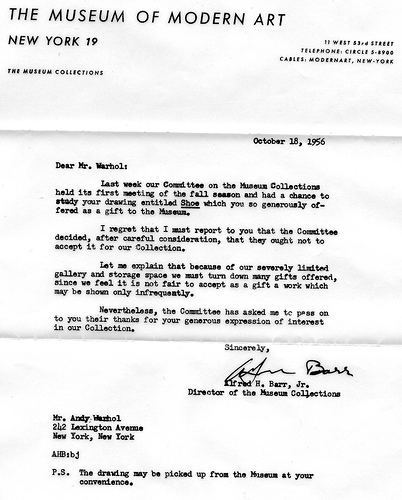 And if you ever owned Andy Warhol-themed merchandise, like those totes everyone had 5 years ago and I had 3 of, you were familiar with his rejection letter, since it came in each one on a sheet of clear paper.
I used to hang that rejection letter in all of my rooms: first in my bedroom in New Jersey, as preemptive solace for any college rejections; then in my dorm room so that I acknowledged I could fail; then in my homes off-campus where I was growing and growing and trying – and not always getting the right results. The letter reminded me that even the greatest of the greats fail. No hater could touch me.
Everyone who didn't like it was just MoMA to my Warhol. They'd come back one day.
Hindsight is probably the most difficult part of those letters. How did it feel to be the MoMA?How did it feel to reject someone great? Well, ask the authors of these rejection letters collected by the Atlantic, all directed at some of the greatest writers of our times:
The rejections, which range from personal to formal to completely and 100 percent absurd, are a collection of mistakes. Because, you know, rejecting a best-selling book is 100 percent a mistake for a publisher – and maybe for Hunter S. Thompson as well.
That's what rejection letters are y'all. They're just mistakes.