feature image photo by Bravo / Contributor via Getty Images
Hello, Bravo Dykes! I can't believe I'm here to talk about something that isn't Scandoval! In the July 28 episode of Real Housewives of Orange County, longtime Bravolebrity Taylor Armstrong came out as bisexual, telling the Housewives about a five-year relationship she had before her marriage to her late husband Russell.
Taylor is a "friend of the wives" for this season of RHOC, a tier of Real Housewives casting that essentially means she isn't a main Housewife but still appears in a lot of episodes, including cast trips. Wednesday's episode features the beginning of the cast trip to Montana, where Taylor opens up about her dating history and sexuality.
After the women participate in the casual and totally straight group activity of riding a mechanical bull for each other, cast member Tamra Judge asks Taylor to share something the rest of the group doesn't know about her so they can get to know each other better. Without hesitation, Taylor says: "I'm bisexual." Tamra says she knew this already and asks her about the woman she was in a relationship with before. It does seem like Tamra and Taylor pre-planned this conversation to happen on camera, which makes me wonder if it's going to come up in some other way as the season progresses.
"Most people are surprised to find out that I'm bisexual," Taylor says in testimonial. "Probably because just, like, stereotypes. I mean, it's not something I broadcast, but I'm open to all people that have great souls and that you can love."
I wish we got more, but that's pretty much it! I would love to know the specifics of Taylor's relationship with this woman, why things ended, and how she views her own bisexuality. Does she ever talk to any of the other bisexual Housewives? Do they have a secret club called THE REAL BI WIVES? If not, they should. Taylor is currently married to her second husband, attorney John Bluher.
This is, I believe, the first time an original Real Housewife has explicitly come out as queer. Real Housewives of Miami's Julia Lemigova is bisexual, but she didn't join the series until it was rebooted, and the Real Housewives themselves are all very particular about who counts as an OG, and Julia doesn't make the cut. RHOC's Braunwyn Windham-Burke came out as a lesbian, but she didn't join the series until season 14. Similarly, Brandi Glanville of Real Housewives of Beverly Hills is bisexual but is not an OG. Even though this is Taylor's first season of RHOC and she's only a friend of the wives, she is indeed an OG Housewife, because she started her Bravo journey as an original Housewife on Beverly Hills. After departing that show for a bit, she returned for Real Housewives Ultimate Girls Trip, which is basically like a Housewives version of All-Stars, mashing up Housewives from different franchises. Then, she joined RHOC for this season, confirming my long held belief that Housewives should be traded between cities like pro athletes.
I have long believed that cast trips on every franchise of Real Housewives are where we especially see homoerotic and straight-up gay behavior on these shows. These women leave husbands and boyfriends and children behind for a homosocial environment where the booze is flowing and the drama is bubbling. They often have to share beds or rooms, and they love to play games on these trips that are very sexual! It's the perfect environment for a little bit of dykey activity. In fact, I once snapped a pic of Brandi and Taylor — who we now know are both bisexual but who weren't out publicly at the time — kissing on one of the Beverly Hills cast trips for a very important tweet thread I was compiling: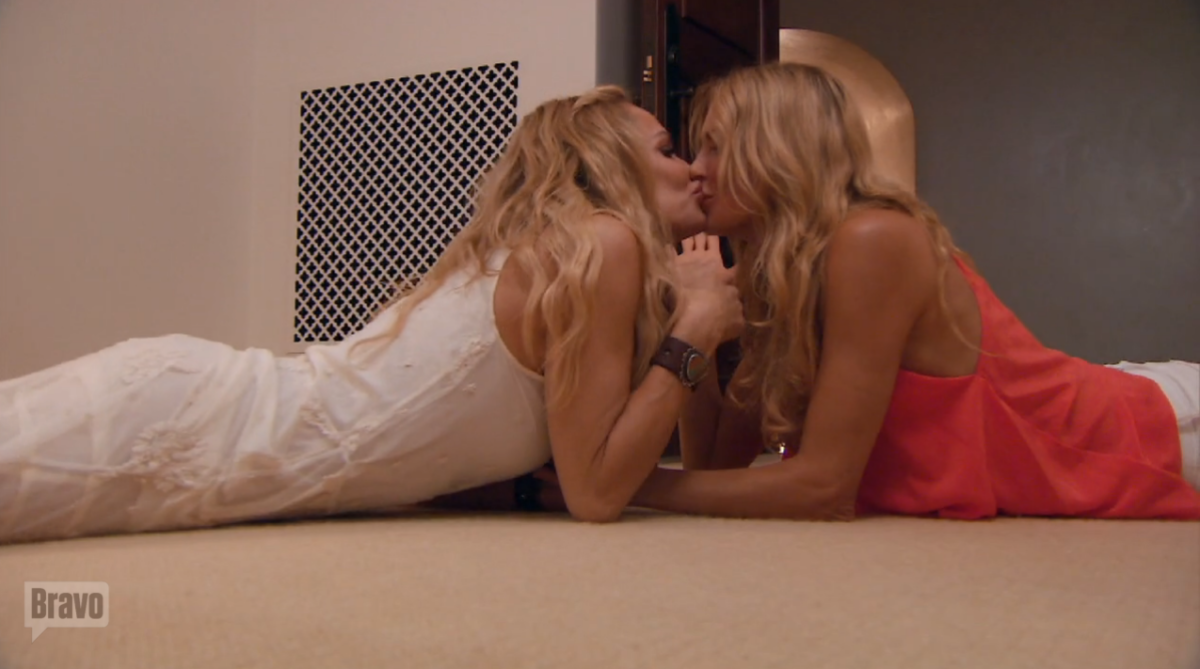 This RHOC Montana trip reminisces of the Montana trip taken by the Real Housewives of New York in season six, which may not have had an explicit moment of queerness but nonetheless…pinged:
watching season six of Real Housewives Of New York like LOOK AT ALL THESE LESBIANS pic.twitter.com/iMidKt33Tz

— kayla kumari upadhyaya (@KaylaKumari) July 8, 2017
Even though the moment does feel very produced, the fact that Taylor comes out on a cast trip absolutely tracks with my theory that these trips provide a liminal queer space in the lives of the Housewives. I like that she gets to come out completely on her own terms, which is not often the case on these shows. Taylor has had a lot of things about her personal life disclosed very much not on her terms in the past ("but now we said it"….iykyk). Also, Taylor outright saying she's bisexual stands out, as a lot of Housewives in the past have alluded to past queer relationships and experiences without ascribing labels to themselves. Across franchises and through the seasons, many have used the phrase "taken a dip in the lady pond" to describe these histories, and while I suppose anyone can technically use any language they wish to describe their own sexuality…why LADY POND! NO THANK YOU!
After the episode, Taylor went on Watch What Happens Live, and Andy Cohen said he was surprised by the reveal, confirming he hadn't previously known she was bisexual. Taylor said it was probably a surprise to a lot of people, including her mother.
We officially have a lot of openly queer Housewives! I think it might finally be time for me to put together a Bravo Dyke history/timeline of sorts.