I read G.R.I.T.S. – Girls Raised in the South: An Anthology of Southern Queer Womyns' Voices and Their Allies during a moment of displaced rural girl vulnerability: My first summer spent entirely outside of the American South. Deadset on proving to myself that I was capable of loving a city that isn't Savannah or Atlanta, my homesickness went denied or undetected… until I picked up G.R.I.T.S.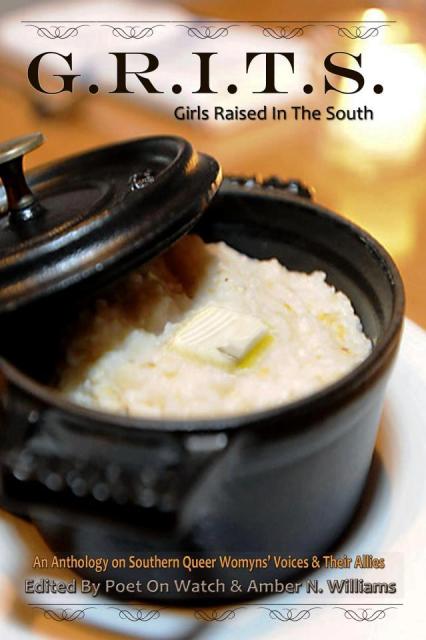 Then, it felt like a dam was breaking: I found myself owning everything that I missed: The silent nights peppered with nothing but cicadas, the nuances of Deep South closets (Chevron? Seersucker? Should I cut my hair or keep it long for Mama?), the overabundance of food, and certainly the women who frequently throw their hearts and bodies into preparing it. As Eve Francis writes in her poem "Soul Food":
But, I'm thinking of you as we set the table
As I make jokes to split our sides
Chit-chat and look out at Brooklyn,
but always talking about the South.
The laughter between the first and second course
The space between the salad fork and the soup bowl
This is where we really existed
Together, now
One soul in our food.
As all good books should, this anthology undid me in a way that I was not prepared to do myself.
Edited by Amber N. Williams and Poet On Watch, G.R.I.T.S. is not your conventional collection of poems, essays, and short stories. Poetry-heavy, the anthology also features a generous helping of soul food recipes, photographs, and relevant quotations from notable Southern queers. Rather than being organized by genre, G.R.I.T.S. is separated by theme into nine different sections, all of which are cleverly titled ("Yes, I Am From the South/ No, I Am Not Illiterate" is a personal favorite). Subjects run the gamut from the academic to the linguistic and the sensual to the unabashed sexual.  Did I mention that this anthology is really sexy? And that it's also food-heavy? And that the sexual and the culinary frequently overlap? Look no further than Jesse Rice-Evans' "The Lovers":
I cut my fingers in pursuit of the orange flesh of the mango. I am hasty. I am hungry. I already imagine my mouth wet with its juice, its thick pulp and cool weight, heavy as a pocket of marbles.
And Anondra "Kat" Williams' "She Cooks for Me":
She cooks for me
because feeding
me feeds her
she says
and every bite
I take
she swallows
Of course, this erotization of regional cuisine by Southern lesbians is nothing new. It's a tradition as long-standing as black-eyed peas on New Year's Eve. The phenomenon is most familiarly depicted in Dorothy Allison's short story "A Lesbian Appetite" and the film adaptation of Fannie Flagg's Fried Green Tomatoes (in which a food fight between the two female protagonists served as a metaphorical love scene). Academics have mulled over the topic time and time again. However, these narratives are overwhelmingly White and often dismissive of the slave origins of the food which is considered "Southern."
This anthology does not have a selective memory. With a body of contributors who are predominantly queer women of color, the anthology is incredibly self-aware. Poem after poem (and often in the context of the kitchen) G.R.I.T.S. openly addresses racism, classism, and the continually shifting definition of what it means to be Southern. Eve Francis' "Kitchen Verbs"  paints a portrait of a Southern kitchen, modernized:
She takes out her mother's old cookbook
and insists she knows what she's doing.
As she reads over old recipes, she swaps in
new ingredients to reflect her new lifestyle.
She's veganizing what she thought
would no longer be hers.
But G.R.I.T.S. is so much for than food. One of the most compelling works in the anthology is Kesi' Shaw's "Black Hollywood (The Oscar Poem)", an excruciating timeline of the way the American film industry treats its Black actors:
In 2001, Halle Berry won the prestigious award
for her role in Monster's Ball
Was it because her bare breast brought
back memories of white slave masters
sneaking into slave quarters after dark
to test the theory "the darker the berry,
the sweeter the juice?"
Or was it her vulnerability that allowed her
to beg Billy Bob Thornton to "make me feel good"
that sounded so familiar?
So you mean to tell me
Her strong willed-determined-to-overcome-adversity persona
in Things We Lost in the Fire
and Losing Isaiah were not worthy?
Her command of respect and acknowledgment
in Introducing Dorothy Dandridge
was not worthy?
But getting naked and fucking a white man
on the couch is an award-winning
performance
G.R.I.T.S.' lone downside is its volume. At 321 pages, this is no weekend read; poems and stories tend to blur together after a while. It's meant to be picked up for a bit, pored over, put down, picked up, and revisited when rural hunger strikes. But if you like literature that keeps you feeling full to the brim, make sure to Amazon or Goodreads a copy of G.R.I.T.S. – Girls Raised in the South: An Anthology of Southern Queer Womyns' Voices and Their Allies.