You know that feeling when you crack open a brand new book and just by reading the first paragraph you can tell you're about to go on a transformative journey? The kind of book that grabs you by the hand and says, hold on, we've got important work to do? A story that, at the risk of sounding very cliche because the word "witches" is, after all, in the title — leaves you spellbound?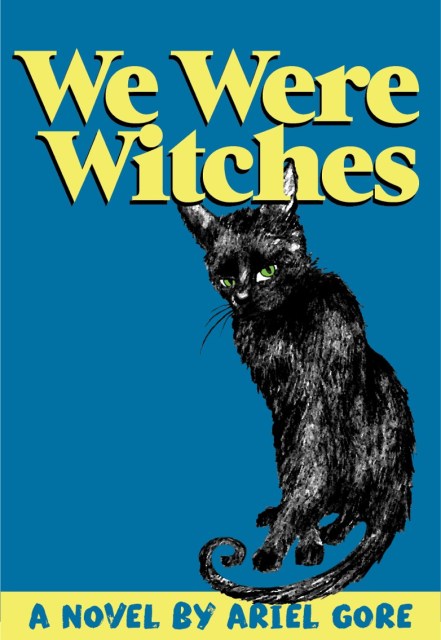 We Were Witches by Ariel Gore is that book. Released in September by Feminist Press, it is everything you didn't know you were allowed to want in a narrative. And it's our newest Autostraddle Book Club pick! Which means you have one month to get your hands on a copy, devour it (probably in one sitting, like I did), and then meet back here to discuss your feelings about the text and enjoy an interview with Gore herself. Are you excited yet? I am so excited.
We Were Witches is a novel that reads more like a magic spell/memoir/memory/body. The story opens with the birth of Ariel, the character — not to be confused with Ariel, the author, except when she should be confused with Ariel, the author. Ariel, the author, is clear from the beginning that she will be weaving a story that does not follow the "traditional" trajectory of a memoir. The structure, as well as the content, are immediately coded as queer. Broken up into four parts, titled "Invocations," "Deepening Action," "Resistance," and "Shame Theories," the book follows Ariel's experience being a single teen mom trying to work her way out of poverty via a college education. She is frank about receiving welfare, feeling shame and fear at the hands of abusive men and the American government, experiencing homophobia, and forging and maintaining complex relationships with many important women including her ex, a fellow single mom student, a witch, the many feminist writers she is assigned to read for school, and her daughter. The structure of the book is one that allows the author to rewrite several fairy tales with a queer feminist slant, but the main character does not follow a narrative arc that grants her a simple happy ending. This book is way too realistic about the lives of queers/women/mamas/witches to pretend everything always works out when a man in power shows up to save the day.
Here's what Michelle Tea has to say about it in a blurb:
"We Were Witches is raw and truthful, painfully funny, inspiring of outrage, and alive with the wonder and magic of a feminist awakening. One single mom becoming woke, struggling, and triumphing on her own outsider terms, We Were Witches is a new feminist classic, penned by one the culture's strongest authors at her most experimental and personal."
And Ms. calls it an absolute must-read:
Yet for all its ideals and literary revolutions, We Were Witches remains accessible to readers in its total lack of pretension. Fast, funny and raw, this novel's appeal isn't made stiffer by its feminism, but rather invigorated by it. The story is spellbinding in its own right, punching readers in the gut with realizations of self and society that are both Ariel's and their own. It's a woman-centric narrative that doesn't shy away from critical reflections on relationships between women (including the queer kind!) or generous observations on masculinity. There's a millennial savviness to the novel, and the strength of Ariel's voice shines throughout, easily avoiding the tropes and melodrama often associated with teenage motherhood. It's a re-writing of every helpless princess fairy tale and a reclamation of every Scarlet Letter.
Oh, and remember how I told you about those beginning lines, the ones that gripped me and let me know I was about to start reading my new favorite book? Here it is:
"When I was born, my mother was so horrified to be handed a female baby that she took three months to name me. My birth certificate just says "Gore Girl."
So what are you waiting for?! Do something nice for yourself today and get your hands on this book — either via your independent local bookseller, your library, or Amazon. Then clear your schedule because if you're anything like me, you're gonna read the whole thing in one sitting and then you'll have to spend the rest of the day processing it.
We'll meet back here in one month for Gore's Autostraddle interview and to process together. See ya then!