This guide is written by Ariel Godwin, an Autostraddle community member! The Queer Girl City Guides are compiled and written by volunteer community members who are excited to share their favorite places and experiences with you. They cannot be independently verified by Autostraddle. We also recognize that cities change and venues close with time. Due to team restrictions, these guides may not always be up-to-date as time goes on. Feel free to share your own info about these locations in the comments!
Iowa City: All of our creativity went into the name!
Iowa City is renowned as a hub for famous writers like Kurt Vonnegut, Raymond Carver, and Flannery O'Connor – though when I moved here as a fresh-faced 18-year-old, I mistakenly thought that the University of Iowa's Writer's Workshop was actually for undergrads instead of a graduate program. Despite my initial mistake, it became clear to me that the love of writing pervades every brick and cobblestone of Iowa City, and its designation as a UNESCO City of Literature remains an irresistible draw for poets, essayists, and authors of every variety.
To be perfectly honest, my first three years of school in Iowa City disappointed me. Compared to my hometown, Austin, the whole town seemed claustrophobic and uncultured. Since graduating and moving beyond the prescribed borders of campus, though, my opinion has changed. Iowa City's often overlooked elements include its vibrant DIY arts and music scenes, a thriving bike culture, and activism that does not limit its scope to the white middle-class.
The negative aspects of campus life and my first run-in with Midwestern weather – i.e. somewhere that actually has snow in the winter – colored my first impression of Iowa City, but there's more to it than your run-of-the-mill college town. It's small but not small-minded towards queers of all shapes, sizes and sorts – while it may not be as out and proud about supporting LGBT+ women as larger cities like Des Moines, it still shows love for the queer community in small ways that count. I'm now three years a townie and while I know Iowa City still has its faults, I'm happy I live here and glad I get to call it home.
---
Pride
Iowa City Pride is the summer event of the year, every year – it takes place in late July but I start looking forward to it in May. While you might expect it to be a small affair in a quiet town, the reality is a multi-block, day-long celebration. Even with the majority of students out for the summer, Iowa City Pride has been packed every time I've attended, with everyone from baby gays to queer elders sporting rainbow attire and waving flags.
The parade has expanded from the LGBT community to encompass activist groups like Veterans for Peace; progressive politicians like to march as well, and this year I saw a state senator and candidate for Governor among the parade-goers. This year's highlight was definitely the brave soul who got up on stilts in a Babadook costume, complete with pink shades and feather boa, and carried signs that said "Still not as scary as racism!" and encouraged HIV testing.
After the parade, the party continued with vendors spread across the Pedestrian Mall offering everything from face-painting to "The Future is Gender Neutral" shirts, bars with rainbow flags across their windows, and performances from drag kings, drag queens, and burlesque dancers. New this year was the Dark and Lovely Lounge, a dedicated space for LGBT+ people of color. Organized by Kendra Malone, a Diversity Resources Coordinator at the University of Iowa, the Lounge featured musical performance, creative writing sessions, and conversations titled "Working Class, Buddhist, Queer, Black and Female in Iowa: The Challenges of Leadership" and "Beyond protecting and serving: Police as allies of the LGBTQ community." It's heartening to see the celebration of Pride extended to everyone, not just white, cis gay men. As joyous and affirmative as it is, I hope Iowa City Pride continues to take steps towards welcoming diversity and being more inclusive every year.
---
The Night Belongs to Lovers
So where's a queer girl to find friends and hookups in Iowa City? Well might you ask. Although the city is gay-friendly generally, there's not many specific places for women-loving women. Instead, you kinda have to seek out the spots where you're more likely run into a lady who happens to be gay, at which point you can awkwardly toe around each other's boundaries, feel out the vibe, maybe tentatively bring up a shared interest in Steven Universe – you know, go through all the usual quirks and whimsies of dating.
Studio 13
13 S Linn St
Iowa City's only gay bar, Studio 13 is tucked into the brick wall of an alleyway, right around the corner from the colonial style facade of the nearby Yacht Club. The neon-lined entrance welcomes visitors for drinks, dancing, karaoke, and more. Studio 13 serves as a kind of catch-all for the whole LGBT umbrella and the sole hub for queer activity – which can be a mixed bag for queer women in particular, as the demographic seems to skew towards gay and bi men. On drag king nights, however, queer ladies are out in force: the drag kings bring an awesome, friendly atmosphere to their performances and I always feel at home there.
Too bad the same can't be said for every other night. Due to Studio's reputation for being a wild, glam nightclub, straight people regularly go there to take up room, host their bachelorette parties and in general treat Studio like more of a strip club than a safe space. It sucks to see the only gay club in town treated as a "destination" bar, but it's still my favorite place to dance. As far as queer party havens go, you could do far worse.
---
Queer Girl on Campus

The University of Iowa, in general, has an unsurprisingly liberal vibe across campus – it's part and parcel of trying to welcome as many students of as many diverse backgrounds as possible. There are always exceptions (one time a guy at a College Republicans booth tried to hook me by yelling "Nice jacket!" which, seriously?) but I've found that UI's progressive values aren't just lip service – women and LGBT+ people are actually treated with respect.
Even better, there are a ton of campus orgs that welcome queer ladies. Gamma Rho Lambda is a relatively young chapter dedicated to diversity: despite their sorority designation and their name (GRL! Get it?), they accept pledges regardless of their gender identity or sexuality. Low on gendered language – members refer to each other as "siblings" rather than sisters – and high on acceptance, Gamma Rho Lambda is easily the most friendly and welcoming sorority I've seen, and I know several alumni who consider it a second family.
If Greek life isn't your style, you might find a home at Spectrum UI, the all-inclusive LGBTQ student org – with the distinction of being the first of its type in the entire country. With weekly meetings at the LGBTQ Resource Center or the general student union, Spectrum's events of note include Alternative Prom and their annual Drag Ball. Another org, Trans Alliance is specifically aimed at the transgender and non-binary communities; they host a yearly Trans Week of Action and have a focus on education and activism.
LGBT Resource Center
125 Grand Avenue Ct
Located just on the west side of the river, the LGBTQ Resource Center is a cozy little cottage that hosts events for both UI students and the community, as well as being a general-use safe space. Stepping inside feels as inviting as grandma's house, and it's versatile enough to accommodate events such as a trans art exhibition, a "Queer @ Work" discussion panel from recent grads, and board game nights hosted by the trans-inclusive fraternity. You can reserve the space for UIowa organizations, or for non-campus events for an added $50 fee. Even when not hosting events, the LGBTQRC's homey atmosphere welcomes queers of all stripes to come in and hang out, study, or just get away from the world for a while. A library and kitchen round out the safe space and are open for use by queer students and community members alike.
Women's Resource and Action Center
230 N Clinton St
The Women's Resource and Action Center is a feminist activist group, sponsored by the University of Iowa, that spearheads Iowa City's yearly Take Back the Night event. Offering support to campus and non-campus residents alike, WRAC not only shares their own great services (including bystander intervention training, free counseling/therapy, and the Sojourner Truth Library), but they also train volunteers in group facilitation, then allow those groups to host meetings in their stately headquarters at Bowman House. Some previous groups hosted by WRACtivists include a lesbian book club and TransVerse, a support group for trans folks and allies that continues to keep up community on their Facebook page. WRAC is committed to inclusivity with gender neutral, accessible restrooms and a sign on the door that says "all genders welcome."
Excitingly, WRAC is a contributor to the UI Women's Archives, an amazing collection of documents about the experiences of Iowan women going back to the suffrage movement. One section is dedicated to the Iowa Women's Press, a print shop running from 1973 to 1985 which produced gems such as "The Greasy Thumb Auto Mechanics Manual for Women" and "Spinster, a lighthearted lesbian [card] gayme." The Women's Archives were toured as part of another WRAC event, the inaugural Iowa City Feminist Reunion, which gathered activists who worked from the '60s, '70s, '80s and onward. The Reunion culminated in a softball game between two teams, the Bluestockings and the WRAC Rats. If that doesn't speak to what an awesome and long-lasting resource WRAC has been, I don't know what does.
Spectrum UI
125 Grand Avenue Ct
The first established LGBT student organization in the country, Spectrum is open to any University of Iowa students who fall under the queer umbrella. Its events run the gamut and there's an offering for everybody: kink workshops, National Coming Out day booths, Multicultural Potlucks, volunteer opportunities for Trans Week of Action, and informational meetings on studying abroad while LGBT have all been hosted through Spectrum's sponsorship. Their yearly traditions include Alternative Prom and Rainbow Graduation, which honors LGBT students in the graduating class. For newcomers just starting to find their place in Iowa City, it's a great place to meet fellow queer students, network, and make friends.
---
Activist Women: Sin Mujeres No Hay Revolución
College is full of socially minded activists, and the feminist presence in Iowa City is strong both on and off campus. You can find a group related to most any cause you're interested in simply by checking the student org list or the nearest poster-plastered telephone pole. I can't count how many protests, marches and fundraisers I've been to since the election – keep an eye whatever travesty just made national or local news, and there's sure to be an activist response not far behind. While some organizations are sadly short-lived – like the incredible group Radically Organizing Against Rape, or ROAR, which tackled rape and sexual harassment, particularly in the downtown area – others are more persistent. Here's two groups that deserve special attention for their work.
Center for Worker Justice of Eastern Iowa
940 S Gilbert Ct
The CWJ branch in Iowa City lists its top priority issues as defending workers' rights to proper payment, safe work, and decent, affordable housing, as well as confronting discrimination and ensuring equal access to community services for all residents. Their "Raise the Wage" campaign helped pass an ordinance that raised the minimum wage in Johnson County from $7.25 to $10.10 per hour – though that was sadly nixed by a recent law passed by the state legislature. They provide information to low-income communities about tenants' and workers' rights, and frequently partner with other groups like IASE (Iowa Action and Student Engagement) and the Eastern Iowa Community Bond Project, which donates to bail funds for immigrants detained by ICE.
---
Let's Eat Out
Iowa City has such a great food and drink scene that it's hard to pick out recommendations – you can find anything from steak to sushi just by strolling through a couple of blocks downtown. Fine dining is heavily focused on pork and beef, as you might expect from Iowa, but there are more global offerings as well: Korean, Sichuan, Thai, Indian, and Vietnamese food are all represented, although it's a shame that there are only one or two of each variety to be found in town. I could go on with long lists of recommendations personalized to every person who asks, but that would probably take too long – so here's a curated selection of places that you really, really shouldn't miss.
The Mill
120 E Burlington St
In addition to being a cozy, kitschy townie bar with a great food and drink menu, The Mill hosts so many different events that there's something for everyone. Their weekly offerings – pub quiz, karaoke and open mic – typically draw a friendly crowd. They also play host to a wild variety of special events – not just shows, although they book great acts (Iowa native Dagmar was a treat, and I'm looking forward to Har-Di-Har's return), but also fundraisers for No DAPL, Latin dance parties hosted by the CWJ, and a monthly Loteria Night presented by LULAC (League of United Latin American Citizens of Iowa). One time I came for a night of life-drawing put on by the local branch of Dr. Sketchy's Anti-Art School: first burlesque and drag king performers did their acts, then posed for artists to draw them – it was amazing.
Whether you're holed up inside playing Lord of the Rings pinball in the winter or petting dogs on the patio in the summer, The Mill stays welcoming, and the chill vibes are not to be missed. My recommendations: chicken tenders, veggie burgers or breaded mushrooms for the non-carnivore crowd, and a whiskey sour or specialty cocktail named after a literary figure.
New Pioneer Co-Op
22 S Van Buren St
The New Pioneer Food Co-op (or New Pi, as it's nicknamed) has been sharing organic and locally grown food with Iowa City since its founding in 1971, and it's consistently recommended for being an excellent grocery store to this day. They extend their commitment to serving the community in their declaration that every New Pi location is a safe space, including gender identity and sexual orientation in their list of identities that deserve respect and dignity. And as if their inclusive, co-operative values weren't enough, they also happen to have one of the best bakeries in town – their bread is to die for, especially paired with something from their cheese selection or one of their house-made soups. They also host cooking classes and cool events, like this year's Co-op to Co-op Bike Ride in which participants biked from the Iowa City location to its sister store in nearby Coralville. Stop in for your locavore needs, take a cup of soup to the benches outside for your lunch break, or just take a moment to admire their south-facing wall's colorful cow mural.
Farmer's Market
405 E Washington St, Chauncey Swan Ramp
Every year the coming of spring brings an extra delight to Iowa City: the opening of the Farmer's Market, which runs from May to October. Hosted in a covered garage with over 100 spots for participants, the Farmer's Market is a hub of activity from open to close. Not only are actual farmers there to sell their goods, but there are food stands and booths full of prepared food, crafters stocking clothing, furniture, and gifts, and various other types of vendors as well. The food stands merit a visit every time – I'm particularly fond of Maestro Empanadas, which also have a storefront location in nearby Coralville – and you can pick up fresh produce along with farm-raised meat, pastries, handmade textile crafts, jewelry, woodwork, and succulents (I have been raising a particularly hardy specimen since summer of last year and it's propagated like nobody's business!). It's a great place to get a taste of local food in Iowa City, and there is often a musical performance to enjoy while you browse.
Trumpet Blossom Café
310 E Prentiss St
Trumpet Blossom is Iowa City's sole vegan-exclusive restaurant, and as a result has the largest variety of vegan dishes to sample. They also offer unique cocktails, and you can enjoy your drinks on their patio which is situated by a cute little creek. Trumpet Blossom is a great music venue, and stays open later on show nights. Awesome acts that have played at Trumpet Blossom include the Coathangers, L.A. Witch, and IC native Nora Petran, and the café hosted a Queer Salon Reading during Pride month. The menu is a bit pricey (the cost of keeping everything organic and seasonal), but the food, drinks, and ladypunk-friendly atmosphere is totally worth it.
The High Ground Café
301 E Market St
Only a block away from noted grad student/aspiring writer bar the Foxhead, High Ground is a nice contrast to other coffee shops in that it has a lower-than-average concentration of college kids – or at least, those too young to partake in the café's alcoholic offerings. The quiet, sunny spot is a good place to do anything from fill out job apps to meet with a promoter of your DIY feminist zine – not that I have experience with either, ahem. Enjoy their offerings of coffee, sandwiches, beer and wine while relaxing on their patio or sitting at the window, listening to a performance at one of their open mic nights.
---
Date a Girl Who Reads
Did I mention that Iowa City loves writing? It's in the wind, in the walls, even in our streets – the Literary Walk is a collection of bronze relief panels featuring author quotes about books, writing, and the Midwest, set into the pavement along Iowa Ave. Both the University Library (with its main collection supplemented by the arts and law libraries) and the more intimate Iowa City Public Library are full, welcoming, and close to downtown. While you're wandering around looking at the illuminating plaques, make sure to stop by these bookshops as well.
Prairie Lights
15 S Dubuque St
Both a bookstore and a coffee shop, Prairie Lights is a great place to catch visiting authors doing live readings or signings – it's practically a requirement for writers of note to make a stop here if they're passing through Iowa City. The bookstore plays host to many graduates from the Writer's Workshop as well, so in any given month you can hear a wide spread of voices both emerging and established. The founders of LGBT youth resource Everyone is Gay, Kristin Russo and Danniele Owens-Reid, visited in 2014 to read from "This is a Book for Parents of Gay Kids," and authors of every gender identity and sexuality are not only included but invited.
In addition to readings, the store offers warmth and welcome for patrons browsing through its shelves, and a cozy café on the second floor to take the new book you just purchased on the first. The café is a favorite place for people to work, write, or just gaze out the bay windows; you can nibble on a pastry and sip coffee, wine, or beer to suit your taste, which makes it an excellent date spot as well. Their house specialty is the Houndstooth: a mixed drink made of Schlitz and espresso (it's obviously not for everyone, but I love to recommend it myself).
Haunted Bookshop
219 N Gilbert St
The Northside neighborhood has a lot of well-loved storefronts, but the one I hear recommended most often is the Haunted Bookshop, and the reason why is always: the cats! Haunted Book is home to two bookstore cats who rub up against customers perusing the shelves or lounge on chairs nearby. What could be better than browsing a curated selection of secondhand books while petting a cat? The Haunted Bookshop offers a huge number of titles in fiction, non-fiction, poetry, and children's sections, and they are happy to buy used books as long as they fit the selection criteria on their website. I stopped by there this month to offload some of my books before I move houses and their seller was very friendly. (To my disappointment, I could not coax Logan the cat into the cardboard box I brought to carry said books.)
Daydreams Comics
21 S Dubuque St
Iowa City's local comic book store is smack-dab in the middle of downtown, super convenient for stopping by to pick up your pull list. They have new issues decorating their window display, which looks in on a small but friendly shop stocked with Western comics, manga, graphic novels and other nerdy delights. I nearly died of geek-glee when I saw that Rosario Dawson (ambiguously bi and fresh off the set from her role as Claire Temple) visited in her Iron Fist sweater to have her pic taken in front of the shelves. Daydreams has hosted Alison Bechdel for a signing as part of Mission Creek Festival, and in an interview for the store's 30th anniversary the owner stated his commitment to showcasing diverse creators that appeal to female customers, such as Kat Leyh (illustrator for Lumberjanes and Super Cakes) and Brooke Allen (also of Lumberjanes). It bucks the trend of excluding women from nerdy spaces and I never feel out of place when I stop by.
---
Sporty Spice
Being a Big Ten college, U of I is all about that football. And Iowa City is too, in a major way! Football season seems to start sooner and sooner every year. You can join in tailgating on the west side or watch the game at a variety of bars downtown, but if you're not sports-inclined it's best to avoid downtown entirely during game days. College bros are in high supply and drunken, rowdy behavior is unfortunately common. Let's just say if you see a guy walking towards you in half-undone black-and-gold striped overalls, palm raised for a preemptive high-five, turn and walk as fast as you can in the other direction.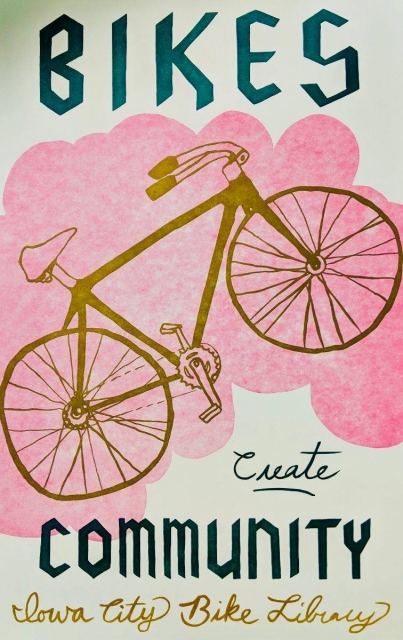 Non-binary/ Women/ Trans*/ FemmeBike Night
700 S Dubuque St, The Iowa City Bike Library
The Bike Library is pretty much the personification of Iowa City's cycling-friendly environment: it offers bikes, tools, and classes for really affordable prices and promotes a culture of sharing and learning. You can stop by to rent a bike for a six-month period, at the end of which you pay a $50 sustainability fee upon return. If you like the bike you can pay to keep it! And if your own bike needs repairs, you can rent the Library's tools and a space to work on it for $5 an hour. It's basically the best entry point for new cyclists, and its co-op ethic has to be admired.
Non-binary/ Women/ Trans*/ Femme Bike Night is a twice-monthly event open to all "women-identified and gender non-conforming people," trans folks explicitly included. Each session involves short instruction on a bike subject (they have had talks on topics from brakes to derailleurs) followed by open shop in which attendants can work on bikes at their own pace. Considering that biking events are often mired by men jockeying to be the best-informed experts on the topic, this event is a great way to learn something new in a safe environment.
Old Capitol City Roller Girls
300 East 9th Street // Coralville
Fortunately, football isn't the only sport to get excited about in town – there's also the Old Capitol City Roller Girls! Iowa City's roller derby league was formed in 2008 and can be seen kicking ass and taking names during home games in the spring and fall. While the team's practice and matches take place at the Marriott in Coralville (Iowa City's suburb and about a 15-minute drive from the center of downtown), the Roller Girls welcome team members from Iowa City and represented the league by skating in this year's Pride parade. They have recruitments biannually for their charter team (the All-Stars) and B-team (the Ped Maulers), in case you're interested in re-enacting Ellen Page's plotline from Whip It, and can be found on Instagram and Twitter, where they post upcoming match dates and group pictures of the happy team.
---
Let's Get Creative!
Iowa City has a ton of opportunities to appreciate independent artists. No matter your preferred medium – the stage, the paintbrush, or the pen – there's an event or a venue that will showcase it with style. And it's not hard to find free admission either! Check out a few of Iowa City's most prominent creative outlets below.
The Englert Theater
221 E Washington St
Grand, colorful, and historic, The Englert is not just a theater – it's a performance venue for all. Its auditorium has hosted plays, film screenings, stand-up, and all sorts of community events. During the spring, it produces the much-loved Mission Creek Festival, an annual arts festival featuring music, lectures, and performances from a variety of scenes, as well as quirky favorites like the indie craft fair What a Load of Craft. Last year, Mission Creek's headliner was Margaret Cho, who tore up the Englert's well-preserved stage with her comedy act. Other Mission Creek alum include Alison Bechdel, Andrea Gibson, and the writers of Lambda Literary. The Englert's glam neon sign has also welcomed live shows of the podcast Welcome to Night Vale (during the most recent show, Erin McKeown killed it as musical accompaniment with her rendition of "The Queer Gospel"), and every Halloween they put on a full Rocky Horror Picture Show complete with props, costumed performers, and the requisite bellowing of audience participation lines.
Public Space One
120 N Dubuque St
If the concept of "jack-of-all-trades" had a home, it would be Public Space One. It's tucked in between two louder storefronts downtown, a deceptively small venue that is open to the public for artistic ventures of all kinds: music, visual art, performance, bookmaking, even cooking. Its facilities include a kitchen, studio, print shop, and gallery; it offers a lending library for art equipment and a free studio residency aimed at non-college students who will use the community space to produce whatever art they choose to create. I've seen everything from experimental saxophone to pro-choice poster sales at PS1, whose tastes are as eclectic as the artists it serves.
Its recent initiative, the Center for Afrofuturist Studies, is a residency program that hosts artists of color focusing on "the intersections of race, technology, and the diaspora." Residents are asked to design youth workshops, which specifically make room for low-income children and children of color. The current season is hosting Rin Johnson and Justin Allen, both of whom were previously published in Lambda Literary.
As a gallery, Public Space One is always interesting; as a service, it is invaluable for ceaselessly promoting independent artists in visible and material ways. Make sure to catch one of their art workshops or stop by while they have an exhibit on display.
Summer of the Arts
325 E Washington St #301
Summer is easily the best season to enjoy community events in Iowa City. Despite the fussy Midwest weather, which can swing from sweltering heat to pouring rain in an hour, it seems like every week brings a new festival to enjoy – mainly thanks to Summer of the Arts, a non-profit org that brings creative, family-friendly programming to Iowa City's downtown area from May to August. Summer of the Arts puts on Jazz Fest (live performances for a weekend, plus food stands galore) and Arts Fest (booths full of local makers selling their crafts) and Soul Fest and the Free Movie Series and, and, and… If you see a bunch of streets blocked off and a stage taking up the corner of Clinton and Iowa, you're in for something good, courtesy of the org's mission of spreading arts and culture around Iowa City.
Riverside Theatre
213 N Gilbert St
While you're enjoying summer performances, care for some Shakespeare in the park? Riverside Theatre, Iowa City's resident professional theater company, puts on several plays by the bard every summer at their outdoors, Globe-inspired theater, the Riverside Festival Stage in Lower City Park. The barebones wooden stage nevertheless brings the audience fully into a performance, and it's a treat to see productions put on under the stars. When not delighting families with Shakespeare in the summer, Riverside also produces and performs shows at their Gilbert St location. Their offerings include an annual monologue show, ROAR!, improv comedy workshops, local playwrights and performers, and off-Broadway shows like 2013's sizzling Venus In Fur.
The Quire
310 N Johnson St, Zion Lutheran Church
Is there anything better than hearing Leonard Cohen's "Hallelujah," possibly one of the gayest songs of all time, from a chorus of gay, lesbian and trans voices? Probably not. The Quire is a community chorus open to all LGBT individuals, whose performances can be seen in events from gay weddings to Pride. Acceptance is based solely on commitment to rehearsals, which means anyone can join if they're willing to pay dues and show up. Their two concert seasons are fall/winter and spring/summer, each concluding with a major concert program, but other shows occur year round; they state on their site that they perform for any "events of importance to those who celebrate diversity and respect the civil and human rights of all people," such as Martin Luther King Jr. Day, National Coming Out Day, World AIDS Day, and International Human Rights Day. If you're into socially aware, LGBT-inclusive chorus singing, make sure to check out their rehearsals on Sunday nights – the first rehearsal date of this season is due to be posted to their website in August.
---
The Best Date Spots in Iowa City
Now that the comprehensive overview is done, let's get to the important question: where should you take a cute girl in Iowa City for a first date???
Crepes De Luxe
309 E College St
Catty-corner from the public library and easy to overlook, Crepes De Luxe is an adorable little hole-in-the-wall that serves super-thin French pancakes filled with sweet and savory goodness. The atmosphere inside is cozy kitsch, with sunlight streaming onto cute booths, high tables, and the bar where you can watch them make your crepe. In short, it's perfect for taking a first date and proceeding to impress her with your pronunciation of L'Ocean (my favorite order – a salmon and swiss cheese crepe drizzled with aioli).
White Rabbit
112 S Linn St
Does your girlfriend love thrifting, supporting independent artists, and/or adorning her room and body with unique, locally made objets trouvés? You'll have no trouble at all convincing her to come with you to White Rabbit. Their stock is frankly fucking delightful: the women running the store have impeccable taste and a strong feminist bent. (Post-election, their selection of "Resist" and "Not My President!" shirts, pins and postcards soared.) New offerings are on display in the front, so you can browse through floral rompers, denim overalls, or whatever takes your fancy before moving to their offerings of ceramic planters, embroidered pillows, and idiosyncratic art posters. In addition to clothes and home decorations, they have a great selection of apothecary items like candles or body oils which you can sample in-store. Even when I don't find something to buy in White Rabbit, I love just walking around the store, picking up this enamel pin or that set of vintage shades. With any luck, you'll find something for yourself or your gal pal to love too.
UI Museum of Natural History
17 N Clinton St, Macbride Hall
Somehow I managed to spend three years at the University of Iowa (and another two as a full-time Iowa City resident) without once making it into the gem that is the Museum of Natural History. Tucked away in an otherwise non-obtrusive lecture hall, the Museum showcases a startling number of taxidermied specimens on the ground floor alone, from wild dogs (of interest if you happen to be dating Sheila from GLOW) to cute critters with weird names (like the long-nosed bandicoot, Perameles nasuta). The further in you go, the more there is to find – the Hall of Birds displays fossils and feathers in addition to over 1000 beautifully preserved birds, while the Hall of Mammals features a giant sloth, a giant panda, and a 47-foot long whale skeleton (!!!). It's a good way to get lost in the majesty of nature for a couple of hours, after which you can retire with your date to Short's Burger and Shine across the street, nurse a beer and talk worriedly about how whale fins have finger bones.
---
For All Your Alternative Lifestyle Needs
HABA Salon
212 E Market St
Sadly, since the departure of the G Spot to Des Moines, Iowa City no longer has a hair salon that both offers alternative lifestyle haircuts and is named after sexual innuendo. (The running joke used to be for people to take pictures in front of the G Spot's sign with captions like: "I found it!") In the wake of G Spot's departure, HABA Salon is a good alternative – their stylist JoAnn specializes in edgy undercuts and bright colors. They have the added advantage of being committed towards sustainable, environmentally friendly practices by recycling materials such as hair foils, clippings, and chemical coloring, and they offer a variety of plant-based and cruelty-free products for sale. From what I've seen of the queer ladies who've gotten their hair done at HABA, it gets a big thumbs-up from me.
---
The Kids Are All Right
Iowa City Bruisers Junior Derby
1930 Lakeside Dr, Grant Wood Elementary Gymnasium // 220 S Gilbert St, Robert E Lee Community Recreation Center
The Iowa City Bruisers, our local junior derby team, takes skaters between the ages of 5 and 17. Much like its senior counterpart, the I.C. Bruisers league emphasizes the values of fitness, confidence, and friendship, and team members of all genders are explicitly welcome. Participation is free, making it an affordable option for parents in the area; their Facebook page invites drop-ins on practice at the rec center and elementary school gym, and they host matches with other junior derby leagues in Iowa City as well.
United Action for Youth
410 Iowa Ave
As a newcomer to Iowa City, I always got curious about my townie friends' descriptions of growing up here. It's pretty universally agreed that high school sucks – everywhere – but one place that was spoken of with unanimous appreciation was UAY (United Action for Youth). It's a non-profit org whose main draw is a youth center where adolescents and children can come after school to receive counseling, take workshops, make creative work, or just hang out and play Crazy Taxi. This year they pulled off a self-described "gay teen mob of awesomeness", and they've also hosted the UAY LGBTQA Youth Summit, featuring discussion panels and activities for local queer teens. It's a supportive environment for everyone, and its alumni speak of it fondly long after they stop using its services.
---
Health, Wellness, Recovery and Survival
UI LGBTQ Clinic
105 E 9th St Level 4, Iowa River Landing // Coralville
The University of Iowa Hospitals and Clinics has a huge presence in Iowa City, which is why the opening of their LGBTQ Clinic in 2012 was such a big deal. Since its inception, the clinic has been recognized by the Human Rights Campaign for its work serving the queer/trans community. The clinic not only offers hormone therapy for trans patients, but gender-affirming surgery and post-op care as well; in 2015, around 80% of their clients were transgender. OB-GYN care, contraceptives, and HIV/STI testing are also available. Their website features a comprehensive list of additional resources for queer and trans Iowans. The only clinic in the state dedicated to LGBTQ care, they are committed to respecting patients of all gender identities and orientations.
Planned Parenthood
850 Orchard St
The Iowa City Planned Parenthood is one of only a couple left standing after Iowa recently defunded family planning clinics across the state. A subset of PP of the Heartland, it offers patients comprehensive care relating to birth control, pregnancy, STIs, and general reproductive health. While abortion services are available at this location, they do not offer trans care – patients are referred to the Cedar Rapids location for hormone therapy. My experience here has always been respectful yet friendly; I come in quarterly for birth control, and the quality of care is consistently high.
Emma Goldman Clinic
227 N Dubuque St
In contrast to Planned Parenthood, Emma Goldman Clinic is an independent women's health clinic that offers a wide range of services including STI/HIV testing, hormone therapy for trans patients, and OB-GYN care. They're visited by a hearty number of protesters because they offer abortion services up to 20 weeks, but EGC is a valuable resource for those seeking other types of care as well. They work with non-profits such as the NAF to make their services affordable for low-income patients, have a long history of supporting the local LGBT community, and make an appearance at Pride every year for their commitment to feminist, gender- and sexuality-inclusive health care.
Rape Victim Advocacy Program
332 S Linn St, Suite 100
RVAP is a gender and sexuality inclusive organization offering support to survivors of sexual violence. While they are sponsored by the University, their services (including a 24-hour crisis line, counseling and advocacy, and referrals to other forms of assistance if needed) are available to everyone in Iowa City and several surrounding counties – and all are offered free of charge. They previously hosted a Trauma-Informed Yoga class (which is now privately offered through Benway Holistic Therapies) that is explicitly trans-inclusive and aims to support survivors with gentle teaching, mindful of participants' bodies and careful not to trigger or re-traumatize. With the risk of campus sexual assault so present and close by, RVAP takes a strong proactive stance against all forms of sexual violence; their website is full of caring, non-judgmental resources, and in the times I've had to interact with their staff I found them nothing but helpful and respectful. Since the recent budget cuts to state victim assistance funds, RVAP continues to offer the same services, but their funding is much reduced and they are searching for alternate sources going forward.
Monsoon United Asian Women of Iowa
1700 S 1st Ave Suite 18, Eastdale Plaza
Monsoon is a non-profit specifically aimed at domestic violence and sexual assault survivors in the Asian & Pacific Islander community. With the mission of offering programs that cater to the unique needs of Asian people in Iowa, the organization provides multilingual advocacy, referrals, and community resources. One of their services, IowaARCh, is an online chatline that can be used by survivors of sexual abuse, including dating and domestic violence, stalking, and sex trafficking. The chatline reaches out in particular to people of color and non-binary folks who may feel alienated from mainstream resources. While IowaARCh was recently defunded by budget cuts to the state victim assistance funds, Monsoon is planning to sustain the program through other sources while supporting it with volunteer advocates.
Nisaa African Family Services
1700 S 1st Ave Suite 21 A and B, Eastdale Plaza
Nisaa is another culturally specific resource aimed at African immigrant and refugee communities. Its goals include ending sexual abuse and domestic violence through programs such as community outreach, education, and direct services for the unique needs of African newcomers to Iowa. A youth program is in the planning stage, and Nisaa recently partnered with Monsoon to host Voices Against Violence on Bodies of Color, a spoken word event honoring performances on the theme of survival and healing.
Transformative Healing
1700 S 1st Ave Suite 25 F, Eastdale Plaza
Another organization providing assistance to survivors of sexual violence, Transformative Healing specifically focuses on the LGBT+ community, as well as survivors in the kink or consensual non-monogamous communities – the only agency in Iowa to do so. Services offered include medical advocacy and referrals to housing and other resources that are LGBT+ friendly. For Iowa organizations, they also facilitate advocacy trainings that focus on the needs of LGBT+ survivors. In a truly callous move by the Iowa State Legislature, Transformative Healing was completely defunded after a cut to the state's victim services fund in April, meaning the organization relies on volunteers and donations now more than ever. Transformative Healing, Nisaa, and Monsoon are all located in the Eastdale Plaza for convenient access to a variety of culturally specific needs.
---
Queer Community Calendar
Iowa Writer's House – Rainbow Room
123 S Linn St Meeting Room B, Iowa City Public Library
The Iowa Writers' House is a relative newcomer to the Iowa City creative scene; it hosts workshops and residencies as well as sponsoring writing groups with different themes. The Rainbow Room is one of these groups, focusing on LGBT literature and writers in a supportive, safe environment. Write-ins for the Rainbow Room occur twice monthly at the always-wonderful Iowa City Public Library, and promise free-writing, prompts, and support for the work of writers at any point in their process.
IC Kings
13 S Linn St
One of the first things I learned about Iowa City's queer scene was that we are blessed with a drag king troupe. The I.C. Kings perform monthly at Studio 13, and their rotating crew includes such maestros as Hugh Jindapants and Matt Adore. Every time I've been, I've had a blast holding out bucks in exchange for an air-kiss from handsome, dapper kings who danced and lipsynced their way throughout the bar. The group's MC, Miss Kitty, is frankly a delight, and shows have themes as varied as "Silver Foxes," "The Bois and the Bees," and their notorious "Study A Broad" show in the fall. The I.C. Kings also hold auditions every year, so if you're willing to venture into the world of spirit-gum moustaches and packed tight pants, look out for their Fresh Meat event!
---
A Beautiful Day in the Neighborhood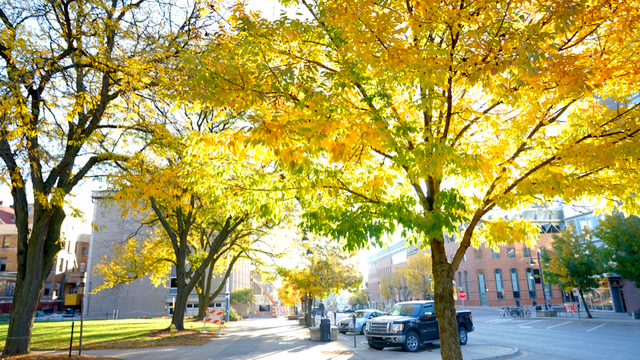 There are certainly a number of Iowa City neighborhoods with prescribed borders and official associations, but the people who run them are far removed from the lives of me and mine. In general, the things to know are that the UI campus dominates a stretch of real estate along the river, and residential areas tend to radiate out from around it: west of the river is mostly populated by med students due to proximity to the hospital, the Longfellow area sports historic housing and parents drawn by the elementary school, and the apartments and housing surrounding College Green Park are where you can find undergrads and Greek life buildings.
Having moved houses every year since I graduated, I've been all around Iowa City, and Northside is my favorite of all the neighborhoods I've lived in. The houses are historic and quaint, the yards tend to be big and blooming; it's a sight for sore eyes, especially in the spring. Roughly speaking, the Northside comprises a square from the corner of Jefferson and Dubuque to Brown and Governor. It's got a fair mix of permanent residents and college students, but is far enough from downtown to be free of rowdy parties, and of the bland clones of overpriced balconied apartments that seem to dominate the blocks south of Iowa Ave, especially South Johnson. (Everyone in IC knows someone who lived in one of these: they tend to be the place of choice for sophomores just leaving the dorms, and should be avoided at all costs.)
Northside might also be the closest we have to a gayborhood, as it's home to the Brown Street Inn: a gay-owned B&B that flies a rainbow flag from their porch and is known for hosting fundraisers for Emma Goldman Clinic. Best of all, Northside shuts down a few blocks every year for the Northside Oktoberfest, which offers craft beer tasting for the 21+ crowd as well as kid-friendly activities at the adjacent SodaFest. Biased I may be, but whether you want to shop around at cute marketplaces such as Home Ec Workshop, catch a local show at Riverside Theatre, or just sun yourself on the porch, Northside neighborhood is the place to live.
---
What's it Like in the City?
Diversity
I hesitate to comment for too long on diversity in Iowa City, because as a white resident I'm shielded from the experiences of POC and immigrants. From what I've seen, though, it's about as welcoming as you would expect a predominantly white, predominantly liberal, small college town to be.
Much of Iowa City's racial diversity, along with its liberal attitude, can be attributed to the University, but while at college I was witness to racist comments ranging from microaggressions to full-on antipathy towards international students (a large percentage of which come from East and Southeast Asia). The tension in Iowa City has risen palpably since the election, as incidents of xenophobia and racism become more prevalent nation-wide; however, symbols of resistance to this hatred have arisen in Iowa City as well, with many neighborhoods dotted with Black Lives Matter and multilingual Immigrants are Welcome Here signs in their yards.
Due to the city's relatively small size, low-income housing runs side-by-side with grad student apartments. It's a tight-knit town – you can hardly cross the street without running into someone you know – so there is a strong sense of community with Iowa City's elderly, disabled, and low-income residents. Organizations like Shelter House and the Crisis Center help contribute resources to these populations. Even when the city itself tends to disregard vulnerable communities in favor of profits, there is a spirited attempt to make things more welcoming by the people who actually live here.
Safety
Small towns tend to be quiet towns, and in my experience Iowa City is no exception. We are lucky enough to have low rates of violent crime; instead, the main cause for concern is theft. I have had items stolen from every house I've lived at in Iowa City. My interactions with the police have never been unfriendly (disclaimer: I'm super white!) but they're not exactly helpful either – when I reported one of the aforementioned thefts, I got a few responses back from the officer assigned to my case before he dropped off the radar entirely. Regardless of your neighborhood, it's never a great idea to leave the house without locking up. The same principle goes for bikes: be sure to use a sturdy lock and try not to leave your bike downtown longer than overnight.
Cost of living
Iowa City is one of the more affordable places to live in the Midwest, being neither a large metro area nor entirely overcome by gentrification (yet). The best places tend to be houses or duplexes, with prices ranging from $300 to $600 per room – the lower end is full of old houses with fewer amenities, which can be crappy but worth it for affordability, while the higher end leans toward neighborhoods close to downtown, overpriced and dominated by college kids. I've been lucky to hit the middle range for the three years I've been living outside the dorms. Whatever you do, avoid renting from Big Ten Rentals or Apartments Downtown, which are notorious for shafting their tenants.
Affordable housing is quickly becoming a rare commodity, however, as more owners have been converting residences to market them to the college population. New developments skew towards more expensive lodgings and have already displaced many lower income tenants, provoking justified outcry from Iowa City residents.
While the Iowa State Legislature recently passed a law prohibiting the raise of minimum wages from the state standard of $7.25, activists have pressured many local businesses to honor the $10.10 minimum; businesses that have committed to paying their workers fairly have blue flyers in their windows to identify themselves.
Queer-friendliness
Overall, Iowa City is a good example of the pros and cons of so-called "Midwest nice." On its face, there's plenty of friendliness and LGBT acceptance to go around; in practice, street harassment, racial microaggressions, and lack of institutional protection are still very much a thing. That being said, queer solidarity is strong, and marginalized communities of all types link arms to face their issues together. Though support of this presidential administration's racist and bigoted policies is inescapable, so are the brave souls resisting them at every turn. Shout out to all the queer/trans comrades in this city offering each other support through these trying times – I see you, I'm with you, and you are invaluable.
---
Enjoy Iowa City! We'd be glad to have you!