My butch girlfriend Kristen, in true butch fashion, owns a lot of hats. In fact, I've been meaning to develop a new hat display/storage system, because we're really pushing the limits of the hat rack we currently have that originally was supposed to be a multi-use rack until the hats took over. If anyone has suggestions, I'm all ears!
Also, a note on language: I am referring to Kristen as my butch girlfriend when she is actually my butch FIANCÉ, mainly because "butch girlfriend" sounded better in a headline and also tbh, neither of us has really taken to the word "fiancé." And yet, I always jokingly give her a hard time when she tweets about me and calls me her girlfriend rather than her fiancé. So I am writing this language note mainly because I know she will be reading this and will POINT IT OUT. So hi, Kristen, yes, I know we're engaged. Can't wait to marry you xo.
All hats are ranked on a Butch Hat Scale of 1-10 using a complex set of criteria that basically amounts to: vibes, butchness, top energy, design, humor, meaning, sex appeal, fashion, and quality.
---
Fun Dad Hat
This was one of the first gifts I ever bought for Kristen, early on in our relationship when she was on book tour for her first novel. This hat really does capture her energy, down to the fact that it is covered in what looks like blood spatter. This is fitting for a couple reasons: Firstly, she loves to watch the television program Criminal Minds and other assorted murder shows, so it feels conceivable that she would have a fun murder hat. Secondly, and I say this with love, she is a tad accident-prone. In fact, she actually did once hit her head while wearing this EXACT hat, and it got stained with a bit of blood. The plot twist here is that that stain came out! What didn't come out was the wood stain she used to stain her friend's outdoor shower in New Orleans this spring. So fear not: You're not actually looking at a blood hat. You're looking at a wood stain hat. And that, my friends, is extremely butch.
Hat Ranking: 7.5 out of 10 on the Butch Hat Scale
---
Oyster Daddy Hat
Oyster Daddy is a home delivery oyster service in New Orleans, and this is their very good hat! Kristen bought me my own oyster knife for my birthday this year, and I haven't had a chance to use it yet, but we need to, because I really want to take a photo of Kristen wearing this hat while shucking oysters! Unparalleled Florida butch vibes!
Hat Ranking: 8 out of 10 on the Butch Hat Scale
---
The DogFather Hat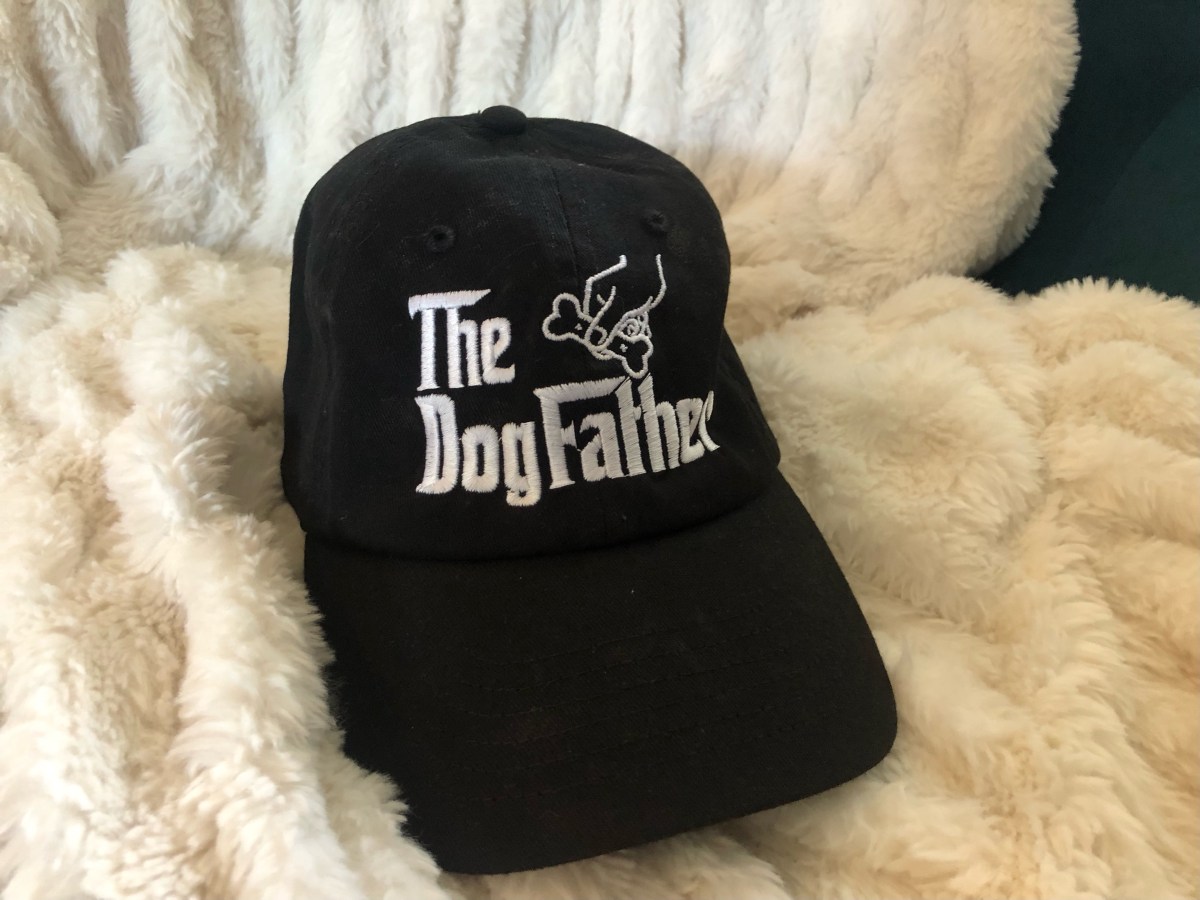 I'm realizing now that Kristen has a lot of literal dad hats. That makes sense, as she identifies strongly as a dad. She owns a decent amount of swag indicating her status as a dog dad, while I have a lot of swag indicating my status as a dog stepmommy, including two different coffee mugs that say "I love my stepdogter."
Hat Ranking: 7.25 out of 10 on the Butch Hat Scale
---
Ragdale Hat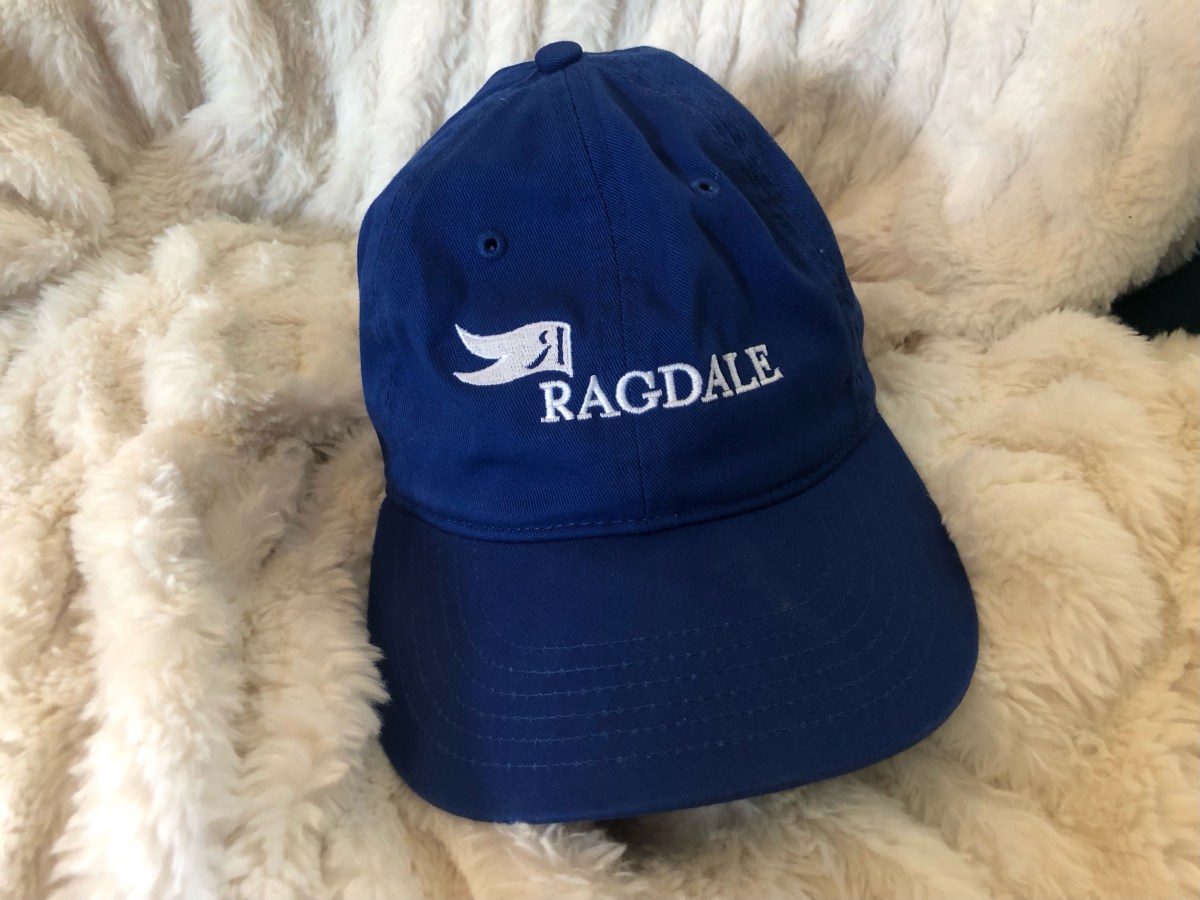 Kristen got this when they were at their three-week writing residency at Ragdale this spring, and even though I love Kristen in every shade of blue and also am proud of all of her career accomplishments including this residency, this hat reminds me of when I was HOME ALONE FOR THREE WEEKS 👎🏽
Hat Ranking: 4 out of 10 on the Butch Hat Scale
---
Thinking Hat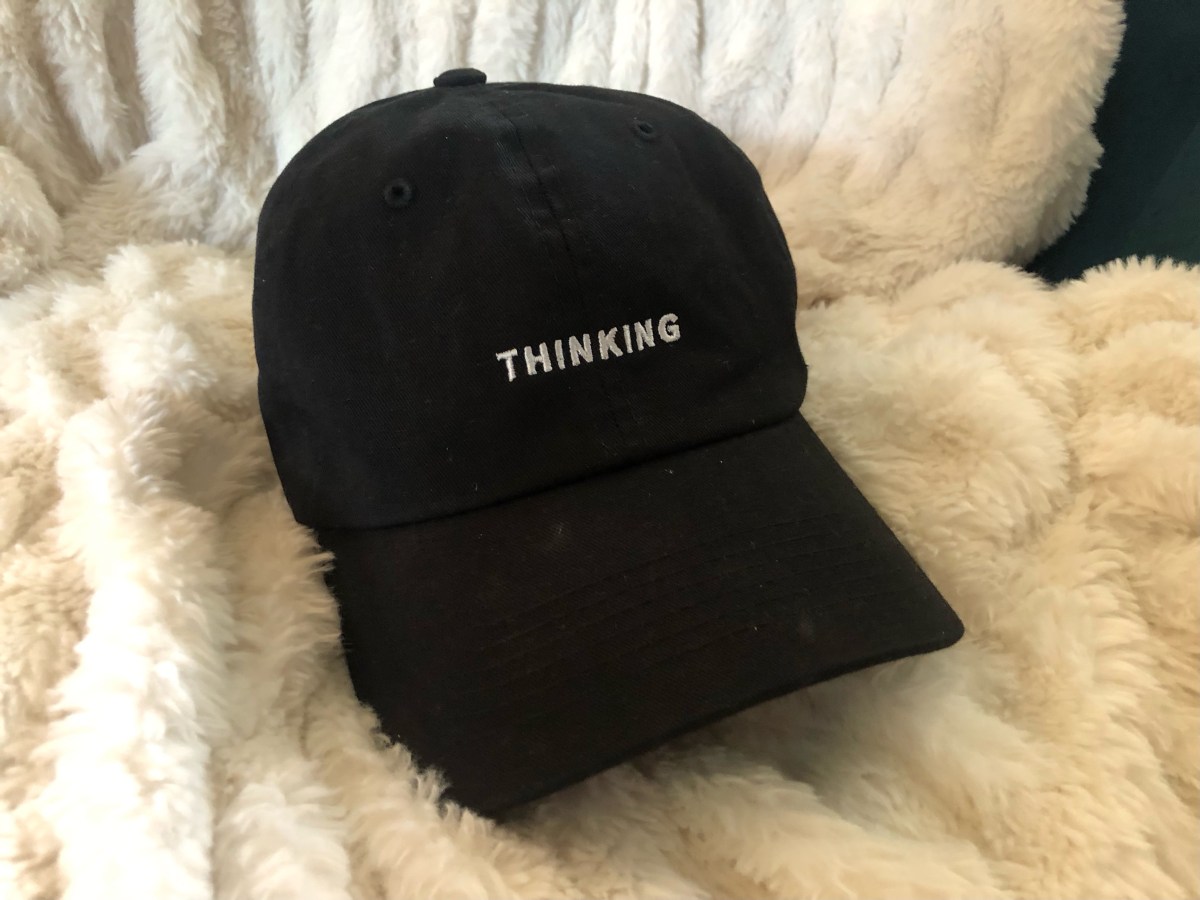 I crack up every time I see this hat. THINKING. A literal thinking cap! This hat is mostly funny because Kristen ordered four different hats that were not this hat and then received…only this hat. It's unclear if she was scammed or if it was an honest mistake. She liked the hat, so she kept it. If it's a scam, it's a funny one, so props to those scammers!
Hat Ranking: 8.75 out of 10 on the Butch Hat Scale
---
Golden Hour Hat
This hat is merch from one of our favorite Orlando wine shops, Golden Hour. I made Kristen get it, because I love the shop but also because it's a slightly flatter brimmed hat than the rest of her more traditional curved dad hats, and I think it's a great butch look!!!!! She remains skeptical and prefers an extremely parabolic hat.
Hat Ranking: 8 out of 10 on the Butch Hat Scale
---
Flamingos Hat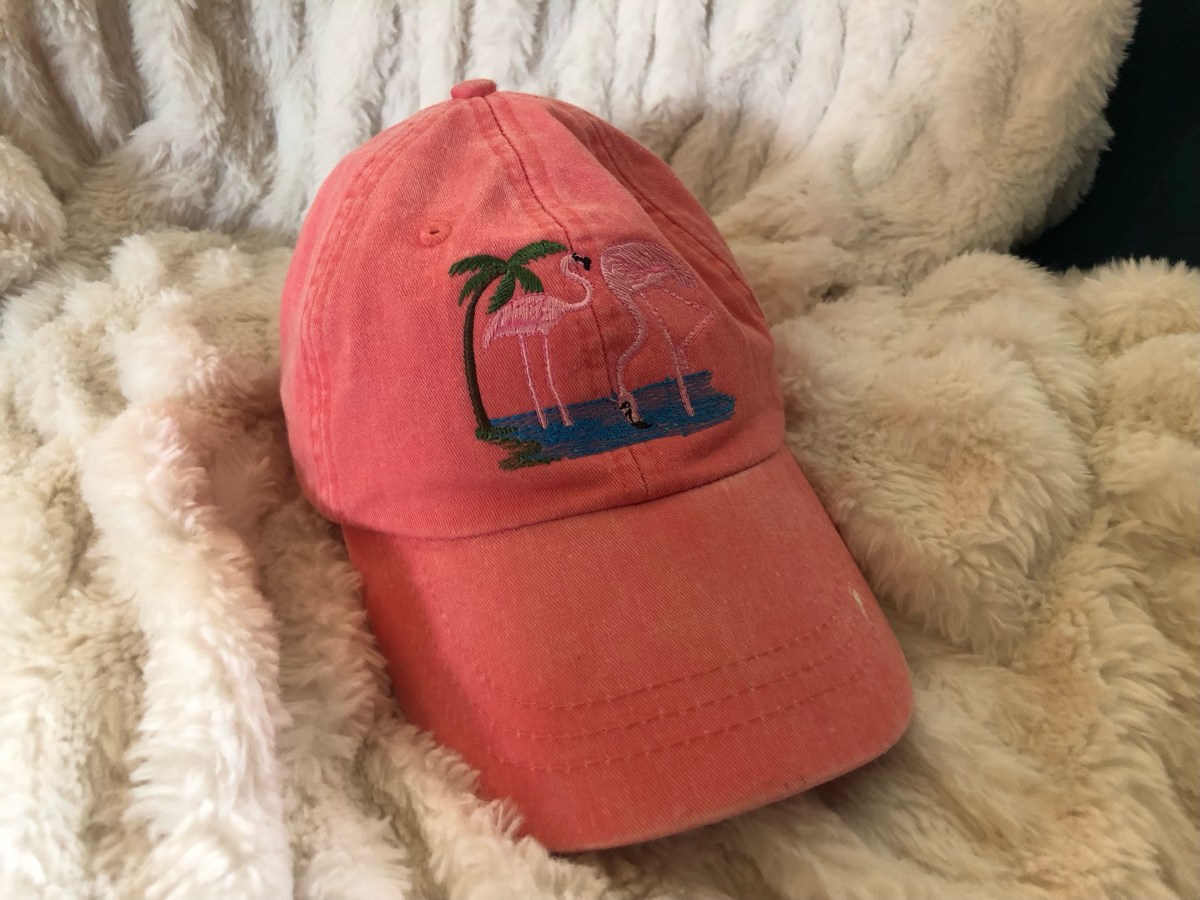 This, I am realizing, is the only hat my butch girlfriend owns that doesn't have any text on it. She rly said I'm a WRITER, I like to READ my HATS. Anyway, it's a good hat. Shoutout to her friend Vivian who bought her this hat.
Hat Ranking: 9.25 out of 10 on the Butch Hat Scale
---
Dirtbags Hat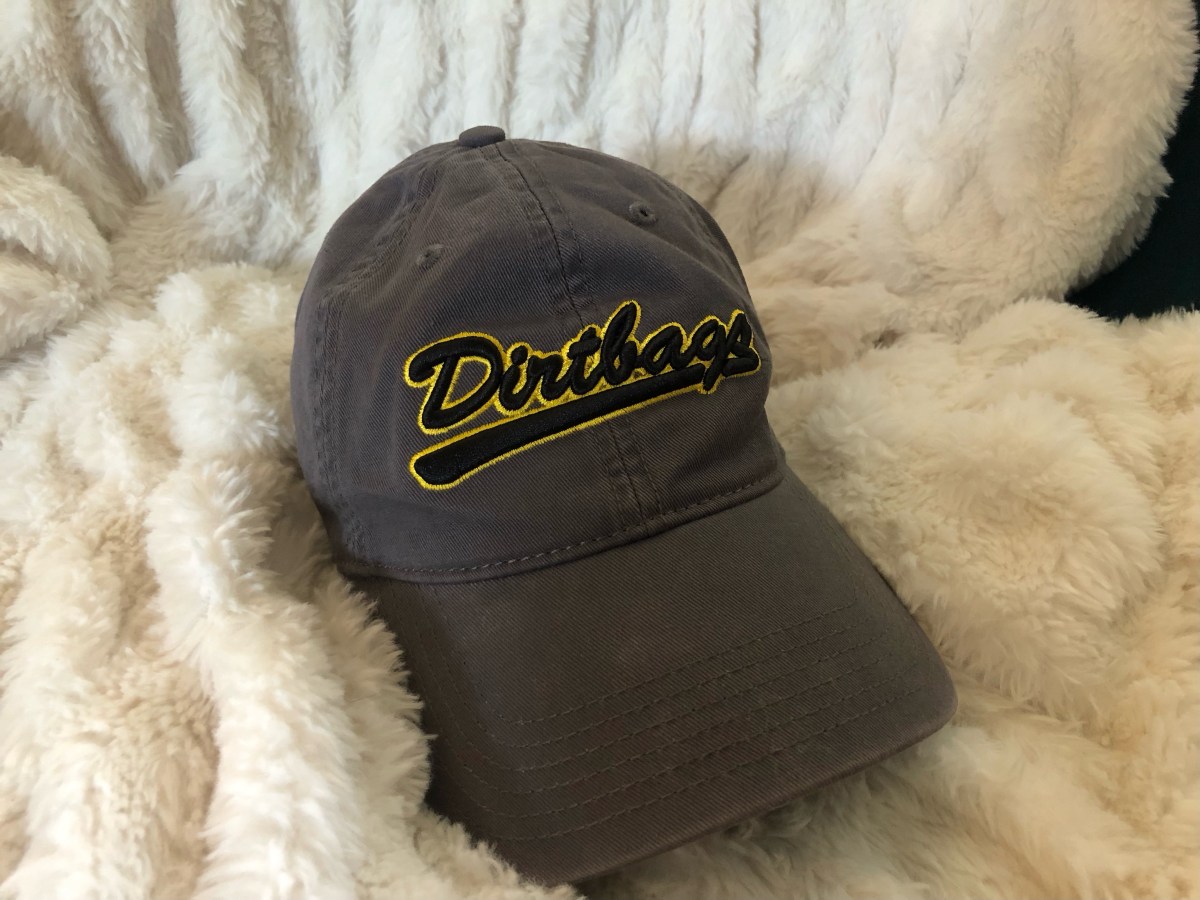 I have saved the top three hats for last! Emphasis on "top"! This hat is for an actual sports team called the Dirtbags, but Kristen did not buy it because she's a supporter of said team. She bought it just for Dirtbag vibes. It's a very good hat that is oft-complimented, especially by a particular brand of straight man, but I'll allow! It's a good hat! They're correct!
Hat Ranking: 9.75 out of 10 on the Butch Hat Scale
---
"NEVER FORGET the hangover we had in that bird sanctuary" Hat
If your reaction to this hat is what, then that is indeed the correct reaction. What does the hat mean? Well, it means exactly what's on the hat. Kristen and her friend Willie were once hungover in a bird sanctuary, and they will never forget it, especially now that Willie has made this custom hat to commemorate the day.
Hat Ranking: 10 out of 10 on the Butch Hat Scale
---
Gay Rights Hat
My sister texted me a photo of this hat and asked: Do you think Kristen would like this as a Christmas gift? I've never replied YES faster in my life. One thing about Kristen is that she's an extremely good gift giver. She always buys the exact perfect thing for a person. This seemed like a rare instance where someone was matching her innate ability for gifts. Because this hat is soooooo Kristen. For GAY RIGHTS reasons, obviously. But also, she loves possums, a fact my sister had not previously known. But I suppose it was a fact easy to guess, given the Florida dirtbag vibes shared by both possums and Kristen. Anyway, what an excellent hat. Here's a pic of the gay hat in gay action:
If you think this photo was staged, it was not!!! Our friend Kristopher snapped it candidly! We didn't even know about the Britney x Madonna poster behind us!!!! GAY RIGHTS!!!!!
Hat Ranking: 10 out of 10 on the Butch Hat Scale