When I decided to get knocked up, it was a big deal. If you've been reading this column since way back, you know why. Throughout my twenties and early thirties, I thought of myself as child-free by choice. Being a mom horrified me. Not because of the messes or the body horror or the actual being a mom part but because of the way moms are treated and represented. I saw lots of futures for myself, but not one that included "mommy life."
Then, after a lot of thought, I made a different choice, a life-altering choice. I jokingly thank Waffle for giving me Remi, because even though I birthed her, I probably wouldn't have any kids if I'd ended up with a partner also wanted to be child-free. Not having kids would have been a valid choice for me; I'm truly happy with the choice I ultimately made.
I did not, however, make it lightly. I had a lot of thinking and planning (and saving money) to do before I was ready to begin. That's what separates folks whose body parts mush together to make babies from those of us whose body parts do not do that. It takes some time and thank goodness, in my case. I literally needed two full years to overprocess it and sort it out. It's why I started my first blog, Queer Families Matter, because, as I wrote then on the "About Us" page, "We set out looking for info for queer people having kids. We found there just isn't a lot out there."
That personal blog was a starting point for me as a blogger and as a future writer. That was 2013. I got pregnant in 2015. I started writing for Autostraddle in 2014. Before I started writing here, I'd fully given up on myself pursuing writing as anything other than an occasional hobby. When I became a contributing writer for Autostraddle, I wanted to write about politics and race and sex, the things I was most comfortable with! I didn't plan to merge my wandering parenting thoughts with my paid freelance gig in a meaningful way. I didn't plan to become a legit mommy blogger. Then I made another life-altering choice and pitched live-blogging my pregnancy.
Here we are. It's 2020. Remi will turn four this year. I turned 37 in January. Can you believe it?
Some days my life feels mundane and typical. Today is one of those days. I have a very successful sweatpants life, if you know what I mean. I don't wear shoes every day! I drive an affordable and reliable Hyundai Elantra! I'm counting a room temperature Pop-Tart and spiked seltzer as a midnight snack right now as I write this column! The video monitor that's set up next to my laptop occasionally crackles as Remi rolls around in her bed between sleep cycles. I'm basically one of those work-from-home moms on Wife Swap.
Then I peek into my world from the outside and feel shocked that this is where I ended up: a parent who writes about parenting, an Korean adoptee with a child from my own DNA, a writer who gets paid to write, a published author, a person who works in feminist media full-time, a professional queer feminist loudmouth who's held 24 various jobs over my lifetime, a mom who gets actually teary when I think too hard about how much I love my child.
This is not the life I imagined 15 years ago. I'm so glad it's where I am. I'm glad I got to be here with you all. It's meant so much to me to share with you and to connect with other queer moms, dads, babas, and parents.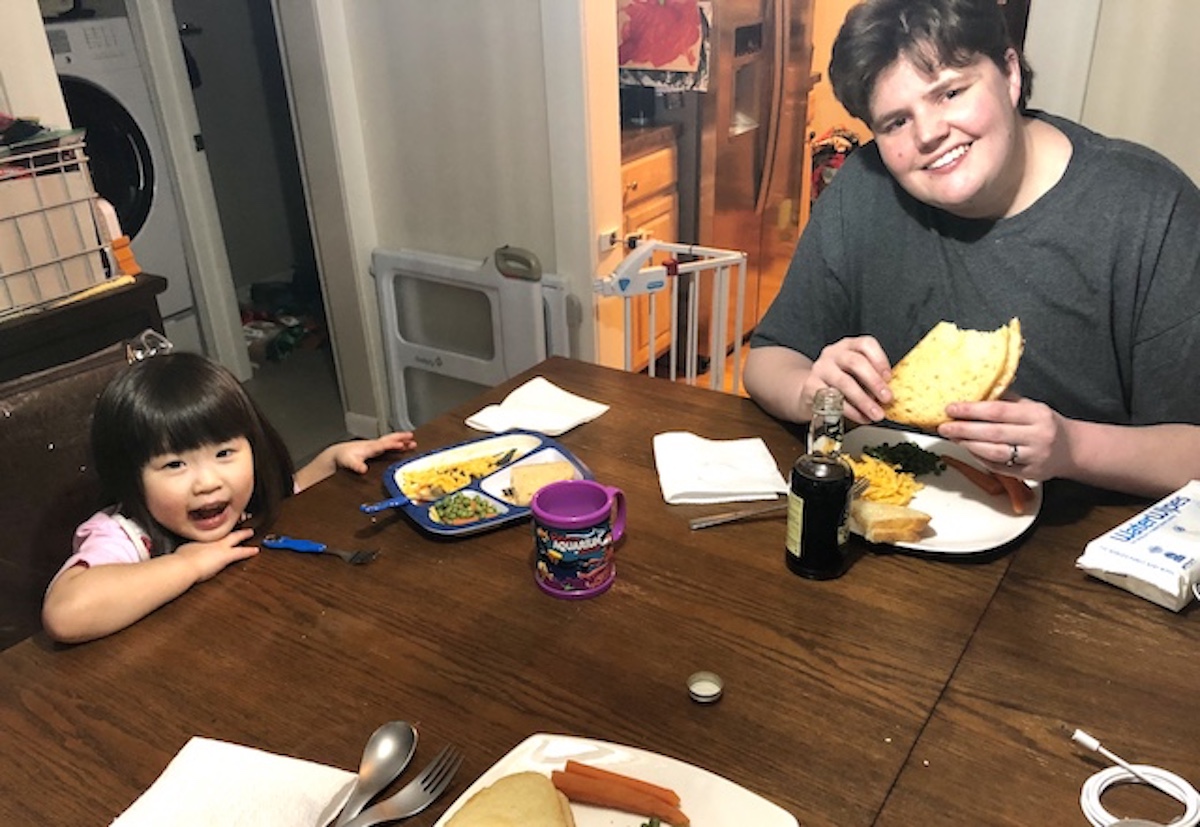 If you haven't already guessed it, this is my last Baby T. Rex column. Baby T. Rex is the only consistent work I publish on Autostraddle these days. My OG blog, Queer Family Matters, still exists, but I stopped updating it when I started writing Countdown to Baby T. Rex and removed it from my writer bio years ago.
More than any of that, Remi's getting older. We're still at the stage where I think she won't be too embarrassed by the column, in that I'm writing about her as a little, little kid and we were all little, silly kids once. However, she's going to be old enough fairly soon that she'll have a concept of what she wants to share publicly and privately. She's on the cusp of learning shame. She's going to realize the internet is not just for watching Pinkfong videos. I don't want to take this blog too far or too late.
I recently read Darlena Cunha's piece in The Washington Post about her reasons for quitting mommy blogging and she really resonated with me. Mommy blogging was hitting peak saturation about 10 years ago and now many of the kids of mommy bloggers are preteens and teens. Some mommy bloggers quit because of respecting their kid's privacy as their kids got older and some quit when their kids demanded that they stop as embarrassed and overexposed preteens. I definitely feel that.
Cunha, however, adds another dimension to this convo. She ended her mommy blog because she doesn't want to set the norm that sharing every detail about yourself for comments, shares, and clicks is a normal boundary for her kids. Like me, she isn't as worried about privacy, per se, but about what it means to engage with "the blurred line between virtual and real" and making that blurred line the norm as kids are growing and developing. There's a big difference between sharing photos on my personal social media accounts and writing a column for a website with 3.5 million views per month. I've decided to take a break on the latter.
As Dunha writes, "I did not quit mommy blogging to preserve their autonomy and grant them the privacy they deserve as independent human beings. They would give me their consent to continue in a heartbeat. Being public does not bother them at all. And that is why I quit. Not to preserve their privacy but to salvage their desire for such privacy so that as they become adults there is something there to preserve at all."
I took a hiatus between Countdown to Baby T. Rex and Raising Baby T. Rex specifically because I wasn't sure how much I wanted to share about Remi. Pre-birth, the column was 100% about me and my experience being a pregnant person. Raising Baby T. Rex steps back and forth over the line between my personal story and telling Remi's stories. As she gets older, I want her to be able to tell her own stories and control her own narrative and set her own boundaries around digital privacy.
I don't have regrets about writing about my parenting decisions and parenting life. Maybe it's because I don't have a birth story. As an adoptee who was abandoned anonymously, I don't have and will probably never have a time or place or space of origin. I had to make up my own stories about my beginnings. I was told different stories about myself from adults, many that were likely untrue. Remi has a well-documented known origin and I'm glad I wrote it all down. I'm glad she has that here, in my words, with hundreds of affirming comments from ya'll along the way. I'm glad I shared it so other queer people can see themselves just a little bit in the narrative of parenting. I feel proud of this work. This column is one of my favorite things I've ever written.
I also want Remi to be able to write and narrate her own life. I owe her that as someone who had to reclaim my story. While you'll still see pics of our family on social media and such, this will be the last time I write about Remi on the wide internet.
Since I began writing about queer parenting, I have seen more parenting narratives that include trans and queer folx, queer parents of color, nonbinary parents, queer and trans parents of different socio-economic backgrounds. I welcome them. There's still not nearly enough. I'm going to leave you with the final paragraph from the "About Us" page of Queer Family Matters. It's still true. I'm still hungry for more.
"We appreciate the lesbian and gay trailblazers who came before us, but we also see what is missing from the queer parenting conversation. Queer parents want info and support that is inclusive of gender non-conforming folks, of trans parents, of families with one or more bisexual/pansexual parents, of people raising kids that don't want to be 'just like' heterosexual families.
We want to talk about parenting and family-making at the place where family issues meet NOT ONLY sexual orientation, but also race, class, gender, and more. Ya' know, queer family matters. Because queer families matter."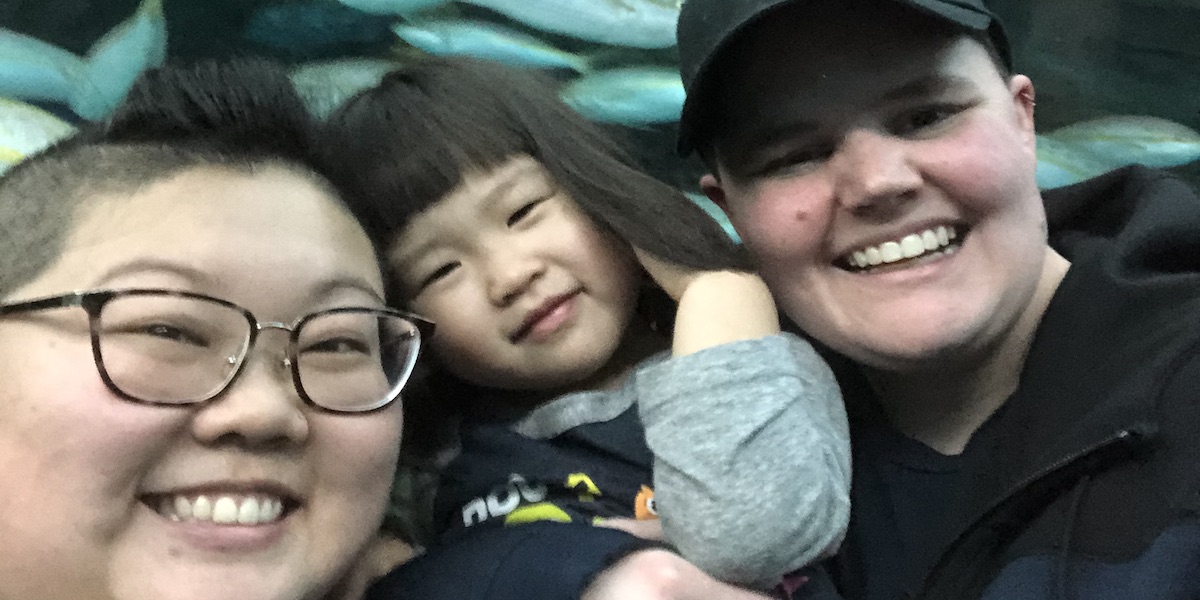 ---
4 Queer Parenting Things I'm Currently Overprocessing
1. Things I Definitely Said Out Loud This Month
You're my favorite sea otter.
I'm sorry. I don't know how to use the shark x-ray. (It was an Etch A Sketch)
Oh, I see. That's your pirate sister.
2. Your Mama By Any Other Name
Remi started calling me "mama" recently and I don't know why, but it's very cute the way she says it. Maybe that's just me. I don't know! I think it's cute.
---
3. Parenting Things I Googled This Month
best sleeping temperature for toddler with a cold
snow day activities for toddlers
tips disney cruise with a toddler
three year old developmental leap
growth spurt three years old
---
4. Give The Children a History Lesson
That's it. That's the whole thing.