Author's Note: The following review of You're Not Supposed To Be Here contains spoilers.
---
There are two important life lessons at the core of You're Not Supposed To Be Here, the new lesbian Lifetime thriller about a small town cult that steals babies starring Chrishell Stause and Diora Baird as wives expecting their first kid: 1. Don't trust cops and 2. Don't ignore your wife.
It's fun to see queer women playing queer women in the movie, which is 85 minutes long aka the ideal runtime for a corny thriller. In addition to Stause and Baird who are both queer, lesbian actress Heather Matarazzo has a super small role delivering the titular line, and while we don't get to know her character very well, I choose to believe she's playing gay. The way her community ostracizes her and she rejects the town's rules and rituals feels at the very least coded.
If you're familiar with the Lifetime movie formula, nothing will really surprise you here. There's something genuinely satisfying about watching the film check all its little boxes. If you're less familiar with the canon and are mostly just here for Chrishell Stause, here's what to expect from most Lifetime movies like this one: bad dialogue, "twists" that are easily predicted due to the buckets of exposition emphasized in every scene, weird sound mixing, characters who represent archetypes, and a lot of melodrama.
We meet Zoe (Stause) alone on her couch. We'll soon learn she's alone often. Her wife Kennedy (Baird) is a classic workaholic. If you're wondering what her job is, I couldn't tell you. Something about investments and finance, topics that sort of just make me glaze over, because that's simply not my business! Zoe is pregnant and experiencing periodic panic attacks due to having a miscarriage the first time they tried to have a baby. Kennedy is honestly kind of rude about Zoe's anxieties!!! She doesn't go full gaslight mode, but it's clear she's more annoyed by Zoe calling her during a work meeting "for nothing" than she is concerned about her struggling and neglected wife.
The biggest thing missing from the movie is a lesbian sex scene or even just a lesbian foreplay scene, but I suppose there's a textual explanation for this omission found in Kennedy's workaholism. Kennedy is simply too busy for her wife. Too busy to talk to her, too busy to listen to her, too busy to spend time with her, and too busy for sex! At one point, Zoe asks her if she's on mute while on a business call and starts kissing her neck, and I thought to myself oh are we about to get lesbian sex while muted on a conference call? Because hello, THAT is corporate lesbianism I can get behind! But no, Kennedy shuts her down. Babe, WHAT is the point of having a hot wife if you'll barely look at her!
Even Kennedy's boss Robert (Devon Gummersall, from My So-Called Life!) thinks she should spend more time with her wife. After she lands a big account (again, no idea what that actually means), he encourages her to take a break and borrow his cabin in a remote mountain town with Zoe. She reluctantly agrees, and Zoe and Kennedy head to the cabin, Kennedy rolling calls the entire time of course. Immediately, the vibes are off in town, and Zoe senses it, but Kennedy continues to dismiss her feelings as mere paranoia. But even Kennedy senses something a little weird when they go to the town pharmacy to buy prenatal vitamins and the locals stare at them and seem generally unwelcoming. They chock it up to homophobia, but instead of any of it sending them straight back home, they decide to stay, even after Heather Matarazzo has her gay Get Out moment telling them to leave. The town sheriff intervenes and assures Zoe and Kennedy that Heather Matarazzo is just a town freak and they shouldn't listen to her. I said to my screen "don't trust this cop," but Zoe and Kennedy decide to trust this cop.
Feeling weirded out by the town and still neglected by her wife, Zoe invites her gay best friend Adam (Curtis Hamilton) up to the cabin. He's the donor for the baby, and he has sweet chosen family vibes with Zoe, even though he and Kennedy don't really get a long. Increasingly, it seems like there might be a cult in this town, a group of people in flowy clothing emerging out of the woods one night with a platter of fruit to offer to Zoe and Kennedy. Girlies, have you NEVER seen a cult movie before? But Lifetime Original Movie protagonists, of course, must always ignore all the obvious signs of danger. When Kennedy decides to work at a cafe, Zoe and Adam head to the town "spa," which again might as well be called The Spa Run By an OBVIOUS CULT. Adam gets locked in a sauna, Kennedy ends up drugged and kidnapped by the cop, and Zoe ends up receiving a facial sharply interrupted by her giving birth and the townspeople stealing her baby.
You're Not Supposed To Be Here drags a bit in the lead-up to the baby theft, but things unfurl quickly from there, our little queer family learning this town started a baby-stealing cult because chemicals from the closed-down mines in town have made them all infertile.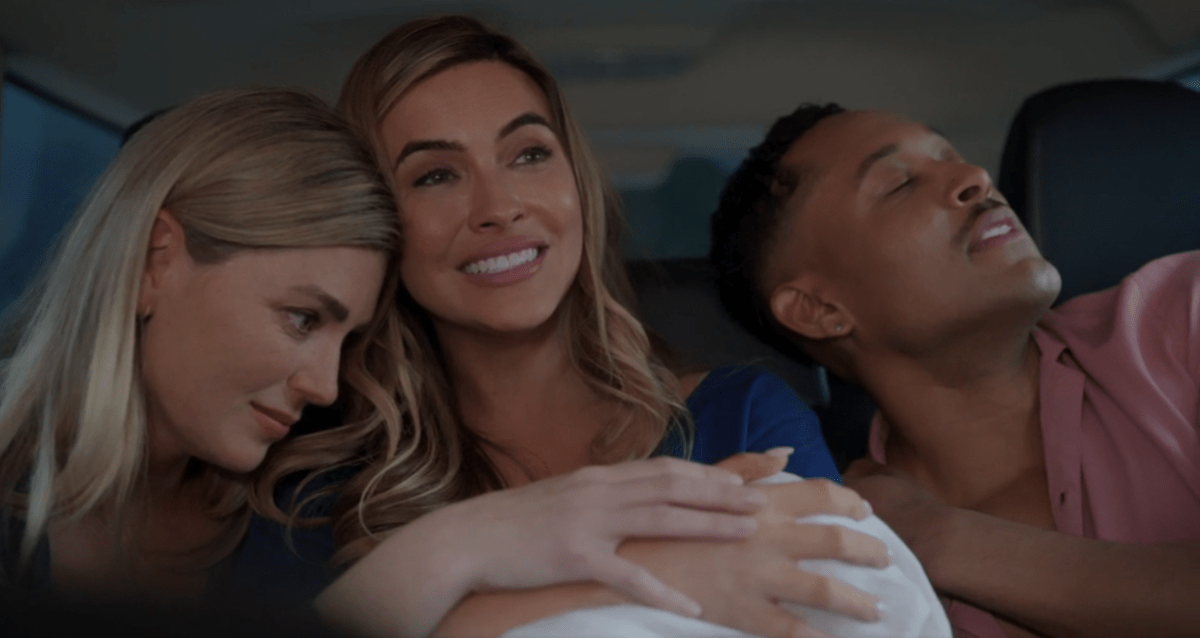 If I were to go deep on it, I actually do find this premise refreshing and deeply queer. Queer folks face so many challenges in trying to get pregnant or start a family. The cult, ostensibly made up of straight people since they do seem at least a little homophobic even if that isn't the main motivation for their theft of the baby, privileges their own ideas of what families should be and feel owed these babies. They may raise children communally, but there's nothing queer about their desire to take children from people they deem unworthy of parenthood. In fact, it all seems very symbolic of the factors that work against queer parenthood, all the systemic obstacles but also the society biases that insist queer people are unfit to raise children. Zoe, Kennedy, and Adam have to fight for their family's right to exist in a world trying to delegitimize all of their roles.
But I'm probably, indeed, going too deep on this silly thriller. It's an entertaining way to spend an hour and a half of your time, and Baird and Stause do understand the assignment, giving performances that feel correct for the movie's tone and world.
Anyway, here's my favorite moment from the entire film: