Welcome to Queer Outfit of the Week where I scour the world and tell you all about my one favorite queer outfit this week. I'll envision a scenario where you or your girlfriend or your best friend or your mom or your cat could wear it and talk all about why it's a great outfit for that event. Every week will be a different style, gender presentation and event so there's a little something for everyone — even the person who just wants to look at pictures of stylish queers! So let's get to it! We're going to figure out what the heck we're going to wear this week!
Header by Rory Midhani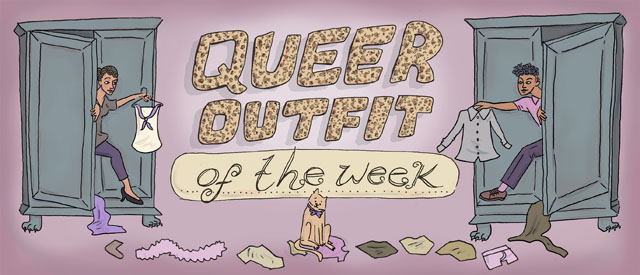 ---
It's 100,000 degrees outside, summer's not yet over and you've just met the girl of your dreams. She's a barista in that place downtown where you get Arnold Palmers and she just agreed to go out with you on a day date! So what are you going to wear?! You're going to wear your go-to summer date outfit!
A short-sleeve button-up with a bow tie and floral shorts are just perfect for a date when it's blazing hot out. The short sleeves and short pants keep you cool while the floral bow tie lets your date know that today is something special. It's the summer so don't be scared to mix crazy, brightly colored patterns. As long as you stick with no more than three colors you should keep your look from getting too crazy. If you're MOC and have the common problem finding men's shirt with sleeves that are too long, you can totally cuff your short sleeves, it looks adorable and retro.
Accessorize lightly; you don't want her to think you're trying too too hard. Stick with a watch and your favorite sunglasses. For a cleaner look you can wear a pair of light colored desert boots, but if it's really hot don't be scared to wear sandals. Still, go for your nicer Rainbows and shy away from flip-flops that look like shower shoes.
So go forth on your awesome date! You're gonna look put together, laid back and extra special for that extra special lady!
---
If you see something that you think should be featured on Queer Outfit of the Week, send me an ASS message, ask on my tumblr, or tweet me @Ohheyitslizz